Greetings Stargate and convention fans,

Today Sunday April 03, 2011 WormholeRiders News Agency is pleased to announce courtesy of Auroris Entertainment, the StarCon 2011 Vancouver VIP Tickets Giveaway for their fantastic science fiction and writers convention to be conducted June 24, 25, 26, 2011 at the Sheraton, Hilton and Marriott Airport hotels in Vancouver, British Columbia!
This multi-genre science fiction and fantasy convention event features legendary Stargate, Eureka, Fringe, Battlestar, Riese and MindsEye series celebrities (listed alphabetically by last name) including Genevieve Buechner, Pierre Bernard Jr., Bill Butt, Barry Campbell, Frank Cassini, John Cassini, Aaron Douglas, Mike Dopud, Ellen Dubin, Colin Ferguson, Virginia Hey, Barclay Hope, Peter Kelamis, Peter Kent, Naill Matter, Aleks Paunovic, Dan Payne, Ed Quiin, Cliff Simon, Craig Veroni, Alex Zahara AND more special science fiction guests including producers and writers to be announced soon!
How do you enter for a chance to win? Four simple steps!
1. Follow StarCon 2011 on Twitter (@StarCon2011).
2. Like the StarCon 2011 page on Facebook.
3. Follow WormholeRiders News Agency on Twitter (@WormholeRiders).
3. Answer this simple question: Why do you want to go to StarCon 2011? As you can guess there is no wrong answer!
4. Send your answer with your twitter account (@name) by e-mail by clicking this hyperlink: StarCon Vancouver 2011 VIP Tickets Giveaway . (starcon2011vip@wormholeriders.net ).
That's it!

Grand Prize: The StarCon 2011 Vancouver 2011 VIP Tickets Giveaway winner will receive two (2) complimentary VIP TICKETS valid for entry to all panels and events courtesy of Auroris Entertainment for the StarCon Vancouver 2011 Convention, Auroris Entertainment is the sponsor of this contest.Thank you Auroris!

As always we appreciate your visiting our news sites at WormholeRiders News Agency. Good luck in the contest! Please do NOT leave Your Answer or Twitter identity here as such are not considered valid entries in the StarCon Vancouver2011 VIP Tickets Giveaway. Thank you.
If you prefer, click the social media icons below to share this news article or as many of our readers and visitors often do, visit me on Twitter by clicking the text links or images avatars in this news story and or on See You on The Other Side"! Thank you.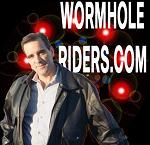 Best Regards,
Kenn
Contest Entrants Confirmation: StarCon Vancouver 2011 VIP Tickets Giveaway entrants will be sent a Twitter Direct Message (DM) confirming their entry. Be sure to include your twitter name with your entry. Thank you.

Winner Selection: The winner will chosen by WormholeRiders News Agency staff in a random drawing that will be video recorded and broadcast here at WHR Conventions Corners the evening of May 15, 2011. Five runners up will also be selected in the event of special circumstances discussed below. The random drawing will be video recorded with WormholeRiders News Agency employees acting as fair witnesses
Rules and notes: Void where prohibited. Contest entries will be accepted until May 14, 2011 11:59 PM Pacific Time. All entrants must be of 18 years of age or older at the time of entry, regardless of country of origin. All individuals 18 years or older are eligible to enter the StarCon Vancouver 2011 VIP Tickets Giveaway with the following exceptions:
Who may not enter exceptions: In the interest of fairness, neither current nor former WormholeRiders News Agency staff may enter the StarCon Vancouver 2011 VIP Tickets Giveaway contest. Current paid employees of Auroris Entertainment are also precluded from entering the contest. Any such entries from either group will be considered null and void.
Requirements: Entries received without a twitter account name will be considered null and void. Entries received that are not following both Auroris Entertainment and WormholeRiders News Agency on Twitter and liking the StarCon 2011 matching the date and time of the Stargate Vancouver 2011 VIP Tickets Giveaway contest entry is received and at the drawing will be considered null and void. Please follow StarCon 2011 on Twitter and like StarCon 2011 on Facebook before submitting your entry. Thank you.
Entrants need to continue to follow StarCon 2011 and WormholeRiders News Agency until the winner is verified (there are no exceptions to this rule). In the event the winner is not following at the time of pending prize announcement, their winning status will be null and void. A runner up will be selected in that event (see below).
During the contest period, WormholeRiders News Agency will not be following back entrants in the interests of fairness. Existing follow back accounts of WormholeRiders News Agency on Twitter will not be un-followed unless they violate the StarCon Vancouver 2011 VIP Tickets Giveaway contest rules.
Winner Selection Requirements: The real name of winner will not be announced, only their Twitter name, unless the winner desires their real name to be announced. The winner of the two (2) Stargate Vancouver 2011 Gold Tickets in the Giveaway will be required to respond within 24 hours subsequent to announcement at this news site, on Twitter from the WormholeRiders News Agency account and on WormholeRiders News Agency Facebook by e-mail response sent to their attention by the management of WormholeRiders News Agency.
In the event that the StarCon Vancouver 2011 VIP Ticket Giveaway random drawing winner does not respond within twenty-four (24) hours, a new winner will be selected from the first (1st) to fifth (5th) runner up (of five) and will be announced as the replacement winner. In the event that any selected replacement winner does not respond within twenty-four (24) hours, WormholeRiders News Agency may elect to award the tickets to another winner by random drawing at their sole discretion.
Winner Redemption Criteria: The winners will be required to provide their legal name that matches their photo identification card (valid official drivers license, valid official identification card and or valid official international passport) and a contact phone number. Winner identification information will only be provided to Auroris Entertainment for the sole purpose of verifying the identity of the winner at prize redemption time.
Auroris Entertainment will be notified on or before May 21, 2011, but no sooner than May 16, 2011 of the StarCon Vancouver 2011 VIP Tickets Giveaway winner identity. To collect their prize, the winner must present their valid aforementioned matching identification provided to WormholeRiders News Agency at the official StarCon Vancouver 2011 Convention on June 24, 2011 registration desk.
Transfer by winner: The StarCon Vancouver 2011 VIP Tickets Giveaway winner has the right to transfer or sell their two (2) VIP TICKETS to a third party, but is required to disclose the identity of the recipient to WormholeRiders News Agency by e-mail on or before June 01, 2011 so that said third party identity can be verified and transmitted to Auroris Entertainment. There are no exceptions to to this policy.
Odds of winning: depend on number of entries received. No cash value is made or warrantied with regard to the StarCon Vancouver 2011 VIP Tickets Giveaway winner in any circumstance nor any instance. The only prize are the two (2) VIP TICKETS valid only at the Auroris Entertainment StarCon Vancouver 2011 Convention. Hotel, travel, meals and any other expenses are the sole responsibility of the winner or their third party designate. No other consideration is either implied or expressed.