Welcome back WormholeRiders,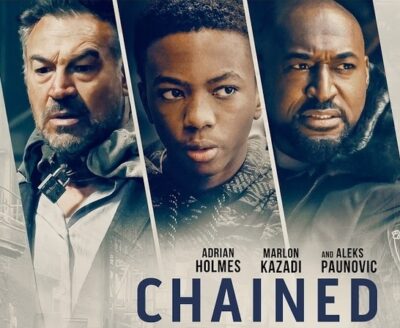 I recently had the pleasure of viewing a great new movie called "Chained" (click HERE to learn where to watch Chained). The film is written and directed by Titus Heckel, starring Aleks Paunovic (Van Helsing, Snowpiercer), Adrian Holmes (Continuum, Supernatural) and a fabulous young actor, Marlon Kazadi (Supergirl, Riverdale).
Chained begins with Taylor played by Marlon Kazadi, appearing to evade a police officer in a junkyard. The officer turns out to be his father, Pete, played by Adrian Holmes.
As the story progresses, we learn that his father, with good intentions, is doing his best to teach his son that there are no free rides in life and that he'd better toughen up because no one cares about him. Perhaps his dad might have said, "except me".
Unfortunately, Pete is working on his own issues, so his love for his son doesn't come up; at least for a while.
This is a movie about a young man who is emotionally abused by his father who then finds a man, Jim, played by Aleks Paunovic, chained up in an old warehouse. Taylor has the added pressure of enduring bullying at school. Peter is no help.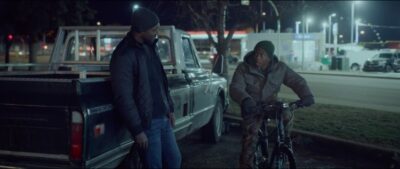 Peter's answer is for Taylor to stand up for himself but doesn't offer any advice. In the warehouse, he finds two men: one dead on the ground, and another –Jim, leashed to the wall by his neck with a length of chain. Taylor discovers that the dead man is a police officer. Instead of immediately calling the police, Taylor decides to keep Jim chained up. He also decides to bring food and water and other supplies to the captive that he has now taken responsibility for.
We discover that, although Jim dearly wants to be set free, he can't take the chance that the police will become involved because he has hidden a bag of money he has stolen from the dead cop. Obviously, there was a confrontation between Jim and the dead guy that went horribly wrong. Jim is now at the mercy of Taylor, who is using his father's abusive techniques to find out where the money is.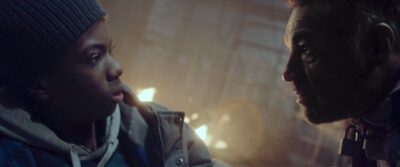 The best scenes are between Aleks Paunovic and Marlon Kazadi. Jim is a huge man who first attempts to dominate Taylor, but quickly realizes that as long as Tayor holds the key to his chains, he has to cooperate and allow the 13-year-old boy to have his way. Jim has to learn to trust Taylor, and Taylor learns to understand his father through his interactions with Jim.
The movie is very well lighted. The warehouse appears grimy and old. Jim spends most of his time looking uncomfortable in the cold warehouse, his breath visible as he tries to stay warm. His biggest concern is keeping Taylor close and talking, and more importantly, bringing food and water, and cigarettes.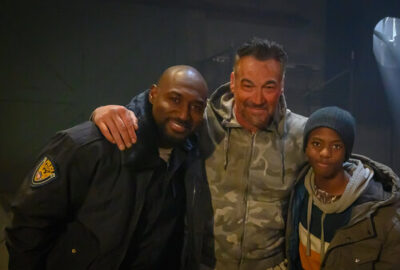 It is interesting to watch Jim become a surrogate father to Taylor, teaching him to fight and how to kiss a girl. The scenes are almost warm in an odd sort of way.
Marlon Kazadi establishes himself as a future talent to watch. And Aleks Paunovic further cements his reputation as a solid everyman's actor. Plus Adrian Holmes is downright chilling in parts.
One of the best scenes is when Jim and Taylor decide to bury the dead cop under a pile of loose rock. Jim demands, "You expect me to dig this with my hands? That'll take forever."
Taylor replies, "You're not going anywhere!"
I enjoy watching Aleks Paunovic act. He is believable as whatever character he takes on. Paunovic's star is on the rise. I look forward to whatever he is involved in next.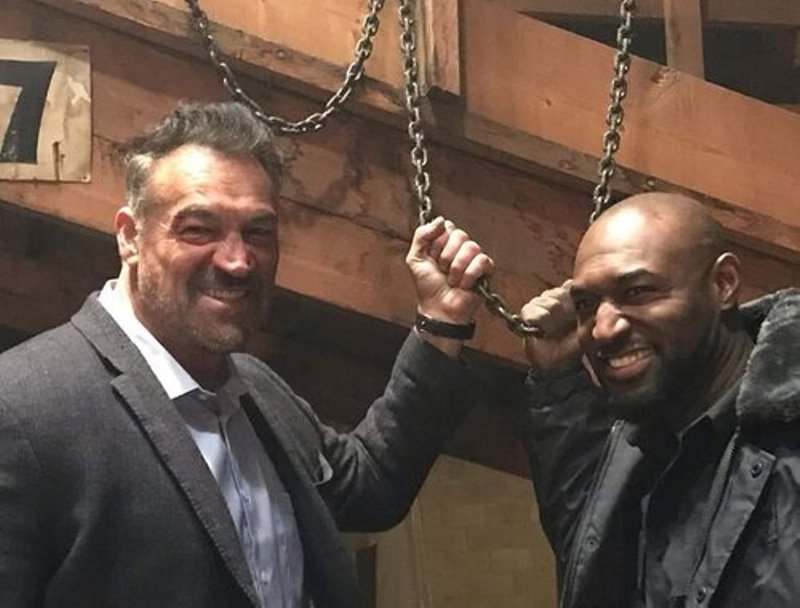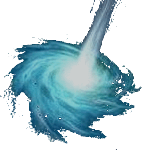 Thanks to Kenn for staging images, the featured video, and, many thanks to you for stopping by WormholeRiders News Agency!
Please feel free to leave a comment here, click an icon below to share this interview with your friends, or you can visit and follow me on Twitter by clicking on my avatar to the right.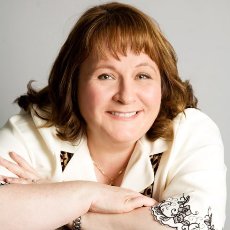 Regards,