Welcome back Van Helsing lovers, WormholeRiders and Vampires Victims around the World!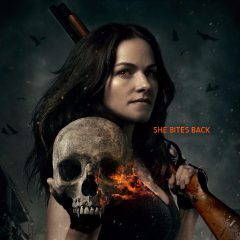 Here at Team WHR we continue our SDCC 2017 coverage of Van Helsing when we were honored to be invited to interview several of the series stars at San Diego Comic-Con 2017 courtesy of the great team at SYFY.
Our next special interview if none other than the awesome Aleks Paunovic who portrays the nefarious Julius in Van Helsing
Aleks Paunovic stars with main cast members Kelly Overton, Jonathan Scarfe, Rukiya Bernard, Christopher Heyerdahl, Laura Mennell, and a very talented ensemble cast in the hit series now entering a second season.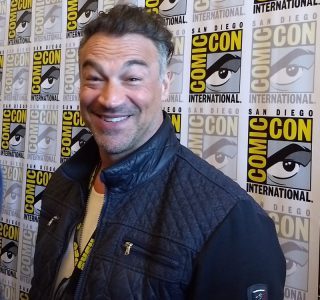 Aleks Paunovic is an actor whom we have admired for many years. #TeamWHR first had the opportunity to interview Aleks in 2010, when his name was becoming well known around the world.
Now a soaring Canadian star, we became aware of handsome devil Aleks Paunovic during his early acting days when he first appeared in the MGM Studios outstanding Stargate initial series franchise, Stargate SG-1 in 2002, followed by Andromeda in 2003, with subsequent featured roles in Battlestar Galactica in 2005, Eureka in 2006, Stargate Atlantis in 2007, Sanctuary in 2009, Caprica and Human Target both in 2010, as well as many other roles prior to 2010.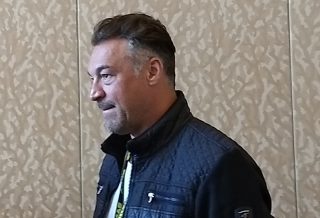 Then began the meteoric rise of Aleks Paunovic, with roles with in a return to Smallville, followed by many more including; Republic of Doyle, Once Upon a Time, Psych, Arctic Air, The 100, Continuum, Supernatural, Motive, all ultimately culminating in starring roles for Aleks in War for the Planet of the Apes, and naturally, one of our favorite SYFY series, Van Helsing!

Multi-talented Aleks Paunovic has amazed his admirers in his role as Julius, creating much excitement in the Van Helsing story arc as the leader of the clan of vampires out to exterminate the human survivors in season one of the series, at one time capturing lovely Vanessa Van Helsing (Kelly Overton) in the series!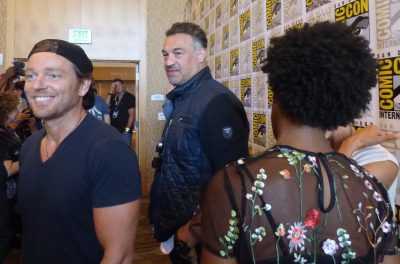 Imagine our, and everyone's sheer delight to learn that not only is Aleks character Julius returning in season two of Van Helsing on SYFY, and to ice the cake so to speak, Aleks Paunovic appeared in San Diego for his first time at Comic-Con 2017 representing the series before he will return to our screens later this year in 2017!
Finally, as we concluded our time with Aleks, he was nice enough to do a shout out to one of his greatest admirers, Mona Per. Mona, like Aleks is a nice person who often expresses her admiration for Mr Paunovic on Twitter featuring complimentary pictures and downright fun tweets. Thanks Mona!
We enjoyed our time with Aleks in the Press Room for Van Helsing, and hope that you enjoy our interview with this amazing actor. Thanks again Aleks!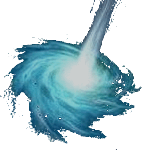 Please feel free to share this article with your friends, co-workers and or family and to leave your comments! We look forward to you visiting our Conventions Corner and Main Blog web sites when we release more of #TeamWHR's exclusive Van Helsing, Ghost Wars and 12 Monkeys interviews from SDCC2017.
See you soon in the near future!
Or as many of our readers and visitors often do, visit WHR on Twitter, WHR on Facebook or visit me on Twitter by clicking the text links or images avatars in this news story. I and the WHR team look forward to Seeing You on The Other Side!"
Thank you.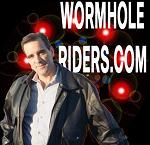 Best Regards,
Kenn of #TeamWHR