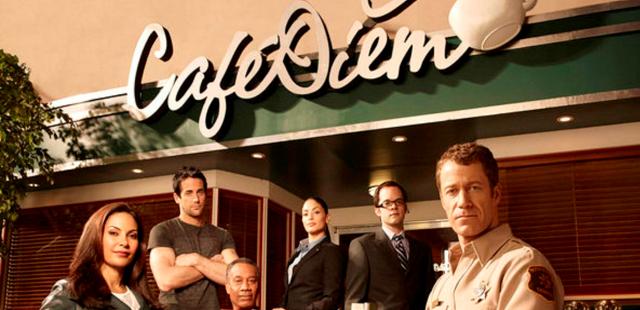 Hello Eureka fans,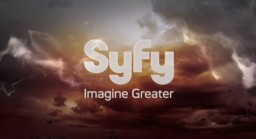 Welcome back to the second part of Eureka, A Celebration of Excellence. Once again I would like to thank everyone of the cast and creators of Eureka who made this special report possible. Thanks also to Kenn and Patricia of WormholeRiders News Agency for the privilege in posting my report here for your enjoyment.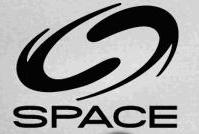 We left off part one with the departure of Ed Quinn during season three, and the arrival of new cast members and a change in the show for season four. With episodes of Eureka's fourth season still airing, and production of the fifth year wrapping up in Vancouver, Paglia and Miller were anxiously awaiting word from the network on a sixth season order. Ratings, while not at the heights they had been, were still strong, and creatively the series was firing on all cylinders.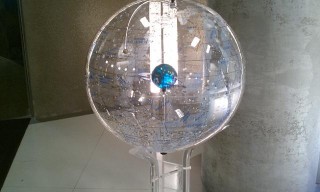 But there were issues to be addressed. The acquisition of NBC (and by proxy, all of its smaller cable networks, including Bravo, USA and Syfy) by media giant Comcast meant that fresh sets of eyes were mulling over business decisions for all the networks along the spectrum, and Eureka would not be immune.
Additionally, a new season would mean new contracts for a majority of the cast and crew along with requisite pay raises and other budgetary concerns.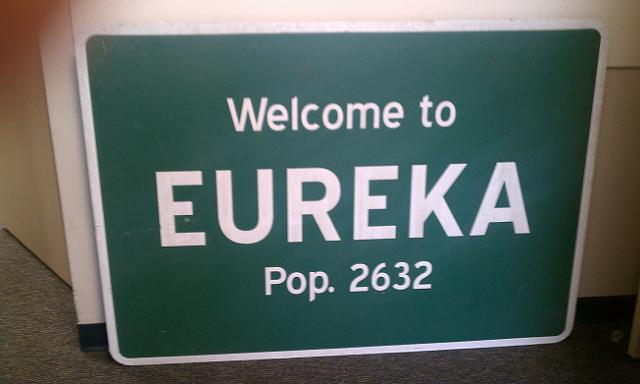 Historically, those decisions had come in previous years in August, and 2011 would be no different. On August 4th, fan sites on the internet – in addition to Twitter feeds from the writers – announced that the series would receive a smaller (and final) sixth season run of just six episodes to close out remaining story arcs and give the series a proper conclusion. The following week, Syfy made a second announcement, which was directly at odds with the previous one. According to the network, there would be no Season Six, and the finale of Season Five would be the series' swan song.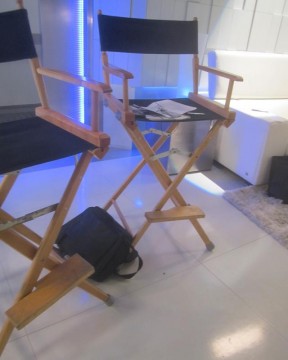 While fans of the series were agitated at the series' cancellation (which had nothing to do with low ratings, but more about television economics) and the back-and-forth press releases, the announcement from Syfy left them with a brand-new conundrum. Anticipating at least one more season, they had crafted a Season Five finale that would end in true cliffhanger fashion – and threatened to make Eureka the latest in a string of Syfy series cancellations that lacked closure for its fans.
"We got the call that Season Six wasn't going to happen, and then I flew up to Vancouver to tell everyone. The cast and crew are an extended family. I wasn't going to have that conversation with them on the telephone," Paglia said. "I wanted to talk to them in person. There were rumors flying, and stuff spreading on Twitter and the whole debacle was coming out."
"The upshot was that we couldn't end things as they were. We would have liked that six episodes to close it out, but at the very least we needed one more episode to try and say goodbye. We were two days away from shooting a huge cliffhanger that we couldn't rewrite. And it definitely wouldn't be a series finale. It was a culmination of the whole Season Five arc that would be a launching point for Season Six –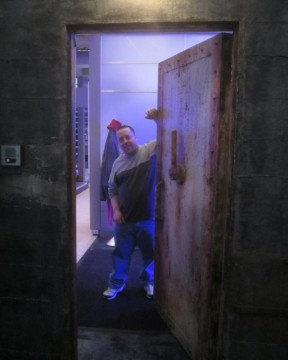 a season we were told we had when it was being written."
"So I wrote a very impassioned letter to the network asking for a final episode to tie up the loose ends, and they graciously gave it to us. But that provided its own challenge. Yes, we had one more episode, but we couldn't afford a production shutdown to write and prep it properly. We couldn't incur any extra costs,"
Paglia continued. "So we broke the story in two days, I wrote it in three, our crew prepped it in three, and we were shooting it. It was one final challenge for an amazing team of writers, producers, cast and crew: to deliver, under the gun, a satisfying series finale that the audience will enjoy. Certainly, I'm sure it will feel a little rushed at times as we tie up not just plotlines but character arcs. But I would much rather have that then a final episode with no resolution to anything."
The final season has thus far been another roller coaster of a story, with huge emotional arcs for all the characters. The Astraeus crew, whose minds had been hijacked inside a virtual version of the town set four years into the future, are forced for months to watch as they think their loved ones have moved on without them.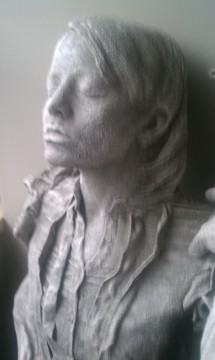 Once freed from the virtual Eureka, they struggle to readjust to their normal life after making peace with their supposed futures – leading to more relationship issues for Jo and Zane, a death Fargo isn't ready to accept, and another layer of drama to the romance between Carter and Allison. It will all culminate on July 16th, when Syfy airs the final episode of the series.
"Shooting the finale was an emotional time. When you film a series, you're pulling twelve, fourteen, fifteen-hour days. You spend more time with your cast mates and crew then your own families. The cast and crew become a family themselves. So there were a lot of hugs, laughs and tears during the filming. I would definitely characterize it as bittersweet. But in the end it was also a celebration. Seven years is a long time for a series to be on the air, especially a genre series. We set out to make the best show we could. And we got to end it on our terms."
So what secrets will the finale hold for viewers? When pressed for answers, Paglia was more forthcoming then expected, yet also quite cryptic.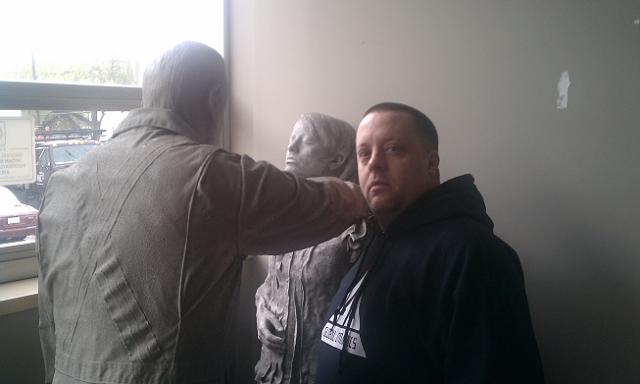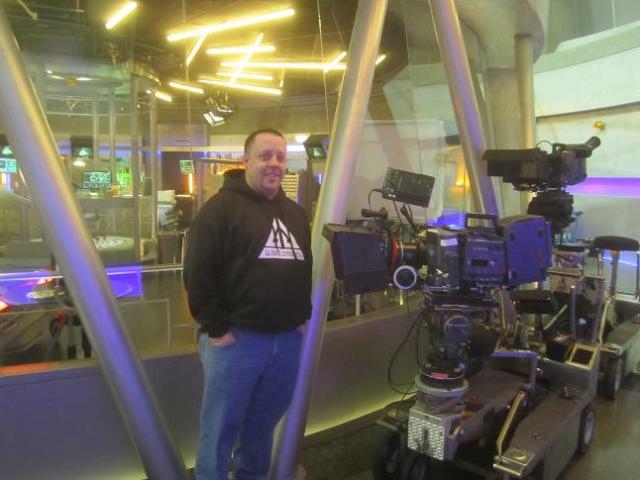 "There are some familiar faces that will come up, for sure," Paglia teases. "There will be one or two surprises, as well. We've always kind of looked at Carter as the parent, or more of a patriarch to this dysfunctional family of the town of Eureka. And I think that conceit, and how that resonates with him, lands in this episode.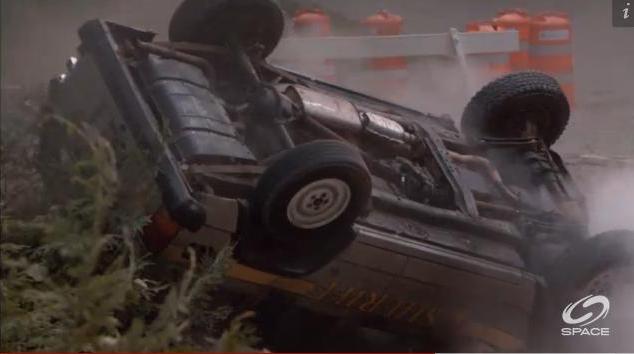 Eureka is, was, and always will be a truly one-of-a-kind series. It's one thing to see that after the fact, once you've had some time away. It's another thing entirely to know it while you're still working on it. And for many of the series' cast and crew, they knew it. As fans of the series, we know it, too. While doing interviews and research for this article, I eventually came to personal questions that took a bit more introspection before they were answered. Rather then break up their responses, and as tribute to their years of entertaining us as viewers, the following is a small Q&A with members of the series' cast and crew — the hearts and souls of Eureka in their own words, unabridged and uninterrupted:
Seven years of your life, over 70 episodes, critical and popular acclaim. What will you personally take away from your time on the series?
Jaime Paglia (co-creator/executive producer/co-showrunner): Getting a show on the air is an incredible privilege. Having it be embraced by fans and critics has been amazing. I was new to television from writing features when Eureka began. I learned so much from all the people who have worked on our show over the years. It has been the most fun ever and I will miss working with this team of writers, cast and crew every day. But I'm more excited than ever to create a new world to play in.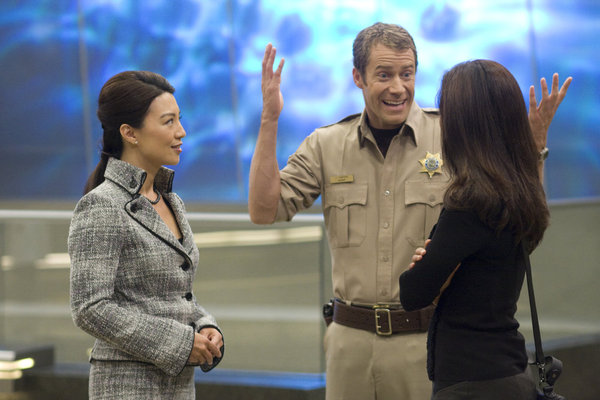 Bruce Miller (executive producer/co-showrunner): I think, personally, I take away a great feeling of pride in Eureka. I'm proud of the shows we made, the stories we told, and I'm so proud of our cast, crew, and writing staff. Every day, they brought such a sense of joy and excitement to their work, it was inspiring.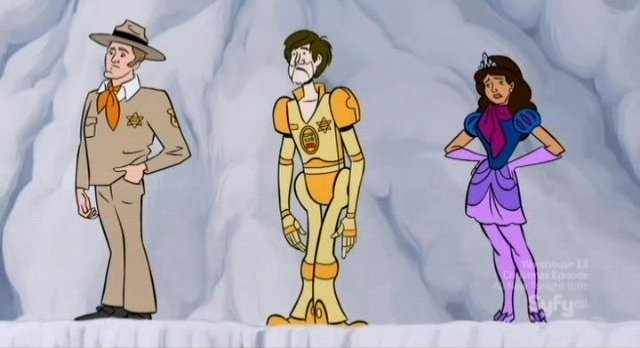 Matt Hastings (co-executive producer/director): I am so grateful to have been a part of this remarkable show. Personally, I have been given so many different challenges and opportunities to be creative in a myriad of different environments and tones: 1947 time travel, musically emboldened episodes, two different Christmas episodes (one with four different kinds of animation!), crashing space ships, launching rockets, massive stunt sequences, scary thriller stuff, dance numbers, etc… Eureka has been an incredibly satisfying experience and I've learned a lot along the way.
I have had a unique opportunity to further develop my craft as a writer, director, producer and musician on a limitless canvas. We've taken creative risks and have been encouraged all along the way to really push the envelope and be bold. I think we've done just that. I take away a feeling of absolute satisfaction and unparalleled collaboration. This is the true template of what a great experience making TV with a cinematic eye can be.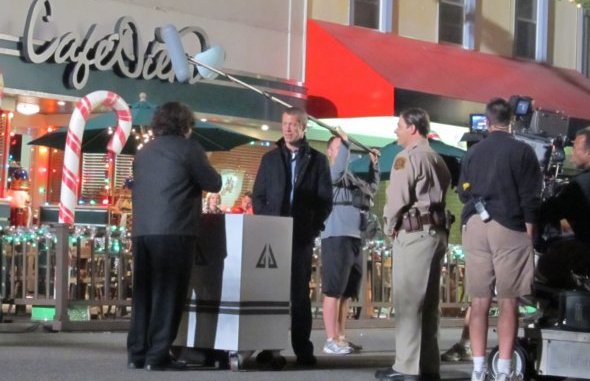 Eric Wallace (story editor/writer): I'm so proud to have been associated with this show. Working with all the great family of writers, producers, cast, and crew has been both a great privilege and a life-changing experience. But I think the big thing I'll personally take away most from all of this—besides, of course, from the wonderful friendships—is the importance of not playing it safe creatively. Eureka was always a show that tried to do things a bit differently. And when we took our biggest chances dramatically speaking, they paid off with what I think was some incredible work that we're all very proud of. And that's something really special.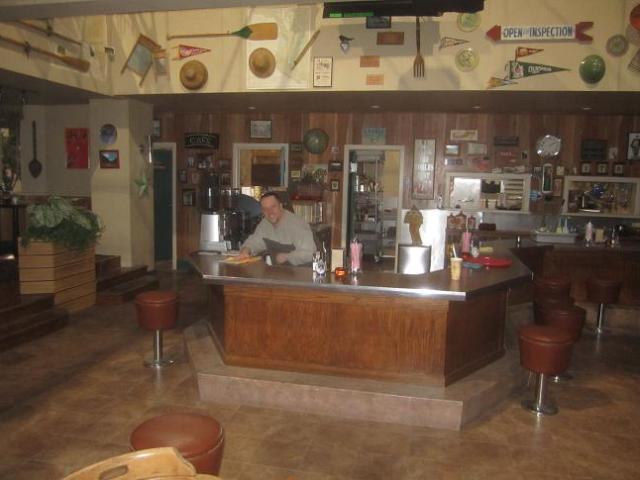 Colin Ferguson ("Jack Carter"/producer): I am nostalgic and grateful. I gave everything I knew how – sometimes too much, sometimes not enough, but it was never for lack of care or lack of trying. This show changed my life and I will never, ever forget it. I will take away a feeling of success. I spent a long time as an actor struggling to get by, doing pilot season, watching TV at night and trying to make peace with the fact that I might not "make it". I mean… no one makes it. They just don't and I hoped that someday I would get a chance to see if I could do it. I got a chance and, in our own little way, we made it work. I'm very, very proud of us. And I will always have the friendship of the people I worked with. I will always have their faces to look into and remember what we did "that one time we had that show"….I'm so grateful and proud that it's really hard to express.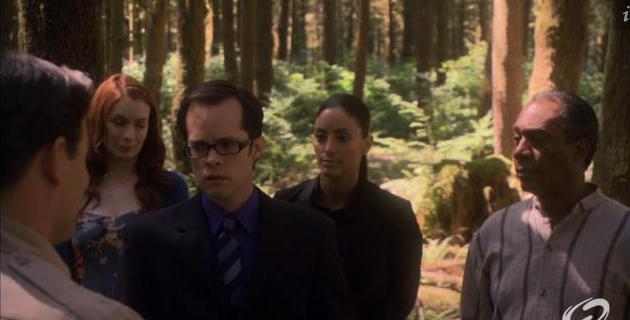 Joe Morton ("Henry Deacon"): Eureka has given me many opportunities to express myself as an artist, outside of just the actor. I directed three episodes. My photographs made up the majority of the artwork in the Smart House, and I wrote music, "Gotta Say Goodbye," for the episode in which Kim (the biological computer) is dissolved away. The song and the voice in that scene are mine. These are things the show had no obligation to grant. I will always be extremely grateful for those opportunities.
Erica Cerra ("Jo Lupo"): I will personally take away far more experience, amazing friendships and some of the best memories…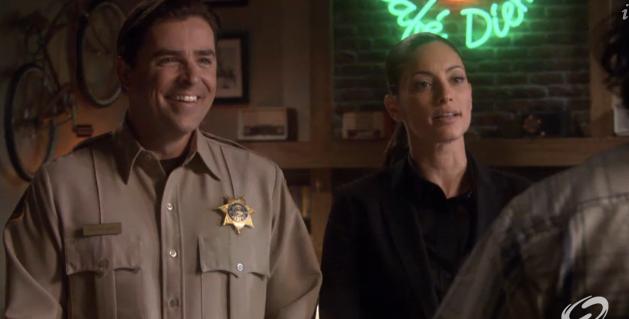 Niall Matter ("Zane Donovan"): The friendships. Personally, I still maintain friendships with a vast majority of the cast. It was also my first long-running show. I've walked away from shows, or been the series lead on something that lasted one season. But with Eureka, I stuck it out. Because I love the people, and we have a great family there.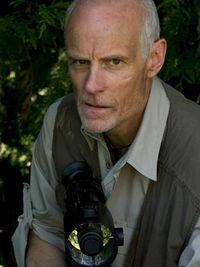 Ed Quinn ("Nathan Stark"): I learned a lot: How shows are made. What makes them work. What the audience responds to. In this business, you can never stop learning. This show was an incredible learning experience.
Christopher Gauthier ("Vincent"): I'd just like to start by saying what an honor and a pleasure it was working on Eureka. I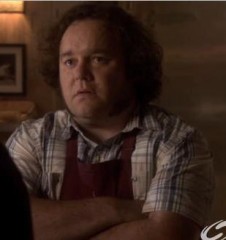 wasn't in there as much as the others but felt right at home coming back to set. The cast and crew were fabulous, giving everything they had. And as the years went by, the standards got higher and higher. Don't get me wrong. People got tired and frustrated at times … but we all pushed through. We worked long hours at times and, for the most part, remained professional. After being a part of such a strong group of lovely people who cared for one another, it gave me hope that more sets could be this way (which isn't always the case).
When people look back on the series years from now, what kind of legacy do you think it will have left within the genre?
Jaime Paglia: I think we managed to create a hybrid genre that blended character-driven dramedy and sci-fi in a unique way. We reached an audience that ranged in age from seven to seventy. It was inadvertent, but we made a family show that brought new viewers to the genre who wouldn't necessarily consider themselves fans of science fiction. Maybe it's because we never relied on that aspect of the show to make our stories compelling. Characters came first, with sci-fi elements providing the catalyst for their dramas. Hopefully, the work we did, and the shows that have followed in the same tone, will be remembered and shared for a very long time.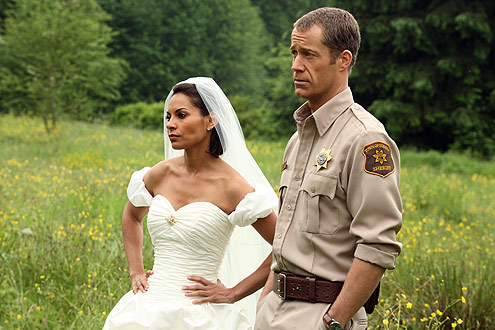 Bruce Miller: I think Eureka proved that science fiction can be scientifically intriguing, grounded in character, and also funny. Not many shows in this genre have been able to balance that kind of entertaining tone.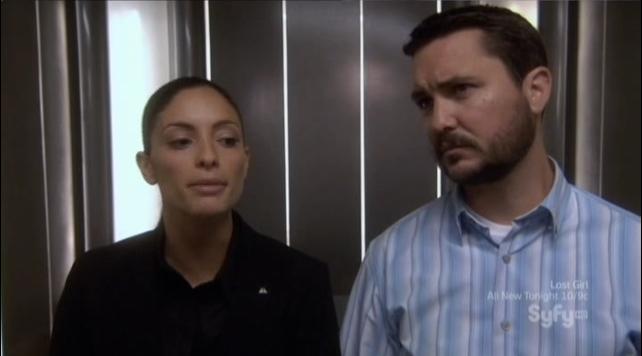 Matt Hastings: It's a unique show. A deft combination of tones: humor, suspense, jeopardy, pathos and heart that are all interwoven in a tight 44-minute space. Those graceful moves we made together through each episode made the show seamless and heartfelt. In the end, it's about the characters and their journey. We managed to develop true gravitas (especially in seasons 4 & 5) amidst the shiny sci-fi icing. It's a family show with epic scope and small emotional stories. A show that is deceptively simple that strikes right at the heart of the matter and entertains with great love and respect for its audience. Eureka is timeless. At its core, beyond the amazing visual effects, it's a show about family. That makes it memorable, truly unique and relatable for audiences around the globe.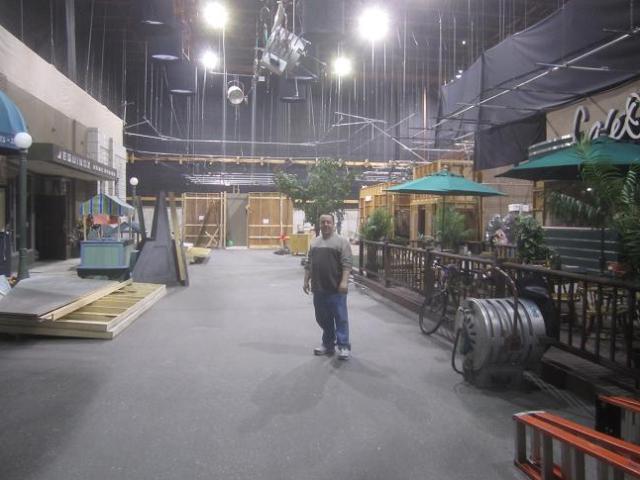 Eric Wallace: As far as Eureka's legacy within the genre, I think we were the show that made science "cool" again. And by that I mean real, grounded science. Over the course of the series' run, we received numerous letters and emails from science teachers, actual scientists, or just folks with a jones for molecular physics. Their comments always reflected how grateful they were for a TV series that didn't dumb down the science, and that also portrayed it in a fun and realistic way. So who knows? We were always a family show. Maybe there is a kid out there who fell in love with science because of Eureka? If so, then that's a real legacy we can be proud of!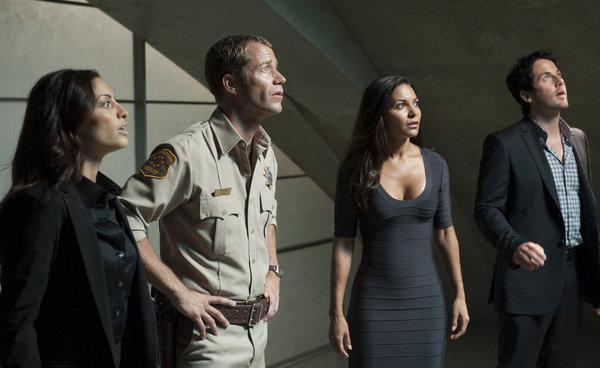 Colin Ferguson: Within the genre? Nothing really… it's a drop of water in an ocean. Within the network? We were the first non-space/alien show that succeeded. Stargate MADE the network. There is no network without Stargate. None. And Galactica gave the network critical acclaim – they won a Peabody and were very correctly applauded for their work. So they had two giant space shows and wanted more variety for their viewers. They couldn't do another space show so they were trying to develop something completely new. We were the new trajectory. And it wasn't without problems… but it worked.
And it was off of that template that they developed Warehouse 13 and off of Warehouse 13 that they developed Alphas. But we were the first one down that road that worked. So at the network, I think, hopefully, we have our little place in history. Unfortunately, SGU and Caprica ended and now there is NO space/alien show on the network, but for a moment there was a pretty balanced thing they had going on. And that's what we leave behind.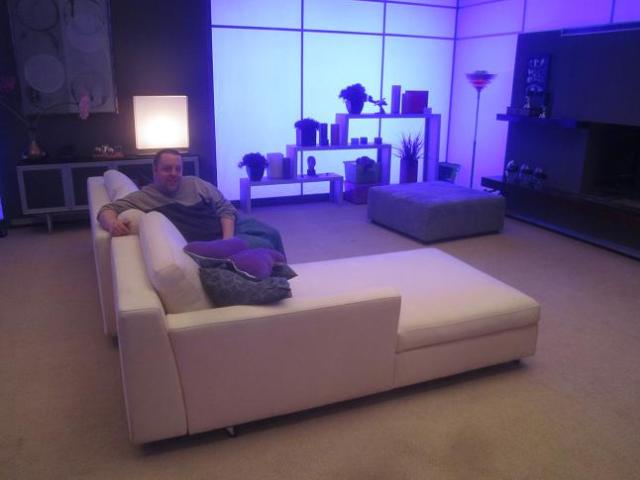 Joe Morton: I think our fans will always fondly remember, first and foremost, our characters. Beyond that, I would hope they remember our unique mix of drama, comedy and science.
Erica Cerra: I think Eureka is and always will be a "feel-good show." You can't watch it without enjoying yourself or the characters.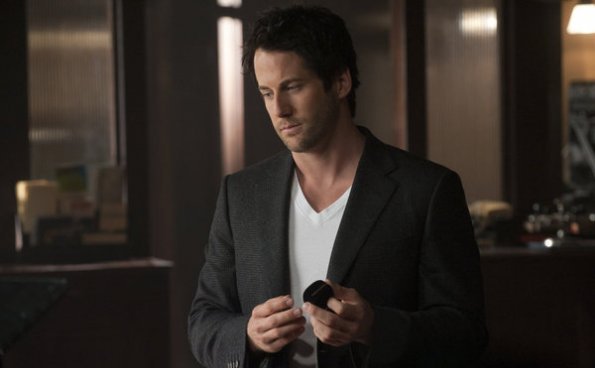 Niall Matter: We were different, and we weren't afraid to be different. We were a show that always kind of stood on its own. The formula that Jaime created worked out really well…a fun, quirky little town that everybody loved.
Ed Quinn: [Honestly], I have no idea. [But it would] be fun to see what people think of this show ten or twenty years from now.
Christopher Gauthier: I think, looking back on this show, years from now, people will see that sci-fi can be intimate. I don't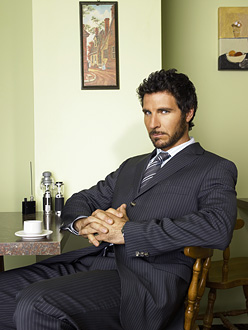 mean that in a "romantic, relationship[-ish]" way. I mean that in a "community/family" way. The show achieved, and quite well I might add, a wonderful community without sacrificing great stories! I am and always will proud to have been part of our little town, Eureka.
Is there a single defining moment that you're most proud of?
Jaime Paglia: It's impossible to pick just one after seven years and 77 episodes, so I'll choose the most recent moment. When we found out there wouldn't be a sixth season, we fought for one last episode to do a proper series finale. I'm grateful that our network said yes. It all came together and we got to give our town and our fans the good-bye they deserve. It was a final test to see what our team could accomplish when faced with impossible circumstances. I just hope when it's done that everyone enjoys it as much as we do. It's been a fitting end to an amazing ride.
Bruce Miller: The moment I'm most proud of? There are so many, but to narrow it down to one… In the premiere of season 4, when our Eureka gang was transported back to 1947, Matt Hastings gave us so many AMAZING story moments. But the one that I'm proud of, the one that will stay with me, is the moment where Jack and Allison kiss "just for luck" at the dance. The light is beautiful, the scene and costumes are beautiful, and Jaime Ray Newman is singing "I'll Be Seeing You…" And as they kiss, Jack and Allison vanish back through time. Only on Eureka…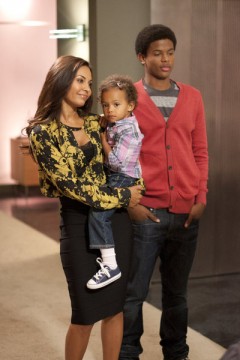 Matt Hastings: It's tough to really identify a "single" defining moment, but I guess that would be when we decided to go back to 1947 and do almost our entire season 4 premiere episode as a period piece. It was epic. It was one of the true joys of my life to direct that episode. A true dream come true. But, beyond the insane eye candy, period costumes, an entire military camp we built from the ground up, action sequences, a big band sequence, etc., I think it was our decision to stay in the parallel time line. There was no "back to normal." Our folks made it home safely, but to a home that was slightly altered. A heady risk that ended up paying story benefits for over thirty more episodes. Shaking it up was a little scary, but it elevated our show and helped it grow into the mature, critically acclaimed series it has become. I'm a little sad it's over now, but so pleased that we did our best work and we're going out on top.
Eric Wallace: Honestly, there are just too many to list. But I'll limit it for now to just two. The first is the Season Four opener, "Founders' Day." That was a game-changer for the series in every way imaginable and the episode that really showed what Eureka was capable of. The second is our series finale, "Just Another Day." Seeing how everyone involved—the cast, crew, writers, network, studio, etc.—pushed themselves so hard to accomplish such a satisfying conclusion to our series, and all of it done under enormous pressure, was truly impressive. Pulling that off, I think, might be our proudest moment.
Colin Ferguson: There isn't one moment, no. There are shifts that happened on set and behind the scenes that stand out for me. "Up in the Air" was the first episode Alexandra [la Roche] directed and she was a big part of how we stayed on the air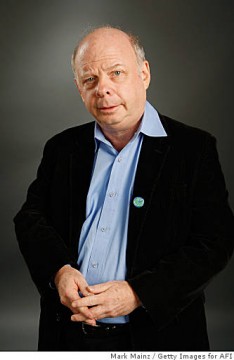 through a tough couple of seasons. So seeing her rewarded and do so well was a huge moment for us all. "Your Face or Mine" was the first episode of TV I directed and a watershed moment for me personally. It shifted me into another career. I am now and always will be a director because of the faith that Jaime, Bruce and the network had in me. And the same can be said of becoming a producer. It changed who I am and how I look at things. To be given a life that has growth like this in it is a magical sort of thing. I sometimes don't quite know what to do with all the benefits that have been thrown my way. I end up feeling very humbled and saying thank you a lot. Going to my first convention and sitting down with fans… What I do is so private to me. The choices I make are broad and weird, I know, but it's very private. It's how my head works. So to sit down with people who understand what I was trying to do and don't want to take anything from me but just laugh with me for a bit and maybe get a photo or something… it was warming in a way that I can't explain.
Joe Morton: The premiere of Season Four will always stand out in my mind as the moment we truly became the show we always wanted to be.

Erica Cerra: I think the show, the writing and the cast became better and better each season and by the end it was some of the best of Eureka. It went out on a very high note! I'm very proud of that.
Niall Matter: The proudest moment I have on Eureka is honestly my very first episode. Because I came in, not expecting to stick around. So I was taking big risks with the character. And I think because those big risks were taken – the aloofness that I put into a character surrounded by a town full of geniuses – it was the secret ingredient that led them to keep me around. And I'm forever grateful for the four years I had with them.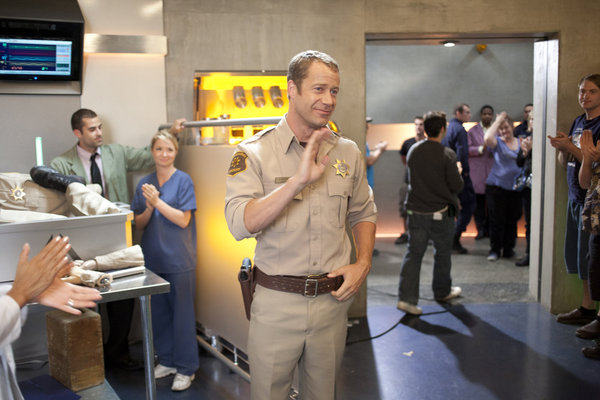 Ed Quinn: Professionally, I loved Season One. I was given a great opportunity to do some good work, and will always be really proud of that. Personally, I made some great lifelong friends, fell in love with Vancouver, and had some incredible adventures surfing and traveling around British Columbia. Life doesn't get much better.
Christopher Gauthier: I auditioned for the pilot and had no idea what the show would become. None of us did. But I distinctly remember saying to Colin, "This pilot could get picked up!" It had the makings for an unbelievable show: interesting characters, action and intelligence. Five seasons later, I'll take wonderful memories of an amazing show.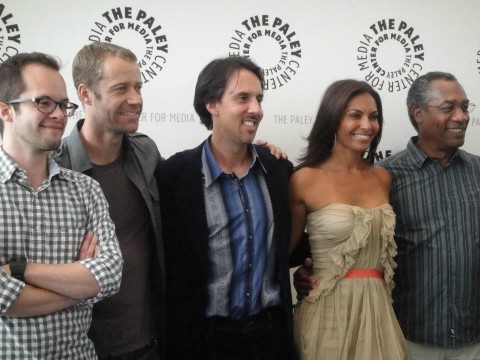 On July 16, the book will close on the episodic version of Eureka. But will the stories truly end there? Is that going to be the final good-bye for the characters and actors that fans have grown to know and love? Or could the story continue in some form, in some way? Paglia isn't against a return to the universe he helped create, but don't count on it happening right away.
"We've had talks with the network about a spin-off, but I decided I didn't want to launch immediately into one," Paglia said. "There's a concept we have, and we all see the potential for it, but I think it's best to give it a little time. If it feels right down the road, we'll do it. But I don't have any immediate plans to pursue it yet.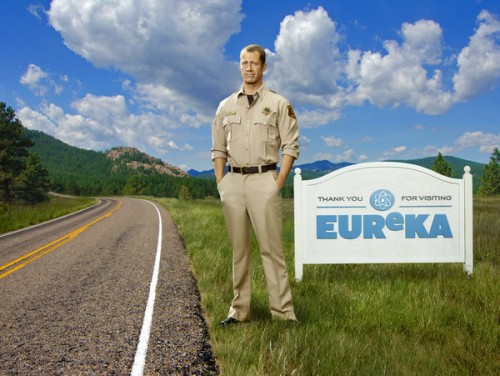 From a budding concept a full decade ago to a critical and commercial success now, Eureka changed the landscape of genre television. The trails it blazed have carried forward to this day, nurturing and pushing the envelope in terms of what science-fiction programming is capable of, and proving that with the right concept and execution, even the quirkiest of ideas will find its audience. It's a testament to the world that Paglia and Cosby initially envisioned – and to the gifted cast and crew that brought the series to stunning life. As we say goodbye to Eureka this month, there will be laughter and tears.
Not every series – genre or otherwise – can say they affected their fans in the same way. Eureka, from its onset, was one of those rare series that perfected that emotional balancing act with its audience right out of the gate. No matter the twists and turns the series took, whether embedded in the script or in the process of getting the episodes produced and on our screens, it never lost its singular, unique voice. Not once. For that reason alone, it should be celebrated. For all the other reasons, it will never be forgotten.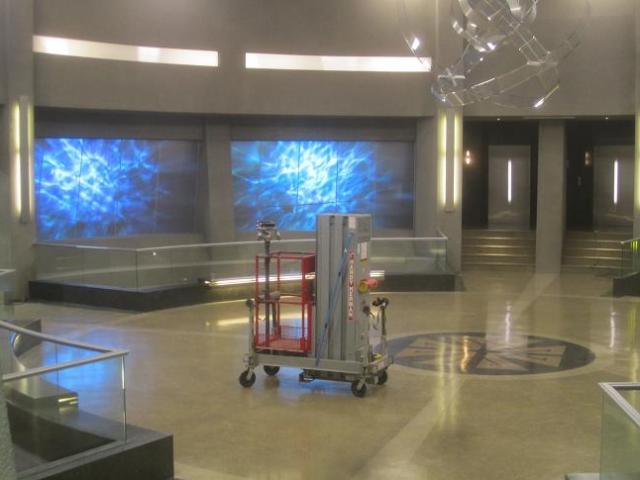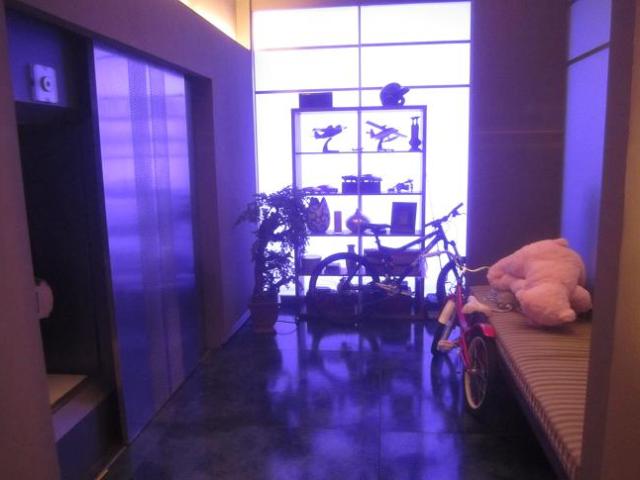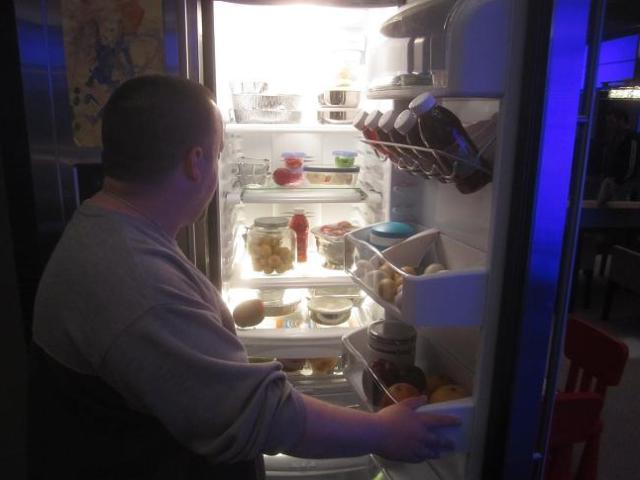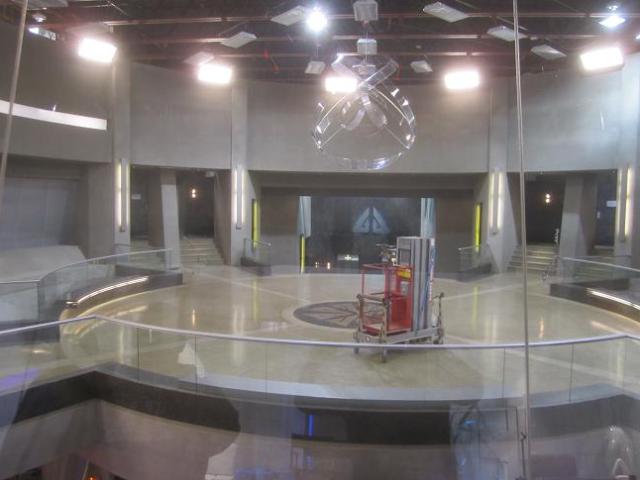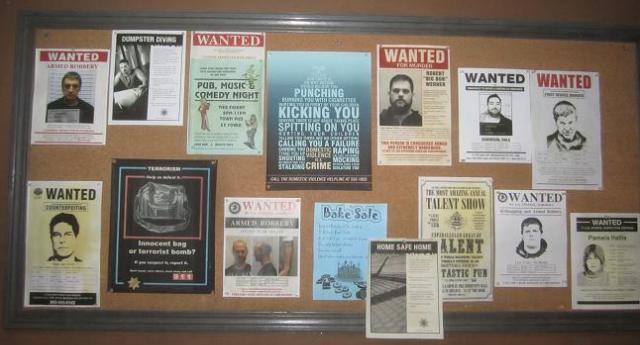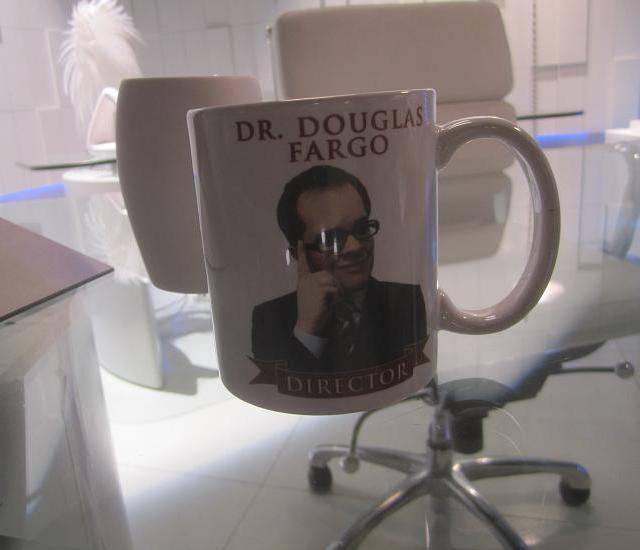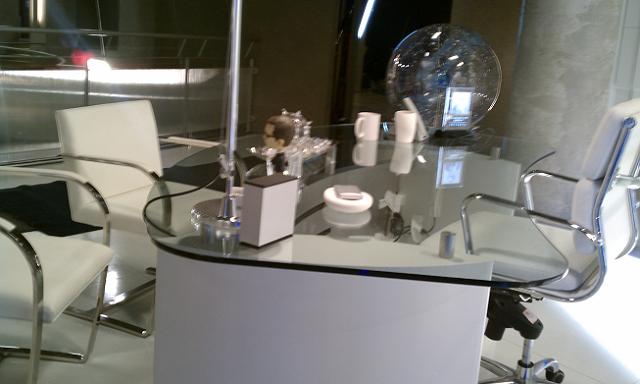 Author's note: All contributions from cast and crew were conducted exclusively by the author alone between April 2011 and June 2012. No content was lifted from other sources. A full list of material (written and audio interviews) can be provided by contacting the author at djdata19@yahoo.com. or follow me on Twitter at @chadcolvin.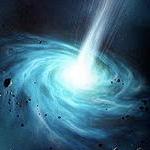 Thanks to Kenn and Patricia for image and audio embeds for this special Eureka analysis. And thanks to you for stopping by WormholeRiders News Agency!
Please feel free to leave a comment here, click an icon below to share this interview or you can visit and follow me on Twitter by clicking on my avatar to the right.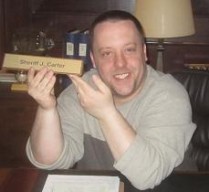 Regards.