Welcome back WormholeRiders and Agents of S.H.I.E.L.D.!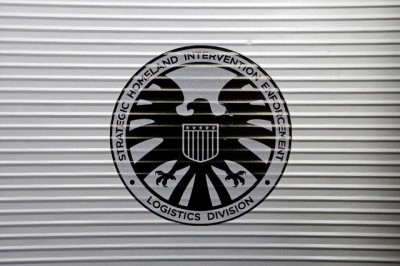 This series represents the finest effort in many years to effectively capture the science fiction drama audience on Tuesday evenings in the United States.
The creators creators Maurissa Tancharoen, Jed Whedon, Joss Whedon, Jeffrey Bell, and Jeph Loeb, have accomplished precisely that, AND added icing to the cake of Clark Gregg as Agent Phil Coulson, MingNa Wen as Agent Melinda May, Brett Dalton as Agent Grant Ward, Chloe Bennet as the rebel computer hacker Skye, Iain De Caestecker as Agent Leo Fitz, Elizabeth Henstridge as Agent Jemma Simmons, Ron Glass as Dr. Streiten, and Cobie Smulders as Agent Maria Hill with a little known program treat (based on views) offered each week.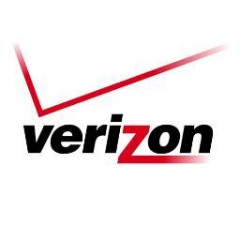 The cool weekly special of which we speak is sponsored by Verizon, and is known as Marvel's Agents of S.H.I.E.L.D. DECLASSIFIED! We have included the latest episode below for your enjoyment.
This editor was quite surprised that more viewers were not aware of this fun, well produced special that is available each week!
We respectfully suggest you let ABC and Verizon know you "Want Some More", just like "0-8-4!".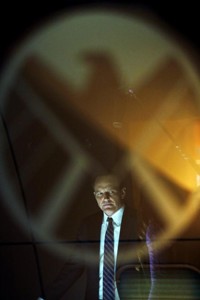 Editors Note: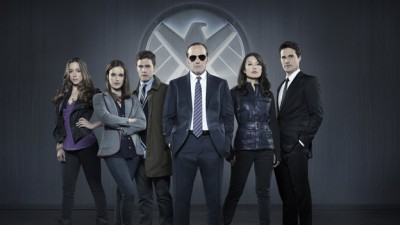 Before continuing a joint, two person Agents of S.H.I.E.L.D. analysis, WormholeRiders News Agency management would like to say goodbye to Holly Wilson as an active contributor to Team WHR.

Holly Wilson joined Wormholeriders News Agency (WHR) a little over eighteen months ago on April 06, 2012 subsequent to a standard volunteer employee interview.
After the interview, Holly agreed to abide by, be bound by, and follow all WormholeRiders Standards and Policies without exception as is required of any candidate requesting consideration as a WHR staff reporter prior to being granted approval.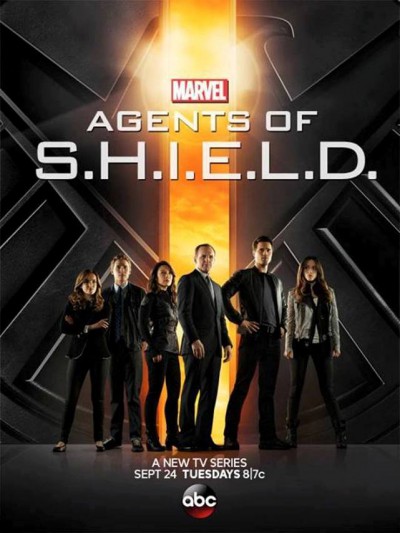 Holly initially reported to Patricia Stewart-Bertrand on the WHR Eureka team, and to myself on the WHR Warehouse 13 analysis team. Holly became a (had been a) good contributor who always turned her reviews in on time, often a day ahead of deadline. WHR always thanked her for each review on our web sites and on social media.

In the late fall of 2012, Holly expressed a desire to lead a WHR Series Analysis team of her own. Based on her performance through that date, and with respect to the series, Being Human, Holly began writing regular analysis of that series in January 2013. We thanked Holly for all her help even though she was unable to complete season four analysis of Being Human.

What happened? Holly had started a new job and had experienced other challenges which began to compete for her time. Moreover, Holly volunteered to write reviews for one of her favorite series DT known more formerly as Destination Truth. Holly also joined Patricia and I upon occasion at our hit live radio program WormholeRiders WHR you Decide where she received regular praise for helping out.

Additionally, Holly covered two of four entertainment conventions where WHR (as a news agency) is credentialed in 2012 and 2013… before things began to change.
Nevertheless, Holly express a strong desire to write analysis for Agents of S.H.I.E.L.D. because she admires the work of series creator Joss Whedon.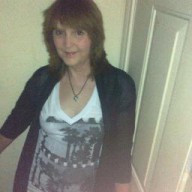 WHR management was about to stop approving additional assignments in the hope that things would settle down, but relented when she promised to have reviews in on time. Unfortunately, it was impossible for Holly to meet the WHR Agents of S.H.I.E.L.D. analysis team requirements that she had originally agreed to.
Sadly, Holly Wilson tendered her resignation earlier today. We will miss her, but hope to remain friends with her, depending of course on her behavior.
In closing this prologue, I sincerely thank Holly for her contributions to WHR and wish her and her family well, in fact, nothing but the best in the future.

Holly's Thoughts on 0-8-4:
This week's episode opens BIG with 0-8-4 which translated means Object of Unknown Origin, the prior 0-8-4, Agent Coulson (Clark Gregg) explains to Skye (Chloe Bennet), was a Hammer, and we all know how that turned out!
Buckle your seat belts, grab your coaster, and settle into your bunk as we analyze a week in the life of #AgentsofSHIELD !
The scene opens with The Bus in flight and Agent Coulson has just mentioned over his comm, something about there being blue skies from here on out…….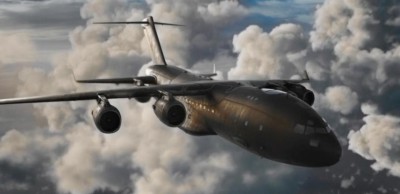 The next scene shows an explosion blowing a hole in the side of The Bus and Agent Coulson being thrown about the cabin! Somebody is yelling 'Hold On'! What has happened and where is backup?! How on earth or the verse did somebody get a bomb on the Bus, have they been shot in mid-air?! What is happening people?! Moreover, where is Ironman?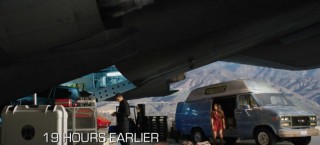 Were dropped into a scene with The Bus being loaded, Skye is there, with her van and all her belongings are being carried onto The Bus! We see she has a little touchstone, what is that….is that a geisha doll with a wobbly head…..maybe not but close enough! As Skye gets the last of her stuff from her van, she adds 'No joy rides, it's my house'! Before she turns and enters The Bus, and her new world as an Agent of SHIELD, did you notice…..one of the guys stuck something on her van….what is that little pyramid thingy….a GPS tracker, a homing device, a really cool speaker?! I do not know what it is but I bet it comes into play later, so we have noted it and will keep that in mind for a later date perhaps!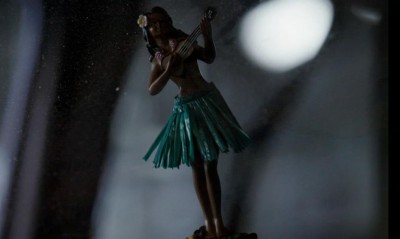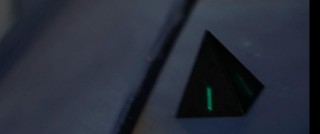 Agent Ward (Brett Dalton) comments that Skye is just not qualified to be a SHIELD agent, Coulson agrees that Skye isn't that's why he invited her on as a consultant, and he reminds Agent Ward that technically Stark is a consultant also and that's turned out pretty good for everyone! Seems Skye might be in good company on this one! I want to be a consultant! Ward is concerned about her past, and of Skye's ties to something called 'Rising Tide' and he reminds Coulson that she has successfully hacked into the SHIELD network twice, with not so state of the art equipment! Coulson's response, imagine what she will do with the resources of SHIELD behind her! Okay, lets see where this goes…I hope were not jumping on the Van wagon too soon with this girl, sorry about the pun, well….not really! Lol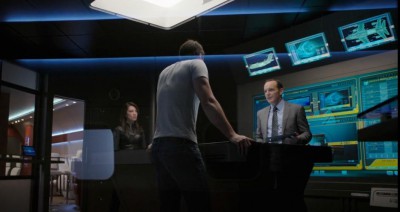 Bus driver Melinda May (Ming-Na Wen) reminds Coulson that they already have two untrained kids on the team and now another is being added? She does not seem happy about this development and neither does Ward! Coulson assures them that their frowns will be put on record, but he has made the decision and Skye will be added to the team!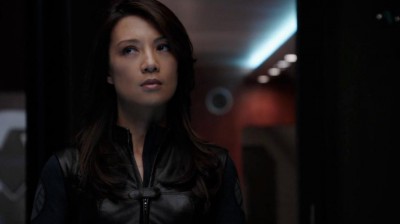 The mission this week is object of unknown origin, what our agents call a 0-8-4! And even Coulson says 'We don't know what that means'! However, our destination IS set we are going to Peru, so get your suntan lotion and camera phones on the ready, it could be tropical, there could be a beach, either way there is sure to be unknown stuff happening, you should bring any extra grenades if you have them… Just saying….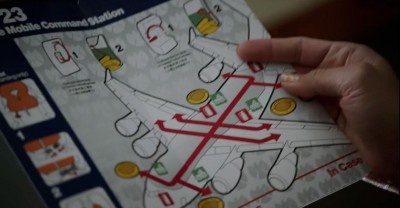 Fitz (Iain De Caestecker) and Simmons (Elizabeth Henstridge) find Skye a bunk cause per the intercom its wheels up, lock it or lose it! Ward hand's Skye a map, this is no normal map, tis the exit map for The Bus in case of emergency evacuation! Coulson shows up to welcome Skye to the party, a few niceties are exchanged, mention of the battle for New York, a sceptre through his heart, Tahiti being magical, him getting the plane having it refurbished, studs up! They have a seat, Coulson likes people to use coasters, another thing to remember, they buckle up and are off!
Sidebar Note: This magical place they call Tahiti – I think we should keep this tidbit in mind for later use also… Just saying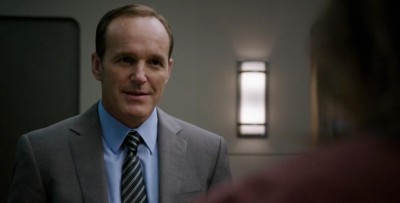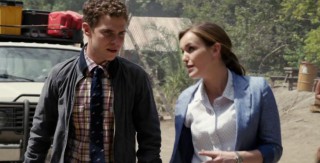 We land safely in Peru and the team arrives at what looks like an archaeological dig! Fitz and Simmons are talking ancient artifacts, local wildlife, monkeys and snakes and just rambling on about techie stuff, I like these two! Melinda May immediately feels they are excessively exposed out in the open, she goes to put their vehicle in a more undisclosed location. Skye seems confused as to why she is even there, Coulson explains to her that she is there in case her attributes are needed, otherwise, just tag along!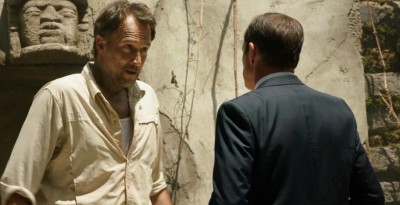 Coulson meets the Professor (Carlos Leal), the man in charge of this site on the steps of what looks like an ancient pyramid of sorts. Coulson introduces himself as the Professor begins to explain why SHIELD was called, he has found an artifact and it doesn't seem to be in the right place, the site has been dated to at least 500 years old, but this artifact, well it glows, with blue lights and it made of high tech metal! It is not 500 years old! This could be a problem, also Coulson asks him whom he has notified besides SHIELD and the Professor says the Ministry of Peru – great, whew – that might be a problem people!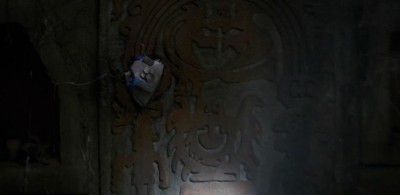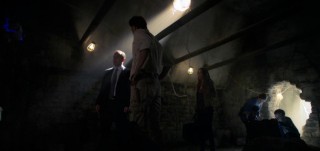 Simmons has pulled out some SHIELD tech in the form of Sleepy, one of the Quadcopter modules, the flying tech! Personally, I love this stuff, the tech, the acronyms, and the very premise that someone is working in the background, to try to keep the world safe from monsters! Anyway, Sleepy is analyzing the artifact – size, internal workings, and specs in general. When Sleepy's analysis comes back, Simmons is in shock as she tells them the artifact actually predates the wall it is latched onto by at least 1500 years…..whoa! Simmons says…maybe alien…..Fitz says looks more German…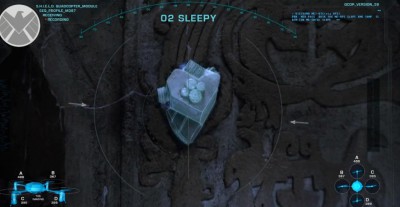 As we join, Melinda May outside, Ward is saying something about her not having a sidearm, and Melinda calmly states that if she needs a sidearm, she will take one! Then which turns out to be a big mistake, Ward pops off that he forgot he was working with the Calvary – Melinda looks at him – with that look, that we already know and love – and she say 'Don't ever call me that'! Ward agrees but gives us a little back-story on Melinda May, seems she was a real badass in Bahrain, and went into retirement after that.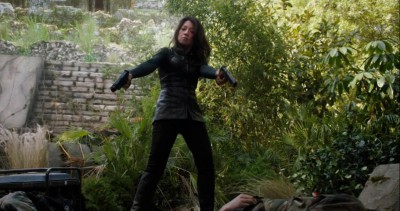 While May and Ward were talking old times it seems some Peruvian rebels were surrounding them, from behind and the sides, Ward and May are jumped, Melinda takes down two guys in the blink of an eye and took both their guns from them, so she has two – one in each hand! Ward also did okay, has one person by the neck and it is a standoff – then from around one of the jeeps comes a really pretty woman decked out in cammo ….who could this be?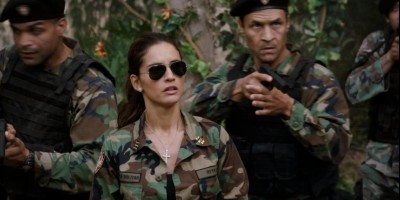 And to all our amazement, Coulson walks out of the pyramid speaking fluent Spanish, its Whedon awesome, brilliant and shiny indeed! He is the ultimate version of my perfect man, calm, collected and wears that suit so nice! Okay back to the story! Well, turns out he knows this woman! She recognizes him first and calls him 'Phillip', he responds and says 'Camilla' (Leonor Varela) and yep, seems they have history, and not just a working together kinda thing people! O….yes! Agent Coulson has been doing more than a little research with our rebel leader during a chapter of his past….possibly in Tahiti?
With one word, she has her rebel army stand down; Coulson begins introducing the SHIELD team to Camilla! While in the pyramid thingy, Skye, Fitz and Simmons are trying to figure out what this thing on the wall is…then Fitz says…. It's alive and they all kinda geek out – Skye asks, alive alive? Fitz answers that is has a functioning power source! Omuhgods! IT'S ALIVE! Ward drops in to tell them that they have company, not actually rebels but the State Policia, Skye know all about the uprising in this area of the world and Ward reminds her that she is not talking from the safety of her van, down by the river. Fitz and Simmons are begging for more time, are they in danger…..do they really have to go….Ward says no, as long as everyone does their job!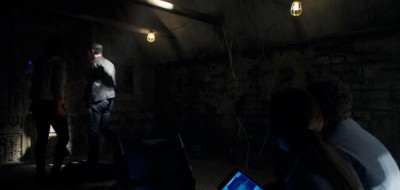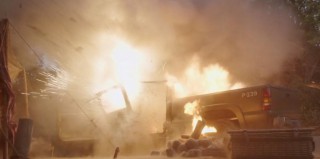 And I spoke too soon, Camilla and Coulson are reminiscing about old times when there's gunfire, explosions, people running and yelling everywhere! The rebels have come for the device and Ward yells for the team to load it up! Let's go! But before we go, I grabbed a screen cap of the case that Sleepy was in…..looky guys…..all the Quadcopters have the names of the seven dwarfs from Snow White! Cute huh?! There is even one named Snow White 00 – I wonder if that is a special one…..just wondering….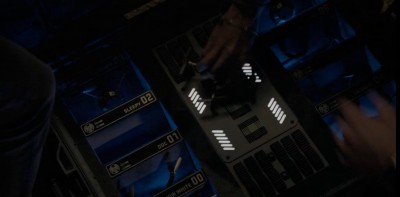 They needed containment for the device but there was no time, Ward grabs it off the wall and off they go! Fitz is really upset about Ward just grabbing it off the wall, Ward says science class is over and throws it into one of their bags! Skye, Fitz, Simmons and Ward are all trapped in the pyramid when Ward yells 'Get back' pulls this thing from his coat, Coulson tell Camilla to yell hat her men to get down, Ward jumps down the stairs pull this thing out and jams it into the ground and BAM! Sonic Boom blast happens and all the rebels and anything standing goes flying backwards and to the ground!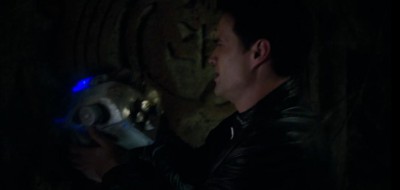 Camilla's and Coulson make a run for her truck while the rest of the SHIELD team SHIELD truck with Melinda driving and they head towards the airstrip dodging rebel gunfire, there's smoke and explosions everywhere! This is not going to be a peaceful trip through the jungle my friends! Melinda gets to The Bus first, Ward begins to close the ramp with Melinda yelling that Coulson is still out there! Ward gives backup as Coulson, Camilla and a few of her armed policia run up the ramp and safety! Skye mentions that she really misses her van! Whew! What a ride!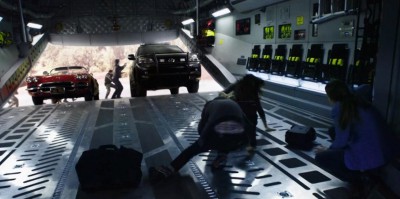 Fitz has been trying to tell everybody about the 'Device', to be careful with it, now as the ramp is raised and the gunfire subsides he explains…..this thing is powered by the same thing that power Captain America – Hydra WWII technology – its full of lethal amouts of gamma radiation! Ward – so its nucular… Coulson….no, its much much worse….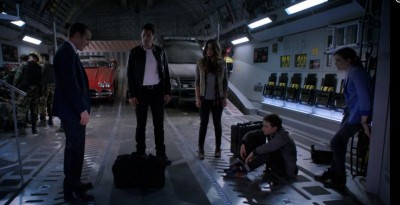 Coulson steps up to make sure May, who is driving The Bus, is doing okay with what just went down in Peru. He apologizes for subjecting her to the fire-fight and asks her if there's anything else he can do for her before he goes to check out the device, powered by evil, that sits in their cargo bay…..May obviously has nothing to say, she has that steely look of determination and focus on her face! Yep, excellent bus driver!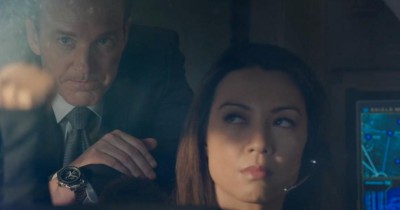 Simmons is taking the device from the bag, notice she is wearing gloves, which should help a lot and keep the worse than nuclear power out of the nervous system! Coulson is sending Camilla's guys that made it upstairs, where they will be more comfortable, while he and Camilla discuss where they are taking the device.
Coulson tells Camilla that they are headed for a SHIELD containment facility; she is suggesting an airstrip nearer to their current location. Sweetie, that is not gonna happen – please!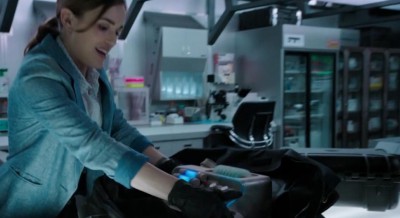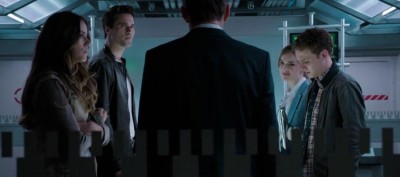 Fitz, Ward, Skye and Simmons are having a bit of a squabble when Coulson comes in and asks if everything is okay in there, Ward admits they are having a bit of a communication problem, within the team when Skye pops up and volunteers to be the team captain!
Coulson reminds them all that they do need to iron out the kinks, and he continues; Ward, you do speak 6 languages; Simmons, you have PhD's in two fields I can't pronounce; and Fitz you ARE a Rocket Scientist – so work it out! Skye yells after him, 'I'm good at stuff too'!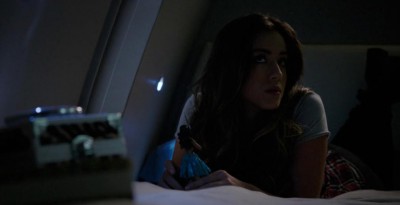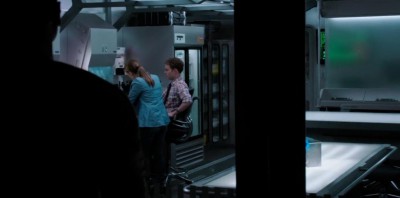 Everybody seems to be settling in quite nicely, Fitz and Simmons are still checking out the device, Camilla's guys have eaten and are kicking back, Skye and Ward are discussing world issues and not agreeing on much at all.
Coulson and Camilla have adjourned to Coulson's office, he has quite a collection of what he calls touchstones to the past, he like having them around, also noted, most are glued down!
Coulson thinks Camilla is acting weird, Ward sees a couple of Camilla's men, and they seem to be waiting for something, then we see another of her men, standing outside the lab, watching Fitz and Simmons……something is not good here kiddos!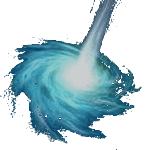 Thanks Holly for getting the review just in time before the next episode airs.
Please feel free to share this article with your friends, co-workers and or family. Feel free to leave your comments and we look forward to you visiting in the future.

Or as many of our readers and visitors often do, visit WHR on Twitter, or visit me on Twitter by clicking the text links or images avatars in this news story. I and Team WHR look forward to Seeing You on The Other Side!"
Thank you.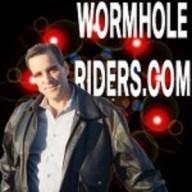 Best Regards,
Kenn and Holly