Greetings fellow Comic-Con enthusiasts!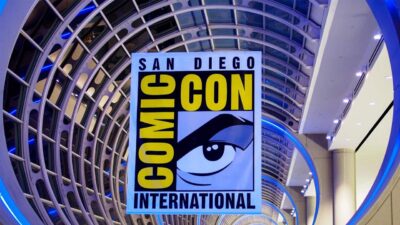 This year's event was quite the experience. Having attended San Diego Comic-Con since 2012, I can attest that it has always been the most significant, wildest, and most exciting show. Even during the pandemic, when everything went virtual, Comic-con remained a beacon of hope for us who love this event. But thankfully, in 2022, the convention came back in full force and was better than ever before.
However, I learned that major studios like Marvel, Disney, and HBO (now called Max) wouldn't attend the 2023 convention. Initially, I thought it wouldn't be an issue, but then the writer's and actor's strikes happened, and many people thought it spelled doom for Comic-Con. Nevertheless, I remained hopeful because I knew that the original incarnation of Comic-Con was all about comics and always will be. Even if some parts of the convention are affected by strikes or other issues, we will always have a love for comics that brings us together.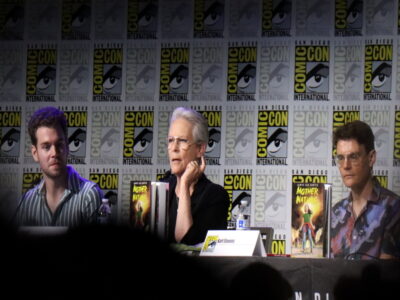 Despite the recent SAG/AFTRA strike, some actors could still attend because they had other projects that fell outside the strike's parameters. One such actor was recent Oscar winner Jamie Lee Curtis. She was promoting her upcoming comic book called Mother Nature. The line to get in the room was long, and I was worried I wouldn't be able to get in.
There were about ten seats left in the way back. I was one of the lucky ones to get those precious final seats. We were all so relieved to get in as we waited over an hour. It was worth it. The panel and Jamie Lee were great. I had a great time. It was fantastic to see Jamie Lee venturing into the comic world and embracing that genre.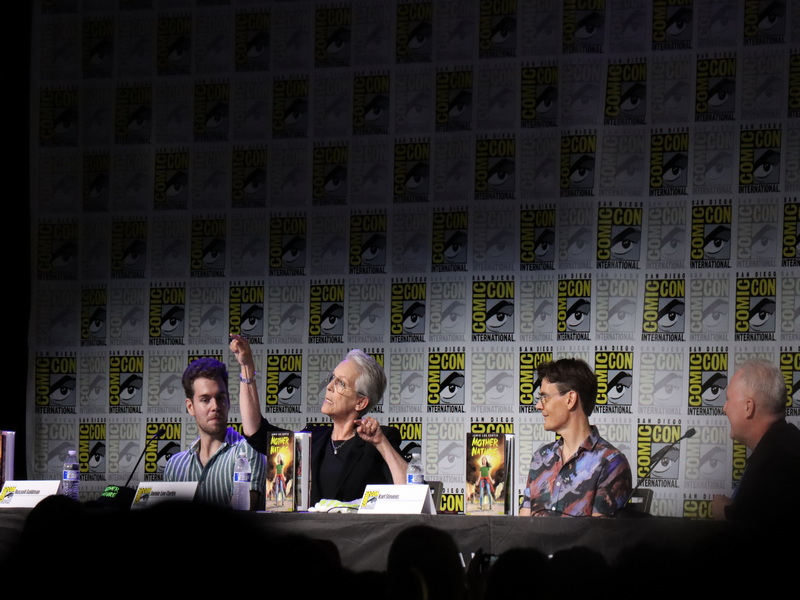 Things were different at Comic-Con regarding entertainment panels, and that's okay. The megalithic Hall H was used, but not as much as it typically is. Usually, Warner Brothers, Netflix, HBO, and other studios have panels for their most popular shows and movies in Hall H, where attendees often camp out for days in advance to get a front-row seat. That was missing this year, albeit there were a few panels in Hall H, but nothing like in the past. In fact there were no Sunday panels in Hall H or many of the other huge ballrooms. As a result, the convention floor for exhibits, artists, vendors, and other panel rooms, particularly the smaller ones,  were a lot busier with all the people who usually would be in panels in Hall H, Ballroom 20, or the Indigo Ballroom at the Hilton Bayfront hotel choosing other options.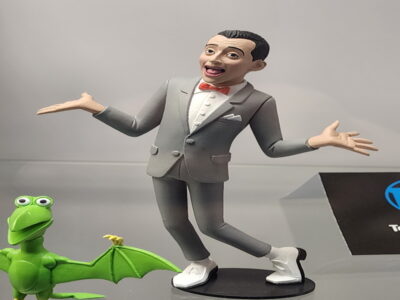 The vendors exhibit hall floor was busier this year, and lines were capped quicker than usual. Merchandise was being bought faster, which was terrific for the vendors counting on the attendees to buy their wonderful wares. In fact, several vendors sold out and had to bring in additional stock. It also gave independent artists more exposure as well. More people on the floor meant more people venturing to "Artists Alley" to discover the newest art and their fabulous offerings.
I saw more people at the comic book vendor's booths this year, which was beautiful. Collectibles were always part of the fold when it came to Comic-Con. You can find pretty much anything that interests a collector. Two of my favorites were a Pee Wee Herman figurine and the robot from Bad Robot Productions.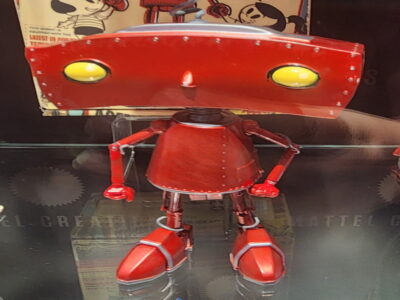 The bigger booths were missing from the floor: Netflix, ABC Disney, HBO, Marvel, and Warner Brothers to name but a few.
One major vendor that was missing that I always enjoy was Sideshow Collectibles.
Sideshow is always a highlight and one of the busiest booths on the floor. I always loved seeing the incredible statutes displayed at that booth.
Instead, this year Sideshow had its own virtual convention that featured its most popular and newest statues. I hope that they will return next year.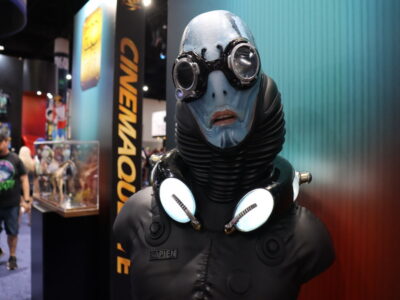 With Sideshow not a part of the convention floor this year, that gave way to other vendors to take its place. Lego had paid homage to the Blockbuster video stores we all loved in the 80s and set up a "Brickbuster" store on the convention floor. Funko and Mondo again were the most significant booths on the floor, and lines there were hours.
Thankfully Star Wars had their own booth since they had no panels this year. Mattel Creations, Entertainment Earth, Super 7, Dark Horse Comics, and IDW all had their booths running as usual, making the floor feel like home. Even though Sideshow was not present, there are always fun statues to see. One of my favorite vendors is Elite Creature Collectibles; their busts are incredible and very life-like. The one I loved the most was the bust of Abe Sapien from the Hellboy movies.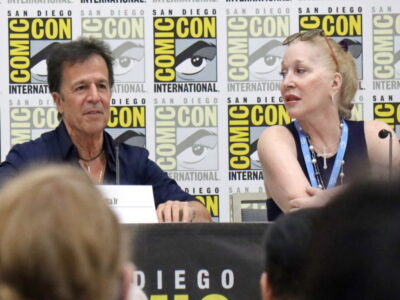 Smaller panels featuring comic artists were highlighted and focused despite needing more significant panels. I went to the John Romita, Jr panel, and it was terrific. He and his wife Kathy held court and discussed his career and famous father. I had heard of Romita (both Senior and Junior) through friends of mine that are comic book nerds.
I had a great time in the panel and learned more about how comic books get published and what an incredible life he has had, and the dedication it takes to do what he does. The endless hours, Kathy chimed in that she should write a book about being the wife of a comic book artist.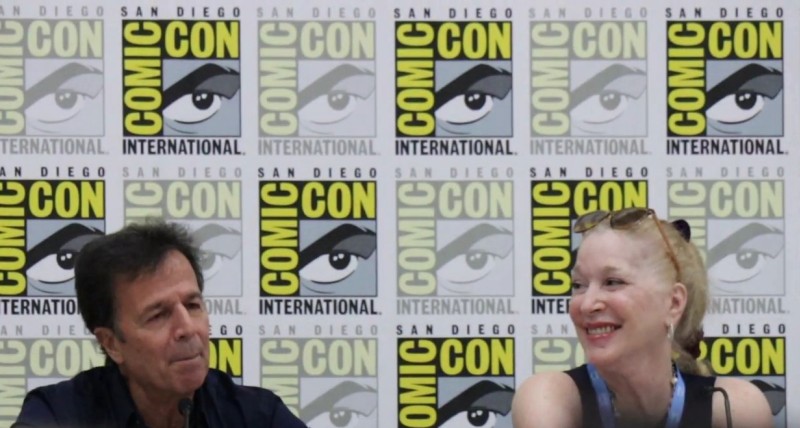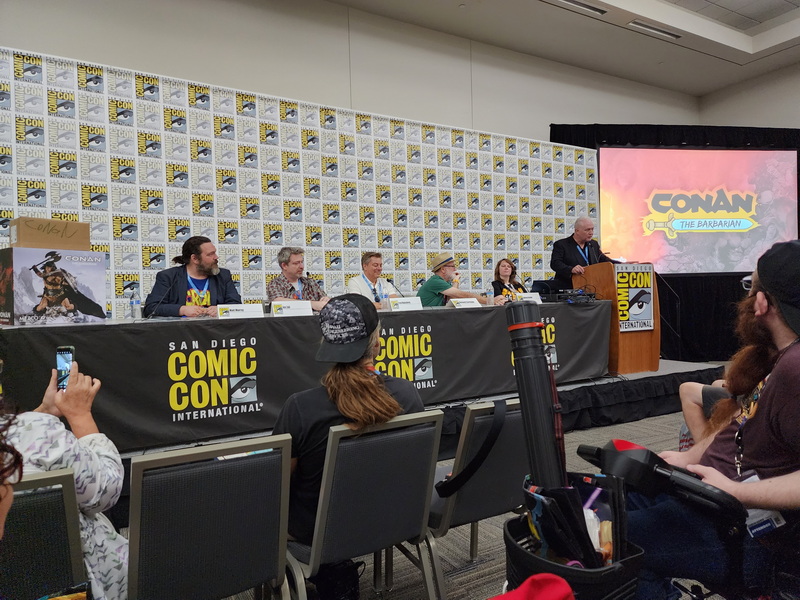 I also sat in on a Conan the Barbarian panel with editor Matt Murray, Jim Zub, and Fred Malmberg all of whom are associated with this superb new comic graphic novel.
The panel was produced by by Titan Comics and Heroic Signatures who are launching a new monthly Conan the Barbarian graphic novel series.
It was a fun panel that I really enjoyed!
As I have a good friend who is a die-hard Conan the Barbarian lover, I learned a bit more about the famous sword-wielding hero that is not apparent in the movie renditions of this famous character.
The Conan the Barbarian graphic novel creators revealed that Solomon Kane will return to the fold. I know some people will be happy to hear that. Below the Conan trailer, we include a fun interview courtesy of Fanbase Press.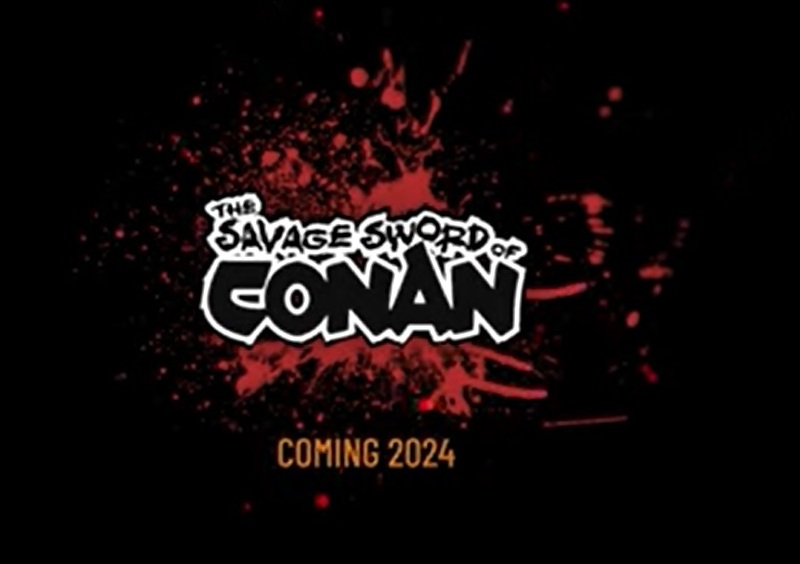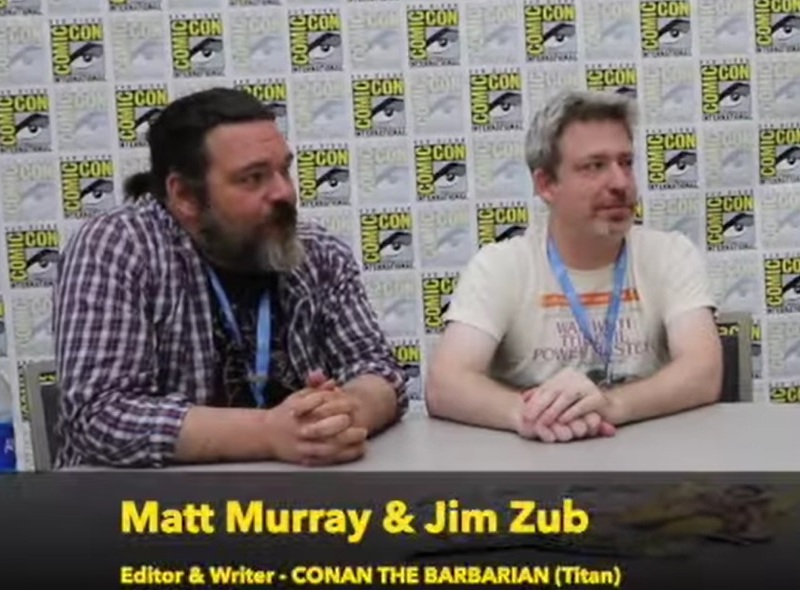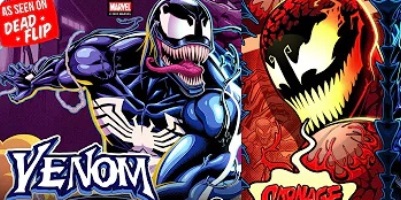 Due the cancellation of many panels this year, I could also explore the convention floor and find more vendors I would have commonly overlooked. As with all conventions of significant size, everything will have pros and cons (pun intended).
One panel I could attend this year, which I unfortunately missed last year, was for Stern Pinball. I had the pleasure of interviewing Jody Dankberg about the company and any future endeavors the previous year. It was much fun, and they let us know that Venom was the newest addition to their comic book pinball machines. I did not get a chance to play the pinball machines like last year, but I have played many of their machines in the past, and they are always a lot of fun.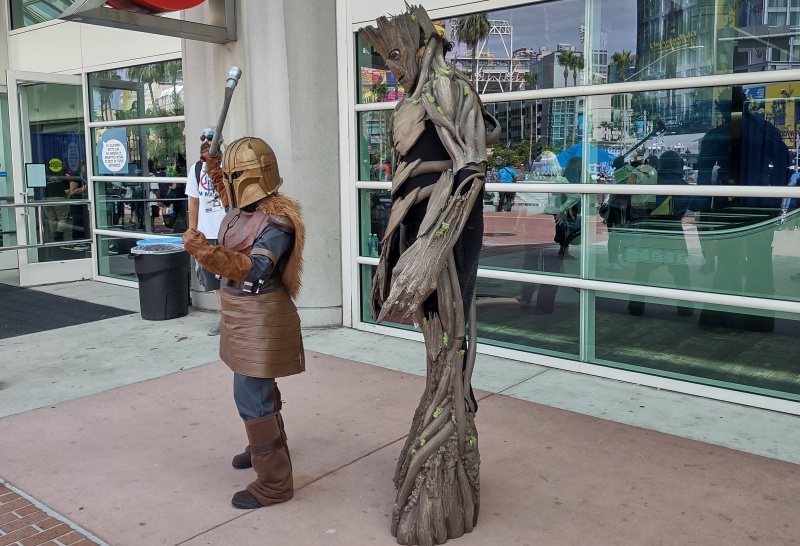 The other wonderful thing I love about San Diego Comic-Con is that there are always things to do, whether in the Convention Center itself or at the Marriott Marquis, outside behind the Convention Center, at Petco Park or just enjoying the always outstanding Cosplay.
There is always something to do for comics, entertainment and games fans for all visitors to San Diego. Thankfully the weather this year was not as hot as it usually is. It was a little bit odd with light rain in the weather, but everything was still fun, nonetheless.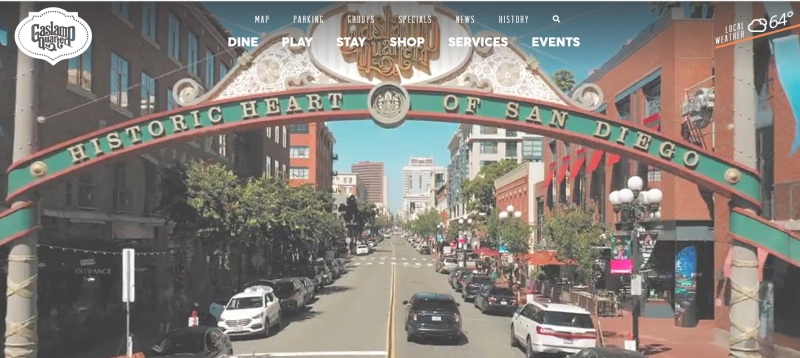 Also, the great thing about San Diego is that the historic Gaslamp Quarter or district that always has themed restaurants during Comic-Con. You will find restaurants modeled after Bob's Burgers, or Interview with the Vampire. I went to one modeled after Mooby's from the Kevin Smith movies. I went there with a few friends, and we had burgers and beer, and it was decorated in that fashion of the film, plus there was also merchandise. So it was nice to escape the Convention Center for some time. But again, the Gaslamp Quarter always has themed restaurants which is so much fun!
The activation's, as always, had long lines this year, but that's par for the course regarding Comic Con. The most significant activation this year was the Jurassic Park 30th Anniversary which featured the top scenes from this iconic movie. We include a fabulous video of the exciting experience courtesy of IGN below for your enjoyment.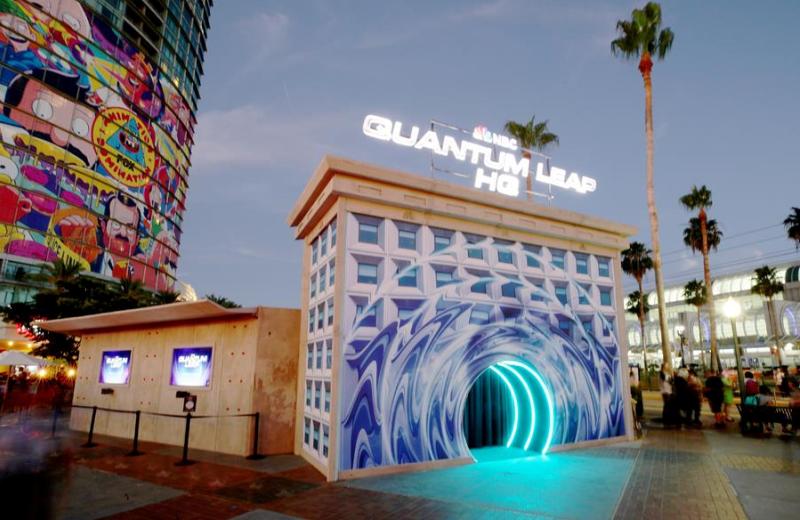 Another fun exclusive to San Diego Comic-Con 2023 was the Quantum Leap activation provided by the great folks at NBC Universal Entertainment.
With expanded coverage as compared to SDCC 2022, over the four days of Comic-Con events, located across from the convention center near the entrance to the GaslampQuarter, Quantum Leap fans could "leap" into the terrific television worlds of "Law & Order," "SVU" and "Organized Crime," "The Voice" and "Chucky" to help stabilize the timelines with the help of the "Quantum Leap" time travel team!
SDCC is always wonderful to experience. Just be prepared for long lines in the sun and always take along lots of sunscreen and plenty of water to stay hydrated. Another fun experience was strolling through Lazlo's garden from What We Do In The Shadows. We include a cool video below about this fun experience courtesy of Through the Lens of Lady Kay B.
However, it was a shock to the system for many people who are usually at Comic-Con for the TV shows or movies coming down the pipeline. People adjusted well, and they could have a good time no matter what. They could still enjoy themselves even without the big panels, no matter what. I know I did. And you learn new things about comic books, games, Cosplay that you didn't even know about, and that's what's always fun about these conventions. You find new and exciting things to be happy about. Overall, it was a fun time, and I look forward to attending Comic-Con again in 2024, regardless of whether it has the studio's presence.
Lastly, I'm in solidarity with both the writers and actors as I am both in real life and will pursue a career later in my life as a director. I know there was talk about the strikes; there was concern about the future of Comic Con and what would happen if the strikes continued. I hope you enjoyed this article and will take comfort in knowing that Comic-Con has been going strong for 50-plus years and doesn't plan on slowing down anytime soon!
Thanks to Kenn for video and image embedding for my feature article and many thanks to you for visiting WormholeRiders News Agency. I will be back soon on with my episode ten analysis and final review of seasons one through five of Mayans MC and will continue my adventure at Comic-Con 2023 in San Diego with an exiting interview in the future!

Please feel free to leave a comment here or If you prefer, you may also click the social media icons below to share this news article or as many of our readers and visitors often do, visit me on Twitter by clicking the links or images avatars in this news story.
See You on The Other Side!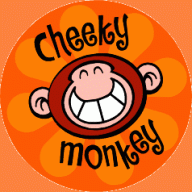 Until next time,
Regards,