Welcome back WormholeRiders,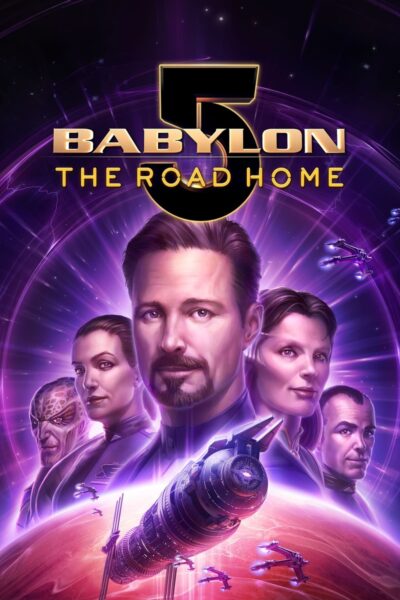 One of the most beloved science fiction television franchise shows in all television entertainment history is Babylon 5. Returning to San Diego Comic-Con on July 22, 2023 with a new movie named "Babylon 5: The Road Home", series creator J. Michael Straczynski and Director by Matt Peters were available for Press Room interviews thanks to the great team effort over Warner Brothers bringing Babylon 5 back to our screens!
The newest incarnation is an outstanding animated film! Babylon 5: The Road Home is a story that finds us with almost all of the original characters that J. Michael Straczynski created including Bruce Boxleitner as John Sheridan, Claudia Christian as Susan Ivanova, Peter Jurasik as Londo Mollari, Bill Mumy as Lennier, Tracy Scoggins as Elizabeth Lochley, and Patricia Tallman as Lyta Alexander. Ambassador Delenn normally portrayed by marvelous Mira Furlan, passed in 2021, is now ably portrayed by Rebecca Riedy in addition to a superb ensemble cast. In Babylon 5: The Road Home our heroes travel across the galaxy with leader John Sheridan on a quest to find their way back home to Earth. Our rating is an A PLUS making Babylon 5: The Road Home a must see for all Babylon 5 fans!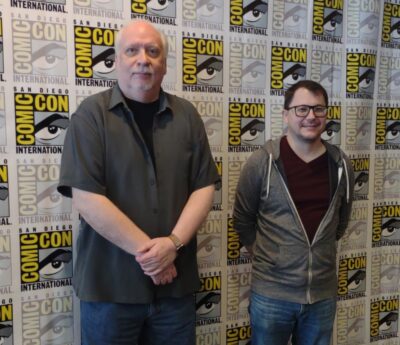 Science fiction admirers fondly recall that Babylon 5 had five successful seasons running from 1993 to 1998, plus five movies (now 6 with Babylon 5: The Road Home) that began with a television movie called The Gathering which launched the series in 1993. Crusade (1999) was a much anticipated sequel spin off of the Babylon 5 series that was filmed and aired before production on the actual new series (that was never made) began. For series continuity, this next film should be viewed first. In the Beginning (1998) is actually a prequel to Babylon 5 taking place between 2243 and 2248 prior to any of the events depicted during the series or follow on movies. This film is laden with spoilers, so it is strongly suggested viewing after watching the first four seasons of Babylon 5.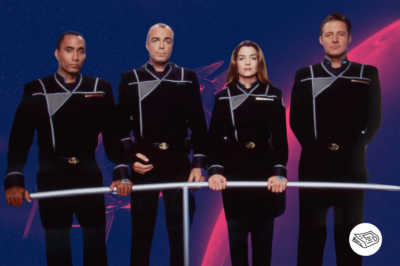 Babylon 5 movies were very popular after the series ended and remain so today with millions of fans around the world. The films captivated the fans attention beginning with Thirdspace (1998) featuring a timeline that fit in between the fourth and fifth seasons taking place in the year 2261 sometime around the eighth or ninth episode of season four. River of Souls (1998) takes place in 2263 occurring between season five episodes "Objects at Rest" and "Sleeping in Light." Finally, A Call to Arms (1999) also takes place between episodes in the year 2266. Followed a few years later with Legend of the Rangers To Live and Die in Starlight (2002). These Babylon 5 movie adventures were subsequent to the series conclusion in 1998 and was a pilot for a spin-off series that wasn't picked up. In 2007 The Lost Tales was well received as a Babylon 5 mini-series delighting fans with a story arc that occurred in the year 2271 on the tenth anniversary of the Interstellar Alliance and was the last Babylon 5 film released prior to 2023. We can attest to the fans we have talked with who have been eager for more Babylon 5 the past 16 years, and now the dream has come true!
We are very grateful to Warner Brothers for producing this film, to J. Michael Straczynski for giving us more Babylon 5 in 2023, the actors and everyone who is involved in making this! We also send thanks to Jamie Falkowitz Public Relations for making these interviews possible. Therefore, with such an epic legendary science fiction history inherent in Babyon 5, spanning thirty years on our screens and echoing in our minds, it was an honor to interview J. Michael Straczynski and Matt Peters. We include their Babylon 5: The Road Home Press Room interviews below for your enjoyment.
About J. Michael Straczynski: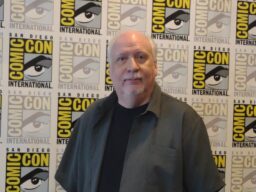 A legend in the entertainment industry, as well as a creator and writer of his own comic book series called Rising Stars, J. Michael Straczynski, creator of Baylon 5,  is also very well known for work in movies and television including Sense8 (2015), World War Z (2013), Underworld: Awakening (2012), Thor (2011), Changeling (2008), Jeremiah (2002), and for Babylon 5 (1993). Many have enjoyed Joe's creativity since he began his career writing for the He-Man and the Masters of the Universe (1983) and She Ra Princess of Power (1985) series characters that remain popular to this very day!
Now with the Babylon 5: The Road Home accomplishment, and with fans wanting more, we must recall his oath to the Babylon 5 fandom on the prospect of future Babylon 5 feature film projects: "The only thing I can say without equivocation is that when that day comes, as the rights-holder, I will make darned sure that it's done right, because I'd rather have no B5 movie than one that doesn't live up to what fans and I myself would want to see. To that end…I can wait."
About Matt Peters: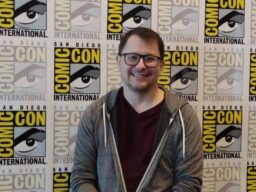 This talented Director has been bringing top notch entertainment to our screens for over 25 years. Starting as a Storyboard Artist where visualizing the arc of the television show or movie is critical to its success as well as acceptance by viewers.
Matt's career as a Director includes Babylon 5 The Road Home, Teen Titans Go! & DC Super Hero Girls: Mayhem in the Multiverse (2022), Batman and Superman: Battle of the Super Sons (2022), Injustice (2021), LEGO DC: Shazam! Magic and Monsters (2020), LEGO DC Comics Super Heroes: Aquaman – Rage of Atlantis (2018), Scooby-Doo! Shaggy's Showdown (2017), and many more contributions which have brought magical stories to our screens.
We will be back in the near future with more of our feature articles about our awesome adventures at San Diego Comic-Con 2023!
Please feel free to share this article with your friends, co-workers and or family and leave your comments! We look forward to you visiting our dedicated review and analysis web site here in the future! Or as many of our readers and visitors often do, visit TeamWHR on Twitter, or visit me on Twitter by clicking the text links or images avatars in this news story. I and TeamWHR look forward to Seeing You on The Other Side!"
Thank you.
Best Regards,
Kenn of #TeamWHR