Welcome Back Comic-Con San Diego Lovers!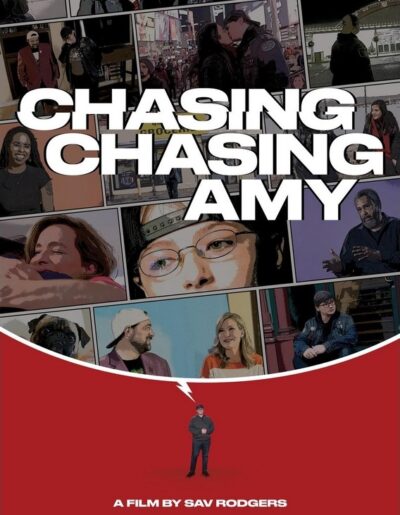 On Thursday July 20, 2023 WormholeRiders was granted the outstanding honor of interviewing the terrifically talented Sav Rodgers (creator of Chasing Chasing Amy) and Regina Rodgers, producer of this important film for everyone in the 21st Century!
Written and directed by Sav Rodgers, Chasing Chasing Amy is the genius documentary film that chronicles the journey of Sav from the time in 1997 when he experienced the original Chasing Amy film through his life in the second decade of the 21st Century.

During our time with Sav and Regina we cherished the privilege of interviewing these two delightful individuals about their involvement in the Chasing Chasing Amy documentary, bringing their creative genius in creating the film that featured an original actor and the director from the 1997 movie, specifically Joey Lauren Adams and Kevin Smith.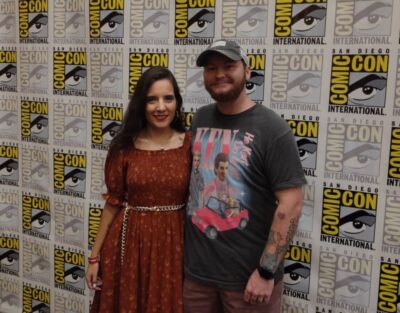 Sav indicated during our interview and to many others as well, that the original Chasing Amy literally saved is life. As such Sav, with Regina, embarked on a mission to share the adventure that made Sav and Regina what they are today by overcoming the fear and prejudice associated with being gay, lesbian or a bi-sexual human being. Viewers of the original Chasing Amy, an American romantic comedy-drama film written and directed by Kevin Smith know that the film revolved around a character named Holden McNeil (Ben Affleck), a male comic artist who was pursuing a woman named Alyssa Jones (Joey Lauren Adams) who Holden learns is a lesbian. During Chasing Amy, Holden is being constantly, and unfairly criticized by many, including by his best friend Banky Edwards (Jason Lee).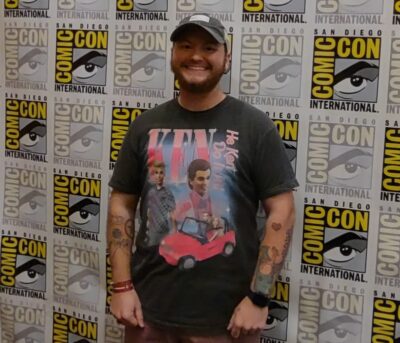 In Chasing Chasing Amy, creator, writer, and director Sav Rodgers is joined by Andrew Ahn, Trish Bendix, Scott Mosier, Kevin Smith, Guinevere Turner, Princess Weekes, and Kevin Willmott to document what they all were subjected to, and how they achieved success in their lives despite encountering prejudice.
The reason we are intensely interested in the Chasing Chasing Amy documentary film? WormholeRiders experienced hatred and prejudice directed towards two of our reporters in the past, one gay and one lesbian who were attacked on Social Media. Our management, and all our staff immediately rallied to support our reporters including advising the social media company involved to have the haters warned and in several cases (out of hundreds), suspended by Internet Protocol address motivating TeamWHR to become one of the early followers of the NOH8 Campaign over fourteen years ago in April 2009.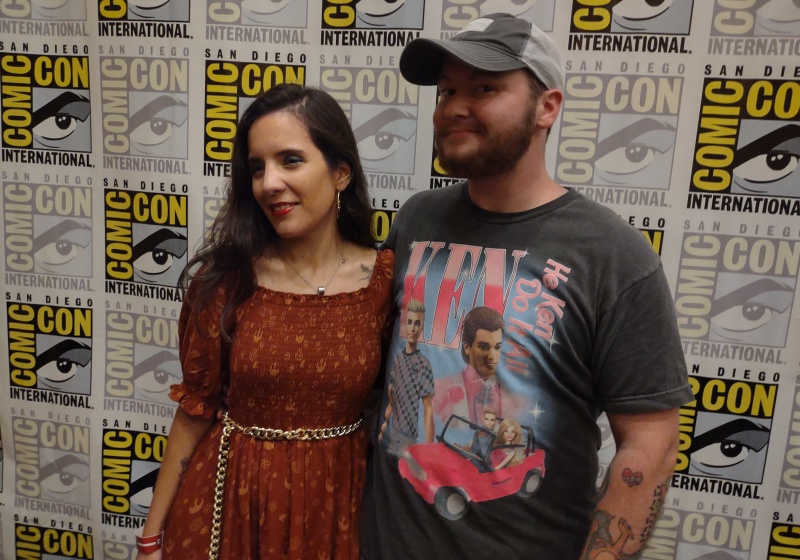 About Chasing Chasing Amy:
Chasing Chasing Amy is a film we highly recommend. It is about a young filmmaker (Sav Rodgers) winner of 29 film awards and garnered 14 nominations, who sets out to understand the 1990's LGBTQ romantic comedy film that saved his life. During his journey, Sav is forced to confront complicated truths of his own, that changed who he is forever. Subsequent to a TED Talk he gave in 2018 that kick started this film making journey, all of which ultimately spurred the writing of scripts that center on highly specific, surprising stories about queer people.
We will continue reporting on our adventures in San Diego for Comic-Con 2023 so check back soon! In the meantime, please feel free to share this article with your friends, co-workers and or family and leave your comments! We look forward to you visiting our dedicated review and analysis web site here in the future! Or as many of our readers and visitors often do, visit TeamWHR on Twitter, or visit me on Twitter by clicking the text links or images avatars in this news story. I and TeamWHR look forward to Seeing You on The Other Side!"
Thank you.
Best Regards,
Kenn of #TeamWHR