Welcome back WormholeRiders, Profiles In History, McCune Masterworks and San Diego Comic-Con admirers!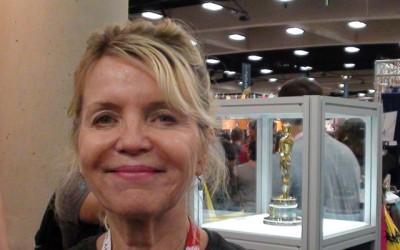 On Sunday July 12, 2015 at San Diego Comic-Con, we had the distinct honor of meeting and interviewing Kathy McCune of the marvelous McCune Masterworks.
The encounter with this lovely and legendary woman occurred during our visit to the Profiles In History exhibit located in the Grand Hall of the San Diego Convention Center. Our mission was to see if we could chat with Joe Maddalena and members of his fabled company, Profiles In History!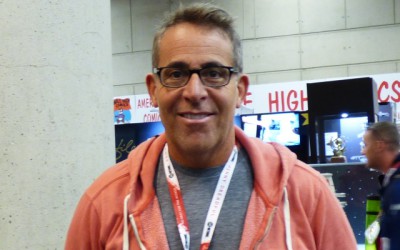 As always, Joe Maddalena presented the Profiles In History exhibit in the Grand Hall of the San Diego Convention center during the annual San Diego Comic-Con convention.
Not only was Mr. Maddalena as wonderful and enjoyable to chat with, we were graced by his hospitality with opportunities to interview Joe Maddalena, Kathy McCune, Brian Chanes and Jonathan Mankuta about the outstanding artifacts that delighted fans from around the world who were attending San Diego Comic-Con. We include the interviews below for your enjoyment.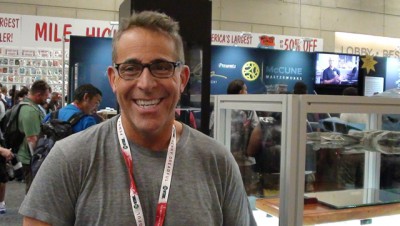 This year the artifacts on display were fantastic featured were many, including the historic Alderaan Crusier Blockade Runner from Star Wars, the superb submarine from U-571, and the cool X-Men jet from the second movie in the series!
Like many of the fans who stopped by the exhibit, this editor was in awe to see a golden Oscar, the famous Star Wars Alderann Cruiser also known as the "Blockade Runner", a Star Wars Tie Fighter and X-Wing Fighter, U-571, the X-Men jet, the Spaceballs spaceship RV, and several unique works of art created by the genius' at McCune Masterworks!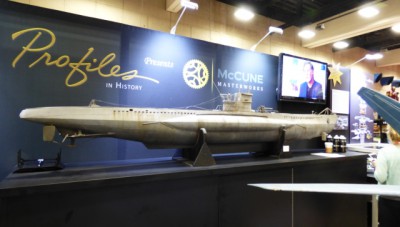 Teaming up with McCune Masterworks for the coming Hollywood Auction September 29, 2015 to October 1, 2015, Profiles In History also featured a very special person, Kathy McCune of McCune Masterworks will be auctioning the items named above at the Hollywood Auction!
Kathy McCune, owner of McCune Masterworks, was partner and wife of Grant McCune, an American special effects designer whose entry into the world of Hollywood began with the great white shark in legendary 1975 film, Jaws. This was an uncredited creation that set a foundation in the entertainment industry for Grant McCune and his lovely partner, Kathy McCune!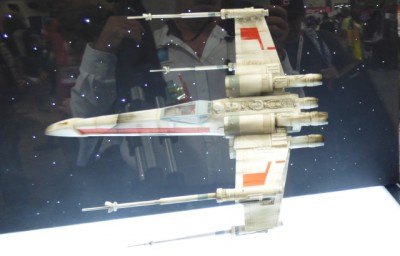 Grant McCune's efforts in Hollywood then led to work on a series of major films, including his design of the robots in the Star Wars films, winning an Academy Award Oscar in 1977 for his efforts in the first film in the Star Wars series.
Described on the McCune website; McCune Masterworks features limited edition collectables, gifts, home furnishings, functional works of art, and famous replicas.
"McCune Masterworks creates bespoke functional art and premium replicas that become innovative showpieces for discerning collectors.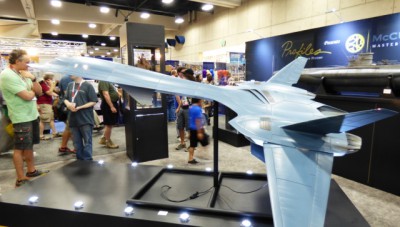 Every McCune creation is a masterpiece; a kinetic and experiential innovation, truly bespoke and crafted by the finest artisans in the field. Drawing on our extensive history in Hollywood special effects, complex electromechanical engineering, and the most exquisite modeling, hallmarks for which McCune is recognized worldwide, each McCune Masterwork produces an engaging experience through interactivity, fantasy, or storytelling. McCune Masterworks decade-rich portfolio includes more than 20 years of fabulous creations commissioned by the most discerning private collectors. Each piece reflects the client's imagination, with details as personal as a signature."
Having been an admirer of Mr. Maddalena and his fine crew at Profiles In History for many years, we here are WormholeRiders strongly suggest you visit the Profiles In History and McCune Masterworks web sites, and prepare for the fabulous Hollywood Auction September 29 through October 1, 2015 when history will be available for you to own for yourself!

In closing for now, we express our sincere thanks to Marc Kruskol of MJK Public Relations for arranging the interviews with Joe Maddalena, Kathy McCune, Brian Chanes and Jonathan Manukuta!
We hope to see you all later this year beginning September 29th for something definitely "Worth It", the fabulous Hollywood Auction by Profiles In History!
Stay tuned as the WormholeRiders News Agency Team announces more of our new WHR You Decide video interview series during 2015 and beyond!

In the meantime, please feel free to share this article with your friends, co-workers and or family by clicking one of the icons below. We thank you for visiting and express our sincere gratitude for doing so!

Feel free to visit WHR on Twitter, WHR on Facebook or visit me on Twitter by clicking the text links or images avatars in this news story. I and Team WHR look forward to Seeing You on The Other Side in 2015!

Thank you.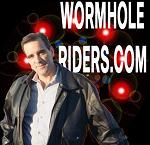 Best Regards,
WR_Systems (Kenn)