Greetings to all the fans of Mayans MC!
We are all feeling a bit lost without this fantastic series. That brought us into the world of a motorcycle club in the fictional town of Santo Padre, California. 
Mayans MC showed us the importance of brotherhood and family in a world of bikes, money, drugs, clubs, loyalty, guns, and more. This type of motorcycle club criminal world was initially introduced to us in Sons of Anarchy, created by Kurt Sutter.
Within this world, we witnessed a Shakespearean tale with Greek tragedy undertones unfold before our eyes. Elgin James skillfully guided the series on a lengthy journey, introducing us to a diverse cast of characters, some of whom we adore and others we despise.
Warning: This detailed analysis of the marvelous  Mayans MC series will have many spoilers revealed, so if you have yet to see the series or have not caught up with all the episodes across the five superb seasons, then stop now!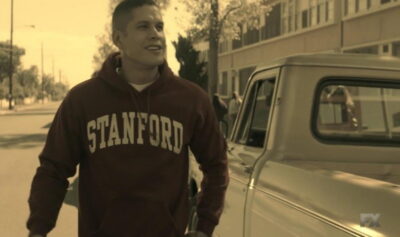 At the start of the series on September 04, 2018, Ezekiel 'Ez' Reyes (JD Pardo) entered a world vastly different from what he had planned for his future.
Known as "The Golden Boy," Ez had expected to finish college at Stanford, marry his high school sweetheart, Emily Thomas (Sarah Bolger), pursue a successful career as a lawyer or doctor, start a family, and lead a prosperous life.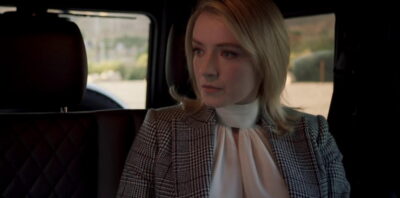 However, fate had other ideas for him, Emily and the other members of the Reyes family.
Another significant theme in the show is the relationship between fate and the consequences of the characters' decisions. Each of which would have far-reaching effects on everyone and everything, especially the Mayans high school sweethearts Ez and Emily.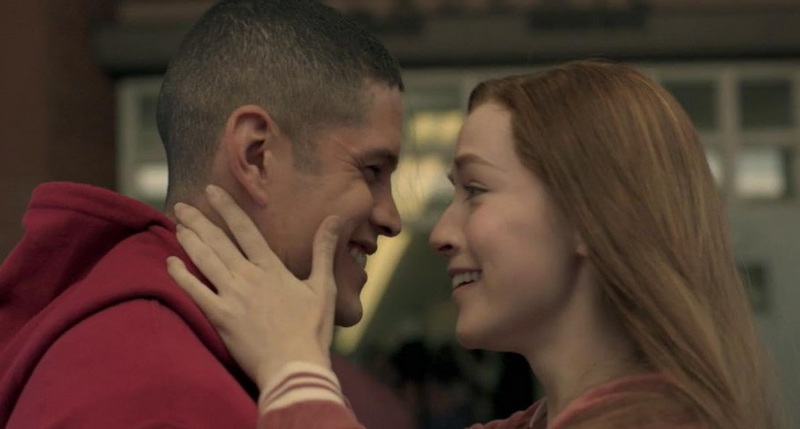 Slow to Bleed Fair Son and Series Analysis: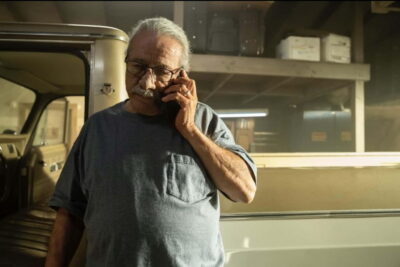 The events in the series and Ez's current situation resulted from his father's sins.
Felipe Reyes's (Edward James Olmos) troubled past drove Ez to make a life-altering decision affecting those around him.
With a veteran like Olmos part of the series, we knew we would be getting top-notch acting in every scene that Edward James Olmos was in.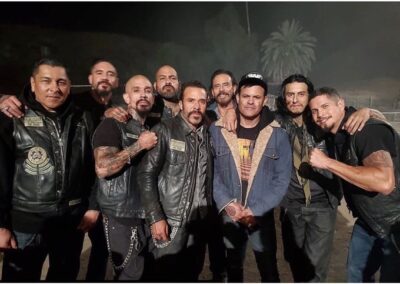 The series featured a talented cast of Latino actors, including Edward James Olmos, Danny Pino, Michael Irby, Selene Luna, Carla Baratta, Emilio Rivera, Vincent Vargas who we interviewed at San Diego Comic-Con 2022 before season five and Tony Plana. One actor who stood out to me was Richard Cabral, who played Johnny Coco Cruz. I have expressed my admiration for his performance multiple times. Cabral and co-star JD Pardo delivered some of the best acting I have seen on TV, bringing depth and complexity to their characters.
We saw their flaws, weaknesses, intelligence, and brutality, which gave us insight into what drove them.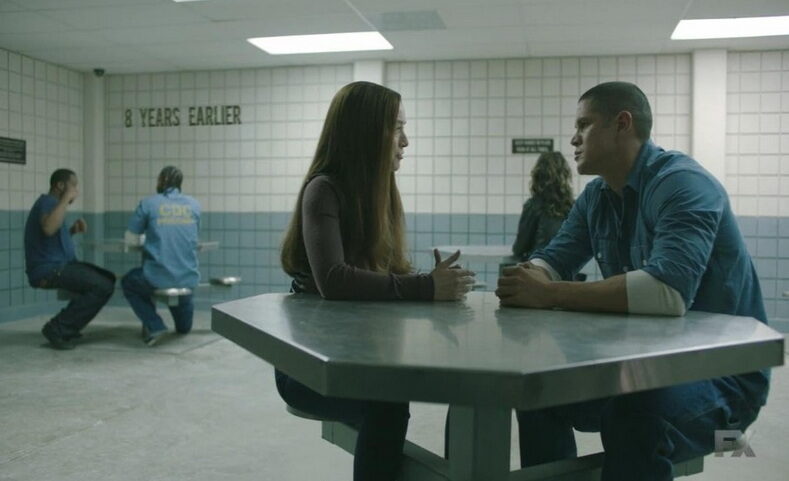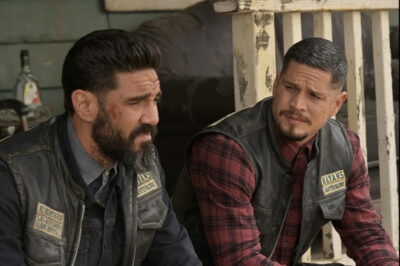 From the first season, after Emily visited him in prison, we learned why Ez had been released from prison after serving only eight years.
Few people ever knew about these details. Unfortunately, this would ultimately become Ez's undoing.
Ez brought a different energy to the club, using his intelligence as an asset instead of relying solely on physical strength like his brother Angel (Clayton Cardenas).
Brotherhood was a central theme, as being part of the club always meant having someone to back you up. But it also meant sacrificing individuality for the good of the club.
The characters' backstories were interwoven, and we saw how they evolved from season to season. Ez's arc was particularly impressive, with shades of Shakespearean tragedy.
The writers incorporated references to Julius Caesar, Richard III, Hamlet, and Greek mythology, adding depth for viewers who caught the parallels. Overall, the series was a masterful example of great storytelling and acting.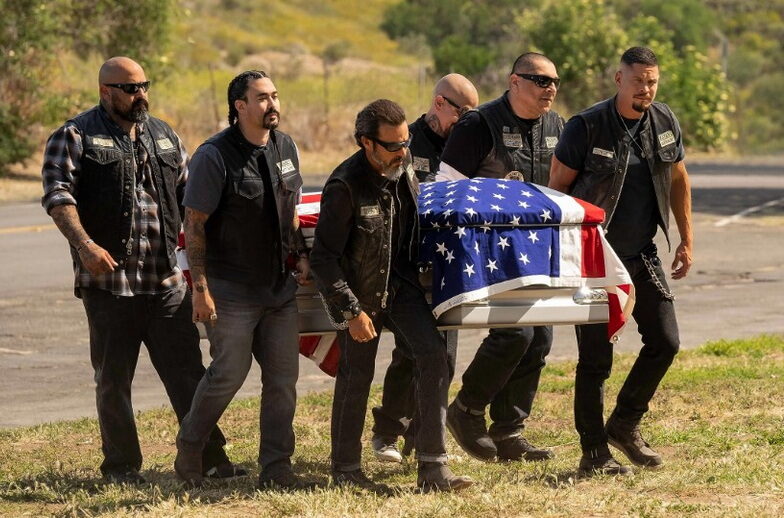 In the TV series, Miguel Galindo (Danny Pino) is a cartel boss and Emily Thomas' husband. Pino brings a sense of swagger and intelligence to the character, which he has previously portrayed in Kurt Sutter's The Shield. As the son of the feared and respected head of the Galindo Cartel, Miguel has always had to prove himself and not live in his father's shadow. Pino does an excellent job portraying Miguel's duality, from his ruthless business persona to his loving role as a husband and father. Miguel's interactions with Ez are fascinating, as Emily is often the subject of their conversations. Miguel fully understands Emily's lingering feelings for Ez, which adds tension to their relationship and leads to its downfall.
The female characters in the series have consistently been portrayed with excellent writing and acting. Kurt Sutter has a talent for highlighting the flaws and strengths of his female characters, highlighting their power, intelligence, brutality, beauty, and ugliness. This complexity adds depth to each female character, making them all the more celebrated. The women in Mayans have unique qualities, each displaying brilliance from the beginning. For instance, Carla Baratta's portrayal of Luisa 'Adelita' Espina was exceptional. She started as the fierce leader of Los Olvidados, which means 'the forgotten ones,' and became a nuisance to the Galindo cartel. Carla's portrayal of Adelita's anger and suffering, disguised as brutality, was remarkable. Her ability to fully immerse herself in the character, almost becoming animalistic, was a challenging feat for any actor, which she accomplished with conviction.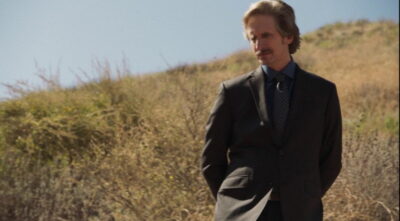 Adelita's journey was tumultuous and difficult. Her brokenness fueled her desire for revenge against those who hurt her. The only thing that gave her stability was her son Maverick.
Despite being told by Lincoln 'Linc' Potter (Ray McKinnon), that her son had died, Adelita refused to believe it. Her lengths to recover her son were astounding, a testament to a mother's love.
After reuniting with Maverick, Adelita left her life behind and started a family with Angel. Sadly, fate had other plans in store for her. Adelita's collaboration with Soledad (Selene Luna) revealed that her past resulted from her current struggles.
She resorted to this path to secure financial support for her son. However, she concealed this truth from Angel, who later found out but never confronted her.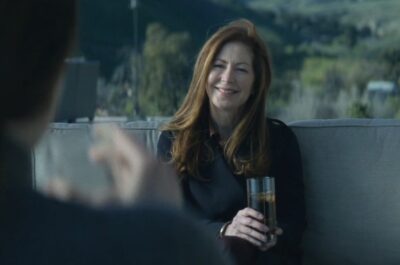 Lincoln, a bad, corrupt cop to the core who caused much suffering for the members of the Mayans, ultimately triumphs over Patricia Devlin (Dana Delany).
Delany, an accomplished actress who joined the series for five exciting episodes, engaged in a battle she almost won that would have witnessed Potter behind bars for his crimes. Tragically Devlin was destined to lose to Potter who had outsmarted the lady with Department of Justice connections all the way from Washington DC.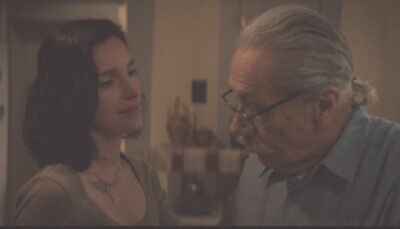 I was disappointed by how Adelita's character died in the series. Given her impressive fighting skills, I expected her to go out again in a blaze of glory while fighting for her freedom. Instead, her death felt unceremonious. I found it disappointing how the character's actions went against what they had previously stood for. While Mini killing her may have been intentional, it left me unsatisfied. I had hoped for a confrontation between the two characters regarding the task Soledad had given her rather than Mini resorting to killing. This was one of the few issues I had with the series. The writers took the easy way out by killing off certain characters instead of giving them a death that was true to their character.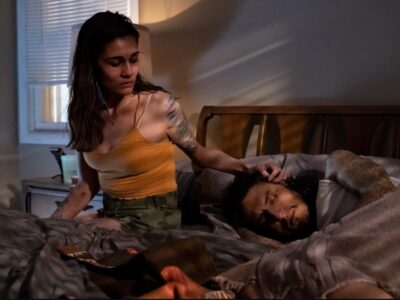 I had a favorite character in the show: Hope (Vanessa Giselle). I enjoyed interviewing Vanessa about her acting process and audition for Mayans. She was so fun and incredibly talented. Her character name suited her well because she was a source of light in Coco's life. Despite the circumstances of their meeting, Hope remained authentic to herself. She survived and flourished despite Isaac's (JR Bourne) threats towards her and Coco. Unfortunately, Coco eventually passed away, and when he did, it changed Hope and Letty (Emily Tosta).
Hope and Letty found solace in each other, leaning on each other for comfort and helping each other work through the immense sorry that comes with losing a loved one.
When Isaac found Hope and Letty again, he held them prisoner and forced them to commit acts of violence and spy on the Broken Saints, who were in consort with the Mayans. Once Letty and Hope escaped and went on the run, Hope made the heartbreaking decision not to continue.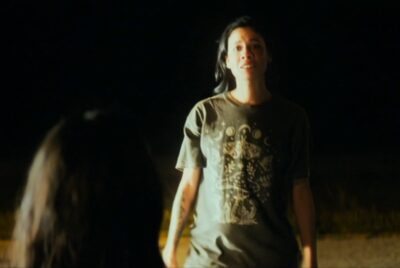 She made Letty stop the car on a busy highway, told her she loved her, thanked her for being her best friend, and then stepped back into oncoming traffic. Hope died on her terms, in her way.
Yes, it was brutal, but she knew that if they continued running, Isaac would find them no matter where they went. Hope found peace on her terms, which is why her death made sense to me because she did it her way.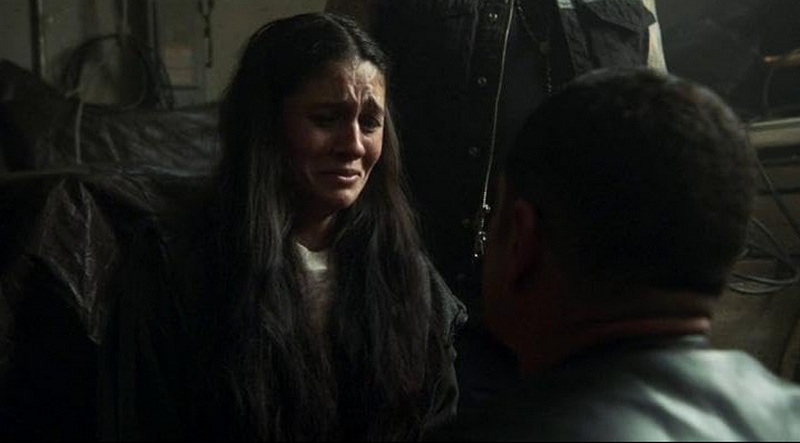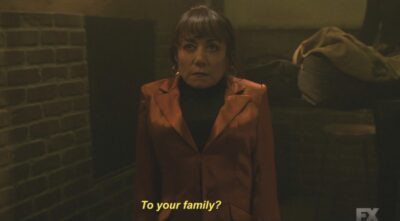 Another strong female character was Soledad (Selene Luna), leader of the LNG cartel. Soledad had the business savvy and brutality customarily associated with men, but she proved she could be just as ruthless and dominant. Selene brought a gravitas to her performance; she could go head-to-head with the men in her scenes and outshine them. She was cunning and skillful in her portrayal of Soledad. I had the pleasure of interviewing Selene; she was lovely and wonderful. Soledad showed that even if you are family, it does not mean you are immune to her brutal ways, as she had Adelita kill off her brother El Banquero (Guillermo Garcia).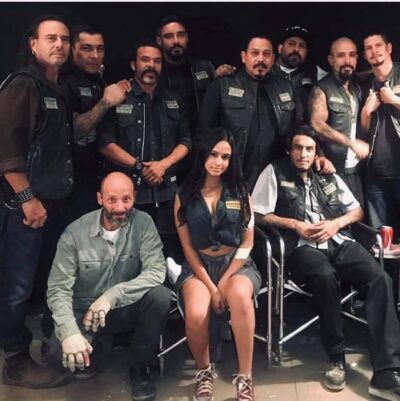 The supporting characters in the Mayans played a crucial role in the story. Their individual stories added depth to the series and made them more relatable. Gilly Lopez (Vincent Vargas), Bishop (Michael Irby), Creeper (Joseph Raymond Lucero), Hank (Frankie Loyal), Letty (Emily Tosta), and Taza (Raoul Max Trujillo) all had their unique tales that were interwoven into the plot.
Watching the prospects of the club was also intriguing, especially the newest prospects, Nestor (Gino Vento) and Bottles (Alex Barone) whom we interviewed during season five. Ez, who started as a prospect, quickly rose to become the President, but not without causing tension within the group. The prospect position is similar to underlings in mob families, where they must prove their worth before becoming full members. Ez stood out from the others with his intelligence and cunning. Overall, integrating these characters added a human element to the story and made the series more enjoyable.
The Reyes brothers had a strong bond; Angel was always very protective of his little brother, and Ez loved him very much. As the series progressed, we saw the shift happen in their dynamic. I found it intriguing to witness how they switched roles, where Ez transformed into the ruthless and savage one, executing Gabby (Sulem Calderon) as she threatened Angel.
Although some individuals were stunned by this scene, it did not surprise me. Knowing the mafia and their lifestyle, I understand that family holds the utmost importance, surpassing all aspects of life.
Frankly, I never understood the relationship between Ez and Gabby; it never made sense to me.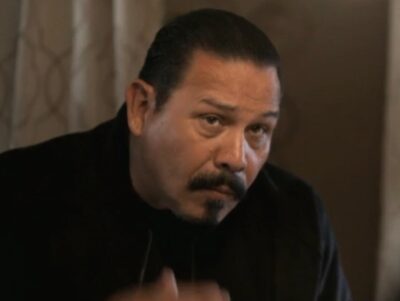 Even after Ez took charge of the club and appointed Bishop as his VP, he continued to seek guidance from Alvarez (Emilio Rivera). Ez believed that the previous version of the club, which included Alvarez and Bishop, had become outdated. However, the issue is that the traditional methods were effective, albeit less fast or efficient than Ez desired. One of the minor characters (I forgot which one) had said, "The Mayans were a great club…under Alvarez," harkening back to the old-school ways. It is why Marcus wanted to wait until all details were given regarding Coco's death before jumping headfirst into war. Marcus and Bishop have seen what a war can do to the club; they have seen the bloodshed and their brother's fall. They both know what it takes to be leaders, yet Ez—usurped both.
One character, Lincoln Potter, was universally despised for the evil he did to the Mayans, yet loved simultaneously due to his slimy and corrupt nature with an ability to manipulate people seemingly at will.
Despite his morally bankrupt behavior, his presence on screen was always enjoyed. This is a true testament to the exceptional acting skills of Ray McKinnon, as he successfully portrayed a character that was so easy to hate . In addition to Lincoln Potter, there were a few other characters that I enjoyed seeing on screen. One of them was Isaac (JR Bourne). His portrayal of Isaac was sinister and jarring, as he made it his mission to make Hope's life with Coco miserable. The addition of the characters from SOA had brought the series back full circle to what it had always intended to be.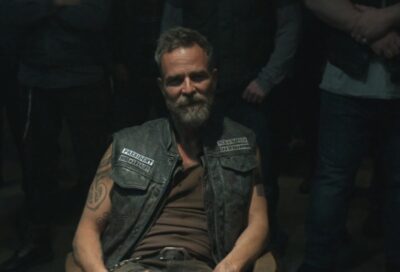 I was not pleased with the way the writers portrayed Isaac's demise. It felt underwhelming and needed more proper acknowledgment of his character.
Overall, it left me feeling disappointed. Given the harm he inflicted on other characters, it seemed fitting that his actions would catch up with him and that Ez would ultimately defeat him just as he had done to others. However, the actual fight scene was dull and anticlimactic, which made the build-up to the event feel misleading.
Another scene viewers did not like was the killing of Sofia (Andrea Cortés) because she knew too much about the Mayans. Fortunately, Sally the dog survived and was saved by Letty who fled to the Broken Saints ranch after corrupt Potter and Kody (Stella Maeve – pictured above left) gloated over setting up the massacre of the Mayans.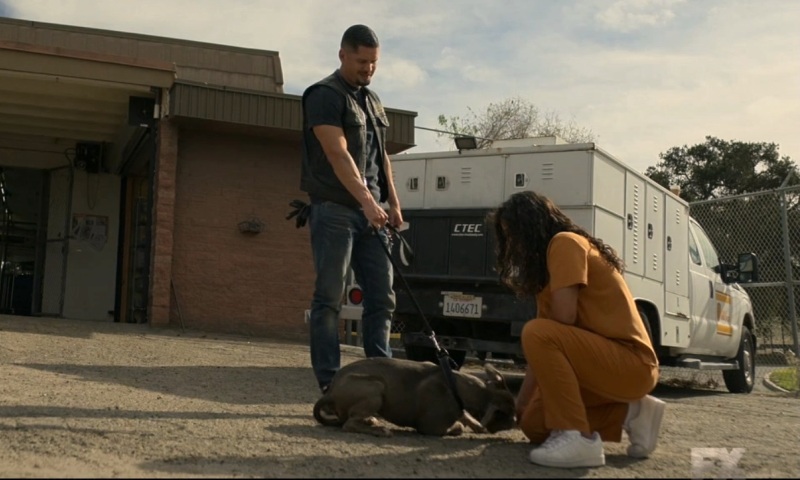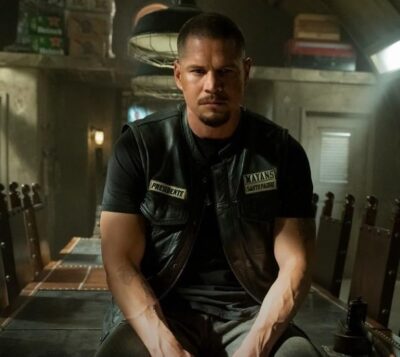 The last episode engaged me at the end, which I knew was coming. The characters were going through the motions, with Ez in particular having disappeared entirely. He was like a ghost of himself, a myth of someone who had already done what he needed and had nothing left to give. I hoped the writers would have given him a more dignified death.
Despite this, I understood what they were trying to do and appreciated the inclusion of historical figures like Julius Caesar and Richard III. I particularly loved Bishop's reference to Shakespeare, which showed that Ez wasn't the only one who appreciated his work.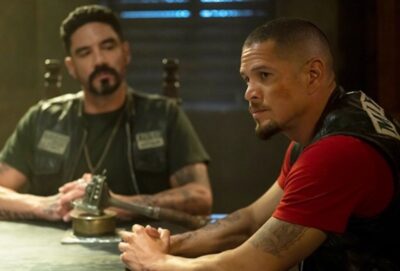 The scene between Angel and Ez was heartbreaking, as their love for each other and bond as brothers was palpable. Yet it made sense for Ez to die at the hands of his brother, as twisted as that may sound because it was the ultimate proof of love. You kill that which you love the most, metaphorically. Overall, the series was excellent and ran for an incredible five years. It introduced me to a new set of characters and actors I am now a lifelong fan of. It also gave Latino actors more prominence than any other series in the last decade and offered a glimpse into the world of a motorcycle gang in Santo Padre, California. I've enjoyed watching the series from the beginning, and while it wasn't as popular as Sons of Anarchy, it was fine with me. It stood on its own as a unique entity, introducing us to characters we grew to love, love to hate, and will genuinely miss. It delved into profound family, fate, choices, and karma themes. I also appreciated that the writers incorporated aspects of Mayan culture, introducing us to new gods and inspiring us to learn more about them.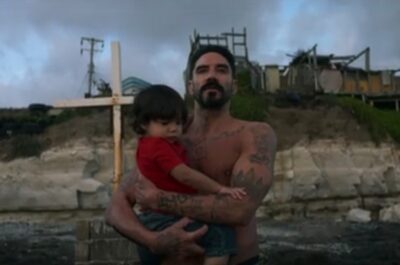 At first, I had planned to write a review of each season of the series, but I soon realized that would take too much time and not showcase what I truly loved about it. Some seasons were better than others, after all. Instead, I focused on what I enjoyed and disliked about the series, the characters I adored, and the actors who brought them to life. Please watch the series and come to your own conclusions, whether you agree or disagree with me. That makes this show outstanding – it sparks conversations and thoughts and makes you question everything. I am thrilled that the series ended with Angel and Maverick on the beach, starting a new life they could not have had before. I am grateful to Kurt Sutter, Elgin James, JD Pardo, Michael Irby, Danny Pino, Sarah Bolger, Vanessa Giselle, Selene Luna, Alex Barone, and everyone who contributed to this incredible show. While it's bittersweet to see it end, I know that the legacy of the Sons of Anarchy and Mayans will live on.
Thanks to Kenn for video and image embedding for my feature article and many thanks to you for visiting WormholeRiders News Agency. I will be back soon on with more of my adventure at Comic-Con 2023 in San Diego with an exiting interview in the future!

Please feel free to leave a comment here or If you prefer, you may also click the social media icons below to share this news article or as many of our readers and visitors often do, visit me on Twitter by clicking the links or images avatars in this news story.
See You on The Other Side!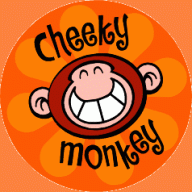 Until next time,
Regards,