Welcome Back Comic-Con San Diego Lovers!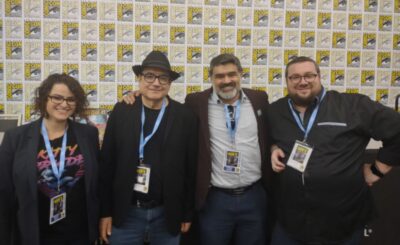 To coincide with the recent Rosh Hashanah in 2023, the Jewish New Year, Team WHR brings you a panel highlights from San Diego Comic-Con 2023 about the art of storytelling from a Jewish perspective that dates back thousands of years. Although the earliest mention of Israel is inscribed on the Merneptah Stele at approximately around 1213–1203 BCE, religious literature tells the story of Israelites going back at least as far as 1500 BCE.
On Friday July 21, 2023, thanks to a timely tip from award winning author and playwright Gary Morgenstein, we attended a wonderful panel that shares this depth of knowledge in what has contributed to the human history of storytelling for at least the past 3,500 years!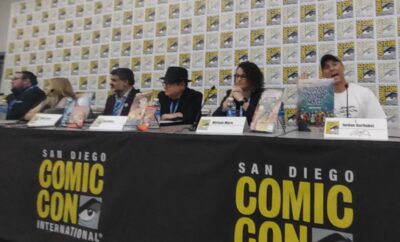 The panel name is "The New Voice of Jewish Comics" that featured (left to right in image below) the exciting efforts of Ramy Dubrow (Source Point Comics), Joelle Sellner (Ben 10, New Paradigm Studios), Arnon Schorr (The Pirate Captain Toldenado), David McLees (Source Point Press), Miriam Mora (Center for Jewish History) and Jordan Gorfinkel, famed DC Comics creator from the Batman franchise and thousands of other graphic novels as well as being a delightful cartoonist and musician. During the panel, this group of talented individuals discussed what Jews in comics look like on and off the comic page. This panel busted stereotypes and demonstrated to everyone that Jewish comics are not only in the present, but are going to be in the future as well.
We include highlights of the panel below for your enjoyment as well as suggest that you click the logo artwork and hyperlinks to learn more about this marvelous group that is bringing "The New Voice of Jewish Comics" to graphic novel admirers across the world via their Kickstarter Campaign!

About Maggid Comics:
A first foray into community building, Source Point Press (discussed below) created Maggid (Hebrew for story teller) Comics. Ever since a ragtag crowd of Hebrew slaves emerged from the Sea of Reeds, Jews have been telling stories. Maggid is a new imprint from Source Point Press whose mission is to deliver to the diverse Jewish communities a platform where they can authentically and proudly express the richness of the Jewish culture and history.
Its first directive is to launch a monthly comic magazine. For more info visit is proud to announce the launch of our Kickstarter for Maggid Magazine – the first and only monthly Jewish comics magazine. Follow the Maggid campaign now and get regular updates on this exciting project.
About Source Point Press: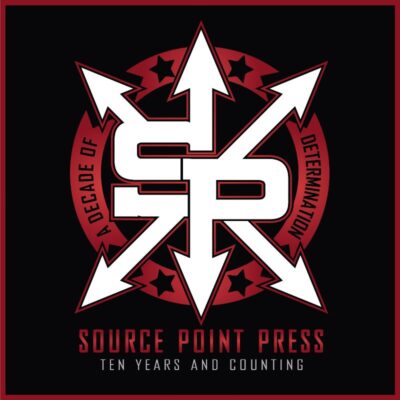 Based in Saginaw Township South, Michigan celebrated of their 10-year anniversary, announced today a number of invigorating changes to its corporate mission and operations. In a refreshing move amidst a chaotic shift in the comic market, Source Point has stated its renewed commitment to place the quality of the story telling and the desires of the audience front and center on all its productions.
This pledge better aligns the company with its founding mission and holds true to the founders' passions for creativity. To commemorate this undertaking, the company has released a new Source Point Press "Decade Logo" which is pictured left.
While ceremonious itself, the logo proudly declares "A Decade of Determination"which the company promises to employ in the execution of its compelling and ambitious changes.  The comic book publisher is beginning by reworking their title line-up and release schedule, customizing publication formats to put story and reader experience above hectic and often prohibitive traditional release schedules.
Key to this are the decisions to hone in on a small number of longer running IPs in place of fast fiction releases, creating high-quality all-ages content for its growing market instead of focusing exclusively on a small segment of a niche market, and prioritizing community engagement every step of the way. Source Point is well known for the following products that dovetail their dedication in their products discussed below.
Doom Kitty – The brainchild of Garrett Gunn and Lyx Lyon, Doom Kitty brings all the catharsis of a brilliantly told story to the lovability of a plush doll.
Good Boy digital video game – The popular series will continue to be a key element in the company's blueprint, but now it will come with a commitment to increase the engagement fans can have as their favorite character in this nostalgic shoot-em-up game
Murder by Mail – an interactive "you solve it" crime comic. Giving you the excitement of a costly murder mystery box, but at the cost and readability of a comic book. For more info visit www.cleavercounty.com
Whalebacker LLC – a creator services and fulfillment company for creatives by creatives. For a decade SPP has seen product ruined and mistreated by traditional shipping and fulfillment companies, leading the founders to create Whalebacker LLC "The Muscle Behind The Hustle", a specialized fulfillment company where everyone from the corporate office to the warehouse floor loves the industry and product you produce and treats it with the respect it deserves. This new program offers full service support from inception to product launch to manufacturing and distribution, to help lift up creators and storytellers of all kinds.
We will have more on our reporting on our adventures in San Diego for Comic-Con 2023 so check back soon! In the meantime, please feel free to share this article with your friends, co-workers and or family and leave your comments! We look forward to you visiting our dedicated review and analysis web site here in the future! Or as many of our readers and visitors often do, visit TeamWHR on Twitter, or visit me on Twitter by clicking the text links or images avatars in this news story. I and TeamWHR look forward to Seeing You on The Other Side!"
Thank you.
Best Regards,
Kenn of #TeamWHR