Hey V Series Fans,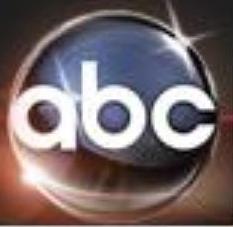 Well the big day has arrived. March 30, 2010 is the day we all get to see what the dickens is up with Anna and her master plan to dominate the Earth in a Warner Brothers production airing on ABC.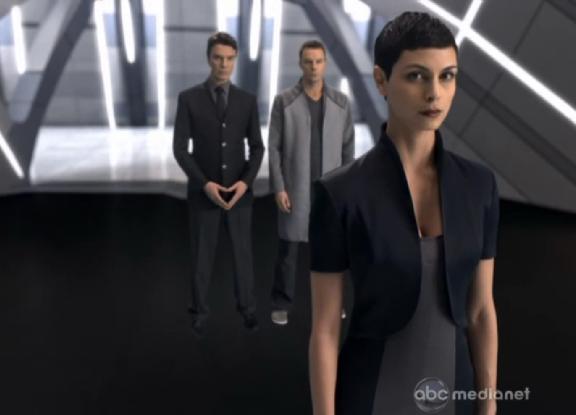 And stand by for a shocking set of developments in the story and many surprises too. As is proper practice, this will be a minimal spoiler pre air date review revealing only what is appropriate per the WHR Standard Operating Procedure to maximize fan enjoyment!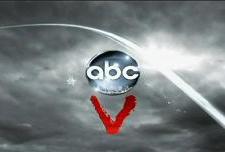 From ABC Publicity below is what has been released about the "Welcome to the War" story this evening:
"Erica is attacked in her home; the Resistance recruits a dangerous new member; Anna wonders why Chad has not followed up on his diagnosed aneurysm; Ryan's concern over Val's "abnormal" pregnancy grows."
Well my fellow Earthling friends doomed to be enslaved, ABC television in conjunction with original creator V Kenneth Johnson and Disney Studios is

bringing the V's back for you to enjoy every Tuesday evening and for allowing WHR to preview before air time! Thank you.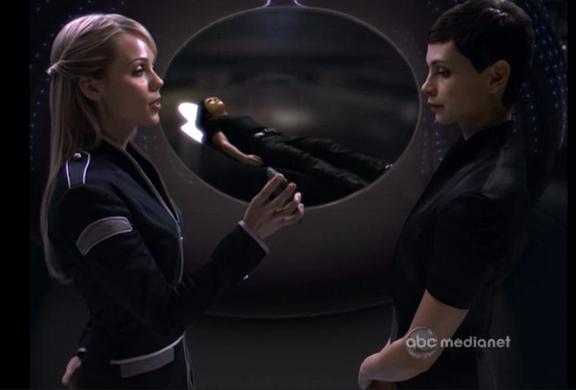 We are very pleased that Kenneth is featured prominently in the opening V credits. Without the creative genius of his talents in the original incarnation of V in the 1980's there would be or may not be a V for us today.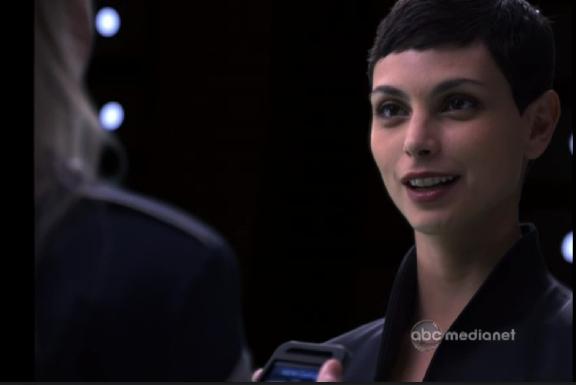 Once again Morena Baccarin, Alan Tudyk, Elizabeth Mitchell, Morris Chestnut, Scott Wolf, Lourdes Benedicto, Joel Gretch, David Richmond Peck, Benita Ha, Roark Critchlow, gorgeous Laura Vandervoort, Jesse Wheeler, Brittney Irvin and Christopher Shyer are all back aboard for the fantastic "Welcome to the War" episode that you will see tonight.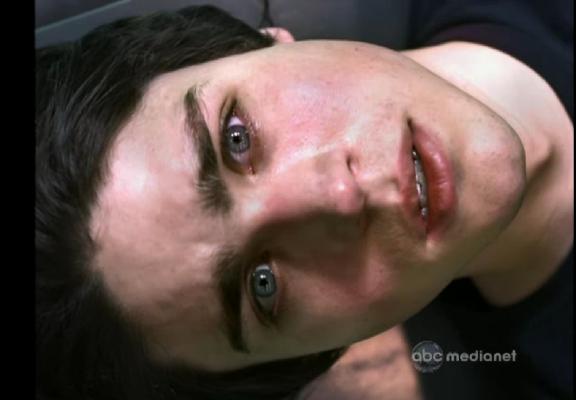 As WHR has reported previously David Richmond-Peck engaged the viewing audience on Twitter to the delight of the fans. We are pleased that David Richmond-Peck presence in the show has been retained. For how long we cannot say. However as shown below, David plays a very effective scene with Scott Hyland in his search for Father Jack who as you may recall was stabbed in the last episode of V. Scott Hylands known for his role in Stargate continues in his role as Father Travis torn to pieces about the missing Father Jack.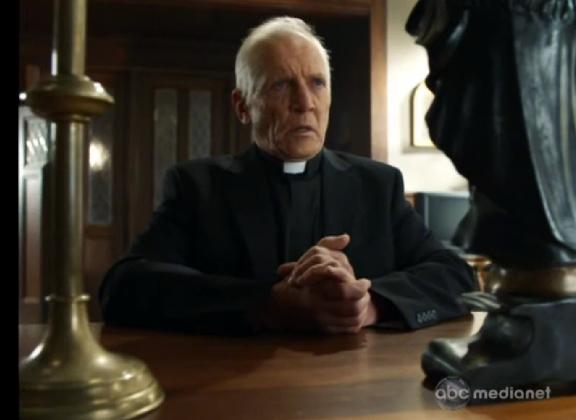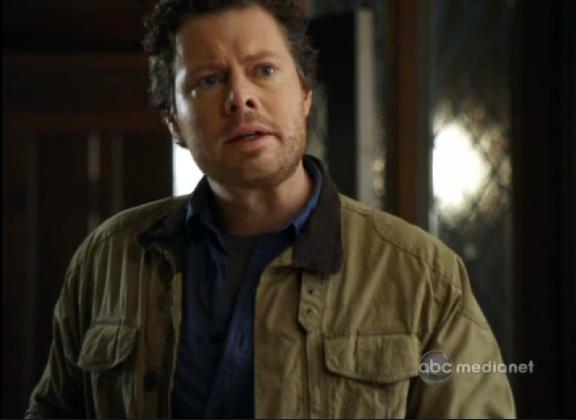 For Stargate SG-1 and SGU fans, we are hopeful to see more of Patrick Gilmore and Josh Blacker known by Stargate fans for their roles in the new hit series Stargate Universe! Will we? Only time and your support may make that happen.
Tonight is a very special guest! Ms. Lexa Doig is a guest star appearing as a doctor whom is old friends with Ryan played by Morris Chestnut. We are hopeful this is a recurring role for Lexa as she is very much enjoyed by the fans for her fantastic acting skills!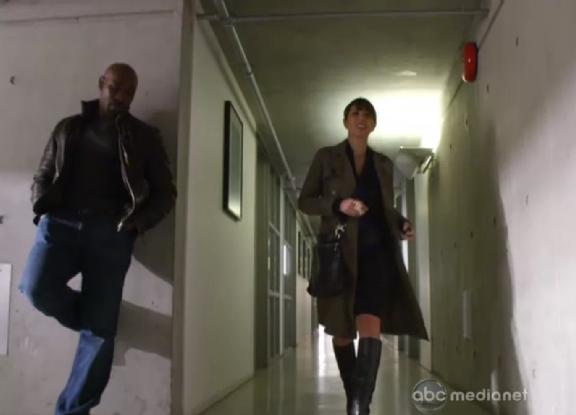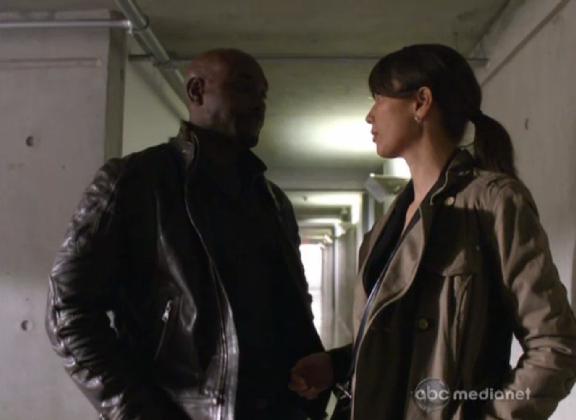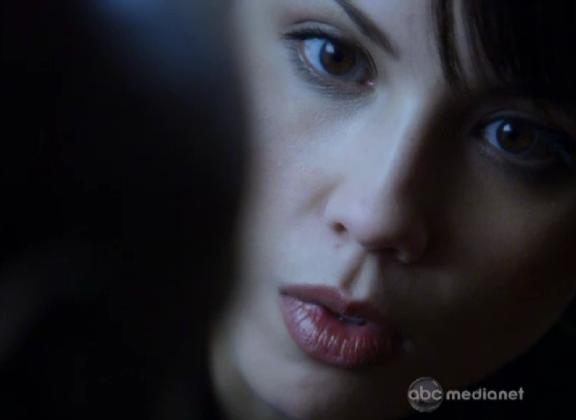 There are other actors and actress whom you may recognize, but let's leave them as a surprise for you to enjoy!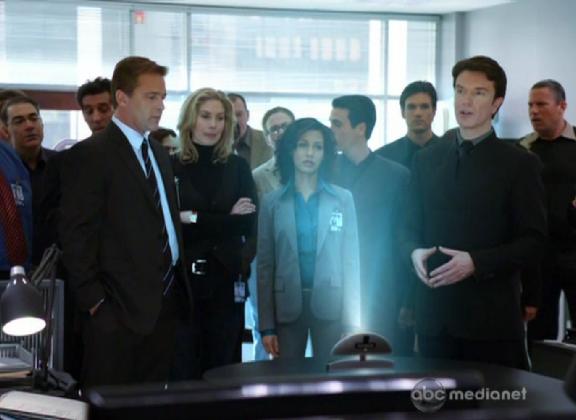 Let's discuss what ABC have accomplished with V, 'The New Series' in 2010. It has been a very long hiatus since the last airing, but once again ABC Disney and the stars have created a very effective 'Single Effect' effectively continuing the story from where we left off. If you have not seen V The New Series yet, Please read the WHR reviews and recaps from Vala The Great and myself if you have not done so already.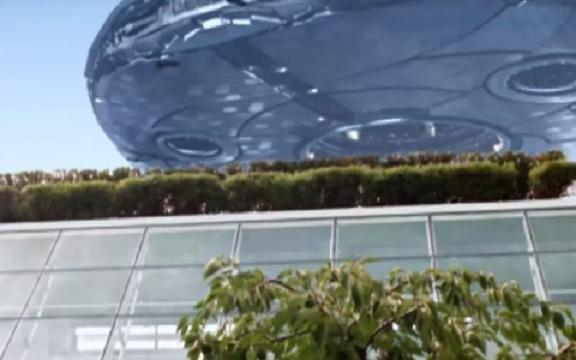 Every moment in V "Welcome to the War" contributes to the Single Effect of the work. The cinematography and special effects have obviously been ratcheted up a notch and are crystal clear! By careful re-review of the V digital materials (using ABCMediaNet's outstanding services), illustrates each piece of the "Welcome to the War" V saga is a part of the greater Single Effect of the story which Is a sight to behold.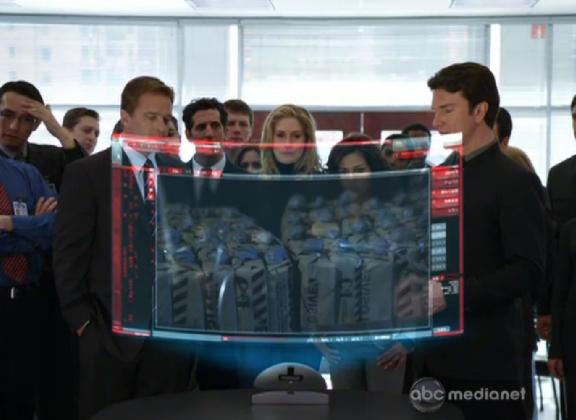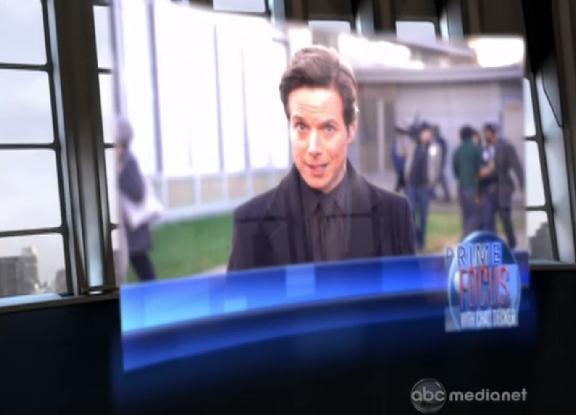 One of the most enjoyable aspects of return of V Series in 2010 "Welcome to the War", is the many close up shots of the stars in action together. We have illustrated several in this pre air date review for your viewing pleasure courtesy of the fabulous team at ABC Disney.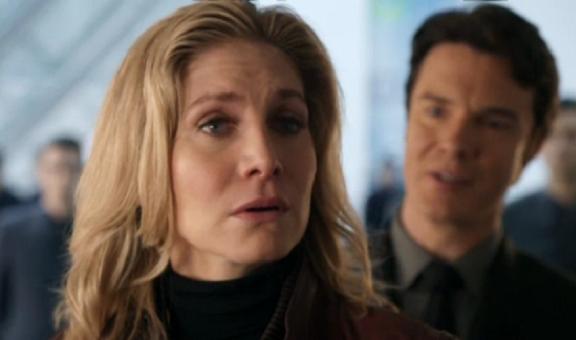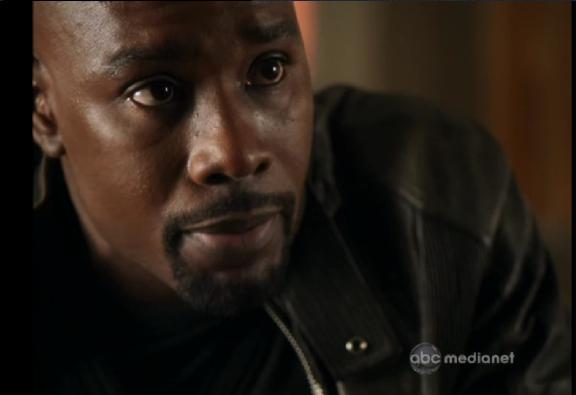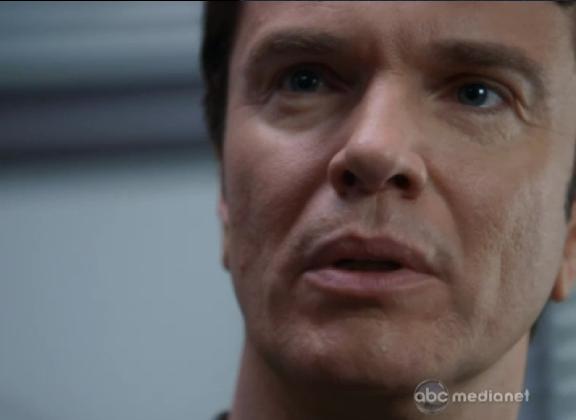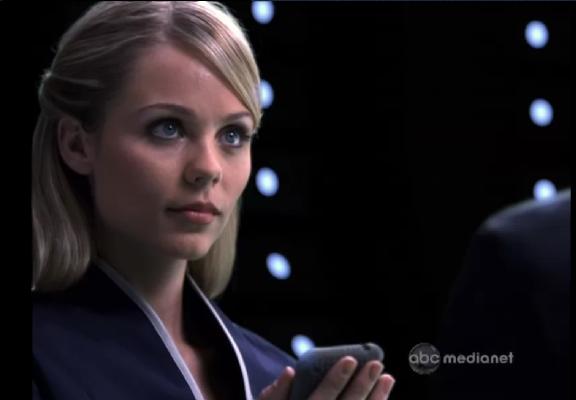 Additionally, the special visual effects are enhanced by sweeping panoramic shots of the interior of the V Mother Ships as seen below when Chad and Anna share a lunch together while on board.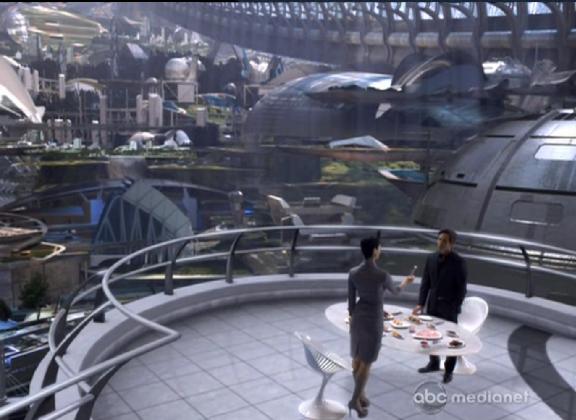 When we last left the story Anna played by the stunning Morena Baccarin was observed looking down from her Mother Ship over the Earth which she plans to conquer for her own evil purposes. Morena's performance is delightfully evil and is obviously the perfect choice to play Anna. Her daughter Lisa (played Laura Vandervoort) continues to enchant Tyler son of Agent Erica Evans much to her dismay.Scott Wolf is most effective in his continuing role as Chad Decker and is most enjoyable.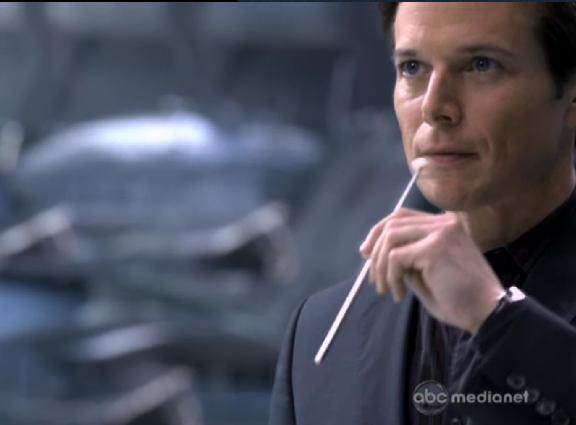 FBI Agent Erica Evans who is portrayed by Elizabeth Mitchell is once again extremely believable in her role both as a member of The V Resistance while maintaining her cover as a an FBI agent which provides her with access to Marcus Visitor. As you may r ecall Marcus is the evil minion of Anna. As always Marcus bows and scrapes to every whim of Anna and continues to execute her dastardly plans for mankind with Erica playing an effective "double agent" in the ongoing story line.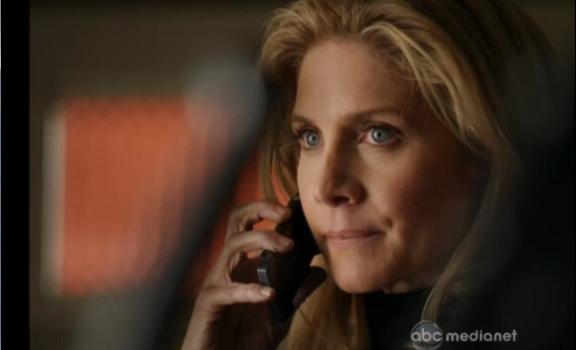 A huge question is will the Visitors be able to recover from the destruction of the tainted R6 "flu vaccine" in the warehouse that was destroyed in the last episode? Well for that answer you will have to tune in tonight to find out. But rest assured that Morena Baccarin as Anna the leader of the Visitors is by no means going to take setbacks without retaliation of some sort.
ABC, Disney and HDFilms have proven they are more than up to the job in "Welcome to the War" the fifth episode in the new series. We do see some tongue in cheek and hope the character development allows for an increase in this area as the series progresses from the evil and dire straights which mankind faces. Location shooting is superb and the background music score is haunting. Of note the the computer generated visual effects are simply outstanding and will certainly rock the world tonight March 30, 2010! We have every confidence that the effects team continues their fine work in this regard!
Based on the previous ratings of V in 2009 (which cable networks would rejoice in) , HDFilms and ABC have far surpassed the original V 2009 as shown on ABC. As a fan of the original series I am very excited about the continuing saga of V that is coming back to complete the next episodes in our homes every Tuesday this spring.
We could go on and on about the outstanding episode we have witnessed, but we will leave it to your judgment on how great the return of V is to you. However before we do, here is a fantastic image of lovely Morena Baccarin as the wonderfully evil Anna Visitor!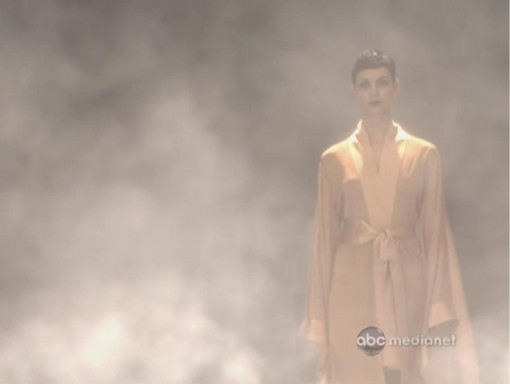 In closing for now, fear not fans, more V Series is on the way! Make sure to tune in and enjoy the wild ride t
hat is taking place on your television screens every Tuesday night on ABC!
Thanks for visiting and return to WormholeRiders News Agency soon for detailed post airing analysis and reviews of V!
Best Regards,
Kenn