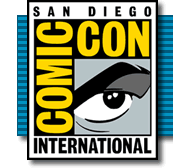 Greetings SciFi/Fantasy Fans!
While hordes of Comic-Con attendees were checking out their favorite comic book artists in the Exhibit Hall, lining up for a chance to see stars like Angelina Jolie and Sylvester Stallone, or pursuing one of the other fantastic opportunities at the convention, die-hard fans of HBO's True Blood series and the

books that were its inspiration packed the house for the author that started it all, Charlaine Harris.
Ms. Harris is the author of the Sookie Stackhouse books, which follow a small town cocktail waitress with a gift for reading people's minds who falls in love with a vampire and is subsequently sucked into the world of the supernatural.

After being warmly welcomed,  Ms. Harris was presented with the Comic-Con Inkpot Award for achievement in science fiction/fantasy.  She appeared to be completely surprised and genuinely thrilled to receive the award, and posed for pictures before taking her seat.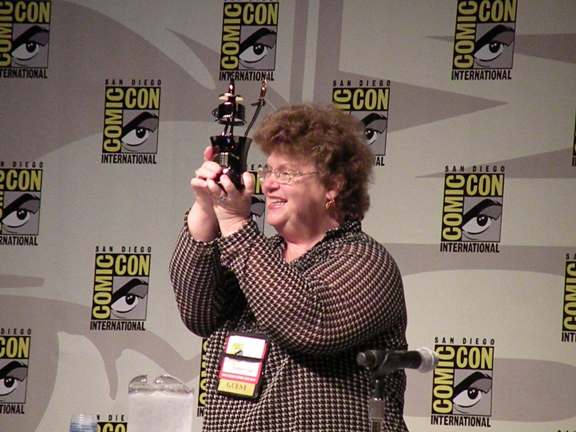 Ms. Harris spoke with what I can only describe as a genteel southern accent.  There was a gracefulness about the rhythm of her voice and her use of language, and I wondered whether her patterns of speech influenced her writing, or whether crafting the books had influenced her manner of speaking.  Either way, the books are terrific so if you have not yet read them, what are you waiting for?
To start us off, Ms. Harris told us that she had been a long time fan of Anne Rice, and talked about how daring and innovative Interview With a Vampire had been at the time it was first published.  Ms. Harris had an idea that she wanted to write a book about a regular woman dating a vampire and wondered "what kind of woman would do such a stupid thing?"  She said her agent hated the book and tried for two years to sell it.  Finally they found a publisher, the same one that handled Laurell K. Hamilton's books (Ace).
Going back to Anne Rice, Ms. Harris said that at some point she decided it would be a good idea to get a Facebook account and the first person to post a message on her Facebook was none other than Anne Rice!  Ms. Rice said she was a fan of True Blood, whereupon Ms. Harris suggested she read the books.
Attendees were invited to line up at the microphone for questions.  I did my best to record all of the questions and answers but one or two may have gotten lost along the way, so what follows is a transcription of my handwritten notes, not a word-for-word transcription of the Q&A.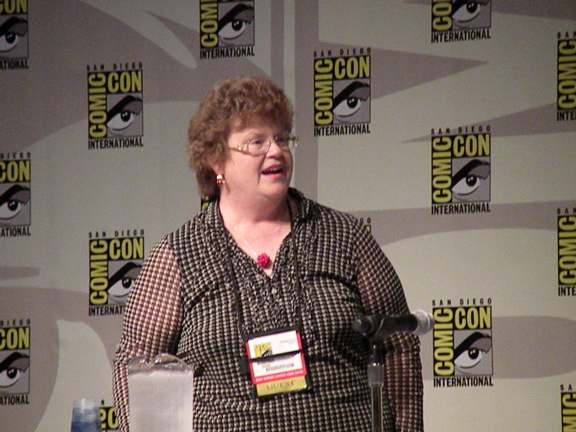 How did you come up with the name Sookie Stackhouse?  In the south, when you say someone is 'sookie-sookie' it means they are a very good looking girl.
My grandmother's best friend was called Sookie.  It just seemed like an old southern name that had fallen into disuse and Sookie is a girl with old fashioned values.  I can't remember exactly where I got the name Stackhouse, but I think it might have been from the telephone book.  The actors probably wish I had chosen a name other than Sookie Stackhouse because it is very difficult for people with fangs to say.
You are an Episcopalian.  What is the role of religion in your books?
It has an important role in my writing because it is part of who I am.  I think it is impossible to believe in people [characters] that have no opinion about whether there is a god or not.
Jessica is a new character created for the True Blood series.  Will you be integrating any of Alan [Ball's] new things into the books?
I liked the character of Jessica and wish I had thought of it first, but no, the books and the series are two separate entertainment vehicles.  The characters are sometimes the same and sometimes they are very different.  The show has its own writers who have to consider what is going to be great on screen.
How do you come up with new characters? Do you plan it all out ahead of time?
I am a "pants-er" which means I just "fly by the seat of my pants."  I just invents people as I need them and flesh them out later.  It is kind of like playing with paper dolls.
Do you have any input on the [True Blood] show?
No.  I feel good about having given the rights to Alan Ball, and it is "always an adventure for me, what they're doing."
Is Lafayette or any of the other characters based on people you know?
I do gather bits and pieces of people from all around, but mostly they come from my imagination.
[Ms. Harris noticed that people waiting in line at the microphone were kneeling, which she thought was so polite.  She said she was recently at a fan event in Portugal and the fans there curtsied.  She also said that the newest books in the series had not yet been released in Portugal, so it was very difficult for her to respond to the fans' questions.  They were asking about books that she had written several years before and it was hard to remember all of the details (and probably equally hard to keep from giving away spoilers).]
In one book, Bill is able to levitate.  Why hasn't he ever done that again?
I just never needed him to do it again.  Maybe if someone wanted him to dust the high shelves….
How was Bill able to teach Sookie to manage her "gift?"
I didn't explain how he could teach her because I never had to explain it.  Since Sookie's ability came naturally to her, Bill probably was able to just help her figure it out for herself.
Have you always wanted to be a writer, and what writers were you inspired by?
Yes, I always wanted to be a writer. "Inspiration" is not my favorite word, though.  It makes it sound like everything would happen if you had the right idea but that's not true. [She listed quite a few authors including Edgar Allan Poe, Emily Bronte, Robert Heinlein, Ray Bradbury, and Shirley Jackson.]
When is the next book coming out?
They come out every year in May.  Other projects include:
a short story to be included in an anthology called Death's Excellent Vacation, due out August 3, 2010, featuring "Sookie and Pam and a stripper pole;"

The Sookie Stackhouse Companion, a "compendium of all things Sookie," including secret emails between Bill and Eric, recipes (not her idea), contributions by Alan Ball, and an original novella with Sam and Sookie going to a wedding and an appearance by Quinn the weretiger. The Companion is scheduled to be released in February 2011.
Will there be any more Harper Connelly books?
Maybe in other incarnations.  There is going to be a Harper Connelly comic book.  Other projects are in the works, but "I am not going to jinx them by talking about them."
Will there be anything new?
"I hope so, yes."  I have a contract for three more Sookie books, there is the short story, I am working with Chris Golden on the graphic novel, and I have other ideas for books.
In the True Blood series, the vampires are able to glamour people into inviting them in.  Why is that possible?
Ask Alan [Ball].  In the Sookie Stackhouse series, the vampires cannot do that.
Would you ever want to write any of the True Blood scripts?
No,  I thought Alan Ball and his team would do a good job.  I never wanted to write a script for the show.
In the books, there was a flash of Sookie hearing a vampire's thoughts.
Yes, but it was very random.  Vampires are dead so their brains don't normally fire like a humans would.  Every now and then it might happen, then Sookie could hear their thoughts.
Why are lemons poisonous to fairies?
I needed something to be poisonous to fairies and decided it should be something totally ridiculous.
"I know you didn't have much influence on the shows—except for the books." That got a huge laugh from Ms. Harris and the audience.
How does the casting for the show compare with your vision of what the characters are like in the books?
The actors playing Pam and Andy Bellefleur are very like the characters from the books.  Anna Paquin is "small" whereas Sookie from the books is "curvier" and "bigger."
Do you do any research for your books?
Yes, I want them to be accurate, but I found out the hard way that I shouldn't rely on someone else telling me something was so without checking it out further.
All of your female protagonists find it cathartic to clean.  Are you a clean freak?
It is more of a "wish fulfillment thing."  I thought it would be admirable if I were that way.  I like things to be clean but am not a big clean freak myself.
Will Sookie become a vampire?
No, in my books, Sookie will never become a vampire.
Are you Team Edward or Team Jacob?
"You're joking, right?"
Team Eric or Team Bill?
That's like asking a parent which of their children is their favorite.  "They're both mine."
Why did you pick Louisiana?
Anne Rice used southern Louisiana.  I thought, why not take the northern part that nobody wanted?
Any plans for a San Diego-based novel?
Not so far.
How did you decide to put Bubba in the books?
It was inspired by the scene in the movie "Men in Black" where you see all the supposed humans that are actually aliens.  "It just made such instant sense to me and it just explained everything.  I just had to bring Bubba in."
Would Eric have wanted Sookie to be a vampire?
Yes, to him it is the next logical step.  But not to me.
Where do you get your inspiration for the steamier scenes?
"I just have a great imagination, I guess."  I had never written a scene like that before, I was about to turn 50, and I thought, "If not now, when?"
Did you find any references in your research on the fey being attractive to vampires?
No, I made that up.  There had to be a reason they needed to avoid each other.
How did you get connected with HBO?
Alan Ball's agent called my agent.  There were other people at the time that also wanted the books.  I had to check out what they could do for me and for the books.
Is Sookie's fairy blood related to her telepathy?
No.
Has Anna Paquin and the rest of the cast hung out with you?
They listen to me whenever they are with me.  I did not meet Anna until after the first season had already been filmed.
All of your female heroines have a real or perceived handicap? Why is that?
I am interested in flawed but strong women.
And then time was up.  The audience was very appreciative and we are all looking forward to reading more of Charlaine Harris (and seeing more True Blood on HBO!).
Until next time,
OffworldTravelr