Greetings SciFi and Fantasy Fans!

BayCon 2010 – Day 1 (well, officially Day 2, but Day 1 for me)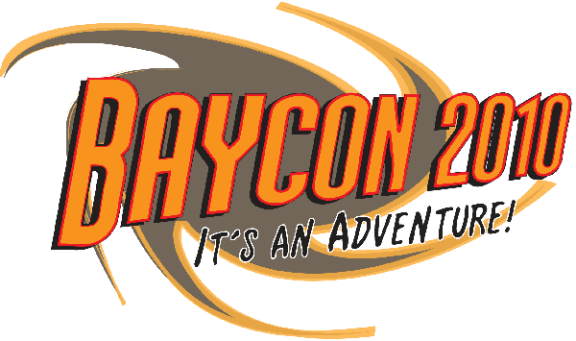 Arguably the largest science fiction and fantasy convention produced entirely in the San Francisco Bay Area, BayCon happens every year for four days over the Memorial Day weekend.  The convention offers panels, gaming events, workshops and other activities around the clock, including readings and autograph sessions with scifi/fantasy authors and artists.  There is so much going on that it can be really hard to decide which panel or activity to attend at any given time.
This convention is for people who love science fiction/fantasy books, swords and armor, dressing up in costumes, gaming and anime, with a little bit of broadcast media thrown in.
I had planned to attend the Weapons and Armor panel first thing in the morning, but decided to snag my seat for the Chainmail Workshop instead since it would have limited availability.  While I waited for my chainmail-making lesson, I was treated to a very informative session on creating a demo reel led by Phil Gust of Redwood City, a costumer and Editor of SiW's "Virtual Costumer". He enjoys sci-fi and fantasy costuming, and has particular interests in props. Phil Gust is a fantastic individual!

The chainmail lesson was great. I was really looking forward to it and the instructor, Renee Ritchie, didn't let me down.  I must say, linking a bunch of little circles together is a lot harder and more intricate than it looks! Lucky for me, the novice on my right turned out to be a magical genius woman who helped me out a lot.  Here is a picture of my first little bit of chainmail (don't laugh):
OffWorldTravelr's First Attempt at Chainmail: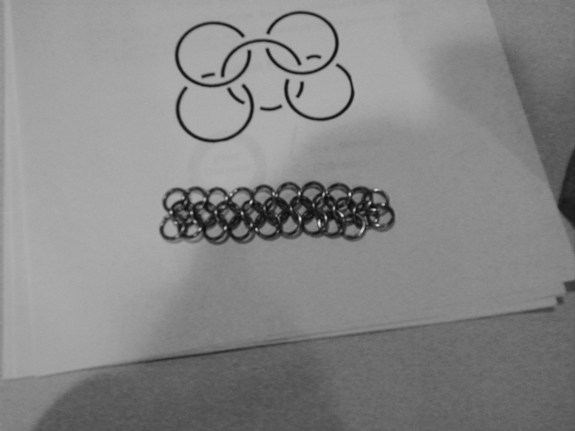 Next I chose a panel discussion on how writers go about creating the worlds and inhabitants that form the backdrop of their stories, particularly non-human beings like aliens and mythical creatures.  The panel included Keith Baker (creator of D&D Eberron campaign setting); author Adrienne Gormley; photographer, costumer and indie film art director Karen Tully, and event moderator T.N. (Tony) Todaro (Saga of the Lightrider).  I was really impressed with everyone on the panel and enjoyed listening to them think about environments and characters in such a deep and creative way.
T.N. "Tony" Todaro at BayCon 2010

With my head full of mythical places and beasties I was off to a BoF (a.k.a. Birds of a Feather) session for fans of True Blood–the HBO series and the Sookie Stackhouse novels by Charlaine Harris that the series is based on.  It was a real treat to hang out with this group of dedicated fans and talk about True Blood as well as some of our other favorite T.V. series, books and authors.   Season 3 of True Blood is set to begin on June 13, so get ready for some more vampire/shape shifter action and maybe some werewolf action to make things even more interesting.
I finished up my day in the Marketplace, browsing gorgeous, handmade coats, bodices, masks and jewelry, and meeting authors and publishers who were eager to talk about their new projects and autograph their books.  And it wouldn't be a convention without purchasing a new shirt, right?
It was time to head home for the night, but I am looking forward to tomorrow, Sunday May 30, 2010 at fabulous BayCon 2010! I am thinking that next year I might stay at the hotel and hang out for the Masquerade Ball, Klingon Slave Auction, Rocky Horror Cabaret Show, or maybe take part in Boffer Wars. Scifi/fantasy fans really know how to have fun!
offworldtravelr