Welcome back Mayans MC lovers,
With the ninth episode of the fifth season on Mayans MC, the series introduced out a surprise character appearance and we suffered the loss of another revered character.
The surprise character who meets Ez (JD Pardo) is Wendy Case (Drea de Matteo) from the Sons of Anarchy. SOA admirers will recall de Matteo portrayed Jax Teller's (Charlie Hunnam) ex-wife. Wendy made her debut in the SOA premiere in the first season that aired on September 03, 2008 and played a recurring role through the fifth season.
Is the meeting between Ez and Wendy coincidence or fate? Did Wendy seek out Ez after hearing about the heinous activities of Isaac (JR Bourne) one of the greatest villains during the five year run of Mayans. Subsequent to "Her Blacks Crackle and Drag" when Isaac mentally tortured Hope (Vanessa Giselle) to the point where she took her own life to save Letty (Emily Tosta) from being further harassed by evil Isaac.
In perhaps the most poignant loss of the entire series we witness what appears to be the death of Filipe Reyes (Edward James Olmos), one of the most respected characters in the series who has given loving advice too everyone. In a scene of real terror, Filipe sacrificed himself to protect Angel (Clayton Cardenas) and son Maverick (Maverick James) from Isaac who was seeking to exact more revenge on the Mayans by murdering Angel. Maverick is saved, but Isaac and a henchman escape when Filipe uses his gun to hold them off. Will Isaac be stopped? We shall see!
I Must Go in Now for the Fog Is Rising:
The episode, written by Jenny Lynn and delightfully directed by Elgin James, opens with where we left off in "Her Blacks Crackle and Drag" with Bottles (Alex Barone) and Guero (Andrew Jacobs) who were visiting friends at Broken Saints ranch where the Mayans Fentanyl cooking laboratory at the Broken Saints ranch is located.  The look on their faces having witnessed the burning facility after they are heading back to the Mayans HQ says it all; defeat after months of hard work. Upon return to the Mayans compound Bottles and Guero immediately notify Ez who is with Sofia (Andrea Cortés) and Sally the dog. Knocking on Ez's door very early in the morning, surprised, Ez says "What the fuck!?"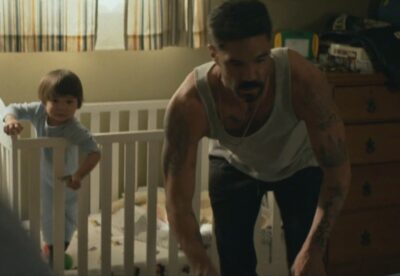 Subsequent to this shocking opening sequence, we are with Angel and young Maverick who have decided to move in this Filipe who told them "this has always been your home", and "you were raised here". Filipe has cleaned out a room for Angel and Maverick. Viewers can see that Angel obviously needs the emotional support of his father after his wife Luisa Adelita (Carla Baratta) was murdered. Filipe warns his son that he cannot allow Maverick to grow up like us "don't let him be like us".
One our favorite characters, Emily Thomas (Sarah Bolger) is talking with Luis (Michael Anthony Perez) at home with Miguel (Danny Pino). It is during this time that Emily thanks Luis for helping her when Luis says "Any time Mr. Galindo has ever had a problem, I'm always the one that makes it go away". This unintentional confession leads viewers to conclude that Luis must have been there when Emily's sister was killed during their attempted escape in season three. Meanwhile, while a new video security system is being set up, Emily has the installer adjust the camera to point in a direction that would allow her blind spots in coverage of the house interior. This appears to be for Emily's planned future escape from Miguel with her son Cristóbal.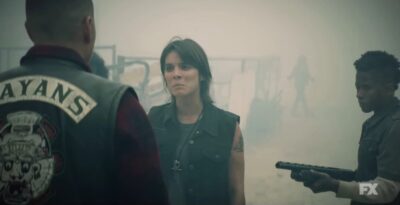 Ez heads out to the Broken Saint ranch to meet Johnny Panic (Caitlin Stasey) to assess the damage from the fire caused by Letty who in a vain effort to save Hope, told Isaac about the drug fabrication facility.
Although Johnny Panic is civil enough, Ez does not receive a warm welcome from the rest of the Broken Saints members, one of whom fires a warning shot at Ez.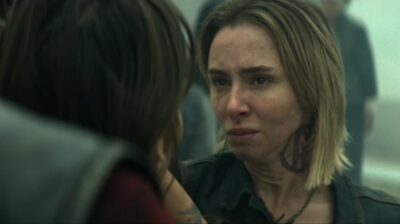 Johnny Panic tells Ez that two of their members were killed by the SOA who set fire to the place when their members were inside. Ez says they have to get the "pipeline back up and running" when Chip (Lauren McKnight), one of the Broken Saints punches Ez in the face pointing a pistol at him.
Johnny stops Chip telling the members that it is her fault for allowing the Mayans to set up the drug laboratory shop at their ranch, stating "I'll take whatever punishment you see fit". Chip says to Ez if she ever sees him again, "I'm pulling the trigger" while punching Johnny Panic for bringing this tragedy to the ranch.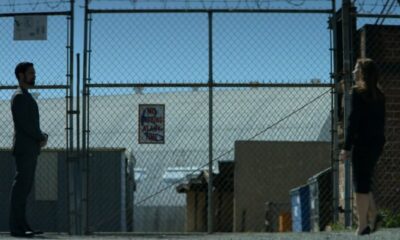 Two things happen. First, Miguel gets a phone call from the Department of Justice's Patricia Devlin (Dana Delany) to meet her about their deal to protect Miguel's family is he will provide precise information about corrupt Lincoln Potter (Ray McKinnon). Viewers know that it is Potter who has been abusing his position in law enforcement ever since Mayans started five years ago and likely for a longer time than that. Potter, has been behind much of the trouble in Santo Padre and for the Mayans. Miguel meets with Patricia to complete their arrangements. He demands full immunity in writing for himself and Emily for providing evidence about Potter. Miguel provides Patricia with a sample of what he is going to turn over that raises her eyebrows in agreement. Patricia later calls Miguel to inform his that they have a deal that will protect him, his wife and Cristóbal, their son.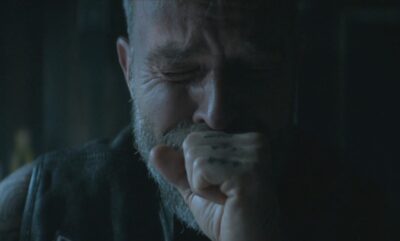 In an interesting scene, we observe Isaac alone crying over the loss of his brother, SOA members and perhaps even Hope. Terry (Greg Vrotsos) and other members are discussing how it was that the Mayans were able to attack their headquarters without Terry even getting off a single shot? Isaac comes out to set their course of action against the Mayans "I want them to know the pain of losing a brother" that will instead lead to the loss of Filipe Reyes. The look of hatred on Isaac's face is palpable.
Next we are with Ez who is out riding on a lonesome stretch of some highway in what appears to be the central valley of California. His face looks pained and he appears to be distracted thinking about all the setbacks he has experienced and that have occurred recently to the Mayans. Not paying attention, a coyote with an animal it has hunted jumps in front of Ez causing him to lose control of his motorcycle and gets a bit banged up when he and the bike hits the pavement.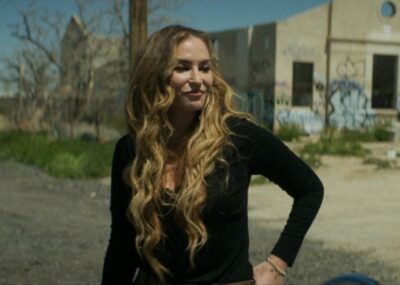 It is here that Wendy Case appears, helps Ez, but does not reveal that her ex-husband was a member of the SOA "I'd rather not say" says Wendy who also tells Ez "If it's not the bike, it's the life". Ez realizes Wendy knows some things about the rough existence of motorcycle clubs. Wendy offers to give Ez a ride wince there is apparently no cell phone service.
During the ride to town, Ez and Wendy share, without revealing their identities, that the life they have lived and the places they have been have been very difficult. "I can see the world, I just can't touch it" says Ez referring to his love for Sofia that he has been blocking out. Then Ez says "I must have a concussion, or something, I don't know why I told you that".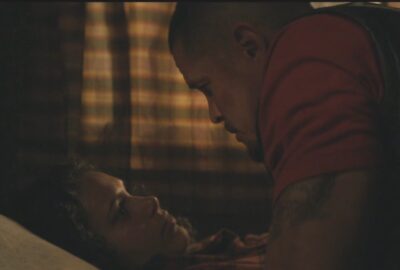 Wendy gives it to Ez straight: "It's trauma" (not from the accident), but from the life they have lived. Wendy admits that she was an addict, but proudly says "I've been clean almost a decade". Wendy also shares that her stress is from cleaning up her ex-husbands messes "nine years later".
Wendy bids Ez farewell telling him to "She her (Sofia) and let her see you".  Ez goes home and opens up to Sofia bringing communication and love back to their relationship.
Next we are in Oceanside California where Patricia Devlin has tracked down Potter's wife and son. Potter's wife was a witness in a triple murder case in Mexico, but disappeared, no doubt with Potter's help.
Potter shows up and is ticked off at Patricia for making it "personal" with a hostile threatening grimace. Based on the evidence provided by Miguel Galindo, Patricia tells Potter that she is "there to put you in prison for the rest of your life" because "I got you motherfucker".
Potter is not happy with this development, staring at Patricia with hatred as she leaves. We find him with Kody (Stella Maeve) in a park at night. Kody is unaware that Potter is about to be arrested by Patricia Devlin. However, he knows that Kody has lost her job with the government at the Department of Defense. Potter tells Kody that she can get her job back if she cooperates with him. It becomes obvious that Potter is going to use Kody to deflect the blame for much of his own transgressions. Kody agrees "on one condition; I want Ez Reyes to die".
As the episode winds down, we find Isaac and his gang of SOA malcontents breaking into Angel's house. Their intent is clear, to kill Angel to teach Ez a lesson and bring him pain for messing with the SOA. Angel is not there, but Isaac is smart enough to realize that Angel might be at Filipe's house. They kick in the doors at Filipe's house with Isaac yelling for Angel who is not there.
Filipe gets his gun and shotgun, grabs Maverick to protect him, and locks himself in a room blocking the door. In an exchange of gunfire, Filipe is hit, but so is one of Isaac's men who tell him they have to leave when they hear Maverick crying realizing that Angel is not there.
The second to last Mayans episode ends with some bittersweet news for series admirers.
First, that Angel and Maverick are reunited by the police outside Filipe's house. The good news is that Angel and Maverick are safe.
The sad news is that Filipe is observed under a black tarp being carried on a stretcher out of the house just before the preview for the final Mayans episode "Slow to Bleed Fair Son" is aired.

We will be back after our adventure to San Diego Comic-Con 2023 with our analysis of the series finale of Mayans MC as well as our favorite television series and movie analysis. In the meantime, please feel free to share this article with your friends, co-workers and or family and leave your comments! We look forward to you visiting our dedicated review and analysis web site here in the future! Or as many of our readers and visitors often do, visit TeamWHR on Twitter, or visit me on Twitter by clicking the text links or images avatars in this news story. I and TeamWHR look forward to Seeing You on The Other Side!"
Thank you.
Best Regards,
Kenn of #TeamWHR