Hello my fellow Mayans MC fans,
This is my first post for season five, our beloved show's latest and final season. Let's review where we left off before I proceed with my review.
Toward the end of the last episode of season four "When the Breakdown Hit at Midnight" is when we found out something exciting. We were at a warehouse filled full of drugs. Suddenly, the warehouse where all of the drugs were, somehow burst in to flames!
There has been speculation across the Mayan MC fandom on Twitter and Facebook about who that person may have been that set that warehouse on fire. There have been people saying it was various characters, but no one knows for certain.
Some even speculated is was Isaac (JR Bourne) who everyone thought was dead, but returned in this episode. Others said it was one of the other Mayans. During the hiatus to season five, not one clue or hint was leaked from the cast or crews, so fans really want to know this detail!

The premiere gave us two episodes in a ten-episode season which I will analyze below.
It is bittersweet for me as a fan since this is not only the final season of the Mayans, but there will be no panel at San Diego Comic-Con this year.
So, this last hurrah is genuinely the last, and what a ride it has been so far and we look forward to a fabulous fifth season!
Since we were treated to a two-episode premiere, I will highlight the best of both episodes that move the story focusing on what are the most significant parts of both episodes.
I Hear the Train A'Comin: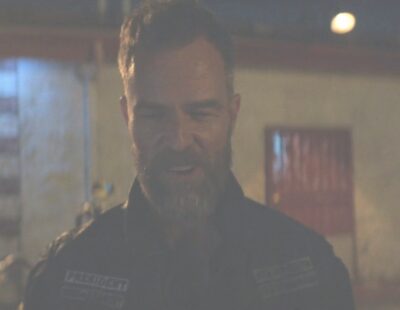 "I Hear the Train A' Comin" is the title of episode one, written and directed by Elgin James and co-written by Meredith Danluck. The title made me think of the song Folsom Prison Blues by Johnny Cash. That title is the first few lines of that song. I guess maybe because prison is seen a few times in this episode, it was a subtle reminder of where the Mayans may be headed.
It was nice to see the Sons of Anarchy again in this episode, as I would no doubt expect since Kurt Sutter is still the co-creator of Mayans. JR Bourne (Isaac) is back with a vengeance this time, stopping at nothing to exert his power over different Mayan factions as the Presidente of the Sons of Anarchy SamDimo faction. I suspect that SOA will play a vital role in this final season. It's only fitting for the franchise to bring both incarnations together. We will see who the victor will be in the end, with bloodshed to undoubtedly to be a part for everyone!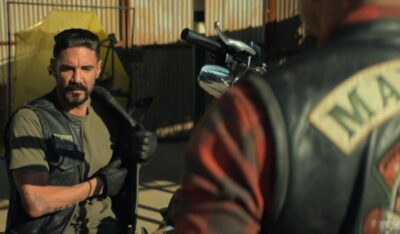 I am happy to see Nestor (Gino Vento) is back, but alas, he is still a prospect, and another prospect named Bottles (Alex Barone) is wearing glasses. I'm glad to see another prospect, that takes a bit of the burden off of Nestor. It will also be interesting to see what this prospect has to do to prove himself and get a full patch. In addition to Bottles, we see another member Guero (Andrew Jacobs) who has joined the club, from what I gathered he was somehow tied to Ibarra (Mike Beltran) who was killed last season.
The theme since the beginning of Mayans has always been family, whether it be blood or chosen. However, there is a definite shift in the Reyes family, as Angel (Clayton Cardenas) and Ez (JD Pardo) have pretty much traded places when it comes to their relationship with Felipe (Edward James Olmos). It will be interesting to see how the final connection between father and son ends. Ez and Sofia (Andrea Cortez) are moving their relationship along nicely, from what I could gather it looks like Sofia has moved into the trailer with Ez and Sally, or maybe it just looked that way?. She is still in his life and that is good, hopefully, she can ground him. I hope that Sofia is truly a ride-or-die with Ez, he has had too many people in life leave him.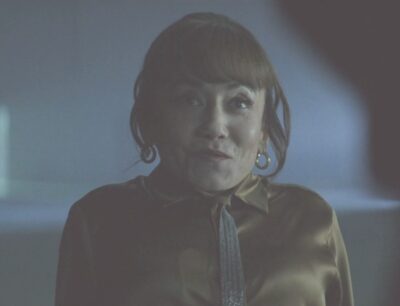 There is still no answer yet about who burned the warehouse full of heroin. I have a feeling we won't find that out until the very end of the season, perhaps the last few episodes. That act of violence has everyone up in arms, from Soledad (Selene Luna) and Miguel to the Mayans and everyone who relied on that product. It. The Mayan factions question Ez and his leadership skills, even bringing up Alvarez (Emilio Rivera). Mentioning that they wouldn't be in the mess they are in if he had been running things. Bishop (Michael Irby) is vocal as well. Even as Vice President, he still has the power to put the worried men at ease because he has been there.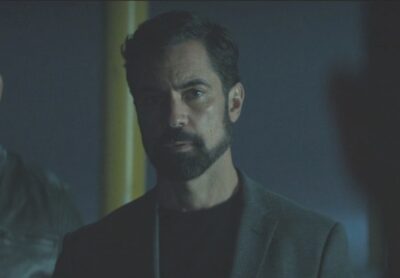 Miguel (Danny Pino) is still working for Soledad and still has tension with Ez; I suspect that will always be there and that the root of it will always be Emily (Sarah Bolger). I wonder if the Reyes brothers will ever discover that Miguel is also their brother.
A new MC called Broken Angels was introduced in this episode, all women and total badasses. From the second the Mayans set foot in their ranch, they are shown just what kind of women they are…it seems to turn on Guero, who finds the strong women sexy. He may be a bit out of his element there, as well as the other men. I hope we see more of these women and what they can bring.
The one part that has disappointed me is what has happened to Luisa "Adelita" (Carla Baratta), who decided to become a mother, resigned, at least for now, to being a mother to Maverick in a tender scene with Filipe and his grandson.
I am not used to seeing Luisa in that light. She was always strong, fearless, brutal, cunning, intelligent, and downright ruthless. Maybe being a mother has softened her a bit, but I hope we do get to see the Adelita again as she was when she was the leader of Los Olvidados.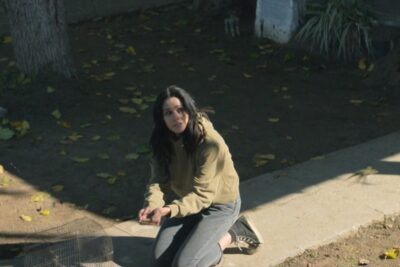 I like that we see a bit of the other side of the Mayans, the everyday family life even for those who are not the main focus at this point in season five. Specifically, Letty (Emily Tosta) and Hope (Vanessa Giselle) showed that no matter what has happened, they are still sticking together. Whether it be hijacking, escaping pain medication addiction from drug dealers, or trying not to get evicted from their home, these two ladies have each others back.
On Hope and Letty's eviction, it turns out that Coco (Richard Cabral) failed to pay rent for over a year and hence the eviction notice was issued. This did not sit well with Letty, she proves that she is indeed Coco's daughter by the acid tongue-lashing she gave the landlord. Hope I assume is still struggling with staying clean and will be damned if she'll go backwards. She owes it to Coco to stay clean, he didn't die for her to go back to the streets.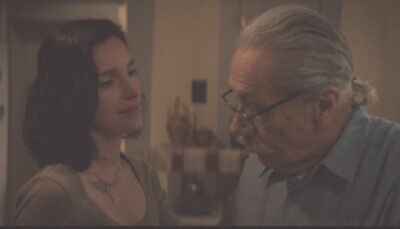 What we witness in the season five opener is a contrast for sure from what we have seen in previous seasons.
Finally, when Felipe is visiting Adelita and his grandson Maverick, Filipe once again tells Angel to be a better father than he was to his sons. As the age old adage goes; Felipe wants Angel to avoid "The sins of the Father being revisited upon the (his) sons…"
One scene I loved watching was when Angel brought Maverick to see his Uncle. The way Ez lit up upon seeing him was incredible. It is like we saw the old Ez, the one before everything tragic happened. It gave him some hope, something to live for. I love that in every episode, we still glimpse Ez, that golden boy with his life ahead of him. Despite all the tragic events in Ez's life, I think the original man is still in there. It comes out in unexpected places, and when Ez is deep in thought or with Emily, who still represents his old life.
It was beautiful to see Creeper (Joseph Raymond Lucero) again, even if he is in prison. His loyalty is still intact even though he does get attacked and nearly beaten to death. I hope we get to see more of him in future episodes.
We also saw more of Hank (Frankie Loyal) in both episodes. I appreciate it when the writers give the secondary characters screen time. This includes a new character named Johnny Panic (Caitlin Stasey) leader of an all female motorcycle club named the Broken Saints that could very well be the spin off series in the future. All in all these professional touches made for a well-rounded first episode of The End of Days for Mayans MC!
.
Lord Help My Poor Soul:
Episode two, titled "Lord Help My Poor Soul," was directed by Brett Dos Santos and written by Jenny Lynn opens in what appears to be an opium field with a black SUV visiting and then leaving the area. It delves more into the consequences of the war with the Sons of Anarchy and what the bloodshed will bring to both gangs. "Mayans were great once…under Alvarez", Bishop also knows this. Yet, Bishop still holds his tongue, knowing that Ez may lead the club down a path that will kill them all. He is waiting for Ez to screw up so he can take back the club. Bishop is the voice of reason; some men still look to him for guidance. A name from the past is still part of the series, and I am so happy to hear it. Lincoln Potter (Ray McKinnon) is the corrupt Assistant U.S. Attorney in business with Soledad and Miguel. I hope that Ray McKinnon will appear in the show again. He always plays Potter perfectly; he is a unique actor who can play those kinds of characters well.
Sarah Bolger does appear in this episode, although she doesn't speak. As much as it looks like she, Miguel, and Cristobal are a "family" again, that is far from the truth. It seems that Miguel holds Emily captive even though he says she can leave at any time, just not with their son. I hope Emily will finally be free of Miguel this season and take Cristobal far away from Santo Padre.
Ez going to see Padrino was a bold move, considering he was the one that ousted Marcus, to begin with, using the killswitch clause in the club's bylaws. Miguel told him that the club life was done for him and that he didn't want to do it anymore. As bright as Ez is, he still has much to learn about being a leader of an MC. He is like the private who thinks he knows more than the general who has seen battle. It will be interesting to see if Marcus does indeed come back.
One new addition to the series I am thrilled to see is Dana Delany. Many wonder if she will reoccur in this last season or if her character is in this one episode? It appears her as yet unnamed guest starring character may be recurring since she is tipped off about something wrong with the inventory at the Department of Justice where she works "upstairs" as a high ranking official. Is it the weapons we saw in Soledad's possession in episode one? Missing drugs? Missing government funds, or perhaps all of the above as we get a quick glimpse of when her assistant is viewing the accounting records? Regardless, we will soon find out enough. One thing there is not doubt about, Dana Delany is always a joy to watch!
The final scenes of episode two are what set up the remaining episodes and will finally bring the epic saga to an end. Angel gets a visit from Cole (Branton Box), who threatens the family and, in turn, makes Angel think twice about trusting his brother. Somehow all the puzzle pieces finally come together to form one big reveal. With the threat of Ez's past as an informant hanging in the balance, war with SOA, and the warehouse fire still a mystery, I have no doubt it will be a blood-soaked season for sure. Enjoy the rest of the episodes. I know I surely will.
Thanks to Kenn for video and image embedding for my feature article and many thanks to you for visiting WormholeRiders News Agency. We will be back soon with more analysis about the final season of Mayans MC because it's one of our favorite television series! This July look for my images and reports that will be coming LIVE from San Diego!

Please feel free to leave a comment here or If you prefer, you may also click the social media icons below to share this news article or as many of our readers and visitors often do, visit me on Twitter by clicking the links or images avatars in this news story.
See You on The Other Side!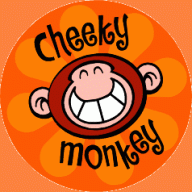 Until next time,
Regards,