Hello once again Stargate fans,
I say Stargate fans because there is something you the fans of all Stargates can do to perhaps help support and save the MGM Studios franchise from being put on the shelf for the foreseeable future.
Let's set the record straight. WHR put out a tweets recently about the great Stargate Universe marathons on Syfy. We received mostly positive replies, however a few sent Twitter direct messages slamming Syfy being unwilling to open tweet their frustrations using foul language in the process.
We ask why be negative? The Stargate franchise needs the support of all fans. Please look at the tags and see all the wonderful people who made Stargate a reality for 15 years! Lets work as a team on March 07, 2011 shall we? Thank you. We include the full 10th episode Resurgence for your enjoyment!
Syfy, an NBC Universal company, has been one of the greatest supporters of the MGM Studios Stargate franchise for a very long time. Syfy saved Stargate SG-1 from oblivion. Syfy brought us five wonderful years of Stargate Atlantis. In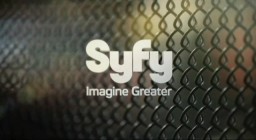 the United States Syfy signed a two year contract to broadcast Stargate Universe on their channel.
A two year commitment is virtually unheard of in the fast moving television industry, not only now but since the inception of broadcast television programming many decades ago.
No matter what you think of Syfy, below are two very good reasons to watch Stargate Universe LIVE on Syfy beginning March 07, 2011 in the United States.
Reason Number One: If the ratings are high enough Syfy may (repeat may) consider a different fate for the Stargate franchise on their cable based channel. Mr. Engler of Syfy tweeted earlier this week (with a giant MAYBE) that if the ratings were high enough there may be a different outcome for Stargate. For a network affiliate to make such a statement is a hint to the fans of Stargate. Please do not let this "hint", really an opportunity pass you by Stargate fans.
Reason Number Two: Our research confirms that some 500 individuals are employed directly or indirectly (contractors) whom help create Stargate. Should Stargate Universe be put on the shelf for a period of years, many if not all of these employees, all human beings like you and me stand to lose their jobs.
Stargate Universe was canceled not because Syfy has not supported Stargate. Quite the contrary. They have continued to broadcast all the Stargate programs and movies regularly. It was canceled because of low ratings
AFTER a two year commitment by Syfy. Many fans chose to boycott the program for various and sadly, often selfish reasons.
Now you are free to think whatever you want, but if the people that make Stargate lose their jobs, a portion of the fault lies in the Stargate fandom fostered by groups that wrongly believed if they 'killed' SGU it would lead to Stargate SG-1 and Stargate Atlantis movies. Sorry people, if the individuals who make Stargate are no longer employed, there will likely not be any Stargate movies. In fact there may not be any Stargate at all.
Even if you do not like Stargate Universe for whatever reason, okay, we respect your right to your opinion. BUT this is not about your opinion. This is about demonstrating solidarity for and within the entire Stargate franchise fandom.
What's up? People seem to enjoy expressing hatred of and to Syfy. Many have analyzed this type of behavior with the same conclusion as our team here at WHR, this is wrong headed thinking.
Please set aside your grudges and or frustrations to prove you are a Stargate fan by watching Stargate Universe LIVE for the next ten episodes on Syfy. Your reward for demonstrating your support? You may just find out that Stargate will continue and not be "placed on the shelf" like so many other series have been. The "feel good" you and many desire for investing your time by doing so?

You may just help save the jobs of approximately 500 people including the Bridge Studios crews, the contractors, the creators, and the very talented actors and actresses of the Stargate franchise!

Stargate Universe returns Monday March 07, 2011 at 10 PM EST/PST on Syfy and on March 08, 2011 on the Space Channel. We ask that you do the right thing and watch the program live to prove that Stargate fans can work together to save the Stargate franchise from potential extinction. We appreciate your consideration of our request. Included below is a sneak peek courtesy of Syfy via Hulu! Thanks Syfy!
As always we thank you for your visit to our news sites at WormholeRiders News Agency. Please feel free to leave a spam free comment or a question here. We will respond to your comment or question as soon as is possible.
If you prefer, you may also click the social media icons below to share this news article or as many of our readers and visitors often do, visit the WHR on Facebook or me on Twitter by clicking the text links or images avatars in this news story and or we will see you on See You on The Other Side"!
Thank You and Best Regards,
Kenn