Hi Science Fiction fans,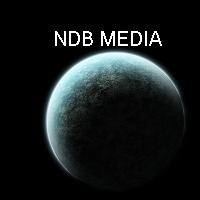 Something special from the past is coming back in a new digital format and our friends at NDB Media are going to bring it to you LIVE! Perhaps some of you have been alive long enough to recall the ground breaking television episodic series Space 1999 from 1975?
Well I and several here at WormholeRiders News Agency certainly do and we intend to drop by to learn what is about to happen to Space 1999!
The series was created by Gerry Anderson and Sylvia Anderson. Starring Martin Landau, Barbara Bain (both from the original Mission Impossible Series), and Nick Tate. The crew of Moon Base Alpha found themselves thrown into deep space by a huge explosion. The crew of Moon Base Alpha struggled to survive under dire circumstances!
Sound like a familiar story arc younger people have observed in more recent series? Well Space 1999 was one of the first episodic show to explore this type story arc 35 years ago and they did an awesome job! In an era when special effects were not computer generated, the series had a huge following! WHR will be dropping by to chat with the guests and learn the secret of what is about to happen to Space 1999 and we hope you do as well!
Best Regards,
WR_Systems (Kenn)

PRESS RELEASE:
When: On Sunday September 26, 2010 @  9:00 A.M. PDT/12:00 P.M. EST
September 2010 marks the 35th anniversary of the debut episode of Space 1999.  NDB Media in cooperation with author Robert Wood have put together a lineup of guests that will knock your socks off.  Guests are still being confirmed so stay tuned.
Bill Latham – author of Space 1999: Omega and Space 1999: Alpha
Robert Wood – author of Destination: Moonbase Alpha: The unofficial and unauthorized guide to Space 1999 and director of The Return of Victor Bergman. Eric Bernard, Richard Bendell, and Steve Warnek the men behind the 2099 project.
Mateo Latosa from POWYS Media publishers of the Space 1999 novels.
Actress Suzanne Roquette who played Tanya Alexander in the second season of Space 1999.
More guests and surprises to come!!
Join us for a special Sunday morning on Blogtalkradio's: NDB Media channel. Program call-in: 914-338-0314 or e-mail your questions to: roger@ndbmedia.com.
Contact: Roger D. Noriega
roger@ndbmedia.com
323-566-5925
Fax 323-357-3868
www.blogtalkradio.com/ndbmedia