Welcome back SGU fans!
I think you'll agree with me that this was another fabulous new episode, full of character moments, action and suspense.


If you have not seen "Divided" stop reading now as this is a detailed recap review. The show opens with a nightmare sequence that Chloe is experiencing.  Filming that sequence must have taken a long time, especially with no breathing apparatus.  I would very much like to know her secret to not appearing waterlogged.  It was stunning photographically.  I wondered if the aliens tapped into her mind to get the image of her mother to extract information from her, or
if the inner child who has been traumatized by the abduction naturally went to the image of mother instinctively in her nightmare.  Dreams and nightmares fascinate me.
My heart ached for Chloe as she mouthed the word "mom."  Although Naddycat captured accurately the metaphor of the communication stones with this nightmare sequence (see Naddy Pre Review ) https://wormholeriders.com/blog/?p=10988 for details), there was something that touched me in a deeply personal emotional way about this scene.
I am a mother of a child with severe autism (along with other disabilities) who is nonverbal.  I have read stories from people who had severe autism who later learned to communication via writing or computer about what it is like to have autism.  It was very similar to this scene being played out.  When I watched the episode for this post air date review, I wondered if this is how my son perceives my world, living in this type of hell where sights and sounds are altered and muffled (as if one was under water), screaming out to me (as Chloe screamed for her "mom") but being separated by the glass between our two worlds.  It would be absolutely terrifying to be there, so alone, being held captive, not being able to communicate anything.  The scene brings tears to my eyes.
As she wakes up, Lt. Matthew Scott attempts to understand, suggesting perhaps Chloe talk to TJ (from a psychological standpoint), but the only person Chloe believes understands her right now is Dr. Rush.  Scott tries to reassure her that she is safe, but she is not convinced.  As she leaves the room to clear her head, she finds Rush in the mess.  Rush confirms her suspicions:  They are not safe.  I have been on both sides of this coin before as I am sure many of you have.  When you've been through something traumatic, it seems no one else in the world understands except those who have been through a similar trauma.  It is frustrating to the people who love the person going through the trauma because there really is nothing you can do to help except be a compassionate listener; empathy is not possible.
Dr. Rush visits Colonel Young.  Young figured out how the aliens got the communication stone.  Rush shares that he believes there are more tracking devices on the ship (of course, not sharing with Young at this point that one was implanted within him).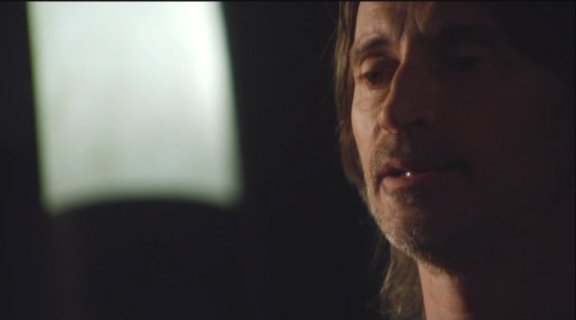 Much to my delight, the Kino is used a lot in this episode.  It is used to give us the beautiful exterior shots of the Destiny.  Later, Eli uses it to assure the civilians that he was coming alone to their side of the ship.  Later still, he invents a thorascope for a medical procedure.
In the mess, Greer pledges his loyalty to Young regardless of his reasons for leaving Rush on the planet.  He knows full well a confrontation is brewing.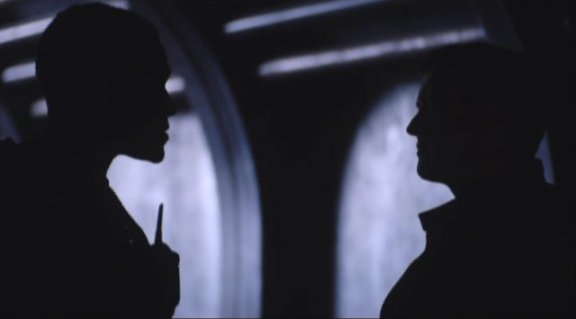 Once Eli and Rush find the ship attached to the exterior of the ship, Young and Scott go to the shuttle, being briefed by Eli along the way.  Scott stops short as he sees what appears to be a tender moment between Chloe and Rush.  Eli lets them know they have about an hour before they jump to FTL (faster than light).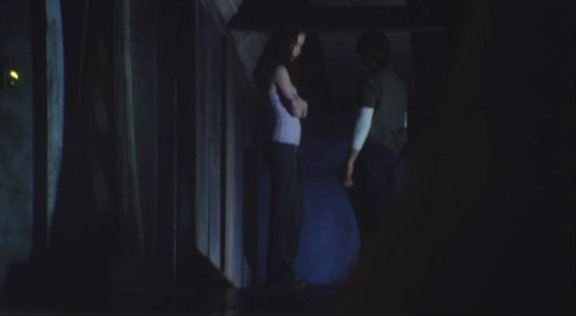 While Young, Scott and Eli are occupied, Camile and Rush jump into action and establish their base camp for their planned coup.
Chloe wants to see the ship destroyed on the screen with Eli, but her facial expressions leave me suspicious of her motives, having just been with Rush.  Later in the episode, when Eli confronts her about this moment, she says she was not trying to distract him.  The lines were delivered so well, I am not sure if I believe her or not.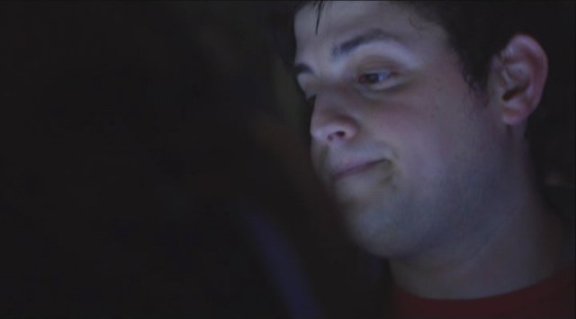 TJ walks in after Brody gets the "go" signal for the coup.  One of my favorite funny lines in the episode is when Brody tries to give TJ a cover story for the radio call:  "That was just Volker and his bridge club."  His bridge club?  I know Volker plays poker, but TJ did not become suspicious at the notion that Volker plays bridge?  That image is just too funny.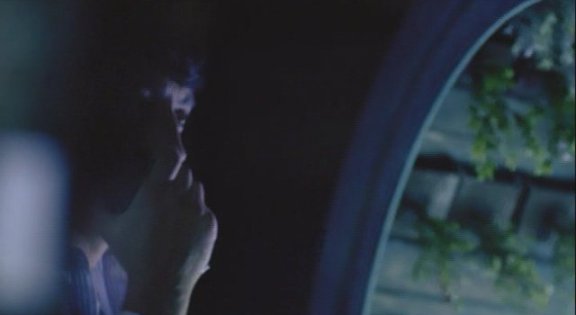 The docking clamps will not engage.  Chloe calls Eli's attention to a computer screen transferring controls (which would be Rush).  Only 8 minutes until vaporization of the shuttle.  I loved that the countdown clock was back in play, not having seen it since Air III.  Similar to the show "24" where you know that Jack Bauer, of course, lives, you know Young and Scott will be okay, too, but it still does not detract from the drama to see how they make it out of their situation.
After failing to get Rush on the radio, Young tells Greer to go find him.  Chloe runs to Rush, telling him to stop the transfer or Scott and Young will die.  Rush tells Eli to stop.  Young commands Eli to continue.  Eli is torn at what decision would be the correct one.  With Chloe's appeal, Camile ultimately tells Rush to stop the data transfer.  Young and Scott are spared by just seconds.  Whew!  That was close.  Rush begins to close the interior doors on the Destiny to seal in the civilian's position from the military.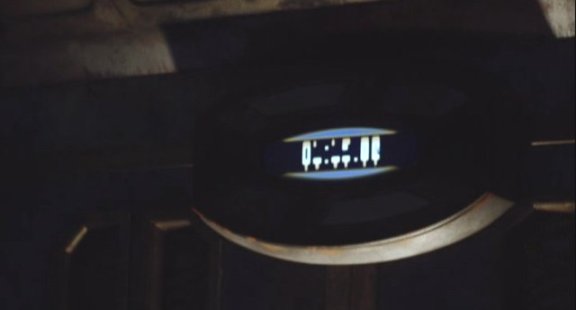 Back in hydroponics, Volker and Brody apologize to TJ for what is about to happen.  They walk out together and TJ sees Airman Dunning pointing a gun at some of the civilians.  When Camile orders him to put the gun down, he refuses, as any military person would do.  This brings me to my second favorite line, delivered perfectly by Alaina Huffman, "Well we're not going to shoot any one."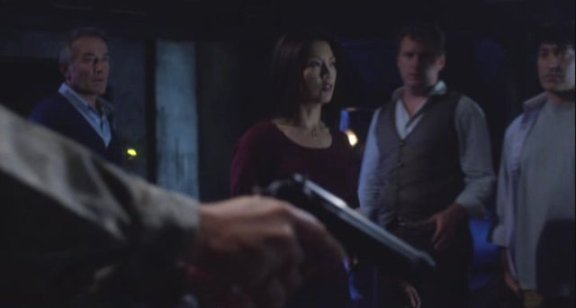 The standoff begins:  Civilians versus military; Rush versus Eli; Camile versus Young.  Another great line delivered by David Blue:  "It's not pretty now."  Eli tries to reassure Scott that Chloe just being there does not mean she is "with" them; Young shoots that theory down quickly.
Who would have thought a Trojan horse metaphor would come in the form of Eli Wallace?  Another favorite line happens here when the civilians open the door and have a gun pointed at him, "Whoa!  Irony!"  Eli calls Chloe out about her deceptive practices, but Chloe denies it.  Eli will likely think twice before trusting her again in the future.  I certainly would.
Volker and Brody are nervous, feeling the military will give in.  Camile reassures the group that every military in a free society takes commands from a civilian government.
Rush tells Eli that he needs his help to reinforce the shields.  Then BOOM:  The aliens are back!  There was one tracking device that still exists — INSIDE OF RUSH!  Greer and Young take a space walk to gain access to the civilian side.  It was a spectacular sequence.  When the aliens appear, Young and Greer know time is running out before the shields are activated.  Eli tries to stall Rush from activating them, knowing that Young was making his move.
Chloe tries to convince TJ that the civilians know exactly what they are doing.  TJ shakes her head at her naivety.  Chloe has no clue what they are up against because Colonel Young will take back the ship.  I hate to have to refer to Battlestar Galactica here, but they found a good way to co-exist together.  The military had control over making military decisions, but the civilian government had control over civilian matters.  If a snap military decision had to be made, the admiral was able to do this without interference from the military.  Perhaps the Destiny crew need to form a council and Camile can be in charge of that, while Young would be in charge of the military decisions.  Camile, after all, is no military strategist.
After rendering unconscious the two civilians guarding the area, Greer lets in Scott and his team.  Scott takes command and gives his team their instructions:  No force unless necessary; they have to live with these people when all of this is over.  Scott runs into Chloe and TJ, the devastation of Chloe's betrayal haunting his eyes.
Camile realizes Rush played her.  As they are discussing this, Young walks in and I just LOVE the look on Rush's face:  It had the "how-the-hell-did-you-get-in-here" look.  Rush obviously thought his plan was foolproof.  The look was one of both surprise and hidden admiration.
Storming the mess, the civilians do not immediately respond to the command to get on the ground so 2nd Lt. Vanessa James lays a huge punch into the civilian.  Wow!  That was some punch!  Volker tries to appeal to Greer as a friend, but Greer does not flinch, his gun pointed directly at him.
Eli shares with the group that Rush has a transmitted in his chest. He convinces Colonel Young that Rush's plan has merit.  Young tells TJ to remove the device.  To get someone qualified, Chloe volunteers her body during the communication stone call.  Dr. Brightman, who appeared in a previous Stargate SG-1 episode (Lockdown), reprises her role.  I love new Eli inventions.  This Kino is about to go where no Kino has gone before:  In the body of Dr. Rush.  Dr. Brightman is taking in a lot of information about all these things on Destiny in just under a minute when she feels the thud and the ship shaking.  When Scott informs her they are under attack, TJ says another favorite line of the night, "Welcome to Destiny."   I love the video of the thorascopy procedure on the monitors; it makes everything feel so real.
Putting 100% of his faith in Eli, they wait and hope the shields will hold until they go to FTL.  Meanwhile, back at the surgery of Dr. Rush, as the shields are failing, the communication stones fail.  Don't you just hate that–even in outer space your cell signal is dropped at the most inopportune moments.  Chloe comes back and has to adjust to what she is seeing.  In a horrifying moment, Rush wakes up with his chest cavity open.  James administers more of the antivenin from the aliens from the episode "Time" to knock him back out.  Chloe becomes a wonderful surgical assistant.  I think this could be her new job, assisting in the infirmary.  TJ takes over the surgery and removes the transmitter which Scott then smashes.  A few minutes later, they jump to FTL.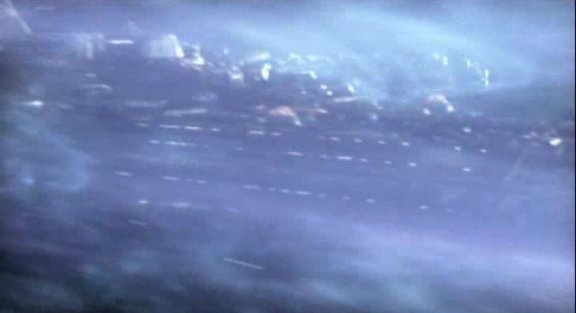 Everyone got to be a hero in this episode, playing their part in saving the Destiny and her crew, including Rush.
As Young comes into the mess to dismiss the civilians, he makes eye contact with every one of them who are walking past him, quite an intimidating thing to do, each civilian now walking out with their heads down.  That is how you get to be a commander.  He knows when to apply pressure in a physical way but also knows where strength comes in the silence.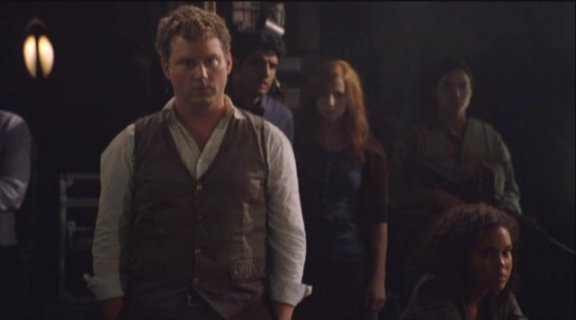 Camile comes in and Young tells her he is open to suggestions.  Camile wants to find a way to work together.  She tells him he should not have left Rush on the planet; Young acknowledges his bad choice.
After everyone leaves, Greer says to Young, "It's not over, sir."  Young agrees; it isn't.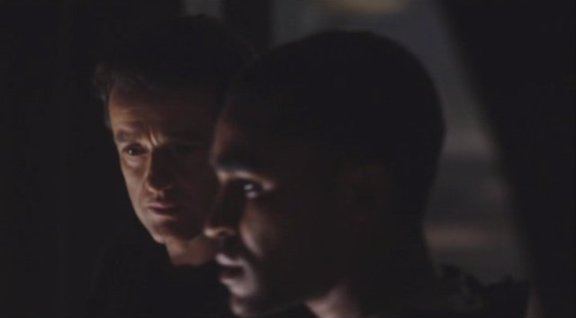 Let us hear your opinions.  Do you think the civilians need to rule or the military?  Do you think they could figure out a way to co-habitate and work efficiently together?
Thank you for visiting WormholeRiders News Agency and for reading.
You can visit me on Twitter by clicking my avatar of text link below.
PBMom