Today VanCon was absolutely crazy! In a very good way, of course.
The name VanCon is not really the official name of the convention. It is more of a fan name used on Twitter with the hash tag for tracking the tweets. The official name is really Creation Entertainments "Vancouver Stargate 2010 Convention". All my and WHR's thanks to the great team of people at Creation. They are awesomesauce!
Sleep has been something missing the last few days! But this is the way things go at a major convention in the hometown of Bridge Studios, the production facilities of  Stargate. There is just so much to do and see and with being Press Credentialed by Creation, the days are extra long with writing of reports and uploading photos for my news reports and video interview with fan who share their thoughts about VanCon. This was one of the fun parts as WHR interviewed fans each day about their experience at Creation Entertainments Vancouver 2010 Stargate convention. I include a few below and thank WR_Systems and his cat Adria (lol) for digitally editing and re-mastering the video for your viewing pleasure.
I also attended a no minimum bid auction which is a very popular event as fans get great bargains on cool geeky Stargate stuff. Lots of fun too as some items are very rare and in demand by Stargate fans all over the world!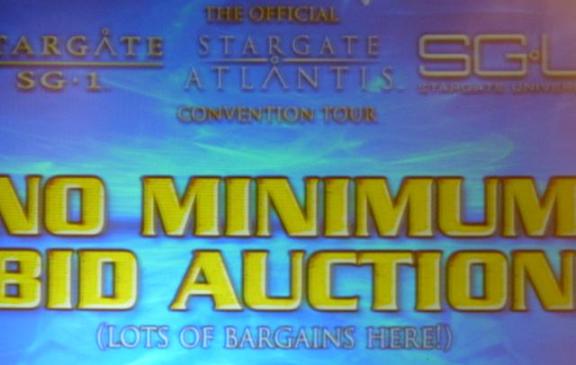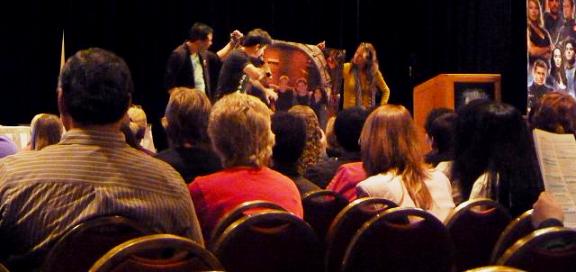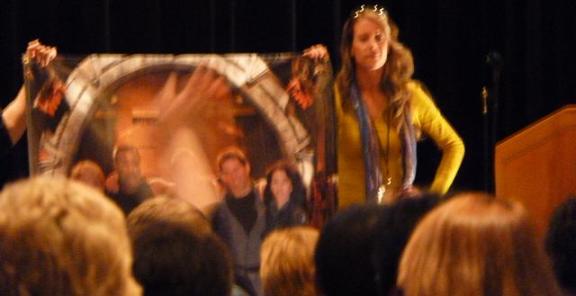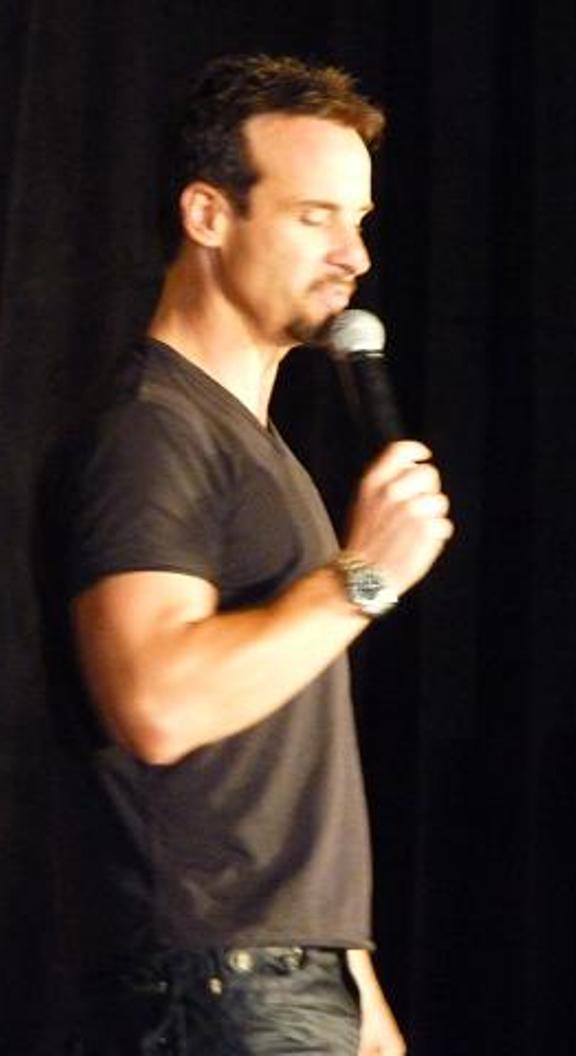 I started the day working on WHR reports and conference calls and missed Wraith Queen Andee Frizzell, so my first panel was Colin Cunningham. Major Davis on Stargate SG-1. I'll be working on a detailed report of Colin's and James Bamford's panels. They both talked about their upcoming roles and anecdotes about their work in the entertainment industry.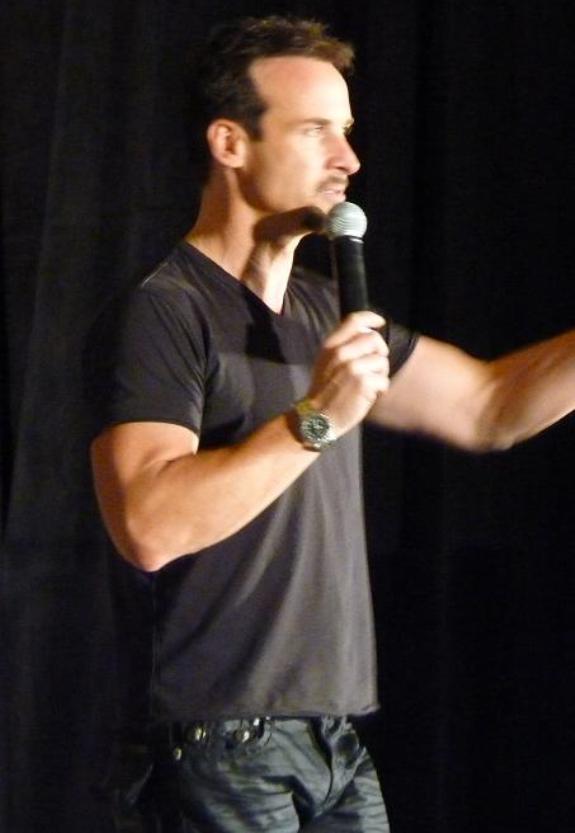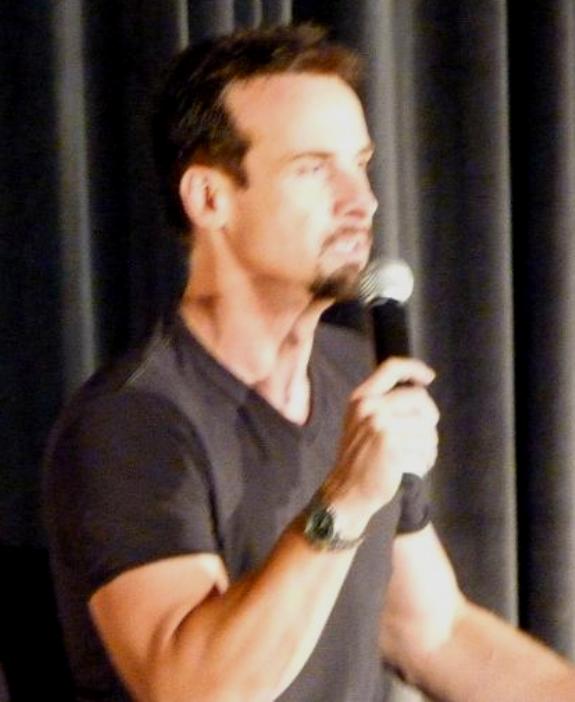 Colin told a few stories about unlikely people recognizing him. It seems a certain ER actor is a fan of Stargate. James mostly talked about training the different actors how to do certain stunts. Both were incredibly interesting and very funny! I think it might be a rule on the show that you have to be hilarious to join the cast. Just a theory.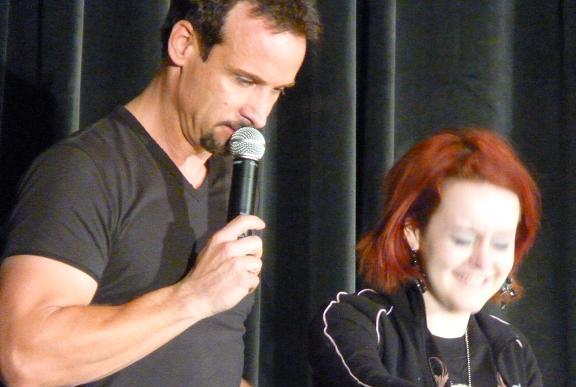 After the panels I met up with my friend Brianna (pictured above with Colin) and we chatted with a few fellow convention attendees. I ended up going to dinner with one of them and heard some fascinating stories. One of the things I love most about these conventions is that everyone is so amazingly friendly. I love sci-fi fans for that reason. It's always like hanging out with long-lost friends, even though you've generally just met the people. I've found it with Scapers, as well as Gaters at VanCon. I love it.
The James Bamford panel was great. you may have read my tweets? This guy in darn handsome and funny! Included below are a few of the many pictures I took of the his appearance at VanCon.
The Creation Entertainment Cabaret was fantastic. Dan Shea was the host, and in case I didn't make it clear yesterday, he is a riot! I was pretty much gasping for air I was laughing so hard, and I know I wasn't alone in this.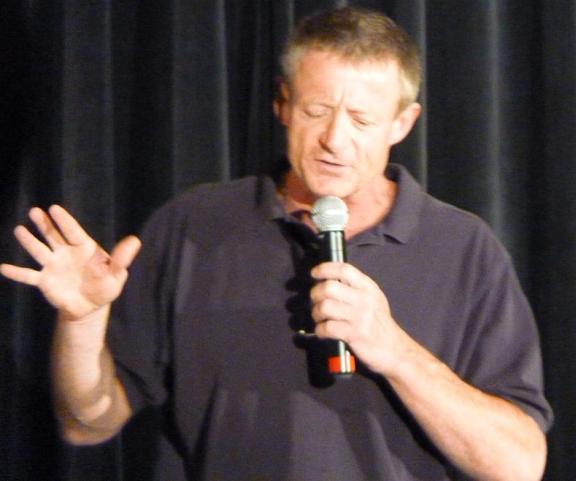 Colin Cunningham showed off his mentalist abilities. First, Colin put thread in his mouth and pulled it out his ear – I barely opened my eyes during that – and then he called up audience volunteers. Then Colon had a kid put a nail underneath a cup (one of five), then had a girl – who, by the way, was my friend, Brianna – mix around the cups.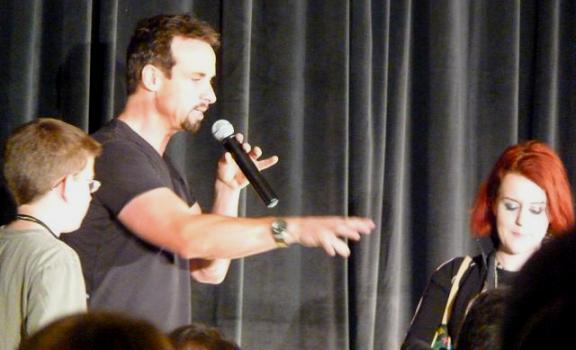 He called up one more volunteer to mix them up again. He brought Brianna back up on the stage and held her hand over one of the cups. He asked her whether the spike was under that one (she replied that it wasn't) and when she said she was sure, he slammed her hand down on it.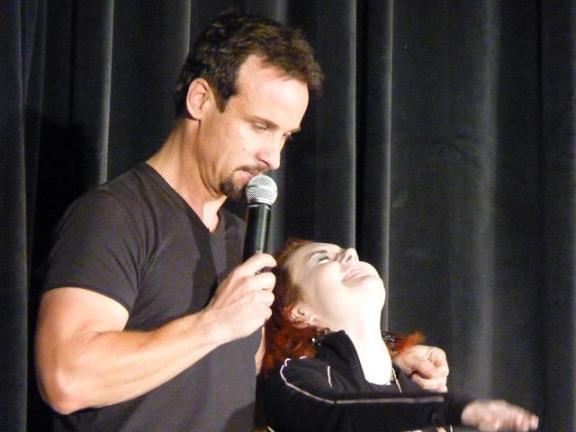 Of course, it was not the one with the spike. He did this twice more, and for the fourth, he slammed down his own hand. He revealed the fifth to be the one with the spike underneath.
James Bamford gave a stunt demonstration. He introduced a few stunt people and had them demonstrate a fight. He then brought out the stunt doubles for Joe Flanigan and Rachel Luttrell. Sorry I did not get pictures of that. They demonstrated some different moves with the sticks. I never really thought about how hard it must be to use the sticks before, but after that, I definitely have a new respect for them! They also used a butter knife to demonstrate twelve ways of disarming a knife attacker. I love that most of them ended with the attacker being stabbed.
Finally, it came time for the Creation Entertainment Karaoke Party. For this, I mostly hung out with other fans and chatted about loads of Stargate convention stuff, like how great it was.
Brianna went up and sang a couple of songs, as well. As well, I got a few pictures with Colin Cunningham before he left for the night. I gave him my card and introduced myself. He was incredibly nice – not that I was expecting differently. He's a really cool guy. Also, not to spoil anything, but a certain someone did a dance to Time of My Life, and I may have (definitely did) get it on video. WHR wil post that as a stand-alone report SOON!. You're welcome.
Lastly for my Day Two recap report, James Bamford was at the also at the Karaoke and he is a fantastic singer as I mentioned in my tweets. All the fans thought he was a wonderful performer! Thanks James!
Essentially, that was my Friday at Creation Entertainments Vancouver Stargate 2010 in a nutshell. I will have detailed reports after I SURVIVE VanCon!
More to come tomorrow! Next up: Michael Shanks, Joe Flanigan and David Hewlett, the last two to be on stage together!. I can barely contain my excitement! Stay tuned for more!
ValaBlack