Hey there everybody!
We here at WormholeRiders.com are pleased to announce another in our "Live from the Convention" series news coverage of the fantastic  Phoenix ComicCon!
This year, the Phoenix ComicCon takes place on Memorial Day weekend, May 27th-30th, 2010.
I am super excited to b
e attending this convention as there are many awesome guests this year.  Among the many stars I will report on, and with regard to the celebrities and wonderful people that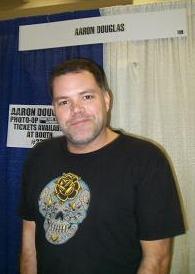 I am most looking forward to reporting on, they include:
The fabulous Aaron Douglas (Battlestar Galactica) whom WHR recently had the pleasure of meeting at WonderCon 2010 in San Francisco!
The wonderful James Marsters (Caprica/Buffy/Angel) whom WHR had the pleasure of visiting with at WonderCon courtesy of Light Speed Entertainment! 
Science fiction super stars Wil Wheaton (Wesley Crusher) and LeVar Burton (Geordi) both from the beloved series and movies Star Trek: The Next Generation. Both will be appearing at Phoenix ComicCon convention LIVE!
And perhaps my favorites,the talented comic book and movie legend, the

creative master Mr. Stan Lee. Stan is the co-creator of Spider-Man, The Fantastic Four, the X-Men  and so many more we cannot possibly mention them all here!
AND last but certainly not least, the very lovely and gifted Ms. Felicia Day (pictured below), the creator and star of the fantastic series "The Guild",
As you may already know Felicia Day created, writes, and stars in the web series The Guild which finished it's third season on November 24, 2009. If you have not seen "The Guild", you must rectify that situation immediately!
Click the image or link below so you can watch all three seasons (12 episodes per season, 5-10 minute episodes) at www.watchtheguild.com.  Do it. Now!


Also, please take a look at the cool Phoenix ComicCon line-up, see if there are any guests/panels who you would especially like me to report on, then leave a comment below telling me who you'd like to read about and I will do my best to see that I get pictures and/or into those panels.

You may also leave news coverage suggestions by visiting me on my Twitter page by clicking my avatar below right to let me know what conventions news you would like me to focus on. Thank you!  🙂
I can't wait!
Please feel free to share this article with your friends, co-workers and or family and leave your comments!
We look forward to you visiting our dedicated review and analysis web site here in the future!
Or as many of our readers and visitors often do, visit WHR on Twitter, or visit me on Twitter by clicking the text links or images avatars in this news story.
I and TeamWHR look forward to Seeing You on The Other Side!"
MeaganSue