Welcome back Comic-Con Lovers!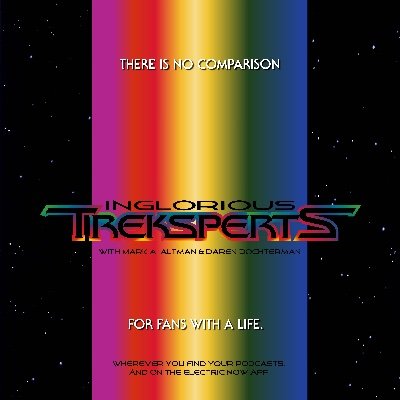 The recent virtual Comic-Con at Home convention sponsored by the great team at Comic-Con International was loads of fun that featured hundreds of entertainment events that convention admirers enjoyed based on their social media posts. The actual in person experience has been postponed for two seasons as everyone recovers from the devastating COVID-19 pandemic.
We here at Team WHR attended several events and have selected a few of our favorites to review with you. We continue our Comic-Con at Home coverage with the "Boldly Going: 55 Years of Star Trek–The Best of Inglorious Trekperts" panel conducted on July 24, 2021.
The enjoyable Comic-Con at Home episode was produced by Mark A. Altman (Pandora, The Librarians, Femme Fatales, Free Enterprise) and Daren Dochterman (Star Trek: The Motion Picture – Director's Edition).

To many of you who are familiar with Inglorious Trekperts, you are already aware of the high quality of the broadcasts provided by Mark and Daren that make them so enjoyable. Our favorite parts of the Inglorious Treksperts podcasts are the Behind The Scenes (BTS) interviews that Mark and Daren provide to their viewers with each episode they produce!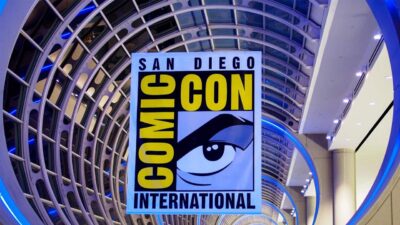 This wonderful Comic-Con at Home episode features Anson Mount well known as Captain Pike in Star Trek Discovery and for his role in Strange New Worlds, Michael Dorn, beloved for his portrayal of Worf in Star Trek The Next Generation, first introduction to the timeline in Star Trek VI The Undiscovered Country, and Star Trek Deep Space Nine, Jeffrey Combs who portrayed several Star Trek characters in the franchise including Star Trek Deep Space Nine, Star Trek Voyager, perhaps best remembered for his excellent portrayal of Shran in Star Trek Enterprise and more recently in Altman's Pandora series seen on the CW Network, and Robin Curtis who portrayed the Vulcan bridge officer Lt. Saavik in Star Trek III The Search for Spock and Star Trek IV The Voyage Home.
The Inglorious Treksperts episode featured Star Trek legends including Brannon Braga, who Executive Produced Star Trek First Contact, Star Trek Enterprise, Star Trek Voyager, and produced Star Trek The Next Generation, Star Trek writer Nicholas Meyer of Star Trek II: The Wrath Of Khan fame, Star Trek writer Bryan Fuller, creator of Star Trek Discovery and well known for his great work on Star Trek Deep Space Nine and Star Trek Voyager.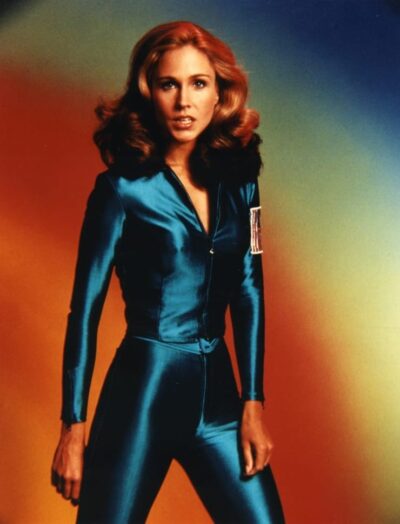 Last, but certainly not least, Inglorious Treksperts featured a superb science fiction veteran actor, Erin Gray, perhaps best known to science fiction fans as Colonel Wilma Deering from Buck Rogers in the 25th Century, as well as the hit series Silver Spoons, Star Trek Continues, and her fabulous guest starring role in Pandora in 2019!
My interest in the Inglorious Trekperts panel stems from a former past life in the high tech industry. My interest was recently rekindled by admiration for the Star Trek franchise. Naturally, like many, if not all science fiction admirers, I enjoyed Star Trek The Original Series as a young person. However, from 1989 to 2008, my career required extensive overseas travel without access to television. As such, I was only able to watch the first two seasons of Star Trek The Next Generation live and missed most of Next Generation and all of the following three series, unable to watch Star Trek Deep Space Nine, Star Trek Voyager or Star Trek Enterprise until well after the fact.
Upon return to the United States, WormholeRiders News Agency was created in 2008 and I became busy with a focus on science fiction conventions, television series, and movies. Team WHR attended local Star Trek convention events in the San Francisco area meeting several Star Trek stars with great enjoyment including William Shatner, Sir Patrick Stewart, Connor Trineer, Nichele Nichols, Leonard Nimoy, Chase Masterson, featured as the computer voice in Pandora, Jane Wiedlin of the famous Go-Go's band and who had a guest starring role in Star Trek The Voyage Home, and many other actors in the series. These activities were followed by attending Star Trek events at San Diego Comic-Con where I had the honor to meet all the "Captains" in a small intimate panel with the exception of Janeway (Kate Mulgrew) who was sadly unavailable at the time.
Recently, within the past two years, the exciting series Star Trek Discovery began. This encouraged me to watch when each episode broadcast and to rewatch the post Star Trek Original Series programs in order subsequent to purchasing the digitally remastered TOS DVD's which did a spectacular job of bringing the 1960's Star Trek special effects into the 21st century! Thus began my discrete viewing of the Inglorious Treksperts podcasts to dovetail my enjoyment of Star Trek that we share with you today.
We suggest that you follow them on Instagram and Twitter: @inglorioustreksperts and hope that you enjoy their Comic-Con at Home special included below and tune in each week to learn more from Mark A. Altman and Daren Dochterman!
We look forward to seeing you all in the future at  Creation Entertainment's Star Trek convention in Las Vegas which we planned to attend this year, but postponed our trip due to COVID19 Delta outbreak.
Nevertheless, we plan to begin attending conventions next year at WonderCon and at San Diego Comic-Con during 2022, perhaps sooner in San Diego if Comic-Con International is able to conduct the event planned for November 26 to 28 of this year depending on the pandemic.
Please feel free to share this article with your friends, co-workers and or family and leave your comments! We look forward to you visiting our dedicated review and analysis web site here in the future! Or as many of our readers and visitors often do, visit WHR on Twitter, or visit me on Twitter by clicking the text links or images avatars in this news story. I and TeamWHR look forward to Seeing You on The Other Side!"
Thank you.
Best Regards,
Kenn of #TeamWHR