Hey Movie and Television Fans!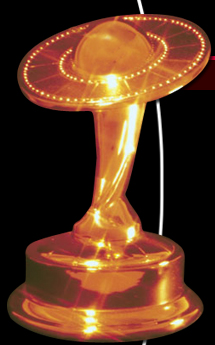 The Saturn Awards were held June 24, 2010 and were amazing. I wish that I could have been there to see Avatar sweep the film awards and the sheer look of glee of Anna Torv on her face for her wonderful win as best actress in the television series Fringe.
Below is a wonderful interview originally posted by our friends at Anna Torv Dot Com (thanks)!
We also express our sincere thanks to Roddenberry Productions for their very fine video embeds. Spanning the breath of the Saturn Awards video material included in this report, we have included many of the available videos for you to view all in one place!
WHR was also quite pleased to see the legendary Leonard Nimoy receive acclaim for his guest starring role in Fringe as William Bell. Lance Reddick, Leonard Nimoy, and the gorgeous and supremely talented Anna Torv are featured below on the Red Carpet and receiving her well deserved award.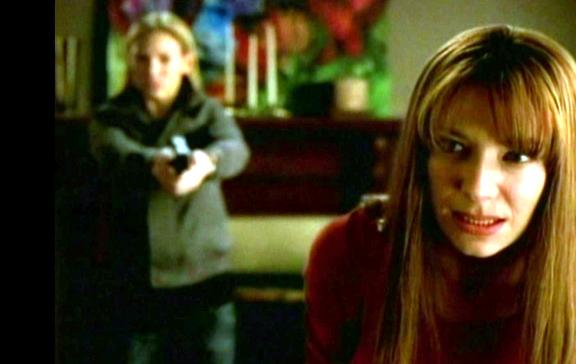 I can only share with you that Anna is one of my most favorite actresses and I have nothing but respect for her dual role as "our" Olivia and the red haired "Alt_Livia" portrayal in the Fringe season two 2 part finale 'Over There"!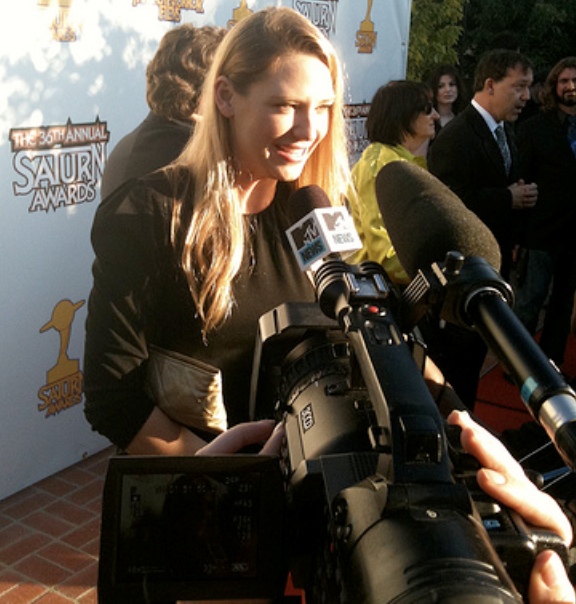 Leonard Nimoy had a brilliant and somewhat comedic moment when he discussed his role in the 1952 movie  "Zombies of the Stratosphere" the first science fiction motion picture for which he is most remembered for. Leonard's portrayal of William Bell may be his last since Leonard announced his retirement to pursue other interests. While all hope it is not true and he may yet return, it was most fitting that J.J. Abrams allowed William Bell to sacrifice him self to return our Fringe Team to the "Other Side"!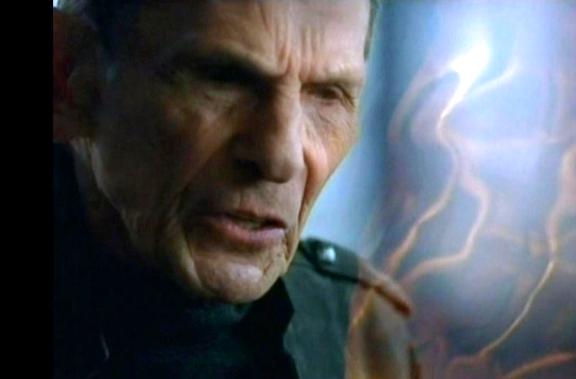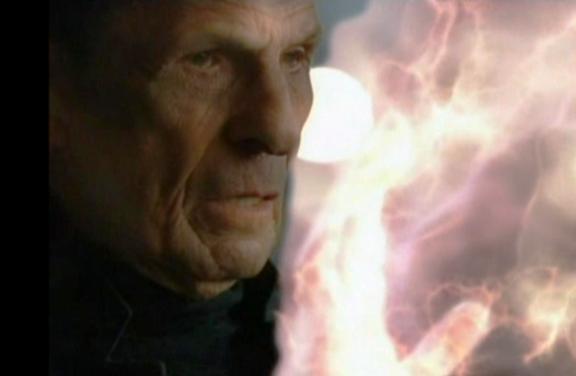 There were many other fantastic stars and celebrities whom were honored including the talented Sam Raimi for his "The World of Warcraft" movie now in development. Below is a nice video courtesy of Roddenberry Productions about Sam discussing The World of Warcraft! As well as Roberto Orci & Alex Kurtzman receiving the prestigious George Pal Award!
What amazed WHR about the Saturn Awards was not the fact that Avatar swept the film awards or that Anna Torv was named best actress or that Leonard Nimoy was named best guest starring actor, I expected these bec
ause of their superb performances in Fringe.
What amazed me was there was no live television coverage to honor and respect so many talented creators, actress and actors. Even more amazing is the low number of views these videos have received which is why WHR has included them for your pleasure and hope you enjoy them as much as we have.
As mentioned we should all be thankful to Roddenberry Productions for their extensive coverage of The Saturn Awards. To that point, and of great interest to many were the appearances of Gene Roddenberry's son, Rod Roddenberry working on a remake of the 1974 television classic science fiction movie "The Questor Tapes" and Shaun Toub now appearing in "The Last Airbender".
Naturally James Cameron and Avatar deserves the lions share of the credit for film excellence as we reported earlier this year when WHR was honored to participate in a Red Carpet ceremony at the California Institute of Technology with a 90 minute panel about the science behind the science fiction. Click the Avatar photo below to view the outstanding James Cameron and his science advisers from Cal-Tech.
In closing, we include below the entire Press release from the Saturn Awards. WHR will have more soon on these movies at our Movie Magic News Site and episodic series including two new additions being announced later today! Feel free to leave a comment or visit me on Twitter by clicking my avat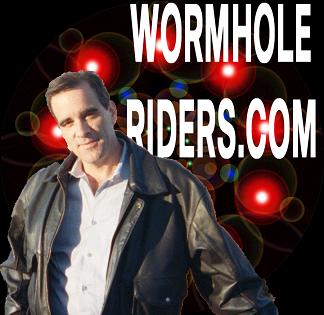 ar below. Thank you for reading.
Best Regards,
WR_Systems (Kenn)

THE SATURN AWARDS
The Academy of Science Fiction, Fantasy & Horror Films
334 West 54th Street     Los Angeles, California  90037-3806
Phone/Fax: (323) 752-5811   e-mail: scifiacademy@ca.rr.com
Robert Holguin  (President)
Dr. Donald A. Reed (Founder)
For Immediate Release
"AVATAR" is King of the 36th Annual Saturn Awards with 10 wins
(Los Angeles, Ca.)  The Saturn Awards were dominated by James Cameron's 3D masterpiece "Avatar," which garnered ten Saturn Awards.  The film not only was named Best Science Fiction Film, but Best Actor and Actress: Sam Worthington and Zoe Saldana; Best Supporting Actor and Actress:  Stephen Lang and Sigourney Weaver, Best Special Effects, Best Music, Best Production Design and Best Writer and Director for James Cameron — who holds the record for most Saturn Awards wins of all time.
Other Best Film winners included:  "Watchmen" (Best Fantasy Film), "Drag Me To Hell" (Best Horror Film), "Monsters Vs. Aliens" (Best Animation), "District 9" (Best International Film) and "Inglourious Basterds" (Best Action/Adventure/Thriller).
J.J. Abrams' Bad Robot Productions was well-represented with honors in television programming.  "Lost" received Best Network TV Series and Best TV Actor:  Josh Holloway; while "Fringe" also scared up two awards for Best TV Actress: Anna Torv and Best Actor in a Guest-Starring Role:  Leonard Nimoy.
Not to be outdone, AMC's groundbreaking series "Breaking Bad" took home 2 Saturns itself:  Best Syndicated/Cable TV Series and Best Supporting TV Actor: Aaron Paul.
The highlights of the awards ceremony were the special awards presented throughout
the evening.  On the thirtieth Anniversary of his film "Star Wars: The Empire Strikes Back," director Irvin Kershner was honored with the Life Career Award.  Harrison Ford congratulated "Kersh" from location in New Mexico.  Lando Calrissian himself Billy Dee Williams read a letter from George Lucas, then presented the award to Kershner's son, who accepted on his father's behalf.
The writing/producing team of Roberto Orci & Alex Kurtzman ("Star Trek," "Fringe" "Transformers") received the prestigious George Pal Memorial Award in honor of their unending imagination and dedication to creating amazing genre-bending blockbusters at the movies and on television.
Lauren Shuler Donner received the Producers Showcase Award for her strong body of work in genre films, including the "X-Men" franchise.  COO of DC Entertainment Geoff Johns presented the award, Hugh Jackman congratulated her from the set of his new movie.
Many genre leaders were in attendance including: Guillermo Del Toro, Sam Raimi, Quentin Tarantino, Zack Snyder, Malcolm McDowell, David Hedison, Jon Landau ("Avatar"), Rod Lurie, Deborah Snyder, Neil Marshal, Lloyd Levin,  legendary Disney composer Richard Sherman, Billy Dee Williams, Michelle Monaghan,  Carlton Cuse and Adam Horowitz ("Lost"), Bryan Burk ("Star Trek", "Fringe"), Lisa Stewart ("Monsters Vs. Aliens"), Vince Gilligan ("Breaking Bad"), Stephen Lang, Geoff Johns, James Remar, Lukas Haas, Catherine Hicks, Kelly Hu, Aaron Paul, Mark Sheppard, William Katt, James Kyson Lee, Jon Seda ("The Pacific"), Lance Reddick ("Fringe"), Mark Pellegrino ("Lost"), Michelle Trachtenberg, Zachary Levi & Josh Gomez, John De Lancie, Rod Roddenberry, Shaun Taub ("The Last Airbender"), Brando Eaton, plus newcomers Kiernan Shipka ("Mad Men") and Haily & Tatum McCann.
The 36th Annual Saturn Awards were presented by The Academy of Science Fiction, Fantasy and Horror Films, a non-profit organization created in 1972 to honor, recognize and promote genre entertainment.  The Academy was founded by noted film historian, Dr. Donald A. Reed, who passed away in 2001.  Robert Holguin currently serves as President of the Academy.
THE WINNERS OF THE 36TH ANNUAL SATURN AWARDS
Best Science Fiction Film: Avatar
Best Fantasy Film: Watchmen
Best Horror Film: Drag Me To Hell
Best Action/Adventure/Thriller Film:  Inglourious Basterds
Best Actor: Sam Worthington (Avatar)
Best Actress: Zoe Saldana (Avatar)
Best Supporting Actor:  Stephen Lang (Avatar)
Best Supporting Actress: Sigourney Weaver (Avatar)
Best Performance by a Younger Actor:  Saoirse Ronan (The Lovely Bones)
Best Director:  James Cameron (Avatar)
Best Writer:  James Cameron (Avatar)
Best Music:  James Horner (Avatar)
Best Costume: Michael Wilkinson (Watchmen)
Best Make-Up:  Barney Burman, Mindy Hall, Joel Harlow  (Star Trek)
Best Production Design: Rick Carter, Robert Stromberg  (Avatar)
Best Special Effects: Joe Letteri, Stephen Rosenbaum, Richard Baneham, Andrew R. Jones (Avatar)
Best International Film:  District 9
Best Animation Film: Monsters vs. Aliens
Best Television Series: Lost
Best Syndicated/Cable Television Series: Breaking Bad
Best Presentation on Television: Torchwood: Children of Earth
Best Actor on Television: Josh Holloway (Lost)
Best Actress on Television: Anna Torv  (Fringe)
Best Supporting Actor on Television: Aaron Paul (Breaking Bad)
Best Supporting Actress on Television:  Julie Benz (Dexter)
Guest Starring Role on Television: Leonard Nimoy (Fringe)
Best DVD Release: Nothing But the Truth
Best DVD Television Release:  Lost (The Complete Fifth Season)
Best DVD Special Edition: Watchman: The Ultimate Cut
Best DVD Collection: Star Trek Original Motion Picture Collection
Best Local Stage Production: Fantasy/Musical: Mary Poppins  (Ahmanson Theatre)
Best Local Stage Production: Play/Dramatic Musical: Parade (Mark Taper Forum)
Best Local Stage Production: Small Theatre: Fellowship: The Musical (Falcon Theatre)
The Visionary Award: James Cameron
The George Pal Memorial Award: Roberto Orci & Alex Kurtzman
The Producers Showcase Award:  Lauren Shuler Donner
The Life Career Award: Irvin Kershner
PLEASE VISIT THE SATURN AWARDS WEBSITE: http://www.saturnawards.org