The Sanctuary Experience is the first time that GABIT events ever put on an event in Vancouver, and with 10 different guests. While they have made a name for themselves in London, with only one guest — Amanda Tapping — quite a few fans knew that they would not disappoint. In particular, this fan was so excited to be going, for several reasons: Getting to see friends I hadn't seen in quite some time, learning interesting tidbits about the upcoming Season 3 of Sanctuary, getting to interact with the cast and crew of the show, and of course, help Sanctuary for Kids raise money throughout the entire Con. In fact, the total money raised throughout the con surpassed an incredible $90,500 CAD!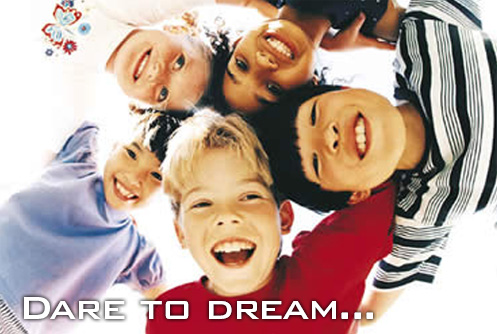 The entire event lasted from Friday evening to Sunday evening. This report will cover each of the different days separately.
---

Day 1: Friday, July 30, 2010
I had in fact arrived a couple of days prior to the beginning of TSE to allow for a few days of sightseeing. This is what I called torture though, as now all I want to do is see more of the beautiful city of Vancouver. I think I may have fallen in love with the city while I was there, but alas, my poor NYC awaited me back home; but, back to Friday. I arrived at the registration desk, and had no problem picking my registration packet, and tickets, and a wonderful bag, bottle, and nubbin key chain! But the fun didn't stop there. After running out with friends to grab dinner, we quickly hastened it back to the hotel where those lucky enough, would take part in the Meet and Greet session.

Within a few moments of entering the hall, we were greeted by the Gabit folks all of whom were wearing outfits that made all of us Sanctuary fans reminisce about Kali parts 1 and 2. After being given a bindi, I felt as if I was really truly integrating into the Sanctuary Experience. We mingled, we talked, we had a couple of drinks, and then the Sanctuary team arrived. (Well, Damian Kindler arrived a few moments later, sporting his motorcycle helmet and gear)

After a short intro into what the Sanctuary Experience meant to each of the actors and producers, they started mingling around the tables. First off, Producer and Director, Martin Wood stopped by our table. We asked him what his favorite episode so far in Season 3 was, and he answered ecstatically "Breach!" While talking with Martin, we discovered that it will be episode 5 in Season 3 of Sanctuary, and is an epic battle between Dr. Helen Magnus and a new character played by Ian Tracey. In fact, the episode has been such a long time coming, that Damian and Martin had conceived this episode before Season 1 even aired. When he left, our table was a buzz with excitement over the prospect that this episode was going to knock our socks off apparently.
Next up was Robin Dunne, who stopped by the table. With a smile, he asked us where we were all from, and after explaining that we had people at our table from the four corners of the world, we asked him what his favorite episodes so far for Season 3 were. He told us to watch out for the arcs between episode 5 and 6, which basically changes the entire course of the series. He also explained how the first episode, Kali 3, is extremely big for Will. One can only imagine how the Sanctuary gang was going to get us away from Big Bertha, and into the arcs that will change how we see the series.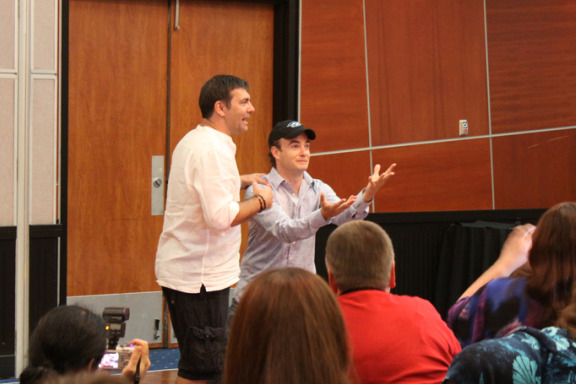 Next up was Lee Wilson, who is the visual effects supervisor from Anthem Visual Effects. We found out that Lee directed episode 8 this upcoming season, entitled For King and Country, which focuses on the 5, and possibly… wait for it… the "6"! He joked around with us for a bit about how he had thought that they would be asking him to direct a more visual-effects filled episode, but found out that it was in fact much more drama filled, and plot-driven. He said it's mostly set in Victorian England. I don't know about you fans, but I know that we, at our table, got very excited when he talked about this episode. We also found out that his favorite shot out of all of the elements that he's worked on was in Season 2, when they did the pull back on Ashley Magnus, and the other warriors that The Cabal had made. I have to agree that that shot was visually stunning.
When Lee left, everyone talked amongst themselves, and you could just feel the excitement bubbling up for Season 3. Within an hour of being there, we had found out that two episodes (Breach and For King and Country) sounded absolutely amazing. Ryan came to our table next, but didn't give too much away about the season, although he did say that we were in for a treat. He was closely followed by Agam Darshi . While they didn't tell us too much about Season 3, because time was starting to run out quickly, both of them seemed extremely excited about attending The Sanctuary Experience. In fact, it was Agam's very first convention!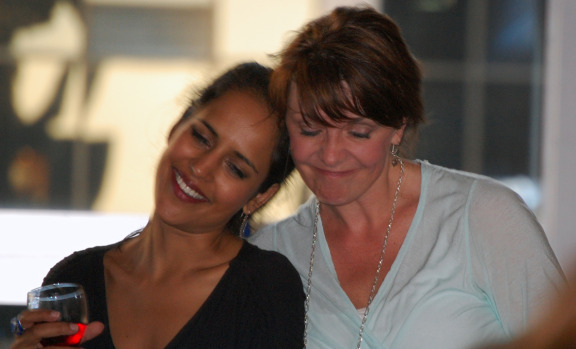 After Agam left, Amanda Tapping walked up to our table, and knelt down in between me and a friend, and in her exceptionally bubbly way, was able to have everyone chattering away within moments. She thanked us all for coming and supporting Sanctuary and Sanctuary for Kids. She seemed genuinely excited about the upcoming season, but didn't give too much away that evening. After clinking wine glasses with her, she flashed her signature smile and walked onto the next table.
The next one to show up at our table was Chuck Campbell, who you may know as "The two faced guy" but who we also learned is also a stand in for a lot of the actors on the show, and is a full time employee within the Sanctuary team. Chuck was a breath of fresh air, and made me giggle more than I had in a very long time. When we said that the trailer for Season 3 looked amazing, he jokingly added little tidbits of information about the different scenes, such as on the call sheet, Ian Tracey's character doesn't have a name, but was referred to as "Jekyll and Hyde"! This juicy little tidbit made all of us at the table breath in a collected gasp.
Last, but certainly not least was Robert Lawrenson who let us know that Declan will indeed be back in the Sanctuary. (This fan girl let out a silent squee when he told us that). In fact, he's in 3 of the first 10 episodes, so we won't have to wait too long to get a dose of Declan! We also learned that this was Robert's first convention! So many firsts at the first ever Sanctuary Experience!
Unfortunately, due to time constraints, we weren't able to talk with Christopher Heyerdahl or Damian Kindler during the meet and greet. However, during a rendition of the Kali dance put on by the Gabit folks, we were privy to some awesome dancing skills from Chris.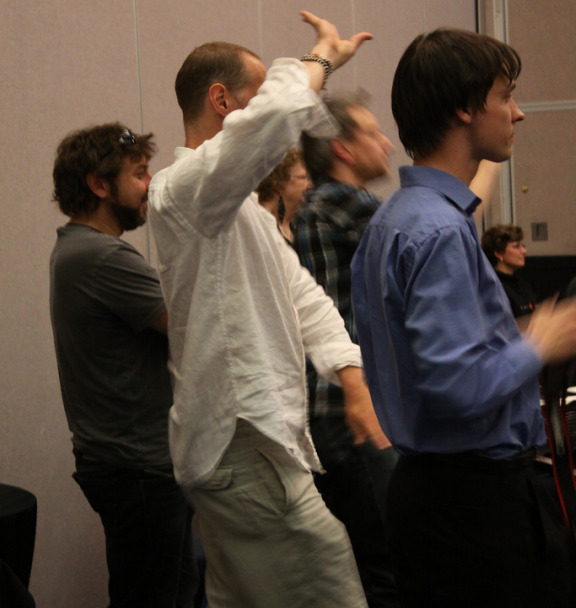 Our surprise for the evening was a great showing of the spectacular dancing skills of the Gabit team. As soon as the Kali song came on, the entire room started cheering, and then the reason for why each of the ladies from Gabit was sporting a Kali-inspired sari. I was thoroughly impressed, and I'm pretty sure every fan there, plus all those from the Sanctuary team were also equally impressed!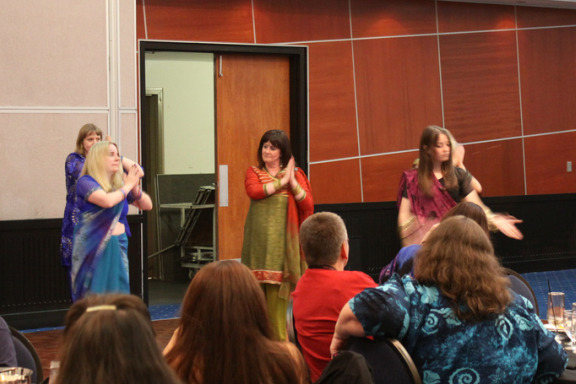 Unfortunately the Meet and Greet had to come to an end, and while The Sanctuary Experience had only just begun, as we filed out of the hall, and into the night, we knew that this weekend was going to be amazing.
Thank you for reading, and please keep an eye out for the remainder of my writeups about The Sanctuary Experience for both Saturday and Sunday, which will be coming shortly.
Oh, and let me just leave you with this one image…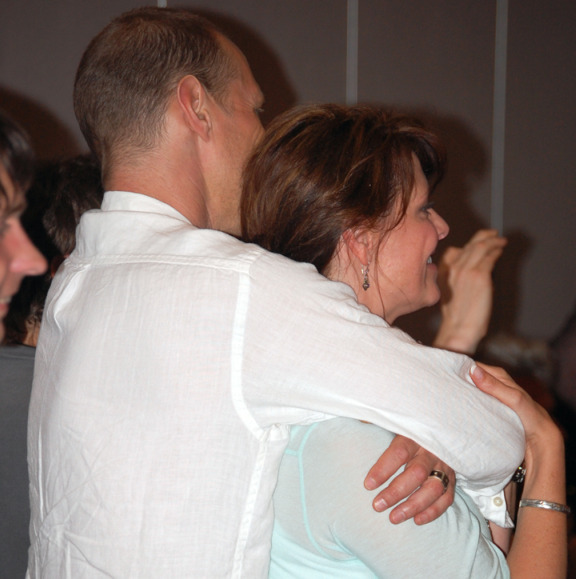 Please note. Pictures were taken by @Ash0283 @Paganx and @Grandsovereign at The Sanctuary Experience.