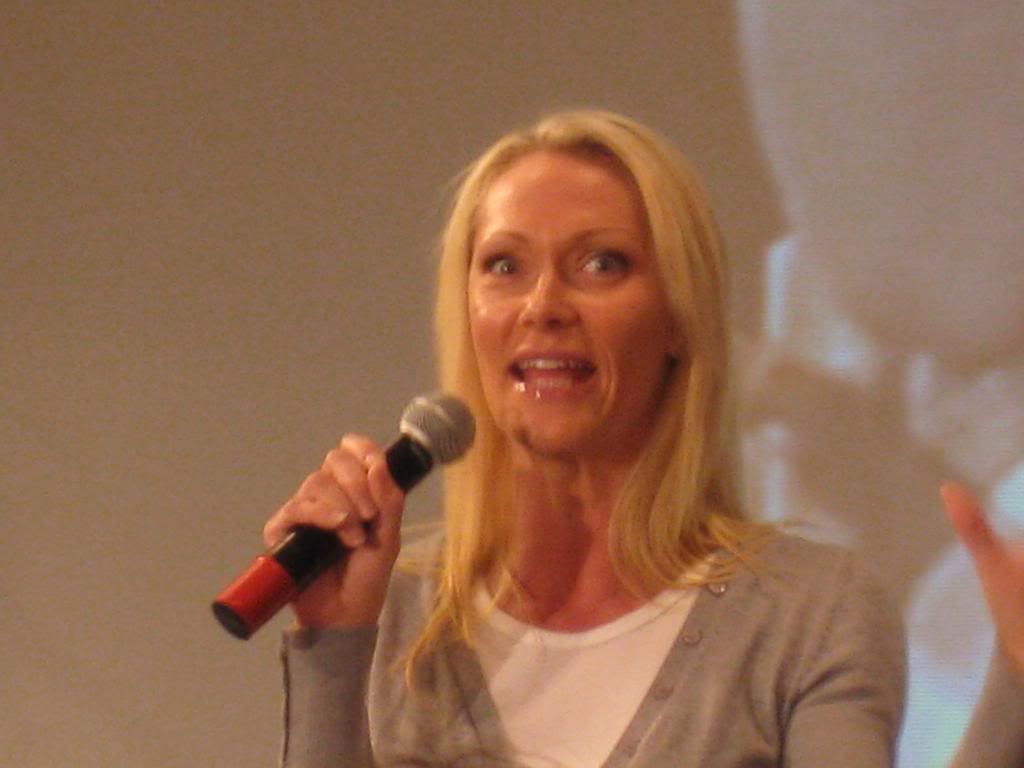 Andee Frizzell played every one of the Wraith queens in Stargate Atlantis except for the last one, in "The Queen". She has a very interesting take on her multiple characters, and thinks any one of them would have been perfect for advertising for a line of beauty products!
Here are some of the questions that the audience asked:
Do you get recognized even though you act in prosthetics? At her first convention in Oklahoma, Andee said, a man started following her around, obviously nervous about approaching her. Finally he gathered his courage and asked if he could have a picture taken with her. After that he loosened up enough just so say that he watches her show all the time, and loves her role on Battlestar Galactica! Oops!
Which Wraith queen is your favorite?Andee was particularly fond of the queen from "Allies". Why? Because she loved that beautiful traveling robe she got to wear! The shoes were to die for also, though she was forced to take them off after that prolonged walking shot in which they were featured. She also enjoyed playing up on the primal instincts of the queen from Submersion as she menaced Teyla and discovered Teyla's pregnancy.
When asked why she didn't get to play the last Wraith queen, Andee has a theory. She stood up, showing all six feet of her height, and then exageratedly demonstrated how tall actress Rachel Luttrell is in comparison. A short Wraith queen isn't nearly as intimidating, and Teyla would have looked much too short, so they found another shorter actress to play the rival queen.
I have lots more from Andee, enough to write a transcript of much of her appreance. Stay tuned in the coming weeks for more detailed coverage!