Welcome back WormholeRiders,
On Friday July 21, 2023, courtesy of Daniela at SAPKAR Public Relations, entertainment history was made when the Director (Anthony C. Ferrante) and the star (Ian Ziering) of a marvelous movie series returned to San Diego Comic-Con to celebrate the 10th anniversary of the acclaimed Sharknado series of movies! We were honored to interview Anthony and Ian who shared their fond memories of the series that rocked the world prior to the released on the 10th anniversary edition of the original film!

The science fiction series was named Sharknado and was broadcast on the SYFY network on July 13, 2013. This event set up five years of fun with a total of six movies! The incredible series of films became a phenomenon that began with the original followed by Sharknado 2: The Second One in 2014, Sharknado 3: Oh Hell No! in 2015, Sharknado 4: The 4th Awakens in 2016, and Sharknado 5: Global Swarming in 2017. The superb series completed it's run with Sharknado 6: The Last Sharknado It's About Time on August 19, 2018.

This incredible five year run spawned a social media frenzy that was embraced by science fiction fans around the world! Featuring Twitter (now X) live tweet parties in a festival of fun,  people enjoyed this series of science fiction movies that were originally rejected by network studios.
Only the creators at The Asylum and the publicist, Gary Morgenstein, then with the SYFY Channel (originally known as the SciFi Channel), knew better, convincing SYFY andf NBC executives to broadcast the original film in the series. Thinking he might be looking forward to seeking a new employer if things did not go well, it turned out that Gary's instincts were correct, launching an iconic franchise that left fans wanting more! And so it was to become reality with a digitally remastered Sharknado version for the 10th anniversary that was well received at theaters across the United States!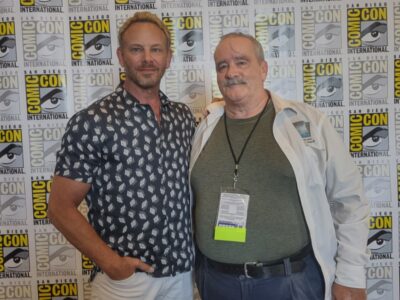 Over the fantastic five year run by Director Anthony C. Ferrante and written by Thunder Levin, the films stars Ian Ziering, Tara Reid and Cassandra Scerbo became household favorites around the world. The series became famous for cameo roles by famous television celebrities including Nichelle Nichols, Olivia Newton-John, Kathie Lee Gifford, Dolph Lundgren, Marina Sirtis, Neil deGrasse Tyson, Al Roker and literally dozens of well known celebrity and well known individuals.
As we discussed on June 21, 2023. we had the honor of interviewing Gary about his role in the Sharknado series for SYFY and at entertainment conventions including the fabled San Diego Comic-Con where we interviewed the celebrities and creators in 2015 as well as attending the Sharknado panels. We include the Sharknado 10th anniversary trailer courtesy of The Asylum below and hope that it will be released to the general public for digital purchase soon!
We will be back in the near future with more feature articles about our adventures at San Diego Comic-Con 2023!
Please feel free to share this article with your friends, co-workers and or family and leave your comments! We look forward to you visiting our dedicated review and analysis web site here in the future! Or as many of our readers and visitors often do, visit TeamWHR on Twitter, or visit me on Twitter by clicking the text links or images avatars in this news story. I and TeamWHR look forward to Seeing You on The Other Side!"
Thank you.
Best Regards,
Kenn of #TeamWHR