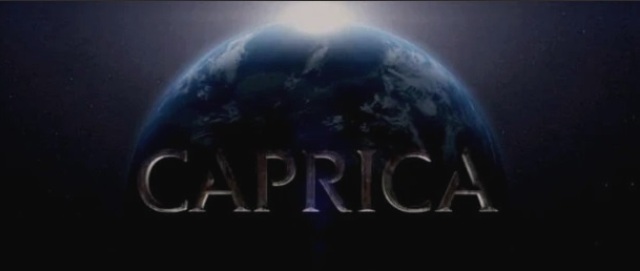 Hey SyFy Fans!
Much to the surprise of fans and including some here at WormholeRiders News Agency, Caprica will now follow MGM Television's Stargate Universe franchise series on Tuesday evenings at 10 PM Eastern time with SGU airing at 6 PM Eastern.
The surprise announcement sent Caprica fans into absolute glee while it shocked others expecting Sanctuary to follow Stargate Universe, this after we confirmed same when we checked the previously published SyFy schedule for the return of Sanctuary on September 28, 2010. Well things do change in the world of science fiction and so do they in the real world at NBC Universal, parent company of SyFy.

Caprica will now follow Stargate Universe on Tuesday evenings beginning October 05, 2010 much to the delight of Battlestar Galactica fans who had wondered when the second half of the Caprica season would air. Although hinted at by the Caprica cast during Comic-Con 2010 that a "surprise" was coming. Today's announcement is all that and more. This reporter finds this development most interesting from a programming perspective.

As most are aware, SyFy is building a new "anchor" night of science fiction, with the next cornerstone of their new foundation occurring on  Tuesdays in the United States. The addition of Caprica to the Tuesday evening lineup will strongly solidify their plans for expanding their burgeoning array of science fiction offerings. We include the original SyFy Press Release courtesy of NBC for your edification including a few promotional images courtesy of SyFy and NBC Universal.
Fear not science fiction fans, our team will be covering all three series when they return to our screens with our typical detailed reviews. In closing for now, please feel free to leave a spam free comment here or by visiting the WHR Team or me on Twitter by clicking the text links or avatars herein.
FOR IMMEDIATE RELEASE:
September 09, 2010
CAPRICA RETURN ON SYFY SHIFTS TO OCTOBER 5, 2010
NEW YORK – September 9, 2010 – The highly anticipated return of Syfy's critically-acclaimed series Caprica will come even sooner than anticipated. The second half of season one will now premiere on Tuesday, October 5, 2010 at 10:00PM ET/PT, the channel announced today. Fans will no longer have to wait until January to watch the series exciting kick-off, as the citizens of Caprica deal with the chaotic aftermath of the mid-season finale's harrowing events.

The second half of season one will transport us from stunningly vivid, twisted Virtual realities to the fascinating outer worlds of the 12 Colonies. Along the way, revolutionary tensions rise, family power shifts and our characters grapple with the physical and emotional consequences of their questionable decisions. As the season races towards its stunning conclusion, each episode lays the groundwork for the inevitable (and brutal) clash between the new Cylon race and its human creators.

"Though we initially announced the January return of Caprica, we still had hopes of finding a way to get the series back on the air sooner," said Mark Stern, Executive Vice President of Original Programming, Syfy and Co-Head of Content for Universal Cable Productions. "We've been able to successfully re-work our schedule, and are thrilled to bring the show back during what is traditionally Syfy's most-watched time of the year. The outcome should also please fans who expressed their wishes for a shorter mid-season hiatus."
Caprica stars Eric Stoltz (Daniel Graystone), Paula Malcomson (Amanda Graystone), Esai Morales (Joseph Adama), Polly Walker (Sister Clarice Willow), Alessandra Torresani (Zoe Graystone), Magda Apanowicz (Lacy) and Sasha Roiz (Sam Adama).
Caprica will immediately follow new episodes of Stargate Universe (Tuesdays @ 9PM).

The third season premiere of Sanctuary will now launch in its former time slot on Friday, October 15 at 10:00PM ET/PT immediately following Friday Night Smackdown on Syfy at 8:00PM ET/PT.
Produced by Universal Cable Productions, Caprica is a prequel to the award-winning series Battlestar Galactica, and is executive produced by Ronald D. Moore and David Eick. Jonas Pate serves as co-executive producer and director.
Universal Cable Productions creates quality content across multiple media platforms for USA, Syfy and other networks. A leader in innovative and critically acclaimed programming, UCP is the studio behind USA's Royal Pains, Law & Order: Criminal Intent, Psych, In Plain Sight, Covert Affairs and Facing Kate, as well as Syfy's Eureka, Warehouse 13 and Caprica. The studio also produced the long-running series Monk and Battlestar Galactica. UCP is a division of NBC Universal.
Syfy is a media destination for imagination-based entertainment. With year round acclaimed original series, events, blockbuster movies, classic science fiction and fantasy programming, a dynamic Web site (www.Syfy.com), and a portfolio of adjacent business (Syfy Ventures), Syfy is a passport to limitless possibilities. Originally launched in 1992 as SCI FI Channel, and currently in 96 million homes, Syfy is a network of NBC Universal, one of the world's leading media and entertainment companies. (Syfy. Imagine greater.)
Please feel free to share this article with your friends, co-workers and or family and leave your comments! We look forward to you visiting our dedicated review and analysis web site here in the future! Or as many of our readers and visitors often do, visit WHR on Twitter, or visit me on Twitter by clicking the text links or images avatars in this news story. I and TeamWHR look forward to Seeing You on The Other Side!"
Thank you.
Best Regards,
Kenn of #TeamWHR