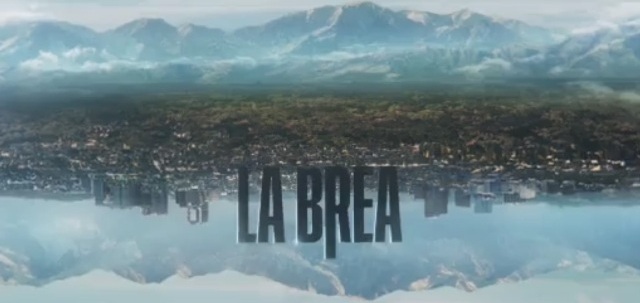 Welcome Back La Brea and Wormhole Time Travel Science Fiction Drama Lovers,
Except for the fact that we had wanted to see Doctor Rebecca Aldridge (Ming-Zhu Hii) at the end of the episode end, the Team WHR grade for La Brea remains a Straight "A" for delightful drama and exciting entertainment value.
Rebecca will appear in the eighth episode appropriately named "Origins".
The wormhole time portal that has remained open during the first six episodes is now closed for the time being. We were quite pleased that the wormhole was referred to as a "portal" in "The Storm".
Viewers also learn more about the cryptic date of November 16, 1988 during "The Storm", which was a nice touch to be added to the story arc.
Ratings for the first six episode weeks have been strong. The sixth episode dipped a touch, as expected, due to the MLB World Series to 4.03 million viewers with a 0.43 share. The fifth episode of La Brea was up 100,000 viewers to 5.1 million with a 0.6 ratings share in the very competitive United States viewing environment.
With 6.2 million viewers for the Pilot episode, 4.9 million viewers for the second episode, 4.98 million for the third episode, and 5.0 million for the fourth episode. In our considered opinion, La Brea is set for a second season renewal if the ratings continue to remain this high.
The reason for the wormhole time portal manifestation is now becoming clearer. Since we know Rebecca has jumped into the prehistoric past during "The Way Home", we suspect that she has been experimenting with time travel longer than anyone expected, all of which led to the Mojave Desert wormhole catastrophe and other portals to the past.
Ready to freeze in prehistoric time #TeamWHR?#LaBrea questions👇
Ty attacked by Veronica, knifed by Paara?
Will Josh & Lucas be nice their Mom's?
Will Gavin find 1988 answers?
Are Eve & Marybeth doomed?
Do Josh & Riley fall in love?
Tune in & Tweet LIVE👍pic.twitter.com/78sHa07RSS

— WormholeRiders (@WormholeRiders) November 10, 2021

The Storm:
The episode was written by the La Brea series Executive Story Editor, and co-Executive Producer Aiyana White whom we admire and respect. "The Storm" was directed by talented Thor Freudenthal who also serves as an Executive Producer of the series.
"The Storm" opens with Eve (Natalie Zea) digging a grave for Diana (Vanessa Buckley) who was accidentally shot by Marybeth (Karina Logue) during "The Way Home". "This was the least I could do" says Eve to  Marybeth who counters with some sympathy; "You're hurting, but this isn't on you… Neither of us wanted this to happen".
As mentioned in our last analysis noted above, Marybeth's character has softened. Moreover, a bond has developed between Eve and Marybeth because both are facing challenges with their sons difficult behavior.
Josh (Jack Martin) is angry with his Mom Eve for believing in Gavin (Eoin Macken) again, who Eve had characterized as a hallucinating alcoholic. Recalcitrant Lucas (Josh McKenzie) is angry with his Mom Marybeth for killing his father in the past for an apparent heroin drug deal that went sour.
We will learn later that Marybeth was justified in killing her husband and Lucas' father because he was a dirty cop trying to blame others when he got caught. More on this later.
As such, Eve and Marybeth have become closer as a result of the issues they both face as mothers. In a direct reference to killing Diana and an indirect reference to killing her husband and Lucas' father, Marybeth states "Once someone's decided you're the bad guy, there's no changing their mind".
Next we are with Josh, Riley (Veronica St. Claire) and Scott (Rohan Mirchandaney). Scott comments on their be all being upset about the wormhole time portal closing, by saying "I know we're all freaking out about the portal closing, but this is going to cheer you up". Scott leads them to the chest of Confederate gold that he and Lucas found during the last episode.
"Still waiting for this cheers us up part" Josh quips, to which Scott responds with his theory that the gold came through another wormhole time portal in 1863. With this theory, there could be many others with items that may be of help to get them back home, or even another wormhole time portal that could appear to do so.
Brilliant thinking Scott!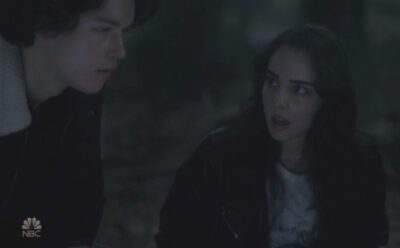 Riley compliments Scott with "This might be my desperation talking, but this actually makes sense". Josh, still angry over being let down in "The Way Home" is negative, blaming Eve, who Josh says made sure they are never getting back home.
Josh stomps off like the immature teenager that he is. Being optimistic, I'll go with Scott's theory and Riley's good common sense. As for Josh, he needs a good shift kick in the pants, followed by a slap across the face, perhaps a spanking from Eve and maybe a kiss from Riley. More on that a bit later.
In my opinion, these are likely the only things that will help Josh grow up since when he meets his Mom, he is in a foul mood.
Josh is still blaming Eve for not allowing him to get on the Vertical Take Off and Landing (VTOL) aircraft which would have resulted in his death as we learned in the last episode.
Eve, like Riley earlier, stares in disbelief at her juvenile son's behavior in a way that only a mother or father could understand.
A bit later in the morning, all of the survivors are shown attending Diana's funeral.
Levi (Nicholas Gonzalez) is observed performing the eulogy, apologizing for not being able to get her back home. Meanwhile, juvenile Josh glares at Eve, blaming her for everything.
Time for you to grow up Josh!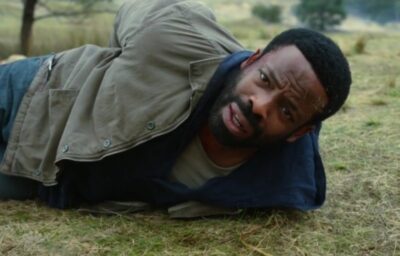 Next we are with Ty (Chiké Okonkwo) who was attacked by Veronica (Lily Santiago) near the end of "The Way Home". Ty is one of the most favorite characters in La Brea, a good guy who is always trying to help others even though he apparently has incurable cancer.
Veronica is a real victim herself, both of Stockholm Syndrome caused by her being kidnapped, and from likely sexual abuse she suffered at the hands of her deviate, now dead abductor, who was thankfully eaten by hungry prehistoric wolves earlier if the series.
Veronica left Ty helpless and tied up near The Fort people's ceremonial stone artifact.
We do not know where Veronica is at this point, since she does not appear in this episode.
Paara (Tonantzin Carmelo), leader of The Fort people is nearby. When she comes charging at Ty with a large hunting knife, Ty thinks he is done for.
Instead, we learn that Paara saves Ty's from a rattlesnake that was about to strike.
Paara chops the reptile in half, saving Ty's life, cuts the ropes to free him and goes to leave.
When Ty passes out, Paara returns to help him, taking him to a cave where she stitches up his wounds.
Paara tells Ty the Sky People have been coming to prehistoric La Brea for as long as she can remember.
Paara goes to leave, then sees "The Storm" gathering in the distance through the mouth of the cave. "Neither of us can leave" says Paara.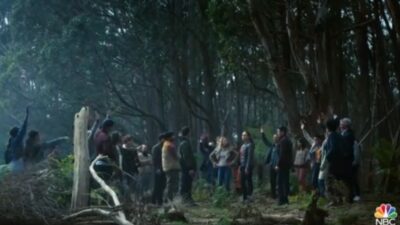 Subsequent to the funeral, the survivors, including Sam (John Seda), Levi and the resident complaining whining Billy (Stephen  Lopez) turn on Eve and Marybeth for the death of Diana.
Lucas is particularly harsh telling everyone that it's not the first time Marybeth has killed someone, going on to say this killing was not in self defense.
Although not giving details at the present time, Lucas is referring to Marybeth killing his father as has been revealed in previous episodes.
Lucas tells them they both need to leave the survivors camp unless Marybeth turns over her gun for killing Diana as butt head Billy has demanded. 
Josh does nothing to defend his Mom, now seeming to support anyone, including Lucas to get even with his juvenile hatred of his own mother.
Shame on you Josh and Lucas! You both need a good spanking right about now!
Eve defends Marybeth calling on Levi to tell them the truth that had anyone been allowed to take off in the VTOL, would have died.
Sam tries to calm everyone down, but Lucas calls for a vote. The majority, including Josh, vote to expel Eve and Marybeth from the safety of the group! "There you have it" gloats evil Lucas as Eve and Marybeth accept they have been banished and must leave.
We segue to Gavin. He is in handcuffs. Agent Markman (Toby Truslove) forces Gavin to sign a Non Disclosure Agreement (NDA) or face imprisonment for his actions in "The Way Home" when he tried to fly an enhanced VTOL into the wormhole time portal that Rebecca parachuted into during the that episode.
Gavin signs the NDA and goes home to Izzy (Zyra Gorecki) who is understandingly frantic over this development.
To the rescue comes Sophia (Virginie Laverdure), also under NDA. Sophia meets with Gavin who tells her that Rebecca told him about the date when it all began, November 16, 1988.
Gavin and Sophia begin to plan action against the documented NDA to save the ones they love. Sophia says she can get access to secret files about Gavin's past that may help them unlock the mystery of November 16, 1988.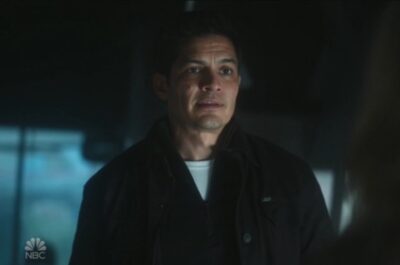 Back at the survivor's camp, Eve goes to pack up her things and leave. Levi comes in saying "I'm mad as hell at you right now…" Levi reiterates incorrectly (since we know that the VTOL crashes and everyone dies when it is found in the future) that he could have saved everyone.
Eve says she will go to the caves with Marybeth and return when things settle down.
Riley goes to talk with Josh but is rebuffed. Sam shows up to try and calm things down. No luck. Only when Scott arrives telling them that in 10,000 BC an ice age hit La Brea does the focus change with "The Storm" approaching.
Sam says "I don't think we need to panic" when suddenly a huge flock of prehistoric vultures are observed fleeing for their lives.
Panic sounds good right about now folks!
Marybeth goes to talk with Lucas asking him why he threw her "under the bus" when he should be thankful that she saved his life. As "The Storm" gathers force, a power pole that fell into the wormhole time portal cracks in half, trapping Lucas, who is knocked out, and Marybeth inside their makeshift shelter constructed from parts of a destroyed building.
This allows for not only some quality time between mother and son. The situation also motivates the survivors to pull together to save them. We learn that Lucas has claustrophobia.
Marybeth helps Lucas regain composure, returning him to his obstreperous self just as Marybeth is about to tell him about what happened with his father, which Lucas has lived in denial about.
Marybeth reveals that her husband was stealing drugs from the police department, got Lucas involved, and was going to use Lucas as patsy to cover up his illegal activities. As the truth is revealed, mother and son bond once again.
Things are getting worse as "The Storm" hits the survivors camp full force.
Eve and Levi continue to try and dig a tunnel under the rubble to save Lucas and Marybeth while Lucas and Marybeth try, but fail to dig out from the inside. 
Neither of their efforts are going well. The makeshift structure is teetering on the verge of collapse at any moment.
Instead, Sam and Levi, help Eve on the outside to make an improvised explosive device using Sam's defibrillator power pack as the ignition source and gunpowder from Levi's gun bullets as the explosive.
Together they are successful in blasting a hole in the fractured concrete that frees Lucas and Marybeth mere seconds before they would have been crushed to death!

Riley and Josh take the Jeep to salvage some heavy duty tools from a semi truck trailer not far away. Eve and Marybeth aren't going anywhere for the time being. Riley and Josh find the semi truck, but there are no tools inside it.
In a come to reality moment, Riley, in a nice way, tells Josh he is being juvenile and he should be respectful of his mother and that he is "stupid if he doesn't see that". Riley also tells Josh she is staying in the semi truck trailer which is filled with warm movie costume clothing until "The Storm" subsides.
Riley and Josh's romantic attraction comes to fruition and they almost kiss, when suddenly Riley notices "The Storm" is beginning to pass and the moment is lost. However, it is clear that the two young people are falling in love!
Back with Gavin in the present, he tells Izzy to get back to school and a normal routine as a distraction to get her mind off of Eve and Josh. Sophia returns as she a Gavin investigate the significance of November 16, 1988. As they leave to go to a church where his past history began, Gavin experiences another vision, this time with Diana in it. Gavin tells Sophia that something went wrong in prehistoric La Brea, but he is unsure of exactly what.
They leave to find out how they can get back to the past in La Brea. At the church, Gavin and Sophia meet Reverend Harmon (Fiona Stewart) who tells Gavin he was found with a girl about 12 years old, neither even remembered their names and that they were separated by the adoption agency.
Our theory at this point is that the girl is Gavin's lost sister, both may have been in the past before, and somehow it is all connected to the wormhole time portal phenomena that she jumped back into last episode. Gavin then has another vision of Diana at her death. Sophia deduces this from Gavin's body language. Both are saddened, but know they continue their quest for answers about the wormhole time portals.
The scene switches to Paara and Ty in the shelter of the cave as "The Storm" subsides. Here Paara shares that the wormhole time portals open seemingly randomly, that Silas The Pelt Man (Mark Lee) was seen near Veronica's abusive kidnapper at the time of his death. Ty shares asks Paara how long has she been trapped in prehistoric La Brea. "Forever" says Paara.
Ty shares that he had a wife, but they divorced and his wife refused to reconcile. Paara expresses sympathy as Ty further reveals that being stuck in the past has changed his outlook on life, making him want to live again, despite his cancer that will take his life in the near term.
Paara shares it is nice to meet someone from her future that she can relate to. This sets up our next romantic couple in La Brea. In the end, Paara helps Ty find his way back to the survivors camp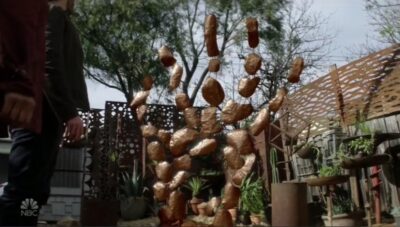 As the episode winds down, Gavin and Sophia seek the next clue with clues derived from the church where we learned that Gavin was found wandering along a road but became separated from the 12 year old girl when they were adopted by different parties.
Sophia, who has substantial governmental contacts, is able to access classified adoption records to track down the other person.
They find an antique shop with an unusual sculpture that is exactly like the same hand we have witnessed on Silas Pelt Man's clothing, at the temple building at The Fort, and on the boulder Gavin had seen in his visions about prehistoric La Brea.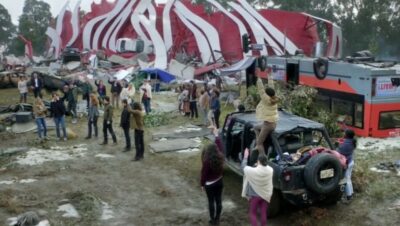 The last scenes find us back at the survivor's camp.  Riley and Josh have returned in the Jeep with a huge pile of warm clothes to share with everyone. Just as Eve and Marybeth are about to leave, Josh calls for a new vote for them to stay. Billy demands Marybeth surrender her weapon, which she does with Lucas' encouragement, handing it over to Sam.
The vote is unanimous. Eve and Marybeth get to stay and YAY, it's one big happy prehistoric La Brea family again!
Tune in next week when the eighth episode, appropriately named "Origins", reveals more answers and likely more questions regarding where Rebecca is, Gavin's  mysterious past, and it is all connected to the wormhole time portals that have ripped holes in the space time continuum!
In the meantime, we include a sneak peek of episode seven "Origins" below for your enjoyment!
We will be back in the near future with more of your favorite television series and movie analysis. In the meantime, please feel free to share this article with your friends, co-workers and or family and leave your comments! We look forward to you visiting our dedicated review and analysis web site here in the future! Or as many of our readers and visitors often do, visit WHR on Twitter, or visit me on Twitter by clicking the text links or images avatars in this news story. I and TeamWHR look forward to Seeing You on The Other Side!"
Thank you.
Best Regards,
Kenn of #TeamWHR