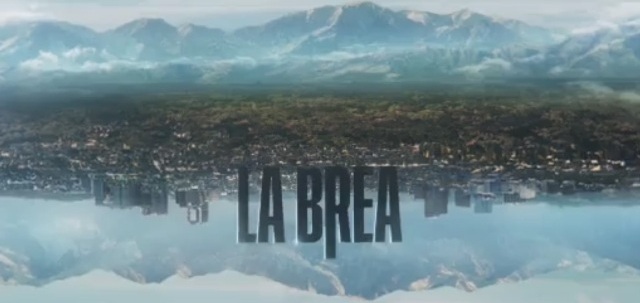 Welcome Back La Brea and Wormhole Time Travel Science Fiction Drama Lovers,
The Team WHR grade for La Brea remains a Straight "A". We would give the series an "A Plus" but for one reason; The writers and creators refer to the wormhole time portal as a "Sinkhole". Sheesh, enough already with the "Sinkhole"!
We are therefore hopeful that when season two is approved, that the creators will refer to the phenomena that has sent dozens back to prehistoric La Brea in the Los Angeles for what it is: A WORMHOLE!
Ratings for the first five episodes have been strong. The fifth episode continued to demonstrate viewers enjoy La Brea, up 100,000 viewers to 5.1 million with a 0.6 ratings share in the very competitive United States viewing environment. With 6.2 million viewers for the Pilot episode, 4.9 million viewers for the second episode, 4.98 million for the third episode, and 5.0 million for the fourth episode, in our considered opinion, La Brea is set for a second season renewal if the ratings continue to remain this high.
As mentioned previously, the wormhole time portal that has remained open during the first five episode's is about to close. In "The Way Home" the closure does occur as we learn much more about the failed Mojave Desert expedition from three years earlier. Viewers will also have their curious nature piqued when we learn about a cryptic date of November 16, 1988 mentioned at the end of the episode.
These findings are directly tied to Doctor Rebecca Aldridge (Ming-Zhu Hii) and Doctor Sophia Nathan (Virginie Laverdure) who will figure prominently in "The Way Home" story arc.
The reason that the wormhole time portal reality became manifest will soon be made clear. Additionally, in future episodes, we will discover why two former Mojave Desert Expedition members were found electrocuted. Hint: Have Rebecca and Sophia have been experimenting with time travel much longer than anyone, including the government realized?
The Way Home: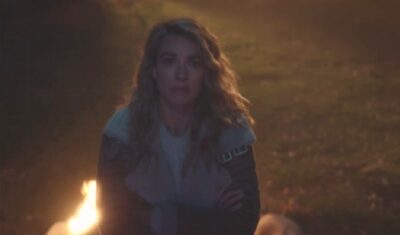 The episode was written by series creator David Appelbaum, opening with a flashback from three years earlier revealing the back story for two of the adult main characters in the Harris family, Eve (Natalie Zea) and Gavin (Eoin Macken).
Eve is preparing to leave Gavin stating that "you have not been sober for more than a week in the last three years, the kids deserve better, I deserve better".
Gavin admits this saying "You're right, tell me what I have to do, what do you need from me?"
Eve says "I need my husband back, I need the man I fell in love with, I need the person who always made me feel safe".
Gavin tries to explain "I want that too Eve, if I could just figure out what these things I'm seeing and why, I could turn it around. You just have to trust me".
Sadly, it's too late for Gavin. Eve closes the hatch on the car and goes to get their children. Gavin pleads with Eve saying that "I will find my way back to you".
The flashback dissolves back to prehistoric time in La Brea where Eve is observed looking up at the wormhole time portal that is growing visibly smaller. Eve has a chat with Josh (Jack Martin) who says "everyone is freaking out" that the wormhole time portal is closing.
Eve comforts Josh that "we are not giving up, we are going to find a way home". Eve also opens up to Josh that she wrote a letter to Gavin and buried it so Gavin will find it in the future. Eve also informs Josh that the things he has been seeing in the future are real, and that Gavin can see all of them in the prehistoric past.
Josh is justifiably doutbtful of Gavin intentions since he had always been told that his Dad was a crazy alcoholic suffering from hallucinations. Josh asks Eve "when is the last time he came through for us on anything?"
The scene switches to Scott (Rohan Mirchandaney) and Riley (Veronica St. Clair) who asks "what are you doing?"  as she looks up at the wormhole in the night sky. Scott replies that he is calculating how long before the wormhole time portal will close. Based literally on his rule of thumb, his finger nails actually, Scott estimates they have about 18 hours remaining.
This factor equates with what Rebecca calculated, five hours remaining in the present can only mean one of two things; the wormhole portal moves at different speeds in prehistoric time, and or that her calculation is based on how long the portal will be large enough to allow her experimental Vertical Take Off and Landing (VTOL) aircraft to fly through to prehistoric La Brea. Either way, there is likely not enough time for the VTOL to get to prehistoric La Brea and ferry all of the survivors back to the present time frame in Los Angeles.
However, one possible theory comes to mind; that another influence created the wormhole time portals in the past with electrical apparatus that must still be in working order in 10,000 BC. In the future episodes, we will likely learn that it must be Rebecca's equipment. This has to be the key to not only this factor, but to the electrocution deaths that have occurred in the prehistoric past.
We are next with Sam (Jon Seda), Ty (Chiké Okonkwo), and Marybeth (Karina Logue). They are discussing the fact that Lilly (Chloe De Los Santos) was kidnapped by Veronica (Lily Santiago) and her now dead father, killed by prehistoric wolves, buried in the forest. As we observed in the last episode, Veronica ran away when the truth about Lilly and herself was discovered. There is more to learn about this non family story a bit later.
All agree that they must go get Veronica, but are concerned about the prospect that the Fort People may still be hostile and lurking. Interestingly, Marybeth has become more reasonable since it was revealed to the viewers that her son Lucas is a heroin dealer and possibly a drug addict as well.
Segue to Levi (Nicholas Gonzalez) who is using his solar powered emergency radio to try to make contact with any survivors of the disastrous Mojave expedition that left eight engineers and scientists stranded in the prehistoric past.
As we witnessed in the last episode, at least one was found in The Fort dead, and a woman appearing to be Diana who was leading The Fort people ordered Silas the Pelt Man to let them go. We learn in this episode that the woman who told Silas "Let them go" was a Diana lookalike named Paara (Tonantzin Carmelo) who we will see again in the future.
Levi makes contact on the radio with the real Sargent Diana Hoskins (Vanessa Buckley) asking for her help to repair his damaged VTOL aircraft.
Dianna wants to know where her partner Jonathan is, and why does Levi have his radio?
Levi informs Diana that her partner did not survive. Levi shares that he was sent to rescue not only the members of the Mojave expedition, but others as well who have became trapped in the prehistoric past by the La Brea wormhole time portal that opened recently.
As the radio connection begins to break up, Dianna tells Levi in that she at the Santa Monica coastline near an offshore rock formation just before radio communication is lost. Levi says he is going to find Diana.
Tony (Pacharo Mzembe), who has been repairing vehicles that fell through the wormhole portal, tells Levi that he has repaired the Jeep much to the satisfaction of Levi and Eve, who quickly volunteers to help rescue Diana.
Good work Tony!
Josh tells his Mom to be careful. Scott advises them about best route, warning Levi and Eve they will be safe if they can avoid Saber-Toothed Tigers!
Levi and Eve arrive in prehistoric Santa Monica safely locating the offshore rock formations and a makeshift campsite replete with what appears to be wreckage of the Mojave Expedition VTOL aircraft. How they got to Santa Monica is a mystery at this point.
Diana appears displaying paranoid behavior holding Levi and Eve at gunpoint accusing them of killing her partner. Levi and Eve explain they found Jonathan at The Fort already dead.
Levi shows Diana the photograph of the Mojave Expedition further explaining that Doctor Sophia Nathan gave it to him. Diana calms down, lowering her weapon apologizing saying "You spend enough time down here, you see everything as a threat".
Diana shares that she got to Santa Monica after her crew left the Mojave looking for another way to escape but that they got caught in a storm, crashed on the Pacific Ocean beach that killed two of her crew as well as the pilot.
We learn that Diana's partner saw Levi's VTOL aircraft crash, went to go look for him, but never returned. As we know Jonathan was found dead at The Fort, somehow electrocuted in the past where there is not supposed to be electricity.
Diana has good news that the part Levi needs to repair his VTOL aircraft, a pneumatic compressor, is intact on her aircraft, and that she will be able to help Levi repair his.
Next we are back at the anthropological dig site with Gavin, Sophia, Izzy (Zyra Gorecki) and Rebecca just as they plan to use the enhanced VTOL aircraft to go back in time through the wormhole portal.
Fortunately, the archeological excavators have come in with an exciting discovery.
An item that appeared out of nowhere is in an area that they had already cleared has been found buried. Low and behold, what appears to be some good news; it is Levi's VTOL aircraft confirmed by using ground penetrating radar.
The bad news is that the aircraft had crashed during takeoff and several bodies are among the new victims of this ever widening and changing tragedy.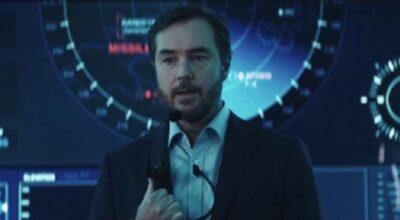 Does this mean that some of our survivor heroes died in the past and Gavin will be allowed to save them before they are killed?
No luck for Gavin and Rebecca!
Senior Agent Adam Markman (Toby Truslove) shows up to put the entire escape rescue plan in doubt.
Gavin tells Markman and Izzy that there is still time to launch the rescue mission.
Markman, paranoid over another wormhole portal caused earthquake, has Gavin, Izzy and Rebecca arrested telling him "It's over Gavin".
Back in good ole prehistoric La Brea, Ty is talking with Lilly the next morning who asks if Veronica has returned? Ty is sympathetic to Lilly which helps her open up further.
Lilly shares that when she was kidnapped, Veronica was nice to her. We learn that Veronica was also kidnapped by the now dead father who locked them both up every night.
This revelation points to the apparent facts that both girls were child abuse victims, which explains their odd frightening behavior. Their so called father was more than likely a deviate who kidnapped young girls and then sexually abused them. Lilly asks Ty to find Veronica.
Later, when Ty heads out to find Veronica, Eve orders him to return if he does not find Veronica within two hours. Fortunately, Ty is successful in locating Veronica, found praying at her so called father's grave.
It becomes apparent that something vis wrong with Veronica, a much longer kidnap victim, who has tears streaming down her cheeks.
Veronica is likely suffering from Stockholm Syndrome whereby the victims often feel sympathy, or even fall in love with their evil abductors.
Ty subsequently is observed talking sincerely with Veronica about what is best for her life.
Ty seems to convince Veronica to return to the survivor's camp. Instead Veronica attacks Ty with a large tree branch, knocking him out! Yikes Veronica, what in the heck are you doing!
Just then, Diana, Levi and Eve arrive back from Santa Monica with the salvaged pneumatic compressor. Diana, when asked how long she has been in the prehistoric past, says "1,123 days, give or take a few". Diana also shares that once the wormhole time portal begins to close, it happens in less than twenty-four hours. Yikes!
Levi and Diana head off to repair Levi's VTOL aircraft handing Eve his solar powered emergency radio, promising to stay in contact while Josh stays behind.
Evil Lucas (Josh McKenzie) immediately starts an argument accusing others of taking his place on the rescue flight. Anybody sick and tired of this guy Lucas yet? In the meantime, evil Lucas drags Scott away from the survivors camp to find the heroin. Along the way, we learn that Lucas and his murdered father were drug dealers together in the future. Scott and Lucas do not find the heroin. Instead, after digging three holes, they find a Civil War chest filled with gold bars. Finding millions in Confederate gold shuts up Lucas for the time being.
Viewers will recall that the survivors found what appeared to be Lucas' father in a cave in a previous episode. This mystery remains unsolved at this point in the story arc.
Eve and Sam calm things down suggesting they conduct a lottery of names to determine who will be first to be evacuated. Lucas backs off. A lottery is conducted with both Josh and Lucas selected to be on the first flight which is doomed to crash!
Things look very bad for Izzy, Gavin and Rebecca who have all been arrested by Agent Markman.
Instead, Sophia shows up telling them she sent Markman on a wild goose chase to another supposed secret farm of Rebecca's in Oregon.
Viewers will recall that Rebecca's enhanced VTOL aircraft is actually in San Luis Obispo, California.
The four make good their escape  and head to launch their rescue mission, but only after Gavin demands that a message be sent to warn Levi not to take off in prehistoric La Brea.
A short time later a military drone comes through the wormhole time portal with a video recording from Gavin telling them that the VTOL aircraft will crash on takeoff killing everyone aboard.
Nice work Sophia!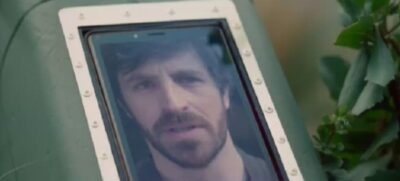 Gavin tells Eve that he received her letter in the future. Gavin also records that he has a rescue mission plan of his own and to trust him.
About the same time Eve and Marybeth chat and agree to not allow their son's to die in the VTOL aircraft found crashed in the future. Both steal the Jeep so that none can get killed in the abortive takeoff. Eve and Marybeth arrive at the VTOL aircraft to learn that Levi and Diana say they have found the reason for the malfunction, and plan to take off in any event.
Marybeth pulls her gun to stop Levi and Diana forcing them to return to the survivors camp. Diana draws her own gun, but is shot by Marybeth. Diana fires but hits the VTOL aircraft fuel tank ensuring that no one will die in a takeoff attempt. Levi, Marybeth and Eve use the Jeep to rush Diana to Sam the doctor. Unfortunately, Diana passes away while Sam is trying to be save her life. Another Red Shirt victim in La Brea has become manifest.
As the exciting episode winds down, Markman finds out that he has been duped. Nothing is found in Oregon and he is furious that a drone was launched to prehistoric La Brea without his approval.
Meanwhile, Gavin, Sophia,  and Rebecca, who have commandeered Rebecca's helicopter, land at the still secret high tech San Luis Obispo farm. "I can have us in the air in 15 minutes" says Gavin.
Suddenly, Markman's agents show up at the high tech San Luis Obispo farm.
Izzy and Sophia go outside as a diversion to buy time while Rebecca and Gavin take off in the enhanced VTOL aircraft.
Markman contacts the enhanced VTOL aircraft, threatening to shoot down Rebecca and Gavin with F-15 jet fighters. 
Gavin says "I'm sorry Agent Markman, you are going to have to shoot us down".
As the F-15's lock on to the enhanced VTOL aircraft, Rebecca makes a stunning confession!
"I don't have time to tell you everything, but I can tell you this. What's been happening to you is for a reason. My destiny is down there, but yours is here… for now. There's another way to save them. Go back to the beginning, November 16, 1988 and remember that date!"
With that, Rebecca dons a parachute and jumps into the wormhole time portal.
However, an overconfident Gavin still thinks he can outmaneuver the F-15 fighter jets. Beginning his own descent into the wormhole time portal in a futile attempt to save his family, Gavin faces certain death if he does not compromise with Agent Markman.
Quick segue back to Izzy, who is now in custody once again having been brought to the control room, no doubt to reason with her father by Agent Markman.
With visible tears in her eyes, Izzy begs her father not to try and evade the F-15's stating "I can't lose you too Dad".
Gavin relents, heading back to his daughter where he is taken into custody.
Gavin asks Markman about what happened to the other VTOL aircraft found at the archeological dig site.
Markman, feeling sorry for Gavin, says "It disappeared. Looks like your wife got your message".
The last scene is of the wormhole time portal closing in prehistoric La Brea as Josh tells Eve:
"I told you Dad wasn't going to come, now we're stuck down here, because of you!"
As Eve once again looks to the sky for answers and for Gavin. We feel her pain knowing that something must have happened in the future that stopped her husband from fulfilling his promise to her and Josh.
Questions that come to mind:
What did Rebecca mean "this time" and what happening to Gavin is for "a reason"?
Did Rebecca make it through to prehistoric La Brea before the wormhole time portal closed?
How many times, and how long has Rebecca been tampering with time travel with Gavin as a focal point?
Does Sophia, Rebecca's partner in time, also know the answers to these questions, and what's up with November 16, 1988?
Be certain to tune in to NBC in the United State and CTV in Canada next week to find out the answers to these and other questions!
In the meantime, we include a sneak peek of episode seven "The Storm" below for your enjoyment!
We will be back in the near future with more of your favorite television series and movie analysis. In the meantime, please feel free to share this article with your friends, co-workers and or family and leave your comments! We look forward to you visiting our dedicated review and analysis web site here in the future! Or as many of our readers and visitors often do, visit WHR on Twitter, or visit me on Twitter by clicking the text links or images avatars in this news story. I and TeamWHR look forward to Seeing You on The Other Side!"
Thank you.
Best Regards,
Kenn of #TeamWHR