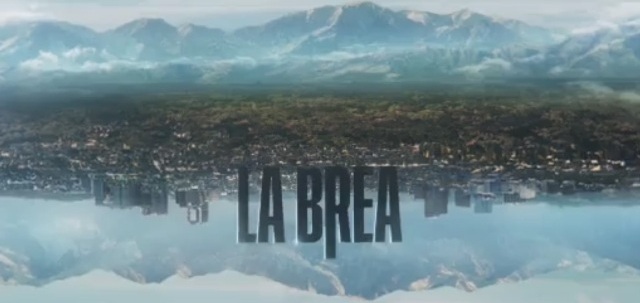 Welcome back La Brea science fiction drama lovers,
Here at WormholeRiders we always enjoy wormhole time travel drama series! 
La Brea promises to be just such a series in an exciting new science fiction drama series, that premiered tonight,  Tuesday September 28, 2021 on NBC Television in the United States and CTV in Canada.
The series premise is a good one with a sinkhole wormhole gateway to a prehistoric time after it tears open a hole in time near the famous La Brea Tar Pits in Los Angeles.
Swallowing a huge portion of the area including buildings, vehicles, and of course innocent people, all of whom must run for their lives to try, without success mind you, to escape the calamity!
The victims of this natural disaster find themselves transported to the past in Los Angeles where they will do everything possible to survive and hopefully return to their friends, families and loved ones!
With the exception of the Pilot episode, and flashbacks to the present which were filmed in Los Angeles, La Brea (click to read the latest La Brea tweets on Twitter) was filmed entirely in Australia at Docklands Studios (click to learn about Docklands) as well as several exotic locations including the famous tourist area, Mount Macedon, a dormant volcano that is part of the Macedon Mountains of the Great Dividing Range, which is  located in the Central Highlands region of Victoria, Australia.
The La Brea series, produced by NBC Television and Keshet Studios (click to learn about Keshet), was created by David Appelbaum (The Enemy Within, The Mentalist) who executive produces the series with people whom we admire for their past accomplishments including Steven Lilien (Alcatraz), Avi Nir (Homeland), Ken Woodruff (Gotham) and Bryan Wynbrandt (Alcatraz). The Pilot episode was directed by Thor Freudenthal (The Expanse) who science fiction fans will recall for his veteran work over the past decade.
As we mentioned in our preview of La Brea, this series has all the makings of a hit featuring an outstanding international main cast starring Natalie Zea (Justified) as Eve Harris, Eoin Macken (Merlin) as Gavin Harris, Jon Seda (Chicago P.D.) as Doctor Sam Velez, Chiké Okonkwo (Being Mary Jane) as Ty Coleman, Karina Logue (Animal Kingdom) as Marybeth Hays, Zyra Gorecki (Chicago Fire) as Izzy Harris, Jack Martin (All Rise) as Josh Harris, Veronica St. Clair (13 Reasons Why) as Riley Velez, and Rohan Mirchandaney (Mystery Road) as Scott Israni.
Supporting roles feature several superb and well known character actors including Stephen Lopez (Pirates of the Caribbean: Dead Men Tell No Tales) as Billy Fisher, Pacharo Mzembe (Terra Nova) as Tony Greene, Chloe De Los Santos (Tidelands) as Lilly Castillo, Josh McKenzie (Filthy Rich) as Lucas Hayes, Nicholas Gonzalez (The Good Doctor) as Levi Delgado, and Ione Skye (Wayne's World) as Jessica Harris.
The NBC tagline describes the series as "A massive sinkhole that opens in LA splits the Harris family in two, with Eve and her son sent to a mysterious primeval world. Gavin discovers that the visions that have plagued him for years might hold the key to bringing them home".
La Brea is a mixture of "Land of the Lost" (1974-1977) meets "Lost" (2004-2010 which is in fact mentioned in the Pilot episode), and any number of disaster style entertainment products all rolled into one new science fiction dramatic series.
As the Tar Pits begin to percolate, the result is that half of the Harris family become victims of the inexplicable wormhole that has ripped a hole in time. Eve, Josh and many others must find a way to not only survive, but hopefully find their way back to the present to rejoin their families and friends.
Sent through the wormhole, which remains open throughout the Pilot episode, the overarching question is how have the victims been sent back to what appears to be prehistoric times, replete with landmarks that exist then and in present day history near the Tar Pits and the Los Angeles Hills, and how the prehistoric vultures are able to travel to the present!?
Please find our analysis and review of the Pilot episode below broadcast on September 28, 2021. We include the first five minutes courtesy of the team at NBC Television and a sneak peek of season one at the end of our analysis for your enjoyment.
La Brea Pilot:
The Pilot episode opens with Eve, Josh and Izzy Harris stuck in traffic near the La Brea Tar Pits museum complex.
It seems to be a normal day in Los Angeles as the Harris family are making small talk about their lives and how nasty the traffic is in the city.
It will turn out to be anything but a normal day in LA!
Suddenly something terrifying begins to happen. The buildings nearby begin to topple as a giant sinkhole opens centered on the La Brea Tar Pits. The Harris's exit their vehicle and run for their lives. Eve watches hopelessly as Josh falls in after he tried to help a child escape the disaster.

Eve runs to Josh who has been swept into the sinkhole. Izzy attempts to save her mom by grabbing her wrist, but Eve tells her to let go and screams "Run!". As Eve falls into the sinkhole, this is when we see that the sinkhole must actually be a wormhole because no sign of the buildings or other debris is visible.
As buildings collapse and vehicles fall into the expanding wormhole sinkhole, we learn that Eve, Josh and dozens of others have become victims of the disaster.
Eve finds herself unharmed landing in a grassy area. Off in the distance, Eve observes smoke coming from a clearing not too far away and heads off to investigate.
Josh and Eve reunite meeting the others who have survived the disaster where we witness the remains of buildings torn apart in the cataclysm that befell them.
The scene moves to Gavin Harris who is trying to be rehired by the military at an Air Force base in El Segundo, California in order to resume his career.
We learn that Gavin was relieved of duty for suffering what were thought to be hallucinations. In the car before the interview, Gavin takes a few swigs from a silver flask with some sort of booze in it while visions of giant vultures and an enigmatic boulder with a red petro glyph on it appear in his mind. Gavin shakes it off for his interview.
The duty officer is polite to Gavin saying she will see what she can do. Apparently no one has told Gavin that getting drunk before an interview may not be the best approach to getting hired by the military again!
As Gavin leaves the interview he learns about the disaster near Los Angeles. Gavin calls Izzy and tells her he is on the way. Upon reuniting, Gavin learns that Eve and Josh are nowhere to be found.
Back to the victims. For the first time, a shimmering is observed at the bottom of the chasm. Later that night, the shimmering wormhole can be observed covering a large portion of the night sky in the prehistoric past.
Interestingly, the long fall through the wormhole in time has apparently cushioned the impact for the humans and many of the vehicles that fell backwards in time. While some vehicles appear to be dented, the victims of this tragedy appeared to only suffer minor bruises and cuts during their ordeal.
Could there be an alien influence that helped the humans survive the great distance they fell that allowed them to arrive relatively unscathed? At this point we do not know. What we do know is they appear to be in the past as evidenced by the giant prehistoric vultures that flew out of the wormhole back in present day Los Angeles.
The scene segues to Eve finding Josh and meeting the other survivors.
As we proceed, we find out that there are regular honest people mixed with what we will learn is a crooked female cop named Marybeth Hayes, a doctor named Samuel Velez, and a near suicidal man named Ty Coleman.
Ty Coleman is packing what appears to be a silver Model 1911 semi automatic pistol that comes in handy later. As well we find other adults and a couple of young teenagers who have also been trapped in prehistoric time by the wormhole.
We learn that there is an effort by the survivors to collect what prepared food and water is available that fell into the wormhole. Everything is scrounged from what is apparently left from local stores, warehouses and vehicles near the vicinity of the cataclysmic event.
During an outing near the camp they have setup, a search for supplies is undertaken to salvage what they can from the disaster, and critically find food and water. Eve and Josh discover that Marybeth the police officer is trying to hoard foodstuffs for herself depriving the food from the other survivors.
Caught in the act, Marybeth basically tells then to mind their own business and takes the food anyway, but begrudgingly gives them one nutrition bar each.
Thanks a lot Marybeth!
No doubt Marybeth the crooked cop is going to be a lot of trouble later during season one!
Just when things seem to settle down, while coming back to the compound area, a pack of wild wolves attacks the survivors camp. The first "Red Shirt" (ex)survivor is killed when one person is dragged away as a tasty snack for the wolves. Josh suffers a deep bite wound from the vicious creatures. Eve is threatened by the wolves, but is saved by Ty who uses his pistol to drive the beasts away. However, Josh is severely injured that will require stitches and antibiotics if he is to survive.
As the scene switches back to Gavin and Izzy, we meet Jessica Harris, Gavins sister. Jessica has been trying to help her brother deal with his emotional issues since he left the Air Force. We are led to believe it may be PTSD. However Gavin has actually been seeing visions of his wife and son in the past. This is confirmed when Gavin realizes that he has been seeing the same boulder with the red petro glyph at La Brea Tar Pits in his dream visions.
Later, when the government Air Force attempts to send a drone to try and enter the wormhole, it loses contact at the event horizon and crashes on the other side. We then learn that Gavin has not been having hallucinations because Gavin can read the serial number of the aircraft back to the military when it crashes in prehistoric time.
This will make Gavin useful in the future to the government investigators who are stunned that Gavin could identify the drone aircraft. Looks like Gavin will get re-hired by the military after all!
The episode winds down with several important discoveries;
Gavin digs up the boulder with the red petro glyph and finds Eve's time tarnished wedding ring in the diggings, giving him a clue to where in time his family is trapped.
We then see Riley Velez taking care of Josh before Eve, Ty and Dr. Velez leave to find medical supplies.
They are searching for an ambulance that Ty had seen earlier in order to obtain medical supplies urgently needed to save Josh. Eve recognizes a Mastodon statute that was at the La Brea tar Pits and then looks at the skyline.
They are all completely stunned to learn that they are looking at the Los Angeles foothills!
The Pilot episode ends with a scene near the EMS ambulance vehicle that fell through the wormhole as Eve, Ty  and Dr. Valez are observed taking the emergency supplies needed to save her son Josh who was bitten by the wild wolf.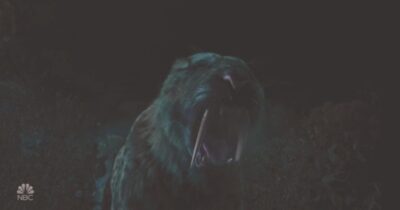 The screen fades to black as a new threat appears blocking their way; a snarling Smilodon or Saber-Toothed Tiger looking for some dinner!
Due to the fact that Smilodon is depicted near the La Brea Tar Pits, a known habitat for the ferocious felines, the addition of the Smilodon cats as characters in the series, known specifically in scientific circles as one of three known species; S. Fatalis, S. Gracilis, and S. Populator Saber-Toothed Tigers is a fun addition to the series, except of course for the big cats dinner victims!

This revelation clearly places our timeline somewhere before 8,000 BC when the Saber-Toothed Tiger species is known to have become extinct.
This is the precise information about where our survivors are located in time to anchor the series story arc.
When coupled with the large boulder observed in the series with a painted carved glyph image that Gavin dug up, confirms that the timeline in this range of history, it is fair to assume that prehistoric human beings must also be present in large numbers.
Confirming these facts is an image of a prehistoric man dressed in animal fur. The man is observed just before the episode ends. He has been watching our heroes trapped in time!
In conclusion, La Brea is a fun science fiction drama series that we will watch each week.
The real question is whether the program will garner high enough ratings to make it to a second season? Being placed on Tuesday nights, only time will tell if La Brea will itself survive or become extinct like the Saber-Toothed Tigers!
We leave you with a promotional video courtesy of NBC about what is coming up in season one of La Brea. Enjoy.

We will be back in the near future with more television series and movie analysis. In the meantime, please feel free to share this article with your friends, co-workers and or family and leave your comments! We look forward to you visiting our dedicated review and analysis web site here in the future! Or as many of our readers and visitors often do, visit WHR on Twitter, or visit me on Twitter by clicking the text links or images avatars in this news story. I and TeamWHR look forward to Seeing You on The Other Side!"
Thank you.
Best Regards,
Kenn of #TeamWHR