Welcome back WormholeRiders and Van Helsing Lovers!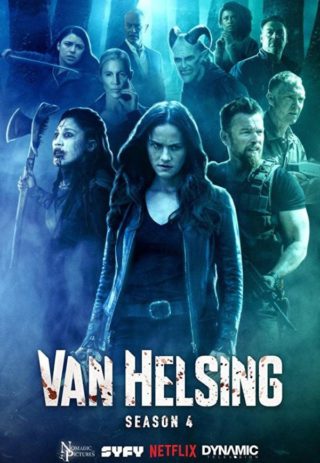 "Metamorphosis", written by Neil LaBute and directed by Jonathan Scarfe, marks when Dracula, portrayed by Tricia Helfer, arrives from hell in Van Helsing to enslave all the inhabitants of Earth. The superb fourth season of Van Helsing now enters a new phase of absolute evil entering the story arc.
Now over halfway through the fourth season that began September 27, 2019 in the United States,  Dracula admirers reveled in this exciting episode and was long awaited by fans on SYFY.
The fourth season pivoted with the sixth episode, "Miles and Miles", that concluded with a happy ending. To review, "Miles and Miles" focused on an awesome adventure by Phil (Vincent Gale) and Axel (Jonathan Scarfe) who tracked down evil Max Borman (Richard Harmon) after Max kidnapped Phil's wife Jennifer (Holly Elisa) and her young son Owen (Alexander Brophy) for what were certainly nefarious, outright evil purposes revealed in our analysis.
Van Helsing admirers were pleased that Max paid the ultimate price when his head was chopped off by Phil. The happy ending in "Miles and Miles" warmed the hearts of series fans when Phil, Jennifer and Owen all moved on to enjoy a family life as Axel continued the fight to survive in a post apocalyptic dystopian world. Subsequent when The Rising began which began in the first episode "Help Me", a good ending was also enjoyed by this Editor.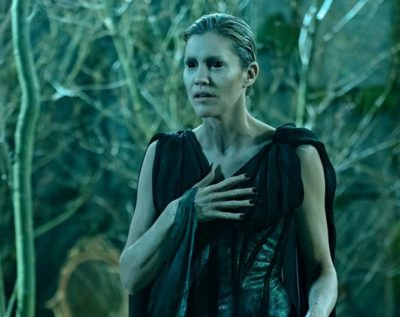 In "Metamorphosis" Tricia Helfer did a superb job portraying The Dark One as many of our beloved top cast members from the Van Helsing family including Kelly Overton,  Christopher Heyerdahl, Nicole Muñoz, Keeya King, and Jesse Stanley returned from episode hiatus for this outstanding episode representing the eternal battle on Earth of good versus evil!
With the exception of Chris Heyerdahl who we know the Dark One destroyed after he had completed his goal in life to help Dracula return from exile.
Other beloved Van Helsing cast members including Aleks Paunovic, Rukiya Bernard, Rowland Pidlubny, Jennifer Choen, Caroline Cave, and Neal McDonough, will all hopefully return in the future episodes subsequent to "Metamorphosis" in season four and in the future of season five now confirmed by SYFY as renewed for a fifth and final season.
Metamorphosis: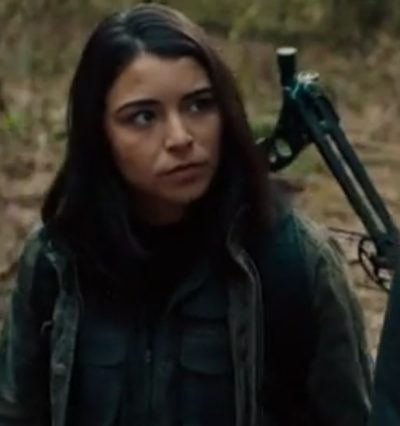 The episode opens with Jack finding her way through the thick forested area somewhere outside of Fort Collins. Jack, having left the relative safety of her friend is being drawn to Vanessa, however Jack does not know why.
Subsequent to finding each other, vowing to work together to figure it out as a team, Jack and Vanessa find themselves in an ancient garden with a well. The area is heavily overgrown, but the Van Helsing logo can still be observed on the walled gate not very far away.
Vanessa recognizes the place from a vision when she was unconscious after converting a number of Daywalkers earlier in the season when she also saw Violet. Viewers will recall that Violet drew a portrait of Vanessa from her own dream of visiting the enchanted garden when she was held prisoner by her adopted father, Hansen.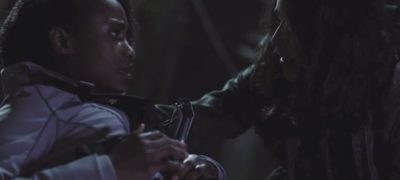 Jack hears someone coming and by instinct fires her crossbow. In a sudden surprise, the target Jack hits is Violet! Somehow all of them have been compelled to find the enchanted garden. It is the first time that Vanessa, Jack and Violet meet each other together.
Violet relates what she learned from Avery's files about a young women (Vanessa) being used by Hansen to create more Van Helsing family members. If there was any doubt that the three are family, it is now known to the viewers that Jack and Violet are Vanessa's daughters, cloned by Hansen for his purposes to have a back up plan to wake up The Dark One (Dracula)!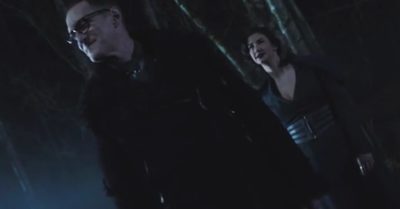 Viewers will recall that Sam left the coven to track Violet. The Oracle was suspicious of Sam's motives and tracked Sam. In violation of the agreement for all four to be present when Dracula is awakened, Sam and The Oracle make a pact to track down the Van Helsing family members to awaken Dracula.
Hansen and Michaela will not be happy with this change of plans since this development goes against having four vampire brides present during The Dark One's awakening to protect Dracula from the power of The Van Helsing family that entombed her centuries ago!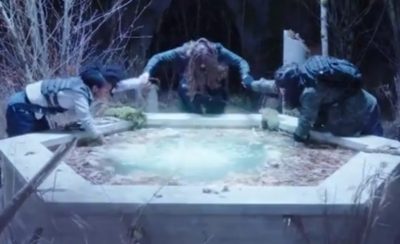 Back to Vanessa, Jack and Violet, Vanessa looks into the well finding an odd artifact that has indentations in it that obviously require Van Helsing's to activate it. Abraham and Jacob Van Helsing immediately come to mind, but are they nearby?
Vanessa instructs Jack and Violet to activate what we will learn is a portal to hell. As Jack and Violet do so, Vanessa holds them together when suddenly a brilliant white beam of light shouts into the night sky, wnaware that Sam and the Oracle are close by. Sam utters "the light will lead them to the darkness", meaning Dracula!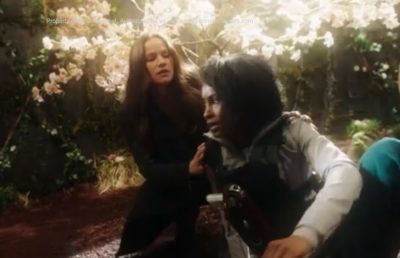 During the beaming of light, the garden is transformed to it's former glory with Jack transferred to another part of the manifest vision that we learn is a state of mind.
Vanessa and Violet go searching for her without luck, finding themselves transferred to Abraham Van Helsing's library.
Abraham Van Helsing greets Vanessa and Violet but is concerned by their arrival.
Vanessa and Violet enter the library with the ancient Van Helsing family book to comfort Abraham.
Abraham states he has been held in a stasis in the library for centuries subsequent to imprisoning Dracula in the crypt.
However, Abraham is very concerned with good cause that something has gone wrong since he feels the evil of Sam, the Oracle and Dracula The Dark One!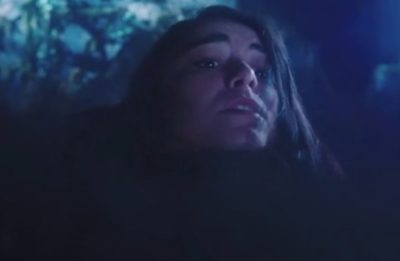 Segue to Jack who has been sent to  Dracula's crypt room and is being called by The Dark One to open the lid to the crypt!
In my home, everyone said NO JACK! However it is too late. Jack removes the lid allowing a dark evil cloud to escape the tomb.
Dracula does not have a body yet, however, that manifestation will become apparent in short order!
Vanessa shows Abraham the Van Helsing family book as well as he enchanted compass that she is certain is what brought them all together in the first place.
Abraham notes that three pages needed to defeat Dracula are missing from the Van Helsing family book.
Abraham becomes even more anxious, highly extremely concerned when he discovers three pages are missing, a fact that could jeopardize his plans to trap Dracula again should she escape from hell.
Abraham shares with Vanessa and Violet that he had been exiled in a hellish world with The Dark One as a result of imprisoning Dracula.
Abraham also share that he should not be awake at this point in history, and the missing pages are needed to trap Dracula in hell again.
Suddenly, Jack finds them in the library admitting to what she has done opening The Dark One's tomb in the crypt!
Abraham warns them to leave the place, find the pages, and use the enchanted compass to find them so they can put Dracula back to sleep to save the real world where they must go to save the world!
Abraham utters an incantation that sends Vanessa, Jack and Violet from his secret library back to the normal world hoping that the light will return to reality.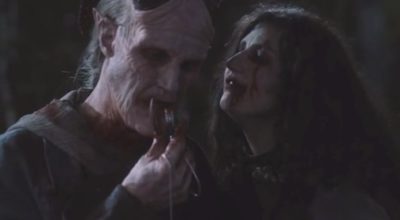 This will only happen if Vanessa, Violet and Jack are successful in finding the three pages to thwart Dracula and her malevolent minions.
Sam and the Oracle are laying in wait at the enchanted well portal to hell when the Mom Vanessa and her lovely daughters arrive back from their journey to Abraham's library.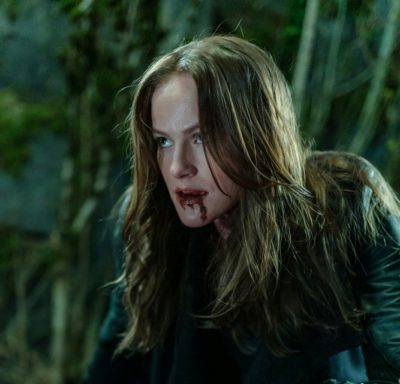 Vanessa does battle with Sam and the Oracle instructing her daughters to flee. Violet and Jack are knocked out by the Oracle before they can leave.
Sam, now more powerful than ever howls in an apparent victory over his former friend, fights Vanessa, wounding her and throwing Vanessa on a cross rendering her useless until she can heal.
While the Oracle drains blood from Vanessa, taunting her in the process.
Sam takes the blood amulet while the Oracle creates the required pentagram in the dirt in the middle of the garden floor pouring Vanessa's blood into it to activate the pentagram.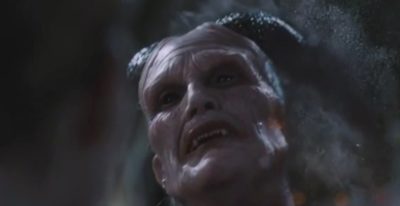 Sam drinks from the amulet stands in the middle of the pentagram to provide The Dark One a body in the real world.  By drinking the blood, Sam opens the portal completely allowing The Dark One to materialize on Earth!
Vanessa screams at Sam that he is being used and will perish in the process. Sam rebuffs Vanessa stating this is his true purpose. As The Dark One, Dracula joins our world once again as Sam's disintegrates into dust and Drcula is reborn!
The Oracle notices that Dracula has taken a liking to Vanessa and warns her to never trust a Van Helsing! Dracula scolds the Oracle for taking so long to awaken her and asks where are the two other vampire brides that were supposed to be present at the ceremony?
Dracula goes to Vanessa who has healed, and removed herself from the cross, much to the amazement of Dracula, who is drawn to the Van Helsing strength.
Vanessa knows Dracula loves young blood and promises to prepare her children, Jack and Violet, for feeding. We know Vanessa is lying and only buying time.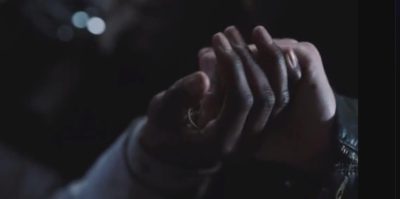 Vanessa, as part of the ruse, moves to Violet and Jack, and stabs both of them telling them to fight no matter what it seems like now. Violet and Jack pledge their loyalty to Vanessa.
Vanessa passes Violet and Jack the enchanted amulet now refilled with blood for their mission to find the missing pages needed to fight The Dark One on Earth.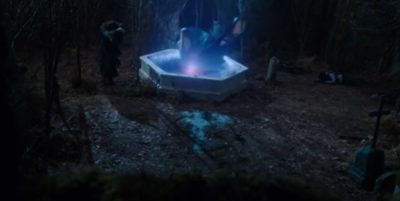 Over confident, The Dark One revels in the apparent surrender by Vanessa willing to sacrifice her children. The Dark One tells Vanessa that she will make Vanessa her one true bride! The Oracle freaks out but is thrown aside in the process.
Dracula summons up the portal to hell in the well. Vanessa, seemingly willing to do so voluntarily has trickeds Dracula and throws both of them into the portal to hell before Dracula could convert Vanessa once again to a vampire.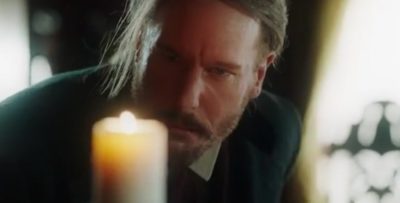 In the final sequences Jack tells Violet that she will hold off the Oracle long enough to allow Violet to escape and find the three lost pages. In the library light returns to Abraham who is pleased that The Dark One's evil on Earth  has been forestalled for the time being!
The real question we must consider at this juncture is whether Vanessa able to turn Dracula back to human and cure her like everyone else she has saved?
In closing for now, if you have never seen Van Helsing, you can watch the entire series on SYFY or watch on Netflix. In the meantime, we also suggest that you tune to SYFY at 10p/9c each week to watch the exciting season four concluding episodes. You will not be disappointed and will enjoy Van Helsing as much as we do!

Please feel free to share this article with your friends, co-workers and or family by clicking one of the icons below. We thank you for visiting and express our sincere gratitude.

Feel free to visit TeamWHR on Twitter or visit me on Twitter by clicking the text links or images avatars in this news story. I and Team WHR look forward to Seeing You on The Other Side!

Thank you.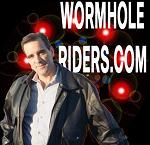 Best Regards,
Kenn of TeamWHR