Hi WormholeRiders and Treadstone Lovers!
Treadstone is moving to an exciting season one finale in "The Paradox Andropov", an episode written by Marc Bernardin, Dave Kalstein, and Tyler Hisel , drirected by Wayne Yip.
The series, created by Tim Kring, is an excellent action science fiction thriller that is brought to our screens by NBC Universal Content Productions that has successfully dovetailed the world of Jason Bourne, which featured character who were programed to be assassins.

In Treadstone  as seen on USA Network several parts of the story arc threads remain a mystery that "The Paradox Andropov" delineates as the "Cicada" located around the world. Each chacter has woken up to complete their missions either willingly, or in the case of several characters unwillingly.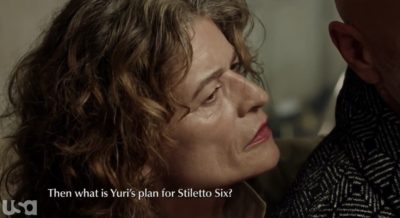 All the Cicada agents, except one (old Petra) who appears to know much more than all the others, appear to be trying to become free of their handlers who have used brutal, often murderous methods to attempted to maintain control over their agents without success in virtually every single instance!
Treadstone became complicated when CIA Operative Ellen Becker (Michelle Forbes) loses control of four agents facing great anger from her boss Dan Levine (Michael Gaston) as discussed below.
In fact, all of the Cicada's around the world have gone rogue in a state of anarchy that their evil handlers must deal with before the conclusion of season one.
The In the previous episode, "The Hades Awakening", several threads were left open by factors that will be revealed in "The Paradox Andropov", specifically, the threads needing answers are about:

1. A Big Pharma company is synthesizing illegal drugs. How does this fit in with the Cicada's? Are these drugs used to control them?
2. A vacationing trust fund guy was killed by Nira Patel (Shruti Haasan) in India in episode three, The Berlin Proposal remains a mystery.
3. Doug (Brian J. Smith) and Samantha (Tess Haubrich) are two agents about to be cleaned up by the CIA. This development will hopefully be addressed in "The McKenna Erasure" subsequent to a cliffhanger in "The Paradox Andropov".
4. Stiletto Six: Tara (Tracy Ifeachor) and Sebastian (Eric Kofi-Abrefa) are on the hunt for the broker Yuri Leniov (Julian Kostov) who can make this deal happen. This question is addressed in "The Paradox Andropov" when old Petra  (Gabrielle Scharnitzky) meets with old Leninov (Merab Ninidze) who tells Petra she is no longer needed. Petra does not like being dismissed after many decades of loyal service.
5. Senator Eamon Wray (Tim Ahern) who we were introduced to him in episode four, The Kentucky Contract successfully got a Russian Trade Agreement passed. Further, it got quickly approved by the Kremlin, right after North Korea's General Kwon (Tzi Ma) got assassinated. This came up in a conversation between CIA agents Ellen Becker (Michelle Forbes) and Dan Levine (Michael Gaston). Becker is keenly interested in this set of facts, and how it may relate to Stiletto Six. Levine shows interests as well. Levin orders Becker to tell Edwards to kill Haynes.
6. Finally how do John Randolf Bentley (Jeremy Irvine) and young Petra (Emilia Schüle) fit in? What will Soyun (Hyo-Joo Han) do when she meets her handler in a in a nightclub that she sneaked into? And what is Haynes (Patrick Fugit) and Matt Edwards (Omar Metwally) plan now that they have gone rogue from the CIA?
The Paradox Andropov
The episode opens with the previous Treadstone scenes from "The Hades Awakening" and earlier episodes.
After reviewing the Stiletto Six ICBM with old Petra, we are reminded of Tara and Sebastian escaping the prison camp.
The final previous episodic review is when Soyun was being blackmailed by her handler to follow orders to ensure that her family remains safe.
Soyun, who loves her family, instead had followed her evil handler secretly outside of her home and quietly gets into the back of one of their Sport Utility Vehicles. 
It is obvious that Soyun plans to track him down where ever he goes to ultimately  seek revenge for stealing her beloved family.
We find Doug racing home to Samantha in Ashland Kentucky after learning that he and his wife Samantha are to be "cleaned up" by the CIA.
Doug rushes into his home thinking Samantha may already have been killed by the CIA agents subsequent to when he accidentally overhead on one of their communication devices when he was ambushed by the agents at his former friends home.
Samantha has packed their bags and cut her hair in order to go undercover. Both decide to leave as soon as possible before they are "cleaned up" by the CIA.
Next we are in Budapest Hungary with Bentley in the 1970's. Bentley wakes up to find himself held under gunpoint by young Petra. As Bentley confronts Petra about what she has done to him, suddenly Petra levels her gun on a KGB agent and kills him. Petra says they must escape and she has really been his ally from the beginning.
Is Petra actually Bentley's Treadstone handler for the CIA?
Bentley decides to trust Petra. The two lovers make their way to an abandoned KGB safe house to work on their next plan of action.
Bentley goes for a walk outside the safe house only to find that a known CIA agent Pete Wilson (Joe Corrigall) has been shadowing him.
Bentley confronts Wilson who tries to shoot Bentley. Bentley gets lucky and the bullet misses allowing him to grab the gun and kill Wilson.
Bentley returns to the safe house to share with Petra what has just transpired. Petra then reveals to Bentley that Dr Meisner (Martin Umbach) survived Bentley's attack in the KGB laboratory and the good doctor is training other agents.
Petra says they must find young Yuri who will be able to help them figure it all out.
This leads one to believe the entire Cicada operation is actually under CIA control behind enemy lines in the Soviet Union in the 1970's.
Petra and Bentley make passionate love before they head out to find Yuri.
We move to the present day with older Petra having tracked down older Yuri on the Greek island of Mykonos. Petra is keeping an eye older Yuri's luxurious yacht. Petra goes with Yuri to his opulent mansion on the island where she observes Yuri meeting with the corrupt Senator Eamon Wray.
One wonders why the Senator is meeting with a Russian KGB agent?
Viewers many recall that Senator Wray has been under CIA observation for his prying into the Treadstone operations that the Senator had been lead to believe by Becker that all Cicada operations had been terminated.
Petra surprises Yuri in the mansion and confronts him. Petra accuses Yuri of being a traitor. Yuri reveals that he has been expecting her and summons his security guards.
Older Yuri then tells old Petra that her mission is complete and she will be allowed to go home and be let go if she forgets everything. Petra agrees to obtain her freedom. However this Editor is not so convinced that Petra, who still has allies in Moscow, will forget Yuri secretly meeting with the enemy.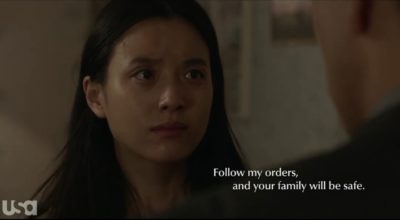 We move to our lovely young Cicada Soyun (one of our favorite characters) who had hidden in the trunk of vehicle to track down her handler subsequent to being threatened by him.
When they arrive at the destination, Soyun gets out and wonders why her handler is in Seoul, South Korea?
Is he a traitor to their own country or simply corrupt?
Soyun follows the handler discretely discovering that he frequents a high end exclusive night club in Seoul.
Soyun carefully plans out how she will gain access to the nightclub in order to exact her revenge.
Soyun pick pockets a wallet from a rich patron and acquires a beautiful blue sparkly dress at a local salon.
Next we find Tara, Sebastian, and her friend Meghan (Racheal Ofori) at Sebastian's place in a penthouse. Tara and Sebastian give in to their passions as former lovers and make love.
Subsequent to the love making, Tara tells Sebastian it was a last fling and she must concentrate on finding out about Yuri and the details of the Stiletto Six ICBM.
On the way to track down Yuri, Tara is ambushed on the street in their car by masked gunmen and are taken hostage.
The bad guys demand the money Tara promised for the Stiletto Six access codes. Tara stops playing games and transfers the money to get the codes and stay alive.
Tara hesitates and her friend Meghan is shot in the head. Tara transfers the Stiletto Six money for the codes.
Tara and Sebastian are then hooded and dumped in an ally.
Tara reaffirms to Sebastian that its over between them and she is determined to track down the leads to Stiletto Six.
Tara contacts an agent, apparently in Moscow, that she needs information about Stiletto Six using her knowledge of Treadstone as leverage. The contact tells Tara to contact him shen she arraives in Moscow.
Back to Soyun who has convinced the VIP section nightclub doorman that she is meeting a business man and his group inside.
Using her feminine skills, Soyun tells the staff inside to let her into the private suites where her "clients" are waiting.
The inner security guard says the VIP suite is it's only filled with "boring old rich guys".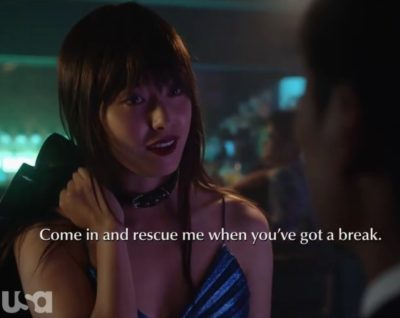 Soyun tells the guard she has "business" inside, but to come and "rescue me when you get a break" her later!
The inner doorman agrees and Soyun is observed entering the private suite as we wonder what she plans to do to her handler?
We can only surmise that he will either cooperate or perish since he is a traitor to North Korea operating in South Korea!
The final scenes. Doug informs Samantha that he has a lead to follow up on; his next target to find out what the hell is going on with Treadstone.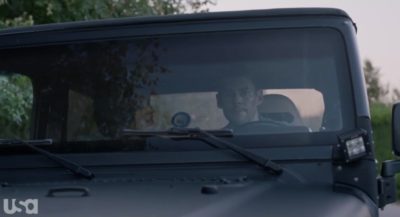 Samantha warns Doug they will be hunted down by the CIA for trying to escape the CIA Treadstone project.
Doug says that he understands, stating as soon as he gets some information from his next target who lives in Arlington, Virginia, that they will disappear.
Can it really be this easy for Doug and Samantha to escape the CIA? Not very likely.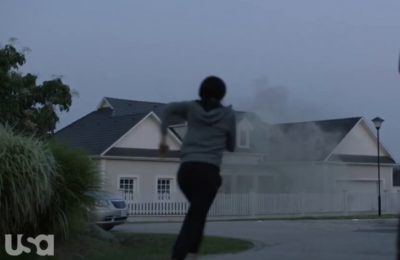 They arrive at the targets large fine home in Arlington.
Doug approaches the house, rings the doorbell and enters the home.
Suddenly the house explodes!
A horrified Samantha watches in horror running from the car wondering if her husband has been blown to smithereens!?
Team WHR suggests you tune into USA Network next Tuesday at 10 PM EST/PST for the next to last season one exciting episode of Treadstone!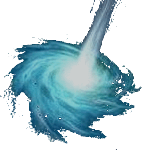 Please feel free to share this article with your friends, co-workers and or family and leave your comments! We look forward to you visiting our dedicated review and analysis web site here in the future!
Or as many of our readers and visitors often do, visit WHR on Twitter, WHR on Facebook or visit me on Twitter by clicking the text links or images avatars in this news story. I and TeamWHR look forward to Seeing You on The Other Side!"
Thank you.
Best Regards,
Kenn of #TeamWHR