Welcome back Falling Skies fans!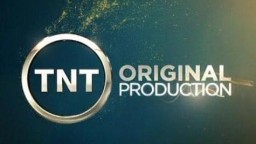 We are now entering the sixth and in my opinion the critical turning point in awesome series. Unless you have been living on another planet you should know that Falling Skies has been renewed for an exciting sure to be super second season!
If you have not heard this news via tweets, our posts and news around the Internet we are going to send you to the Skitters and their two legged metallic minions "The Mechs" to be harnessed along with the rest of the children on planet Earth!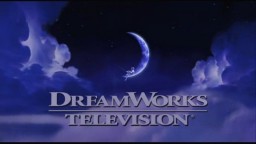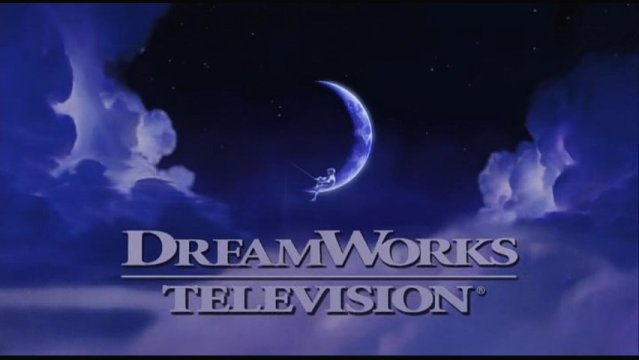 This is a pre-review of this evenings episode entitled "Sanctuary" (part one). In this analysis we examine several aspects of the story arc so be forewarned that although no spoilers will be discussed herein other than what is already revealed by TNT (known facts), the images are. So If you do not like spoilers, please stop reading and looking now. Thank you.
As we shared last week, the ideas we discuss herein are as private among our Falling Skies review team. The WHR Falling Skies review team is led by RedOne68 (Sandra), and includes DragonBayne (Angela), OffworldTravelr (Ginger), Celtica (Jen) and myself. We will say it again that we all believe this is an excellent series produced in coordination with TNT by Dreamworks Television Studios!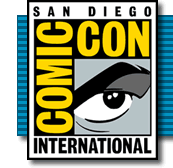 Our entire Falling Skies team is very much looking forward with excitement and in fact absolute glee to covering the series this coming week at Comic-Con in San Diego! Let me share with you here and now that the eight (8) of us who contribute to WHR whom are attending Comic-Con in San Diego (and you can be sure) that we will all be on patrol for Falling Skies Skitters, Mech's and for that matter Gummy Bears too!
(You will find out why that last item is important tonight!)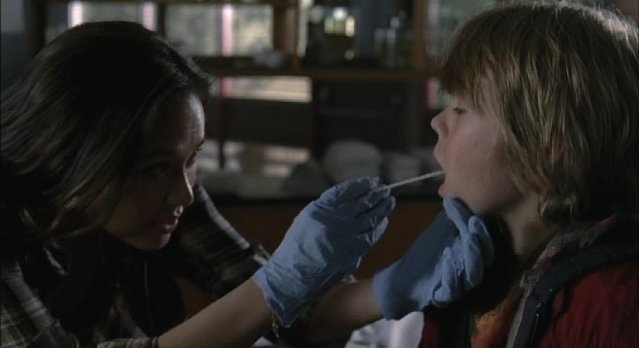 Speaking of Gummy Bears, poor Lourdes and Anne may not get much of a chance to eat any based on what happens in the first few minutes of "Sanctuary" part one as discussed by Noah Wyle in the promotional trailer included below courtesy of TNT.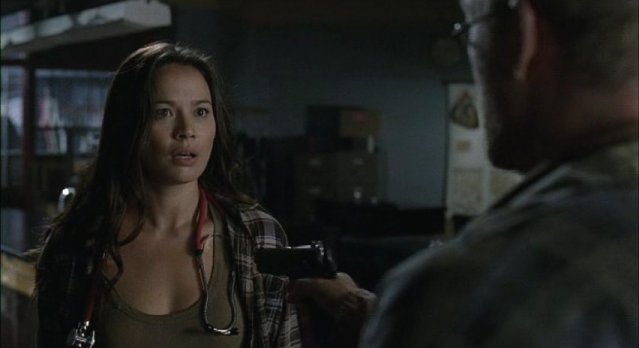 As the promotional trailer below indicates, a new guest star arrives after the trouble with Dr. Glass. Known to Captain Weaver it is one Lt. Terry Clayton portrayed by veteran actor Henry Czerny (Mission Impossible, The Tudors, and The A-Team [2010]) who warns of an impending Skitter Mech attack on the safety of the John F. Kennedy High School compound.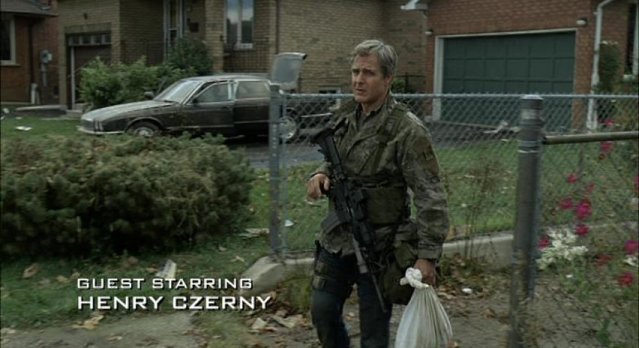 Let's go over the outstanding cast once again. Many of the actors and actress have twitter accounts with the exception of Tom Mason (Noah Wyle) [Hint, Hint]. However the following characters John Pope (Colin Cunningham), Anne Glass (Moon Bloodgood who has not tweeted since late 2009, Dai (Peter Shinkoda), Anthony (Mpho Koaho), Margaret (Sarah Sanguine Carter), Karen (Jessy Schram), Ben Mason (Conner Jessup), Matt Mason (Maxim Knight), Hal Mason (Drew Roy), Lourdes (Seychelle Gabriel), all have twitter accounts and we suggest you follow them if you have not done so already.
The following main characters including Uncle Scott (Bruce Gray), Captain Weaver (Will Patton) , Porter (Dale Dye) Hal Mason (Drew Roy), Mike (Martin Roach), (Daniyah Ysrayl) do not have Twitter account as of drafting this article. Hint, hint, hint your Twitter followers await you!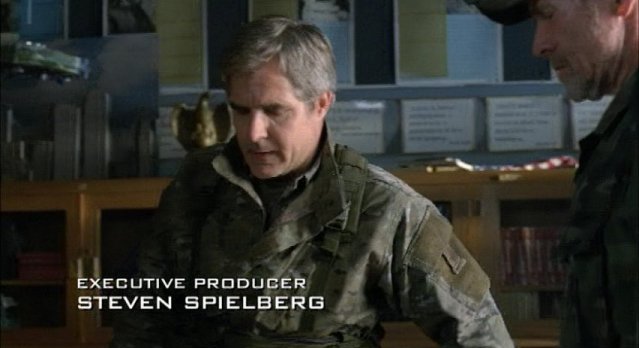 SPOILER ALERT: For those who must know, the answer is YES, Colin Cunningham returns in this evenings Falling Skies. Now that really is not much of a spoiler since everyone can go to IMDB and see for themselves he is scheduled to appear in several more episodes. However we will not tell you the what, where, why or when in the episode.
Let us simply share that you will be as pleasantly surprised as we were when we first saw Sanctuary part one many weeks ago. We will however give you a single image frame so you can savor the return of the one and only John Pope to Falling Skies! All we can say is it is simply awesome!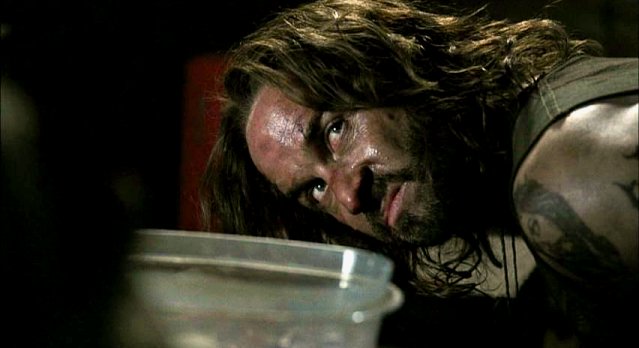 As we continue our coverage I would like to pay homage to two other critical contributors that some take for granted, and the series wonderful guest or supporting stars.
First I would like to mention Julia Valente and her crew for an outstanding job with make-up in Falling Skies. For those who may not be aware, the make-up used on set locations is crucial to obtaining the correct look and feel of the final product due to set lighting conditions. Well done Julia to you and your team!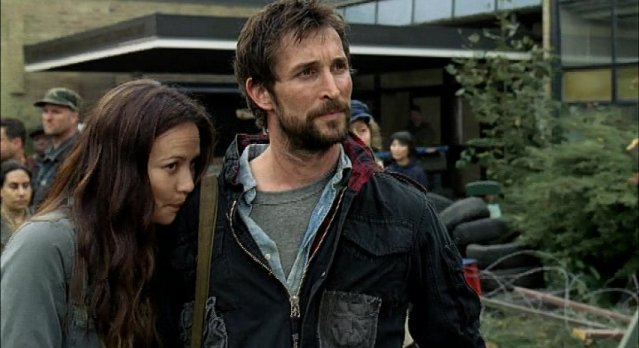 Next a note (pun intended ) to Noah Sorota for his fine original series music score and accompaniment in Falling Skies.
This is another area that fans often forget when they are caught up in the willing suspension of disbelief when watching a superb science fiction drama such as Falling Skies. Without the hard work of a person like Mr. Sorota, the series would surely be lacking. So our thank yous to the musical Noah of Falling Skies for bringing the haunting and melodic scores to our homes to accompany scenes like the one below!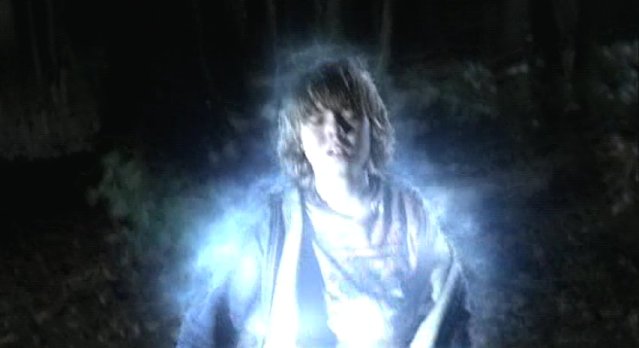 Lastly our sincere thanks to the often forgotten guest celebrities in the supporting cast; Dylan Authors (Jimmy), Mellisa Kramer (Sarah), Paulino Nunes (Frank), Sarah Carver (Mary Russell), Bruce Hunter (Jeff Russell), Gage Munroe (Eli Russell), Wes Berger (John), Jaclyn Forbes (Elyse), Nathan Mitchell (Parker), Joe Vercillo (Clayton's Soldier) and Niamh Wilson (Megan).
I mention these individual actors because when I read peoples tweets or articles about Falling Skies and other series we all tend to focus only on the leading actors, actresses as celebrities. I can certainly understand their sentiment, it is an easy thing to do. Although we all love the lead stars in any series or movie, we must not forget the supporting actors and actresses whom help make the scenes so believable and enjoyable.
So our sincere thanks to all supporting cast members for all that you do!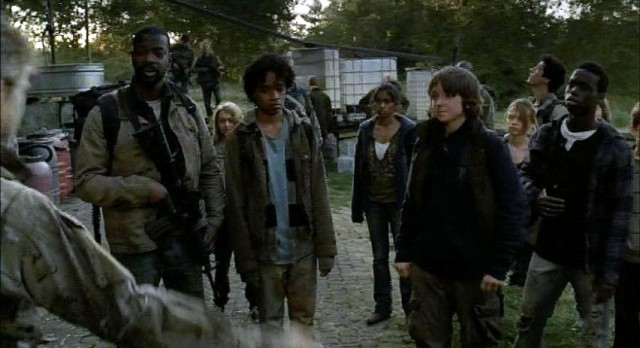 As we alluded to last week trouble and friction is brewing in the local community. This time it is not about keeping a Skitter in the resistance compound at John F. Kennedy High School. No it is something entirely different that anyone who is a true family person at heart will understand; being separated from your children even if that is what is best for them.
Falling Skies returns each Sunday 10 PM east/pacific, 9 PM central time in the United States. "Sanctuary" (part one) is the sixth episode in the series, but is the fifth in terms of air dates.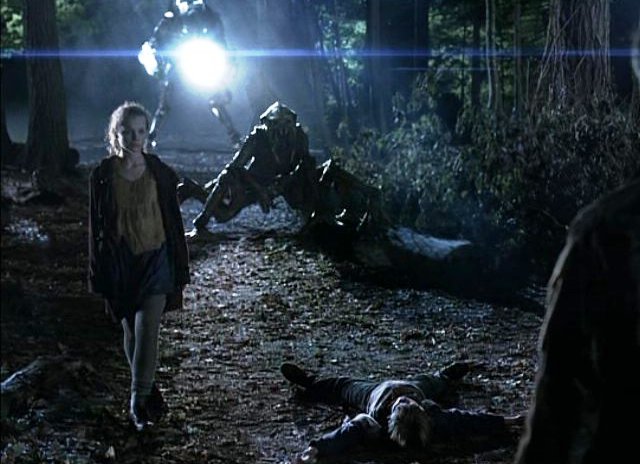 This evening the story arc takes a tremendous turn about several things including the where, why and what for regarding the enslavement of the children! And much more will be revealed in this fabulous first part of a two part Falling Skies Sanctuary! In the meantime, we include the episode sneak peek below courtesy of TNT for your enjoyment!
Thank you for visiting WormholeRiders News Agency and reading the theories, book history back story and historical reference material imparted by the creators in Prisoner of War.
Please feel free to leave a comment here or if you prefer, click the social media icons below to share this news article. Or as many of our readers and visitors often do, visit WHR on Twitter, WHR on Facebook or visit me on Twitter by clicking the text links or images avatars in this news story. I and the WHR team look forward to and will be Seeing You on The Other Side"!
Thank you.
Best Regards,
Kenn