Hey Stargate Convention Fans!
Excited didn't begin to describe how I felt when I first heard about Creation Entertainment's Stargate Convention in Minneapolis, Minnesota. All images here are courtesy of Creation Entertainment with special thanks to Monica and her staff in Minneapolis for their help and support!
Oh and I called the convention "MinCon" on Twitter to make it easier to find all the related tweets. You can search for the convention tweets using the hash tag #MinCon!
As a squirrel (a fan of David Hewlett), any convention that has David Hewlett is one I want to attend. MinCon not only has Mr. Hewlett, Stargate Atlantis' Rodney McKay, but also his co-star, Joe Flanigan, who played Colonel Sheppard. Creation Entertainment also arranged for appearances
by Gary Jones who started in Stargate SG-1 and has been in every series and movie as well as special guests Ms. Alaina Huffman and Mr. Brian J. Smith of MGM's hit series Stargate Universe distributed in

the United States by SyFy.
The only guests I'd never met before were Ms. Huffman and Mr. Smith. I always wonder how an actor is compared to the characters they play. Would Ms. Huffman be as reserved as T.J.? Would Mr. Smith be anything like his character Scott? I'd find out at their panels.
I checked in at registration with my husband around noon. It went fairly quickly. After my husband and I picked up our gold passes we decided to head out for lunch. The convention is being held at the Marriott Minneapolis City Center. I have to say it's an unbelievably convenient location.
If you ever cared to explore Minneapolis, and I suggest you do, this is a great place to do it from. The Hard Rock Café and Target Center are both within walking distance. We walked around Nicolett Mall and dozens of great restaurants and of course stopped at my favorite place, Starbucks, which is just around the corner from the hotel.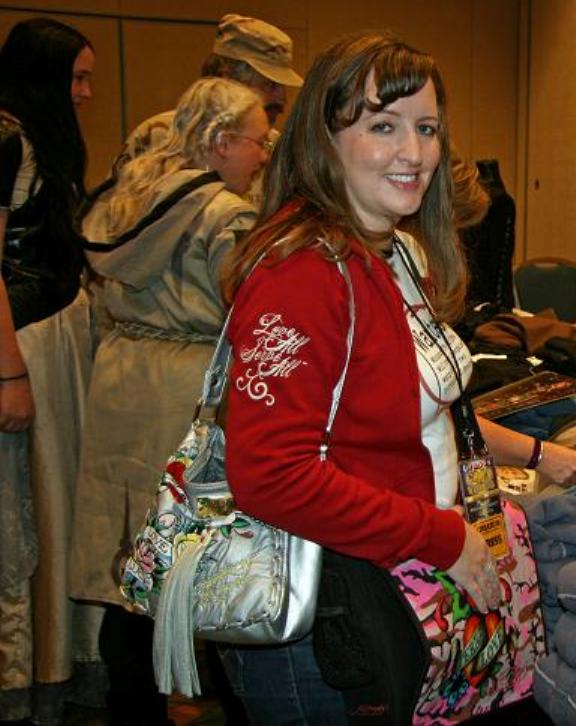 After a little more sightseeing we went back to the hotel to check out the vendors room before Gary Jones' panel. Mr. Jones' panel was, as always, hilarious. When he came on stage he hammed it up for the Wormholeriders' camera. Check out the pretty poses he gave us.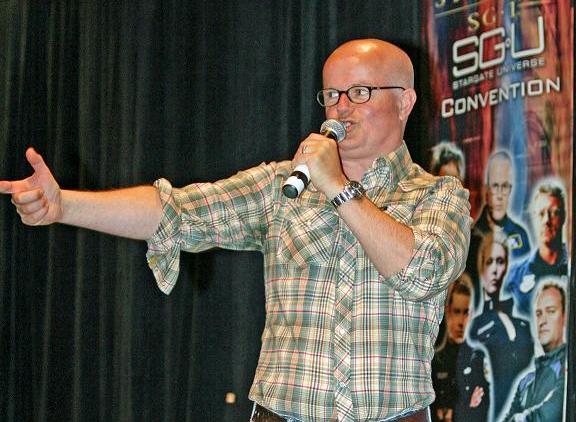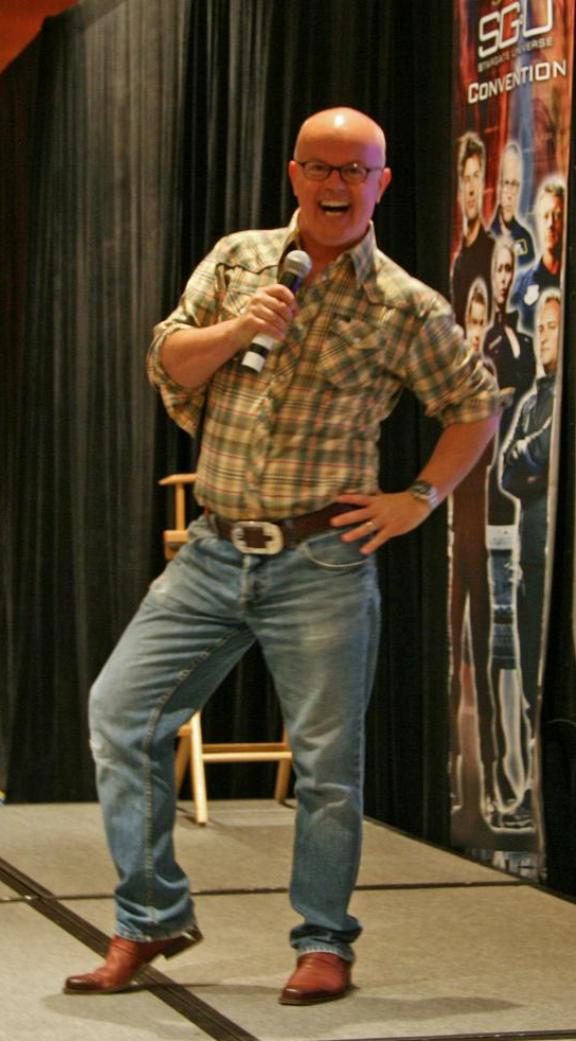 How can you not laugh when this guy is in the room? Mr. Jones talked about what it was like playing "the Chevron guy" on Stargate SG-1. Practically every story he tells is funny. He said one time he was leaning on a wall in the Stargate Command Center and a big metal bolt fell off the wall. As it turns out it wasn't an actual metal bolt; it was made out of styrofoam. Mr. Jones said it was amusing to watch as they glued the bolt back on the wall!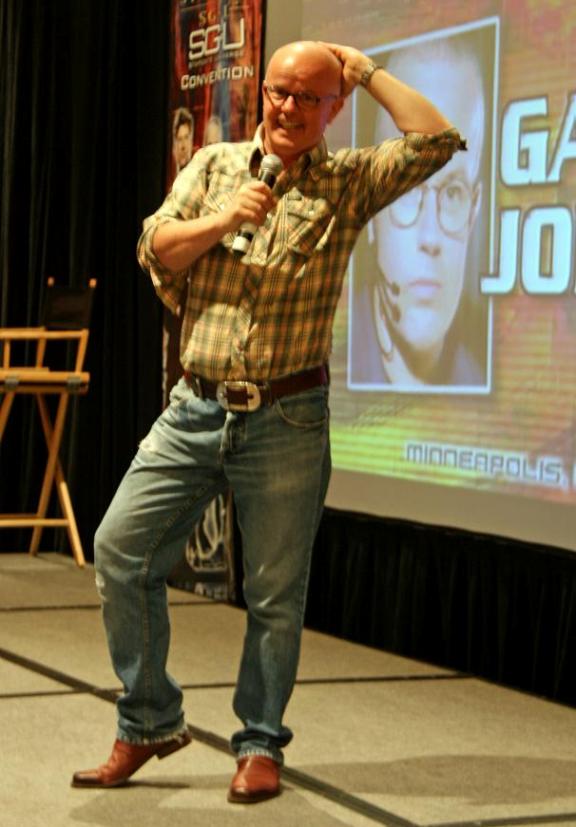 Another funny story was about Mr. Jones firing a machine gun for the first time. He said that naturally he was excited about this. He got to wear the ear protection and basically go to town shooting at things. Mr. Jones said, "There is no finesse to firing a machine gun." He thought this was great fun, until he realized he'd have to do the scene without ear protection. Then it seemed to be less fun to Gary. In the end he was given little tiny ear plugs to wear. He said he wanted the ear muffs he'd first been given and joked at how funny it would be to have done the actual scene wearing them.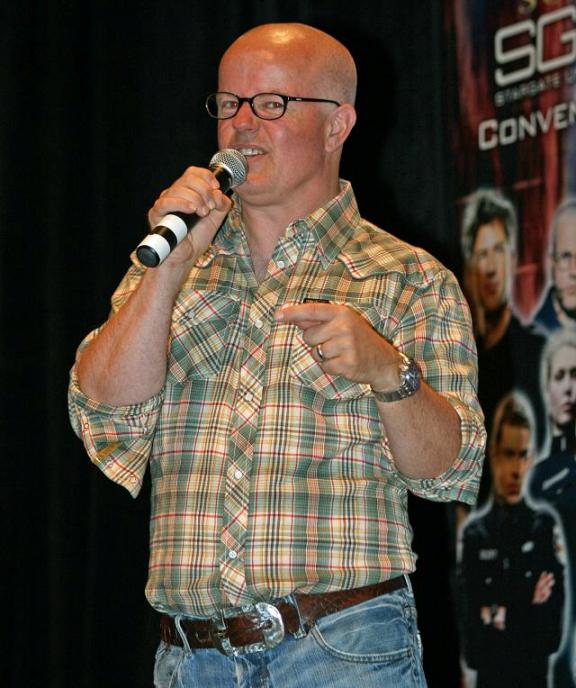 After the Gary Jones panel there was a short break. I was able to relax a bit in my room. Then I headed back down for the Alaina Huffman panel.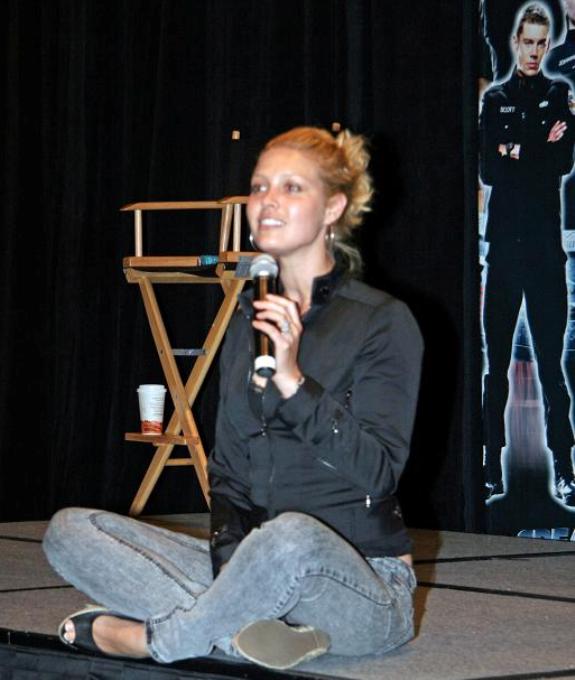 When Ms. Huffman came out onto stage I was struck by how tall she is — not to mention beautiful. It's no surprise she has done modeling. She is very sweet and has a great presence. She looked at the fans… we looked at her… and I thought "Hmmm… awkward silence is… awkward." Ms. Huffman then laughed and explained this was her first solo panel. She did very well for her first time on a panel alone.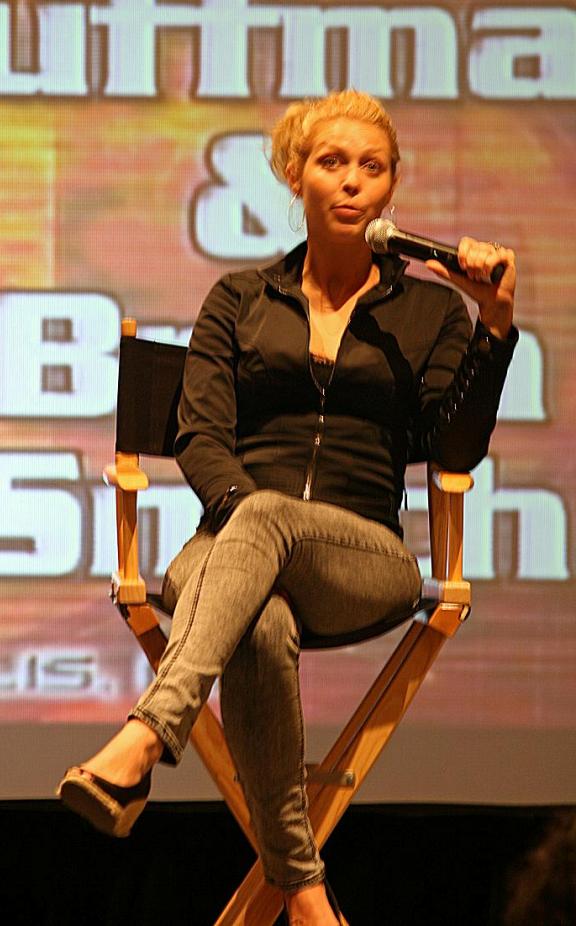 And to answer my question, no, Ms. Huffman is not at all reserved like her character T.J. on Stargate Universe. In fact, she reminds me a little bit of the bubbly and fun Amanda Tapping. However she was really pregnant like T.J. She had a baby girl, Charlie, in December making three kids total.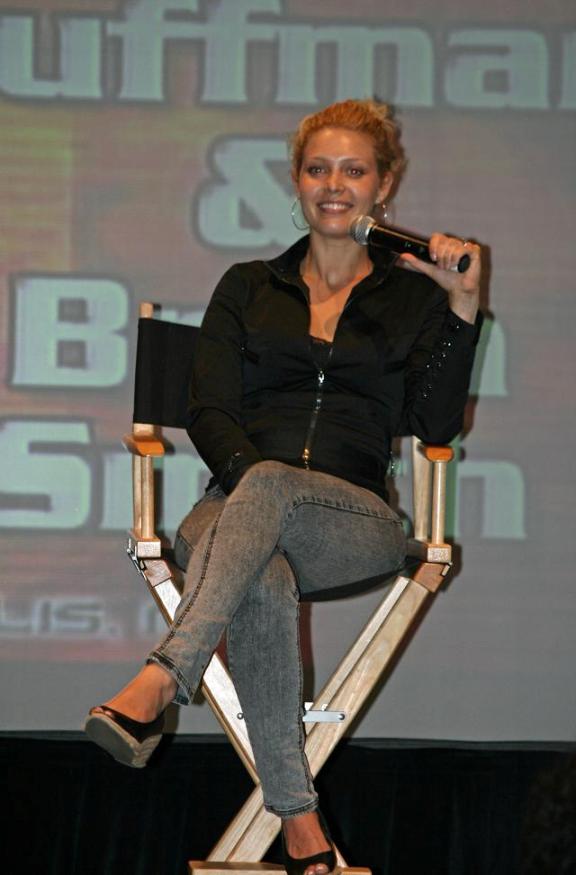 When asked by a fan what her favorite Stargate Universe episode is, Ms. Huffman didn't hesitate in saying "Time". She talked about her experience on Pain Killer Jane and growing up in Ontario. Then she was joined on stage by Brian Jacob Smith.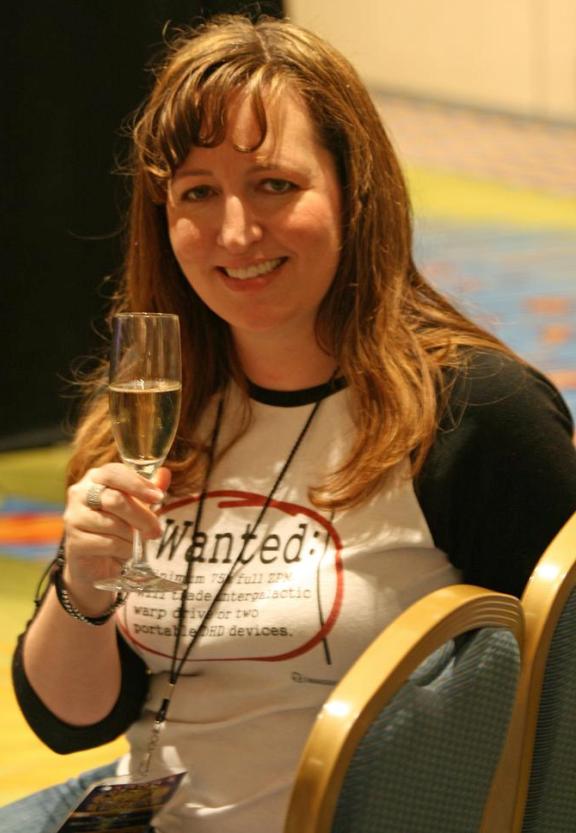 As a surprise Creation Entertainment had champagne (and sparkling cider) for everyone to toast to season two of Stargate Universe. A funny moment was when Mr. Smith announced that champagne and gum don't go well together.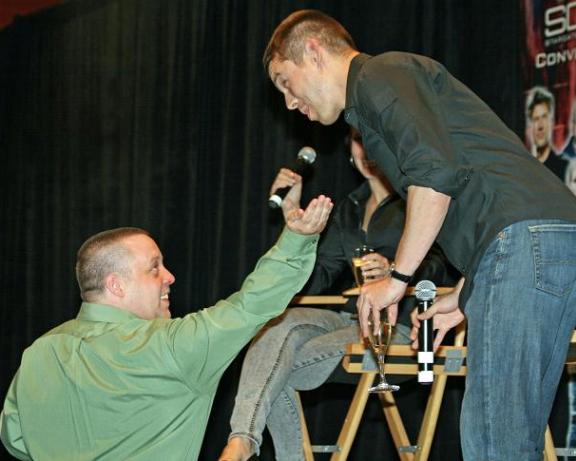 Chad, of Gateworld and the host for this event, walked over and held out his hand for Mr. Smith to give him his gum. And yes, he did. Chad then led us in a toast to Stargate Universe!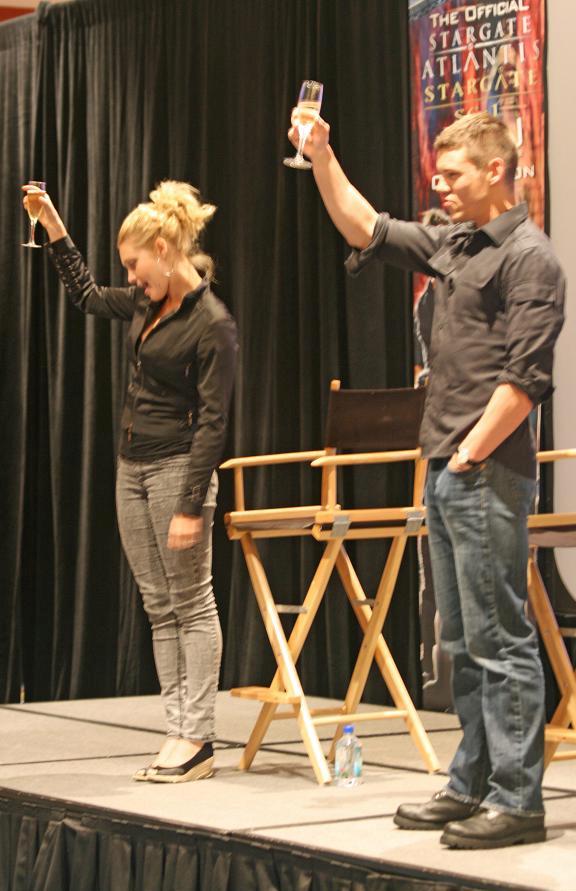 Mr. Smith and Ms. Huffman took questions from the fans. They talked about how funny Lou Diamond Phillips, Peter Kelamis and Louis Ferreria are on set. "We are thoroughly entertained," said Ms. Huffman. When someone asked for clarification about Lou Diamond Phillips she added, "He can do Beyonce like nobody's business." Oh to be a fly on the wall on the set of Stargate Universe.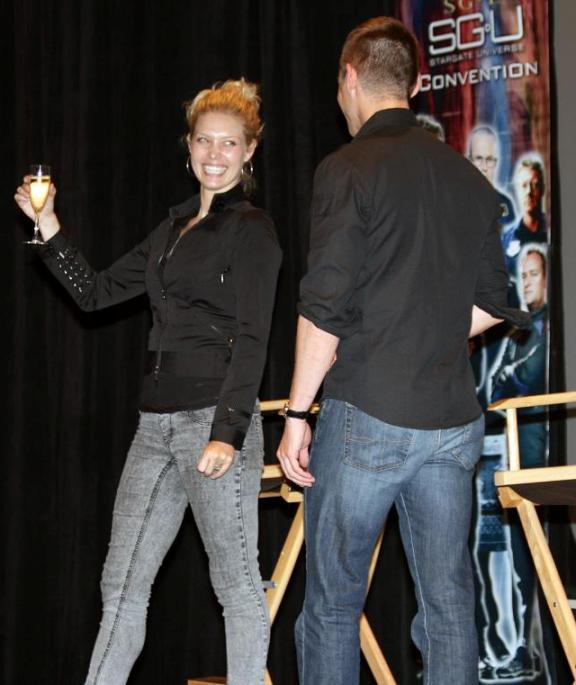 Ms. Huffman's time was up and we had Mr. Smith all to ourselves. A fan asked about how the actors pretend to be scared. Mr. Smith said, "I imagine Robert Carlyle is mad at me." A follow up question asked: Is Scott scared of Commander Keva? Mr. Smith said he thinks Scott is terrified of her.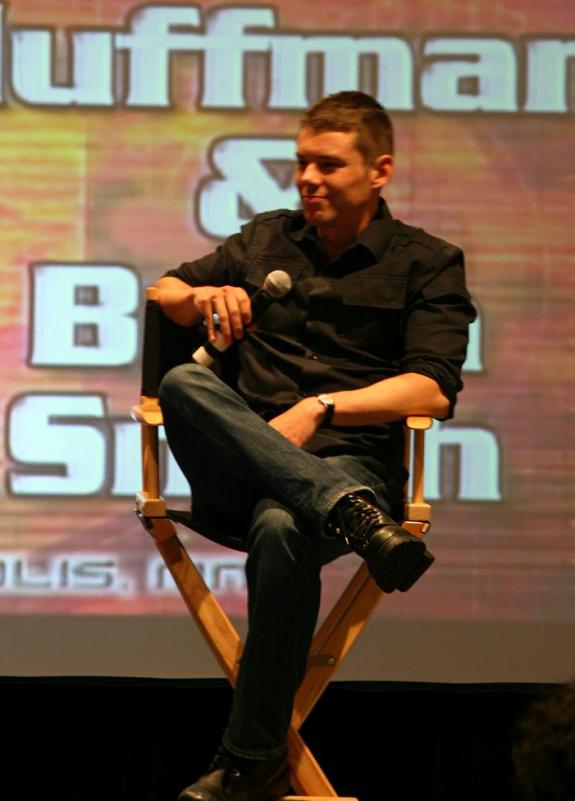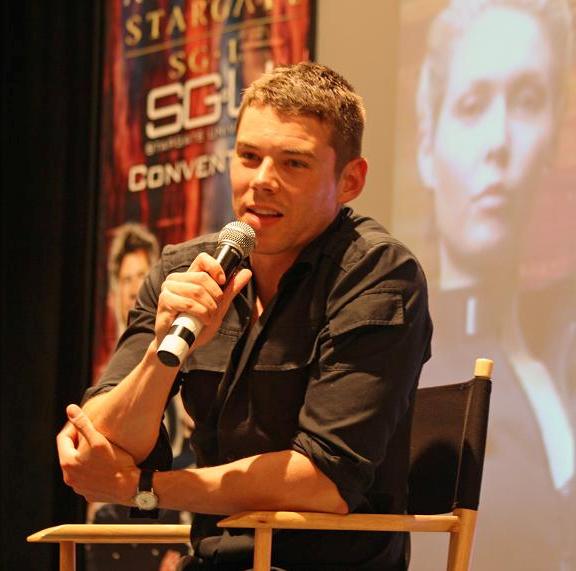 Anyone who follows Mr. Smith on Twitter knows about his dog, Cassie. When asked how she was doing he said Cassie is thinking about having her own Twitter account. In my opinion, if Joe Mallozzi's dogs can have a Twitter account, then why not Cassie? I'd follow her!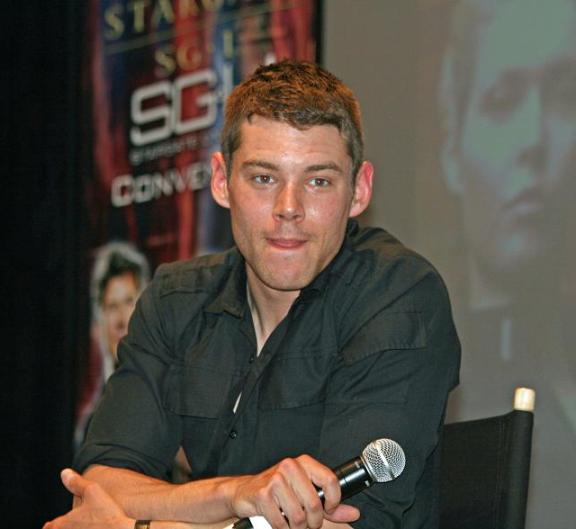 After Mr. Smith's panel was a costume contest. The winner was an Ori Prior (from seasons nine and ten of Stargate SG-1). The runners up were Jack O'Neill on vacation (my favorite because HELLO, that's exactly something Jack would do) and John Sheppard. The only junior entrant was the prettiest little Teyla I've ever seen… Look out Rachel Luttrell.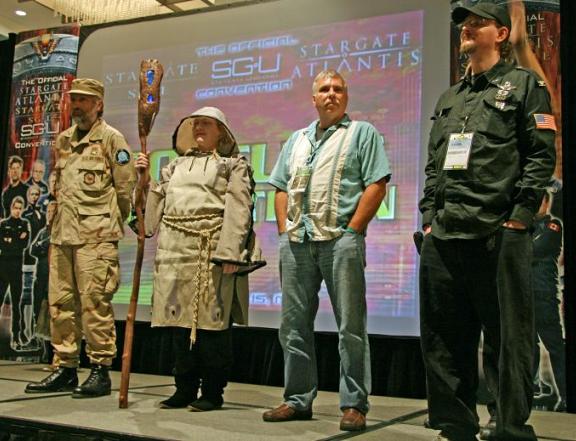 Gary Jones, Brian Jacob Smith and Alaina Huffman signed autographs after the costume contest. What I loved was how Ms. Huffman really turned on the charm when she realized we were taking her picture. Again she reminded me of Amanda Tapping. Her fun spirit is highly contagious.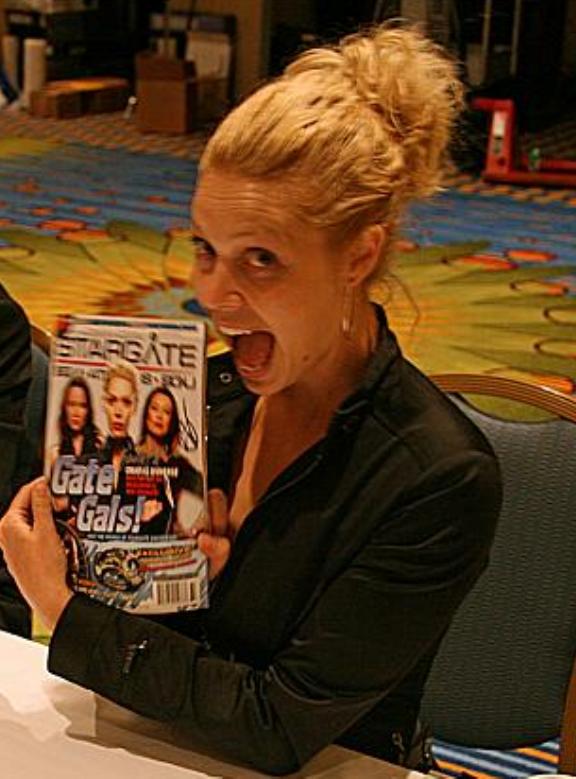 Then it was dinner time. My husband and I walked to a sushi place nearby. But I couldn't really concentrate on the food. I was thinking about the Dessert Party for Gold members. Creation Entertainment had said there would be a special surprise for us and I was trying to figure out what that may be.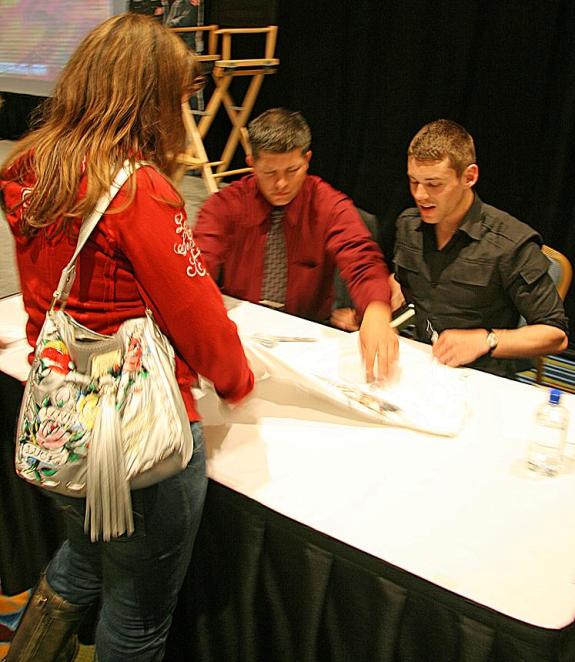 When we walked into the room where the dessert party was being held, my husband sniffed out the surprise fairly quickly: XB0X 360's Rock Band 2! Of course I wondered if the guests would play with us but I wasn't going to get my hopes up. Besides, I've played Rock Band once in my life and that didn't go very well.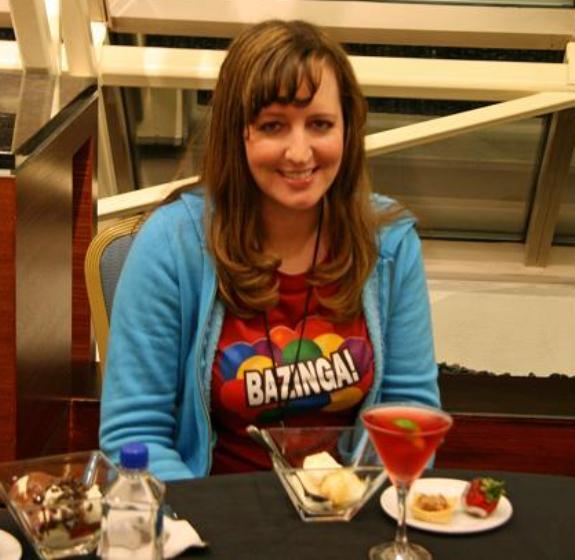 We picked out our desserts. I had a gorgeous chocolate covered strawberry with white and dark chocolate and gold dust, some sore of apple tart that was very tasty and ice cream just about any way you could want it. I put caramel and whipped cream on mine.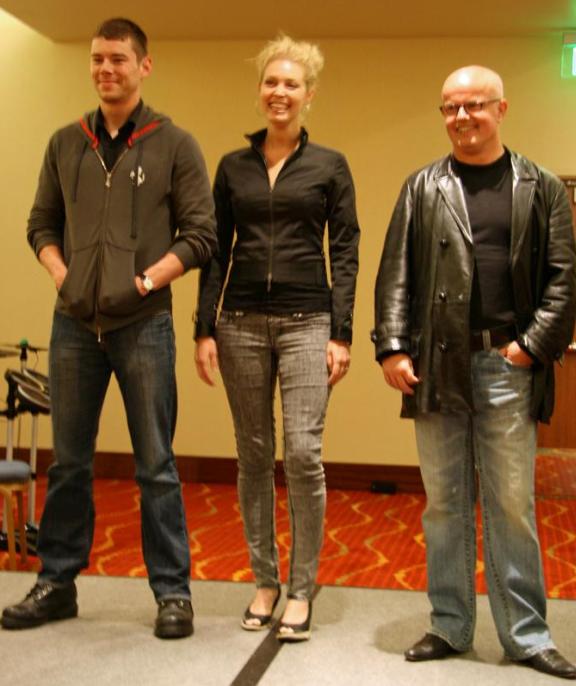 When the stars came in we were allowed some photos. Then the guests took turns sitting at our tables. We had a nice talk with Gary Jones. He's always fun to have around. Then Alaina Huffman sat with us. She and I actually have a lot in common. She loves Target and Starbucks like I do and, being the mother of three children and living with her husband and brother-in-law she does a lot of laundry.

Those who know me on Twitter and on David Hewlett's site DGeek Dot Com know that I do a little bit of laundry too. Then Brian Jacob Smith sat with us. We talked about BattleStar Galactica and dogs, among other things. Cassie, Mr. Smith's dog, is absolutely adorable. He showed us a picture of her on his phone. Too soon it was time for Mr. Smith to move on to the next table.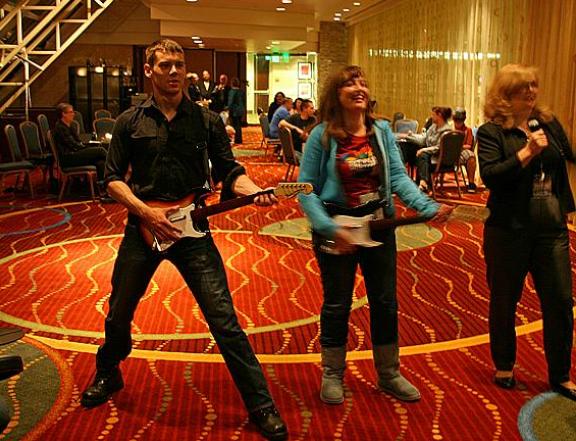 Then, Rock Band time! Can I just say: Duuuuuuuuude! Gary Jones watched while Ms. Huffman and Mr. Smith played. I'm not sure who was playing bass or guitar. I think Mr. Smith was on drums and someone was singing. All I know is they were booed by the game. Brutal. Then they changed the difficulty to easy. They totally rocked the next song, Survivor's Eye of the Tiger. I sat watching them and being glad I wasn't up there. After a couple songs someone twisted my arm and I decided to give it a try. To my surprise Mr. Smith came up to me and suggested I play bass, he'd play guitar. Someone picked Duran Duran's Hungry Like the Wolf. I was clueless. I think I scored a 52%. Which was even more pitiful compared to Mr. Smith's 99%.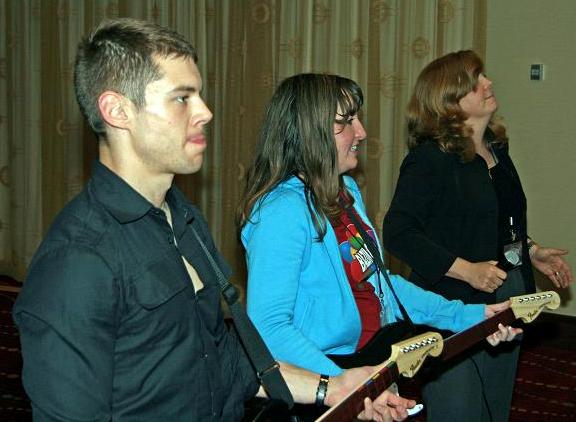 However this was all in good fun. We were just trying to jam as only geeks can. Mr. Smith picked Kansas' Carry On Wayward Son. In a word: epic. We actually failed the first time but Mr. Smith said we had to try again. The rest of us agreed so again we played it and TOTALLY ROCKED! I high fived Mr. Smith. My score: 88% thank you. Again I think Mr. Smith had a 99%. Deciding to end on a high note, I quit the band. It was almost midnight and I needed to get some sleep to gear up for tomorrow. After all, a squirrel needs all the energy she can get when she's going to be seeing the Squirrel King, aka David Hewlett.
I hope that you enjoyed reading about Stargate Minneapolis Minnesota "MinCon" 2010. Please feel free to leave a comment and or click my avatar image  to visit me on Twitter. Thank you.