Welcome back Ray Harryhausen and Comic-Con at Home lovers!
Our earliest memories of Ray Harryhausen revolved around science fiction, fantasy and mythology which included epic films such as 20 Million Miles to Earth (1957), The 7th Voyage of Sinbad (1958), Jason and the Argonauts (1963), First Men in the Moon (1964), One Million Years B.C. (1966), Sinbad and the Eye of the Tiger (1977) and Clash of the Titans (1981).
Jason and the Argonauts and First Men in the Moon were my two personal favorites. Both filled my young life with wonderful stories and images that were directly as a result of this titan in special effects and movie producing. Harryhausen shaped my admiration for science fiction films and television shows from an early age.
In the new days of the twentieth and twenty-first centuries, where digital special effects are the norm, no one should forget where it all started, with Stop Motion filming that Ray Harryhausen was an undisputed master!
Who can forget where it all came from? Certainly not several modern day movie legends such as George Lucas (Star Wars), Steven Spielberg (E.T. The Extraterrestrial), James Cameron (Avatar) and Peter Jackson (Lord of the Rings trilogy). All have stated in interviews that Ray Harryhausen was an indispensable reference standard for their own careers that contributed to their own success in the entertainment industry.
For your enjoyment, we include below the Comic-Con at Home 2021 panel about the legendary Mr Ray Harryhausen!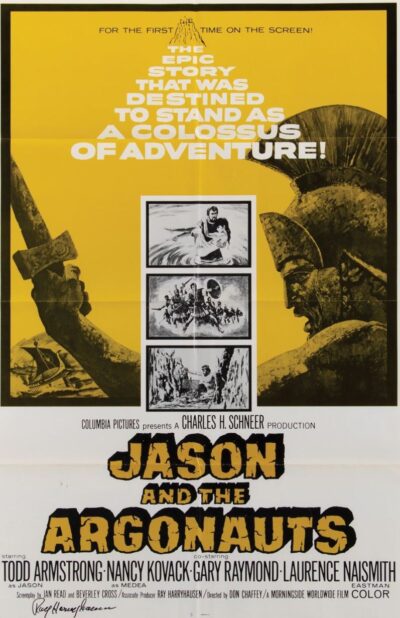 Ray Harryhausen was born in Los Angeles, California on June 29, 1920. As a young teenager in his native city of Los Angeles, Harryhausen joined a local science-fiction club called the Los Angeles Science Fantasy Society.
It was here that Harryhausen met two people who would become lifelong friends and help shape his own career: Forrest J. Ackerman (nicknamed Mr. SciFi) and Ray Bradbury (The Martian Chronicles), both legends in their own right in the world of science fiction.
Harryhausen often recalled to his admirers that the life changing event in his life was when he saw the classic movie King Kong (1933) a film that positively impacted tens of millions of people around the world and virtually everyone in the entertainment industry.
The then 13-year-old Harryhausen stated in various interviews that was when he began researching the film's effects work, ultimately learning all he could about Willis H. O'Brien and stop-motion photography.
The young Harryhausen even contacted O'Brien and showed an Allosaur short feature film that he made, which caused O'Brien to quip to his wife, "You realize you're encouraging my competition, don't you?"
Harryhausen then tried to make a stop-motion epic, titled "Evolution", but the time required to make it resulted in it being cut short. The footage he completed made an excellent demo reel which resulted in Harryhausen's. However his work paid off with his first film job came with George Pal known for his superb work in The War of the Worlds (1953) and The Time Machine (1960), working on Pal's Puppetoon shorts for Paramount subsequent to a stint in the United States army who utilized Harryhausen's animation skills for training films.
Harryhausen's breakthrough was realized after World War Two when he was hired by Warner Brothers to do the special effects for The Beast from 20, 000 Fathoms (1953). The film only had a rather small $200,000 budget which meant that Harryhausen would be forced to improvise to produce the kinds of quality visual effects that he wanted.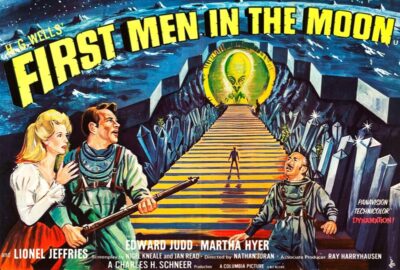 It was here that Ray Harryhausen implemented a technique that he had learned from his time making war training films known as "split-screen"; using rear screen projection on overlapping miniature screens. His efforts were a success resulting in one of the most influential science fiction films produced in the 1950's.
Ray Harryhausen mostly worked alone on his stop-motion animation sequences that he made famous in the films we mentioned above. Filming these painstakingly difficult sequences took as long as two years to complete, much to the consternation of some movie studio executives who wanted the products sooner. But this was impossible because Harryhausen often could shoot no more than 13 frames of film, one-half second of elapsed time per day!
Prior to his passing on May 07, 2013, Harryhausen was honored when he was inducted into the Science Fiction and Fantasy Hall of Fame in 2005.
As all who know and admire him, the most famous examples of the kind of loving patience to producing visual effects perfection that Ray Harryhausen had mastered was his in most popular film, the outstanding skeleton sword fight sequence in Jason and the Argonauts (1963) and the superb scenes with the Selinites in First Men in the Moon (1964). We include clips from the most famous Mr. Harryhausen's top ten film favorites below for your enjoyment courtesy of the great team at Dark Corners Reviews.
We will be back in the near future with new television series and movie analysis. In the meantime, please feel free to share this article with your friends, co-workers and or family and leave your comments! We look forward to you visiting our dedicated review and analysis web site here in the future! Or as many of our readers and visitors often do, visit WHR on Twitter, or visit me on Twitter by clicking the text links or images avatars in this news story. I and TeamWHR look forward to Seeing You on The Other Side!"
Thank you.
Best Regards,
Kenn of #TeamWHR