Hey there, fans of Mpho Koaho!
On Friday, September 30th, Mpho was kind enough to sit down with the WormholeRiders News Agency for an exclusive Skype interview from his home in Vancouver, Canada.
Mpho Koaho has appeared in a number of television shows, such as animated series MetaJets, Combat Hospital, Rookie Blues, Flashpoint, and most recently TNT's new sci-fi drama, Falling Skies. The show was a massive hit for the network and it is what we spent the majority of our conversation with Mpho discussing.
Falling Skies, which is produced by Steven Spielberg, told the story of the aftermath of a crippling alien invasion, that has wiped out nearly ninety percent of the Earth's population. The monstrous race of beings that seemingly lead the invasion are fast, six-legged, and insect-like; which prompted people to call them "Skitters."
The Skitters main weapon against humanity are towering robotic "Mech" soldiers that are made out of a near-indestructible metal. As if this would not make them a dangerous enough foe, the Skitters also capture and brainwash young earth children; by use of mechanical "harnesses" that attached to their spines. The aliens used them to do their bidding and as cannon fodder.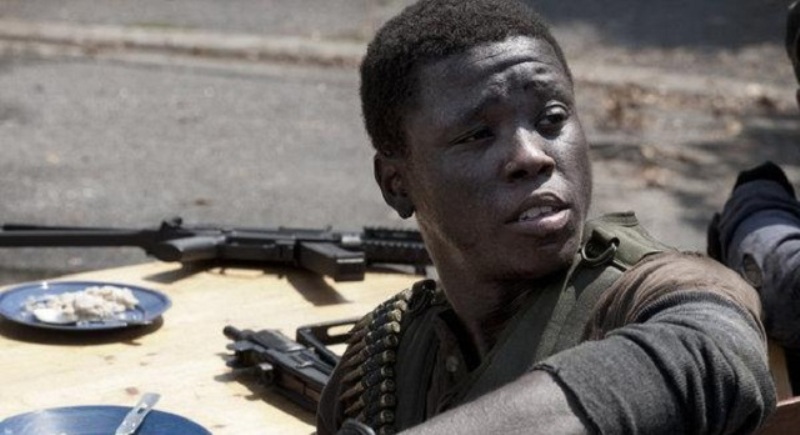 It is eventually discovered that these harnesses do much more than just control the minds of the children they are attached to – they also mutated their bodies into monstrous creatures much like the Skitters.  As the show's first season continued on, it was discovered that the Skitters were merely foot soldiers, themselves a "harnessed" and mutated race of conquered beings, that are doing the bidding of tall, thin grey-skinned aliens who rarely appear to the people of earth. The show focuses on a group of resistance fighters, called the "Second Massachusetts" (2ndMass).
On the show Falling Skies, Mpho Koaho plays Anthony; a former Boston police officer who has allied himself with the Second Massachusetts. Anthony became close with another resistance fighter named Dai (Peter Shinkoda), as well as the unit's second in command, Tom Mason (Noah Wyle), a former college professor who joined the unit to better protect his three sons Hal (Drew Roy), Ben (Connor Jessup) and Matt (Maxim Knight).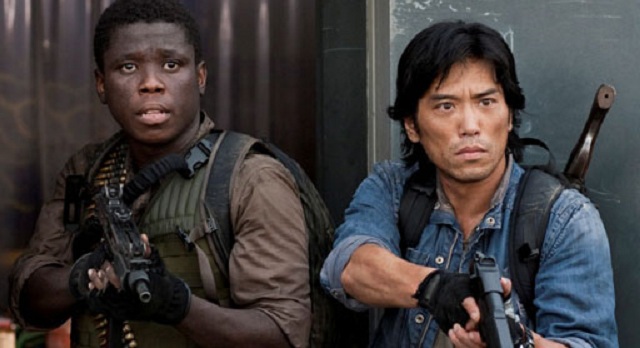 During our exclusive interview, Mpho Koaho spoke about his time working on Falling Skies and past projects that he has done including being one of two finalists for a role in Stargate Universe with his friend Brian J. Smith (they both recently tweeted with other ).
Mpho's character, Anthony, has become a fan favorite character on Falling Skies and is slated to appear in the show's second season. Falling Skies will begin production in mid October in Vancouver, Canada. Be sure to follow Mpho Koaho's fan page on Facebook by clicking here. Have fun and enjoy our audio interview with Mpho to find out interesting tidbits like who would be Mpho's dream guest-star on Falling Skies, what kind of physical training he undergoes, and what his favorite moment is on the show.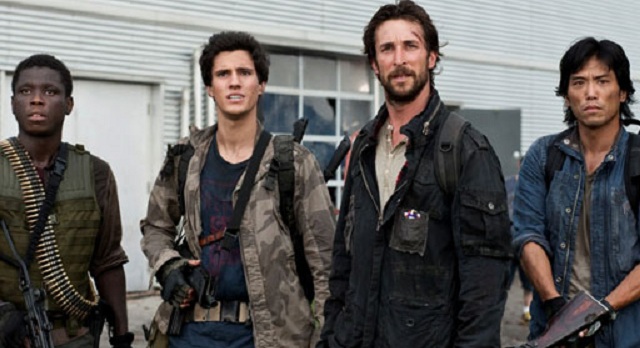 Thank you for visiting the WormholeRiders News Agency.
Special thanks to Kenn for orchestrating the details of this interview and embedding the video. Also, a HUGE thanks to Mpho Koaho for his time.
Feel free to share this article by clicking the social media icons below. You can visit WormholeRiders or me on Twitter by clicking the text links or images avatars here. In any event, the Wormhole Riders will look forward to Seeing You on The Other Side on Twitter to tweet about Falling Skies.
Thanks for reading,
Kimberly Mace, (@kimmyxoxo)