Hello Convention Fans,

As many of you already know, WormholeRiders News Agency covers a lot of science fiction, movie and professional industry conventions. We are always on the look out for new venues and events.
Therefore we were honored to receive the press release from Patricia Stewart-Bertarnd of Auroris Entertainment (a contributing writer her at WHR) regarding a new science fiction convention event called StarCon 2011 to be conducted in Vancouver British Columbia June 24, 25, 26 of this year!
Many of you already know the event producer from her many years of outstanding and enjoyable pre convention social events conducted in Vancouver British Columbia. Ms. Stewart-Bertrand has been planning StarCon for over two years as a new science fiction convention to replace GateCon which closed its doors last year.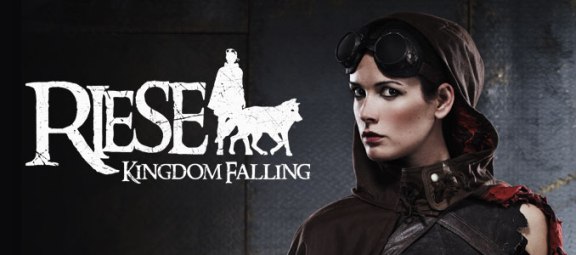 The StarCon 2011 event is already well provisioned with two hotels as noted below in the press release. The fantastic talent already lined up include Pierre Bernard, Jr, Bill Butt, Barry Campbell, Frank Cassini, John Cassini, Ellen Dubin, Virgina Hey, Aleks Paunovic, Dan Payne, Ed Quinn, Cliff Simon, Craig Veroni, and Alex Zahara! Additionally, representatives from the exciting science fiction Riese Series and fantasy Mind's Eye web-series will be at StarCon 2011 as well!

We understand the convention is likely to become a sell out so it might be a good idea to book your tickets and hotel reservations early. A third hotel has been reserved for a potential special announcement expected later in the spring of this year with regard to additional talent and convention event announcements.
For more information. please click here.
In closing, the question arises; will WHR be covering this event LIVE? Well folks, stay tuned for more news on that subject in the near future! In the meantime we include the StarCon 2011 press release below for your pleasure. Lastly our understanding is that StarCon Conventions plans additional venues in an exotic location to be announced in the future.
PRESS RELEASE: Vancouver, British Columbia, Canada
Dateline: February 10 ,2011
We are pleased to announce the first ever StarCon Convention to be held June 24, 25 and 26, 2011 in Vancouver British Columbia. This fan run convention will showcase celebrities from science fiction / action series and movies such as: Babylon 5 The Last Takedown, Human Target,  Takedown (aka Transparency) , Behemoth, Farscape, Warehouse 13, Eureka, V Series, Sanctuary, Star Gate SG-1, Stargate Atlantis, Stargate Universe, Battlestar Galactica, Caprica, Smallville, Stephen Kings Dead Zone, The Bridge, Riese Series, Mind's Eye, and many other exciting television series and movies!
Starcon Conventions: StarCon 2011 will be held at the:
SHERATON VANCOUVER AIRPORT HOTEL (Main Hotel)
7551 Westminster Highway, Richmond, BC
~ AND ~
HILTON VANCOUVER AIRPORT (Writer's venue)

5911 Minoru Blvd, Richmond, BC
This is going to be a bigger convention for us due to interest from several science fiction productions filmed in Canada, we decided to design StarCon like a Canadian version with roots similar to Comic Con with a bit of Dragon Con thrown in. The idea is to make it easier and more cost effective for Canadian made productions to market their shows to the fans. It also gives the fans an opportunity to ask their favourite actors questions at Q&A Panels.
We are planning some fun events and many opportunities to get up close and personal with the actors who will be attending. Expect a casual convention with lots of humor and general silliness.
For more information at StarCon 2011 please visit our website at: Auroris Entertainment
~ ~ ~ ~ ~ ~ ~ ~ ~

As always we appreciate your visiting our news sites at WormholeRiders News Agency. Please feel free to leave a spam free comment or a question here. We will respond to your comment or question as soon as is possible.
If you prefer, click the social media icons below to share this news article or as many of our readers and visitors often do, visit me on Twitter by clicking the text links or images avatars in this news story and or on See You on The Other Side"! Thank you.
Best Regards,
Kenn