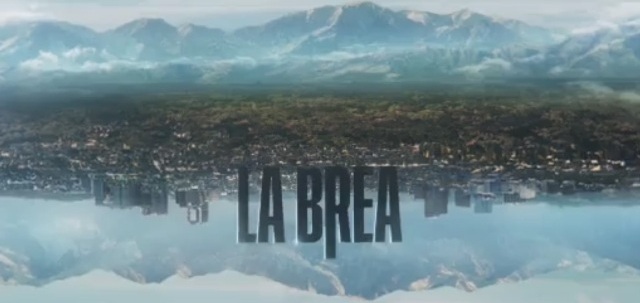 Welcome Back La Brea and Wormhole Time Travel Science Fiction Lovers!
Tonight one of our favorite series resumes the second half of  season two on absolutely fantastic news, and we here at Team WHR couldn't be happier!
NBC announced today this superb science fiction series will continue in a third season! Thank you NBC!
"1988" is the seventh exciting episode of La Brea written by David Appelbaum and Erica Meredith and was directed by Dan Liu. During "1988" we learned that our heroes decided to go back to the future returning via the use of the Time Travel facility located in 10,000 BC.
As we learned in the previous episode named Lazarus, the Time Travel Facility was constructed by visitors from the future of Earth in 2076 who have traveled back in time in an attempt to perform a mission to save the Earth of their timeline that is on the verge of destruction in their own time.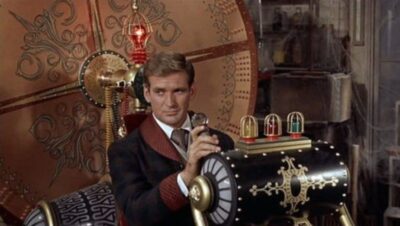 This type of theme has been a popular with movie goers and television audiences ever since the famous H.G. Wells novel "The Time Machine" was made into a movie 1960 by George Pal. The Time Machine movie is about H.G. (George) Wells as the protagonist who returned to the beginning of the nineteenth century after a harrowing journey to the distant future and back again.
George (H.G.) Wells ultimately decided to return to the future subsequent to retrieving three books he believe were needed to rebuild a future humanity devastated by the evil cannibalistic Morlocks who had reduced future humankind to breeding stock cattle to feed upon in the year 802,701.
The La Brea story is also similar to an ambitious 2011 science fiction series named Terra Nova executive produced by entertainment industry legends Steven Spielberg, Brannon Braga, Jon Cassar, Justin Falvey, and Darryl Frank. Terra Nova chronicles when visitors from the year 2149 escape present day Earth subsequent to learning that our planet is dying from pollution causing societal decay across the world. In this case the time travelers are transported back eighty-five million years to establish a human colony to build a fresh civilization from scratch. In the Terra Nova series, there is another group with nefarious intentions that is working to maintain political power in 2149 by obtaining biological samples from the prehistoric past to save their polluted world and thereby ensure their dominance both in the past and the future.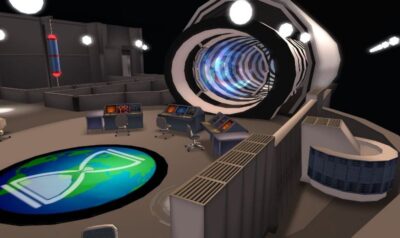 Unfortunately despite being a very well financed series, supported by the large group of famous producers named above and more, Terra Nova was cancelled after a thirteen episode first season. This is a fate that has befallen many time travel series over the decades starting with The Time Tunnel (1966) that also only lasted a single season, albeit with 30 episodes back in the day when seasons lasted a half year on broadcast television.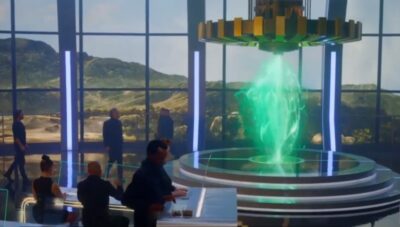 As we begin our analysis review of the first half of the La Brea second season with "1988", we express our sincere kudos to NBC Entertainment for extending season two to fourteen episode story arc with approximately four million viewer's average each week since the La Brea science fiction adventure series began in 2021.
We sincerely hoped this meant that La Brea would be renewed for a third season, and our dreams have come true. We here at WormholeRiders were absolutely ecstatic when NBC Entertainment TPTB decided a third season is in store to continue this fabulous Time Travel adventure with a third season with their announcement today. Thanks NBC!
1988:
We open with previously on La Brea after learning that the wormhole sinkholes are randomly being created in the present and the past due to the Time Travel Facility built by James Mallet (Jonno Roberts), Dr. Caroline Clark (Melissa Neal), Rebecca Aldridge (Ming-Zhu Hii) and others from the year 2076.
We had also learned that Caroline and James are the parents of Isaiah (Diesel La Torraca) who grew up in 1988 to become Gavin Harris (Eoin Macken) after spending part of his childhood growing up in 10,000 BC with his grandfather Silas (Mark Lee). It has not been revealed if Silas is a biological grandfather, or simply someone who rebelled against James and Rebecca's plans to manipulate the past. What we do know is that James agreed to send our heroes back to 1988.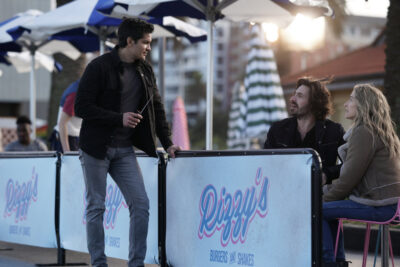 The episode opens with Gavin, Eve (Natalie Zea), their children Izzy (Zyra Gorecki) and Josh (Jack Martin), Sam (Jon Seda) and his daughter Riley (Veronica St. Clair). They are observed with Levi (Nicholas Gonzales) reuniting on the beach in Santa Monica California during 1988.
In the background we can hear a warning about a report of an 4.6 level earthquake that has struck Los Angeles, no doubt caused by wormhole sinkhole that is about to strike off the Southern California coast as we learned in past episodes. Gavin and Eve make light humor that they must stop the wormhole before a tsunami tidal wave destroys where they had their first date in Santa Monica.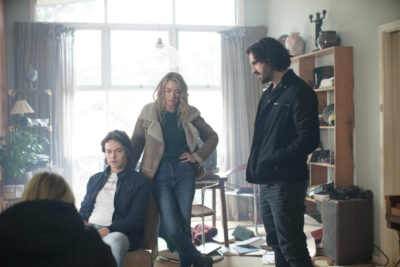 Viewers will recall that Caroline, has equipment to detect the upcoming disaster, was kidnapped by James operatives sent to 1988 to stop her from interfering with their nefarious plans. Sam uses his father's van and recreational vehicle from the 1988 era to plan an effort to rescue Caroline who has a computer virus to disable the Time Travel Facility in 10,000 BC.
The rescue is successful. Unfortunately Levi is shot by some of James minions. He and Eve have had a heart to heart that she will stay with Gavin. Levi understands this, but it leaves him alone in 1988 with no friends or family that we know of. Our heroes make good their escape, next planning to help Caroline stop the impending tsunami.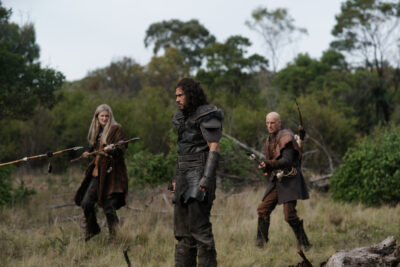 Back in 10,000 BC Paara (Tonantzin Carmelo) and Ty (Chiké Okonkwo) and Lucas (Josh McKenzie) confront and capture Paara's (ex)husband Taamet (Martin Sensmeier).
Scott (Rohan Mirchandaney) and Veronica (Lily Santiago) have taken Lucas from the survivor's encampment to Paara's fort. Lucas' condition has been worsening from the wounds he suffered from the advanced energy weapons that are used against Lucas by James' Lazarus temporal agents in the last episode.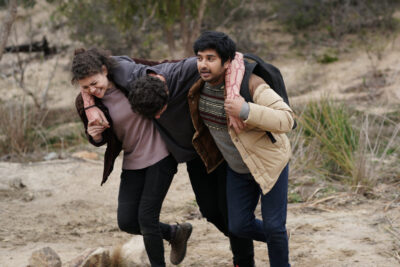 Taamet tells them he knows of a cure from Lucas but only if they agree to a challenge, which if Taamet loses, he will save Lucas and remain Paara's prisoner, but if he wins he will still save Lucas but will be allowed to go free. Paara agrees to Taamet's conditions.
Later, during the challenge fight TY uses Taamet's weakness, his ego to distract his adversary and forces Taamet to yield. Scott helps set free Taamet who provides the cure to Lucas but claims he withheld one ingredient thereby leaving the conflict between Taamet and Paara open. The question, since we do witness Lucas getting better, is was Taamet bluffing when he tricked Scott into releasing him, and was there ever a missing ingredient? We do not really know at this point. The good news is that a recovering (cured?) Lucas and Veronica consummate their relationship with a much anticipated kiss!
We segue to 1988 with the Harris family are at Caroline's home where her computer network equipment is located. While Izzy and Josh and Sam and Riley become reacquainted, Gavin spends some time with Caroline and discusses why she left him in 1988 at age three, but not with his father, James, who Caroline believes is evil. Caroline maintains James is only interested in his power, not in the lives that his time travel scheme have adversely impacted and ultimately killed.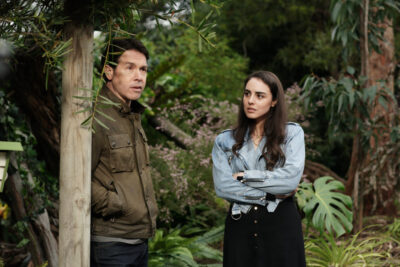 Caroline confesses that her plan is to destroy the Time Travel Facility computer system with a virus she has cobbled together that she will upload into the Time Travel Facility in 10,000 BC. Caroline honestly tells Gavin this will likely strand our heroes in a timeline, and not their own original one! Gavin shares what he learned from Caroline with his family.
Our heroes appear to make a decision to stay in 1988 and all agree to tell Sam and Riley when they return from providing medical care to Levi. Then James' Lazarus agents show up at Caroline's computer lab just as she has completed the virus needed to disable the Time Travel Facility in 10,000 BC.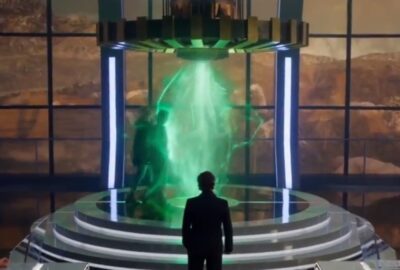 As a result our heroes decide that they all must flee the premises before they are captured by James' Lazarus agents.
Caroline has confessed to Gavin that James has placed a genetic bio-metric lock on the Time Travel Facility computers that only Gavin and James can open to insert the virus.
In the end however, everyone but Levi decides to change their mind when they realize what is at stake and realize they mist return to 10,000 BC to help Caroline plant the virus in the Time Travel Facility computers.
The final sequences in the "1988" story finds us at the Hollywood wormhole sinkhole where Eve and Levi hug before saying goodbye to the music of U2's "Bad".
We see Ty and Paara in 10,000 BC deciding to get married and Lucas and Veronica holding hands as Scott looks on from a distance.  
The episode ends with everyone except Levi in 1988 jumping into the back to 10,000 BC as Gavin experiences a vision of Eve that portends a foreboding event that he does not share with the others.
Join us on Twitter for or the next exciting episodes of La Brea in season two named "Stampede" and "Murder in the Clearing" when we will find out more about adventures of our heroes in 10,000 BC in order to save Southern California from a not so natural wormhole disaster!
We will be back in the near future with more of La Brea as well as your favorite television series and movie analysis. In the meantime, please feel free to share this article with your friends, co-workers and or family and leave your comments! We look forward to you visiting our dedicated review and analysis web site here in the future! Or as many of our readers and visitors often do, visit TeamWHR on Twitter, or visit me on Twitter by clicking the text links or images avatars in this news story. I and TeamWHR look forward to Seeing You on The Other Side!"
Thank you.
Best Regards,
Kenn of #TeamWHR