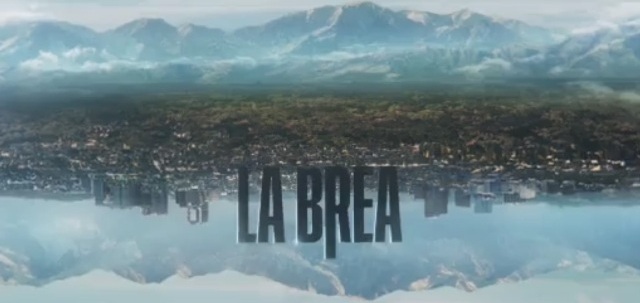 Welcome Back La Brea and Wormhole Time Travel Science Fiction Lovers!
"Lazarus" is the sixth exciting episode of La Brea was written by David Appelbaum and Bisanne Masoud and is directed by Adam Davidson. In "Lazarus" we learn critical elements of the story arc, including the secret that the Time Travel facility that was build in 10,000 BC was actually constructed by visitors from the future of Earth in 2076 who traveled back in time on a mission to save the planet in their time period.
We learn that the Time Travel Facility is lead by James Mallet (Jonno Roberts), husband or lover to Dr. Caroline Clark (Melissa Neal). Caroline and James are the parents of Isaiah (Diesel La Torraca) who grows up in 1988 to become Gavin Harris (Eoin Macken) after spending part of his childhood in 10,000 BC.
Inherent in these revelations is that Rebecca Aldridge (Ming-Zhu Hii), who passed away in 10,000 BC when she was attacked by prehistoric wolves in "The Fog", must have originally come from the year 2076. Since we know that Silas (Mark Lee) is the grandfather of Isaiah, we must also assume that Silas came from the year 2076. The overriding questions viewers are seeking is why did Silas, Rebecca, Caroline and perhaps others turn against James quest to procure biological samples from 10,000 BC to save a polluted world in 2076 using the Lazarus effect mentioned in ancient scriptures when Lazarus was reborn four days after his death by God?
Since it would seem to be a beneficial humanitarian effort to bring a rebirth to planet Earth in the future, what could have possibly set the time travelers from 2076 at each other's throats not only in 10,000 BC, but in 1988 and 2021 as well?
While these specific story arc items are not directly addressed in the "Lazarus" episode, our hypothesis is that Rebecca, Caroline and Silas took some sort of exception(s) with James noble effort to save Earth in the future when they discovered that wormhole sinkholes would cause devastation with massive loss of life in the past.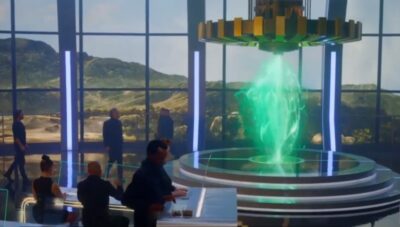 Before beginning our analysis and review of the outstanding "Lazarus" episode, we express our congratulations and sincere kudos to the La Brea Visual Effects Team (VFX) specialists who did an excellent job of making the interior scenes of the Time Travel Facility control room come to life on our screens.
Thank you VFX gurus!
Lazarus: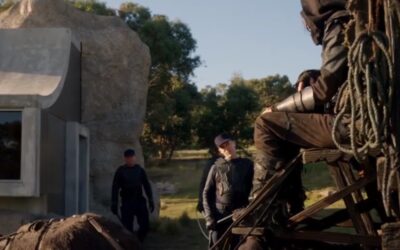 The episode opens with Gavin, Eve Harris (Natalie Zea), Izzy (Zyra Gorecki), Levi (Nicholas Gonzales), Sam (Jon Seda), Scott (Rohan Mirchandaney), and Lucas (Josh McKenzie) preparing to somehow storm the Time Travel Facility in 10,000 BC in order to time travel to 1988 to rescue family members mistakenly marooned in time at the end of the season one episode "Topanga" delineated in detail in our analysis of the season two episodes "The Fog" and "The Heist"!
Our La Brea heroes, disguised as members of The Exiles as revealed in "The Cave" and "The Great Escape", plan to use  the computer card key that Scott stole from Silas after hijacking a wagon load of black rock energy ore.
As we will will learn, the black ore contains uranium that is utilized to power the wormhole time portal sinkholes that originally sent our heroes to prehistoric La Brea at the beginning of season one.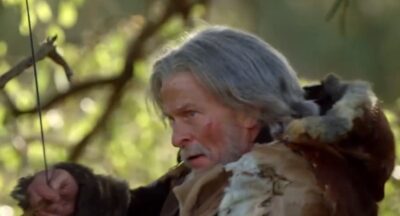 Their plan to enter the Time Travel Facility appears to be going well as Gavin, Eve, Izzy and Levi pass muster at a guard station outside the facility until Silas suddenly shows up to cause trouble.
We then find out that James has been monitoring the events inside the Time Travel Facility and alerts the guards to apprehend the intruders while our heroes take off after Silas to learn what the hell he is doing there.
Silas is asked why he is so fearful of the Time Travel Facility but is rather elusive on specifics.
However, Silas does agree to help Gavin's son Josh and Sam's daughter Riley trapped in 1988. Upon entering the Time Travel Facility through an access tunnel, a confrontation breaks out with Gavin, Eve, Sam and Izzy being captured after the group is nearly being killed by a huge prehistoric vulture before they entered the access tunnel.
Thankfully Eve is able to distract the flying beast!
Levi, Lucas and Scott are able to escape detection.
Unfortunately, Lucas is injured by the guard's high technology energy weapons.
Lucas begins to display the same swollen vein symptoms that have killed others in 10,000 BC during previous episodes.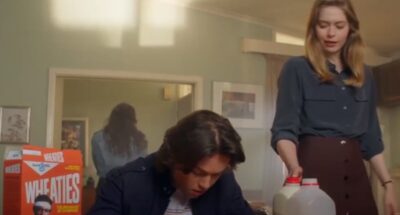 Meanwhile we find ourselves back in 1988 where Josh (Jack Martin) and Riley (Veronica St. Clair) are having a breakfast of champions (Wheaties) with Caroline who we have learned is Josh's grandmother and Isaiah/Gavin's real mother. The three discuss the pending wormhole sinkhole that will open off the coast of Southern California causing devastation not experienced or previously recorded in our timeline of history.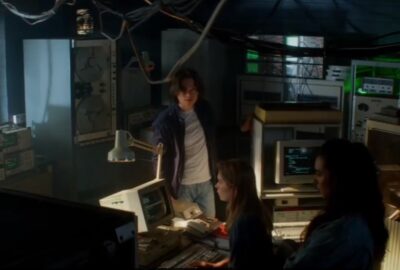 While the Caroline, Josh and Riley discuss details of the catastrophic wormhole sinkhole that will open off the coast of Santa Monica, California, Caroline informs Josh and Riley that she has a plan and equipment to detect the upcoming disaster.
Josh and Riley are pleasantly surprised when Caroline takes them to a fairly large secret computer center where the equipment Caroline discussed is in a state of full operations using the crude computing technology circa 1988.
With this revelation we have hope that everything will work out as they plan to save Southern California from being wiped out by a tsumani.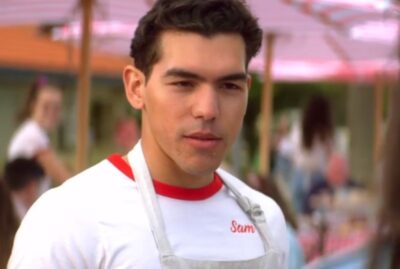 Along the way, Riley seeks out a younger version of her father Sam to send a message to him that she and Josh are trapped in 1988. The tactic works as she meets young Sam Velez (Jonathan Seda Jr.)
Unfortunately, Caroline is kidnapped by unknown operatives, screaming to Riley and Josh "They found me". Could these be time agents sent by James from the past in 10,000 BC? Or perhaps they are time agents operating from the future? At this point we do not know who the operatives are or what their intentions towards Caroline are.
We move back to the Time Travel Facility where James explains what he has been doing in 10,000 BC.
The facility was established with the benign purpose of procuring biological samples from the past to save his future world of 2076 that is on the verge of extinction.
Silas negotiates with James explaining Gavin is Isaiah and that he must agree to help them reunite with their families.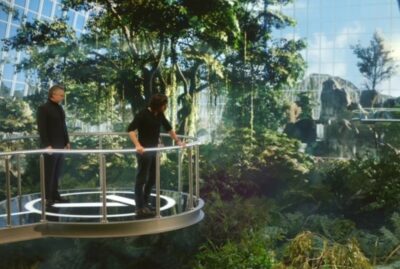 James agrees taking Gavin on a tour of the Time Travel Facility to convince him that what is being done will not only help the Earth, but all of humanity to be able to survive in the future on Earth.
Gavin agrees to cooperate but only if James sends them all to 1988. James says that is not possible until Gavin shares that Sam has received a message from Riley in 1988 that the wormhole portal is creating unintended consequences with portals appearing is places and times that James did not anticipate.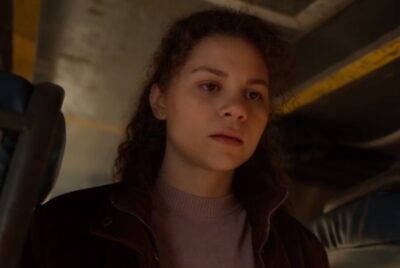 Back in 10,000 BC, Lucas is taken back to the survivor's encampment with his condition worsening from the wounds he suffered from the energy weapons used by James temporal agents.
Veronica (Lily Santiago) is with Lucas comforting him. As viewers learned, Veronica and Lucas had developed a budding relationship because Lucas, who helped her overcome the guilt for what she has done in her life, was obviously falling in love with her. Veronica is unable to do anything to help Lucas, who sadly, appears to be dying.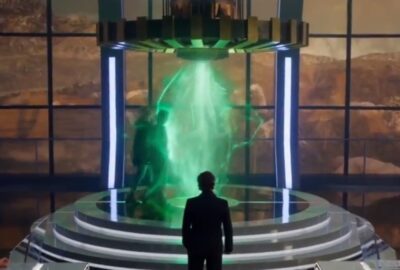 The final sequences in the episode finds us back in the Time Travel Facility where James has agreed to send Gavin, Eve and Izzy of the Harris family, Levi, and Sam Velez back to 1988 to rescue Josh and Riley, ultimately to reunite the two families.
As mentioned above, the visual effects of the wormhole time portal in action are outstanding as evidenced in this image from the "Lazarus" episode when Gavin, Eve, Izzy and Sam step into the time machine!
The episode ends on a happy note when we are with the Harris and Velez families on a beach after being reunited in 1988 subsequent to successfully being transported there from the Time Travel Facility located in 10,000 BC La Brea.
The questions that require addressing are what are the consequences of the two families being in 1988? Will they be able to avert a disastrous tsunami that could destroy large portions of Southern California including Santa Monica and the surrounding areas? Can the families get back to their actual time period in the future? Can the survivor's trapped in 10,000 BC be saved and returned to their own future lives? And what will become of James and Silas? Are James efforts to save the Earth sincere, or does he have an ulterior, more sinister agenda?
The next episode is named "1988", an episode that will focus on the Harris and Velez families who were reunited in 1988 subsequent to being sent there by James, the leader of the Lazarus Time Travel facility from 2076. Our heroes will attempt to rescue Caroline in order to stop the wormhole sinkholes. While doing so they will face forces that threaten to tear their families apart. See you on NBC this week when we will learn more, and hopefully find out the fate of those still trapped in 10,000 BC!
We will be back in the near future with more of La Brea as well as your favorite television series and movie analysis. In the meantime, please feel free to share this article with your friends, co-workers and or family and leave your comments! We look forward to you visiting our dedicated review and analysis web site here in the future! Or as many of our readers and visitors often do, visit WHR on Twitter, or visit me on Twitter by clicking the text links or images avatars in this news story. I and TeamWHR look forward to Seeing You on The Other Side!"
Thank you.
Best Regards,
Kenn of #TeamWHR