Hello Snowpiercer fans and WormholeRiders,
One of the hottest science fiction shows of all time is sizzling in it's second season after a fantastic first season. Heading for a terrific third season to the absolute delight of everyone involved, especially the admirers of the book graphic series written by Jacques Lob in 1982 that inspired the original movie in 2013. 
The dystopian science fiction series is popular for several reasons. Snowpiercer as a television series is the brainchild of a collaboration between Dog Fish Films formed to film the series, CJ Entertainment (Avengers Endgame) in association with filming facilities in Vancouver British Columbia at Studio T (The Last Ship), Tomorrow Studios (Hanna), and broadcast on Turner Network Television, a Warner Media Company.
The world of science fiction admirers went wild for Snowpiercer when it was finally ready, including all who believe that a life aboard Snowpiercer might be better than what was happening in a world transformed by a global pandemic.
Fans loved that life is possible even in a frozen world destroyed by environmental catastrophes caused by global warming. To thirsty viewers, Snowpiercer seemed like a workable solution when compared to never ending lock downs and ever changing announcements by dubious health officials the world over who often damaged or destroyed their own credibility.
The series became a welcome escape from the reality of the pandemic, a fantasy vehicle where everyone who watched wanted to be onboard. With viewers taking sides, either with the oppressed "Tailies", or yearning for the luxuries of first class, or anywhere in between on the fabled train 1,000 cars long!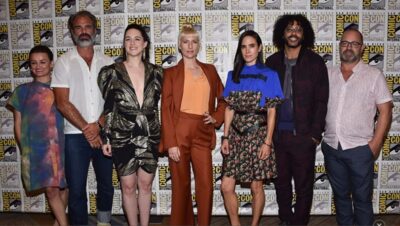 In 2016 Graeme Manson and Josh Friedman created the television series concept when they brought together cast members and made the announcement at the iconic, world famous pop culture event, San Diego Comic Con.
In development for over three years, Snowpiercer as a cast took to the convention circuit while the details were worked out. The convention audiences were often to standing room only crowds as fans waited patiently before the series took the science fiction television world by storm when it premiered on TNT Network on May 17, 2020 after the program was originally scheduled to be broadcast on TNT Networks sister station, the TBS Network.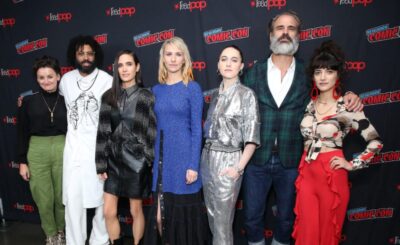 The series began it's premiere in May 2020 with marvelous main cast starring Daveed Diggs as Detective Andre Layton, Jennifer Connelly as Melanie Cavill, Lena Hall as Miss Audrey, Alison Wright as Ruth Wardell, Mickey Sumner as Bess Till, Iddo Goldberg as Bennett Knox, Roberto Urbina as Javier de La Torre, Sheila Vand as Zarah Ferami, Annalise Basso as LJ Folger, Sam Otto as John Osweiller, Karin Konoval as Dr. Pelton, Steven Ogg as Pike, Katie McGuinness as Josie Wellstead, Miranda Edwards as Lights, Mike O'Malley as Sam Roche, and Aaron Glenane as The Last Australian.
Snowpiercer features a huge ensemble cast with many favorite actors of Team WHR including Aleks Paunovic as Breachman "Boki" Boscovic,  Andrea Ware as Jackboot Tyson, Vincent Gale as Robert Folger, Jonathan Lloyd Walker as Big John, Stephen Lobo as Martin Colvin, Sarah Strange as Suzanne, Ellie Harvie as The Notary,  Amanda Brugel as Eugenia, and dozens of other top notch actors.
Season two added the famous Sean Bean (Patriot Games, The Martian) as John Wilford, Rowan Blanchard as Alexandra Cavill (Melanie's thought to be long dead daughter), Australian actor Georgina Haig of Fringe fame as Emilia, Bryan Terrell Clark as Pastor Logan, Andre Tricoteux as Icy Bob , and Tom Lipinski as Kevin.
Each of these fine actors mentioned above, in fact the entire cast have added a sense of realism due to their familiarity with movie and television buffs. Superb screen writing, directing and high quality production values  that have made Snowpiercer a runaway hit series headed for a well deserved third season!
Season one focuses on Andre Layton called to first class to investigate as series of murders and the slavery of lower class passengers from the "Tail". Known as Tailies, these people are kept aboard Snowpiercer to perform tasks that the "paying passengers" do not want to be involved with.
The first season concludes with Andre Layton and the passengers discovering that John Wilford (Sean Bean) is not actually on board Snowpiercer. Melanie Cavell and the train engineers, in conjunction with the "Hospitality" division have been twisting the passengers arms and minds to enforce discipline aboard the train that circles the globe on a set of tracks that John Wilford laid based upon his knowledge that the governments of the world cannot be trusted, but that he can be trusted.
This factor leads the inhabitants down a long dark path in season two with passenger loyalty being split by the suspect Mr. Wilford who appears to be plotting to leave Melanie to freeze to death as Wilford's nefarious machinations are made manifest aboard a train bound for destinations both known and unknown!
Speaking of making things manifest, even more fun for fans of the series is the dedicated Wilford Industries web site were fans can design their own train cars and enter fun contests to win various prizes including having their own designs featured on the web site.
Click the image to the right to visit Wilford Industries, explore the train and learn about the series now renewed for an exciting third season!
Highlights to "Our Answer for Everything" and "The Eternal Engineer":
We enter our analysis with Melanie Cavill sincerely seeking scientific evidence that life is returning to the Earth after a series of confrontations with Mr. Wilford. Melanie wants to work towards a time when the passengers can leave the train and return to the surface of the planet.
Mr Wilford on the other hand, is of a frame of mind to continue a dictaorshipship in an effort to consolidate his power that has pitted his followers against those who oppose his so called alleged rescue. No doubt Wilford plans to leave Melanie to perish at the research station against the wishes of her daughter Alexandra!
Meanwhile, Bess Till, Andre Layton and Sam Roche discuss the explosive situation developing on the train subsequent to Layton realizing that a new serial killer is aboard the train. Investigating who it could be, we learn that the  as Beth Till learned details about Melanie's secret deal with Mr. Wilford.
Many have flashbacks to when Mr. Wilford came aboard for the first time hoping that it would be for the best of all passengers on the train.
Elsewhere on Big Alice, the train that captured Snowpiercer at the end of season one, Wilford apparently has turned Miss Audrey to his side to counter the efforts by Beth Till, Miss Audrey, Ruth Wardell, Andre Layton, and critically Alexandra Cavill who struggle to deal with the shocking facts;
It is painfully obvious that Wilford will stop at nothing to consolidate his power, demanding absolute loyalty to his cause or face death or being locked in the freezer drawers about the train!
We learned in the seventh episode that Kevin, thought to have been killed by Wilford for trading items to the passengers, is actually alive. Miss Audrey, using her unusual powers of persuasion is apparently successful in turning Kevin back to Wilford's side. However, this editor believes that Miss Audrey may be using this scene to trick Wilford and take revenge in the future of season three!
Beth Till, Ruth Wardell, Andre Layton, and critically Alexandra Cavill have been busy solving the question of exactly who has been in collusion with Wilford.  Evidence points to Pastor Logan who appears to be directly involved in the breachmen's deaths.
"Boki" Boscovic, suspected by Wilford of being a collaborator with his enemies, is understandably observed crying over the death of his crew mates, the Breachman.
The hidden conflict within Miss  Audrey stems from when, years prior, Wilford convinced here to slit her wrists in a moment of weakness. Miss Audrey is able to convince Wilford that she is loyal using his obsessive attraction to her from the past to thankfully stay safe for the time being.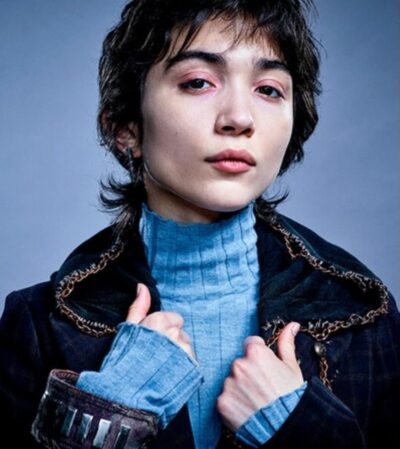 Moreover, Wilford is brutally forthright with Alexandra when she asks why she's being shut out of his plans, demanding she be loyal to him, not Melanie. These two women will play crucial roles as the Snowpiercer story arc unfolds in season three.
This brings us back to several pivotal characters. The first is Pastor Logan, a true devotee of Mr. Wilford who appears to believe that he has chosen the "right side" of the conflict as Wilford tightens his reign of power over his followers who is feeding religious propaganda to the followers of Wilford.
The second is Boki Boscovic well played by Aleks Paunovic, who is dealing with understandable grief after being confronted by Tailies seeking to hold on to Freedom via Andre Layton. Will Boki realize that it is Paster Logan who is ultimately to blame for his friend's deaths?
The third is Wilford's the seemingly programmed robot human, Icy Bob and how will Andre Layton deal with him? How will be fit into Wilford's plan to dominate Snowpiercer? Who in the heck will be driving the train when and if they are able to rescue Melanie in the future of the series?
A critical question to be address is will Melanie even be rescued by Wilford, or will she be left freeze to death by the crazed, power hungry dictator Mr. Wilford who seems to not care who is injured, even his loyal minion Icy Bob, while his quest for absolute domination progresses?
In the eighth episode "The Eternal Engineer", much is revealed that represents the final pivot in this fascinating science fiction series that sizzles in our hearts and minds!
When Boki says that he "served Mr. Wilford for thirty years and that he would not have been involved with killing The Breachman",  we become concerned that Boki will remain loyal to Mr. Wilford despite actually being betrayed by him and Pastor Logan.
An internal series of water leaks occurs when Icy Bob is injured while on a mission for Mr. Wilford to sabotage Snowpiercer. Boki suits up to affect repairs while Icy Bob is brought inside. Alexandra who suspects Wilford is trying to sabotage Snowpiercer gets it confirmed when Facts come to the surface when it is discovered that Mr. Wilford has the only available replacement part.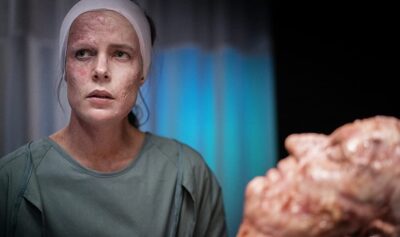 Josie, now nearly fully healed, suspects Mr. Wilford is up to no good as well as she looks on to Icy Bob, nearly killed when he went outside to sabotage the train that ultimately allowed Mr. Wilford to "rescue" everyone!
To the utter amazement of the fans of freedom and those hoping that saving Melanie is going to happen, the eighth episode ends with Wilford having saved the train by sabotaging it!
The complete shock is that Wilford, having conquered those opposed to him, takes his place as "The Eternal Engineer" and locks all of his adversaries including Andre Layton and Alexandra Cavill in the freezer drawers so they are subdued, unable to interfere with Mr. Wilford!
Tune in to Snowpiercer on TNT Network in two weeks to see the sizzling season two, two part finale!
Season Two to Date Summary: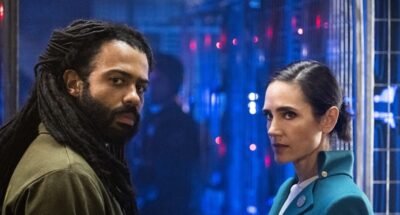 Over and above the outstanding direction, production and acting by all involved, some of the best sequences in Snowpiercer are the special effects. The freezing of peoples body parts, the train plowing through the snow and the mountain top to sea level journey of the train as the passengers chose which side they will ally themselves with.
The visual of the train on the "corkscrew" with lights on in the windows to show who was with Mr. Wilford or Andre Layton was one of the most superb scenes in the series!
Snowpiercer represents one of the finest science fiction series produced in the recent history of the genre. We look forward to the adventures that remain in season two and our review coverage in season three. Team WHR will be back with a two episode season finale analysis next month and hope that Melanie and Andre survive the evil Mr. Wilford!

As we proceed to the future with Snowpiercer in our thoughts, Team WHR will return with more analysis of our favorite series including select science fiction book and television reviews. Additionally, we will be migrating the entire WHR YouDecide interview series here during 2021! Please feel free to share this article with your friends, co-workers and or family and leave your comments! We look forward to you visiting our dedicated review and analysis web site here in the future!
Or as many of our readers and visitors often do, visit WHR on Twitter, or visit me on Twitter by clicking the text links or images avatars in this news story. I and TeamWHR look forward to Seeing You on The Other Side!"
Thank you.
Best Regards,
Kenn of #TeamWHR