Hi Stargate fans,
Recently I had the opportunity to attend the MGM Studios Stargate Auction that was held by Propworx. This event was held in Seattle, Washington at the Experience Music Project and Science Fiction Museum (EMP/SFM) I'd like to thank the wonderful Propworx Team for allowing me to cover the event.

Friday
Friday night I packed up and headed into Seattle to meet up with my friends before the auction. I met up with one and then we ran to the train station to pick up a couple more Stargate fans. We went out to dinner and toured Seattle chatting Stargate the entire time. Upon returning to where we were staying we headed to bed early so that we could get up early the next morning.
Saturday
The next morning we got up early and headed over to Fremont for a quick bite before we went to the auction. Since it was one of Seattle's rare sunny days we opted to walk the few blocks to the EMP/SFM. As we walked into the museum we were immediately greeted by Tomin's Ori Warrior costume.
Turning the corner you headed up the stairs to the auction. The stairway was lined with metal conduit with scattered blue and yellow fluorescent lights. It gave the whole stairwell an air of being in hyperspace (especially if you took them at a run) by the end of the weekend I kind of hated those stairs.
At the top of the stairs you were greeted by a piece of the Atlantis Stargate and various Earth technology.
Throughout the main level they had hundreds of items laid out for viewing. To one side they had the Puddle Jumper's cockpit set up, complete with chairs. To the other side they had the General's office from the SGC and throughout the weekend I saw many people taking pictures behind the infamous desk. They also had several Daedalus class consoles arranged into a mock bridge area.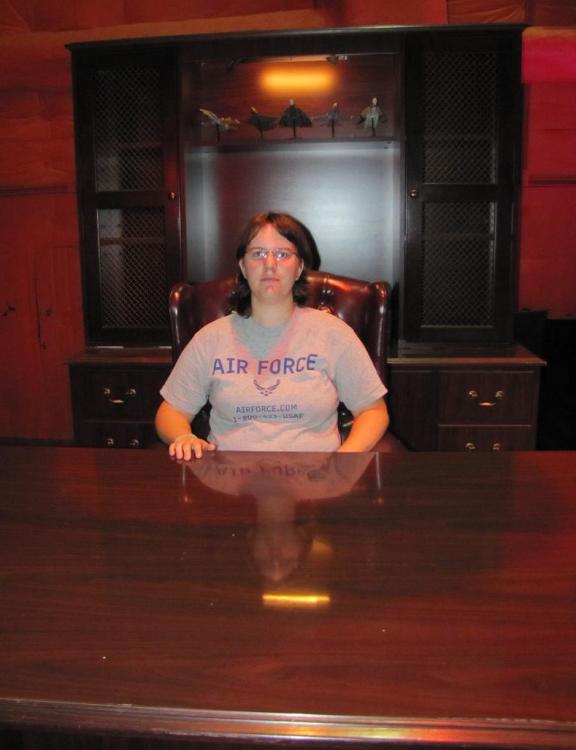 Upstairs overlooking the main auction space they had many costumes set up as well as some weapons including Zat'nikatels, Wraith Stunners and Anti-Replicator Guns. Costume wise they had a selection of various races including SG teams, Furlings, Wraith and Ori Priors. The level of detailing on the costumes was amazing. Below is Vala's Ori Village and an Ori Villager's costume.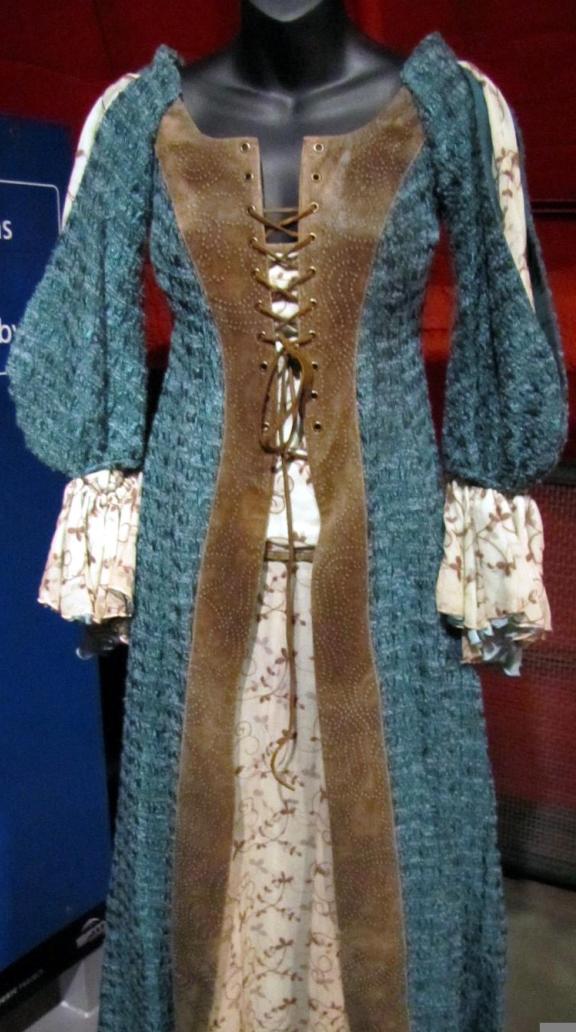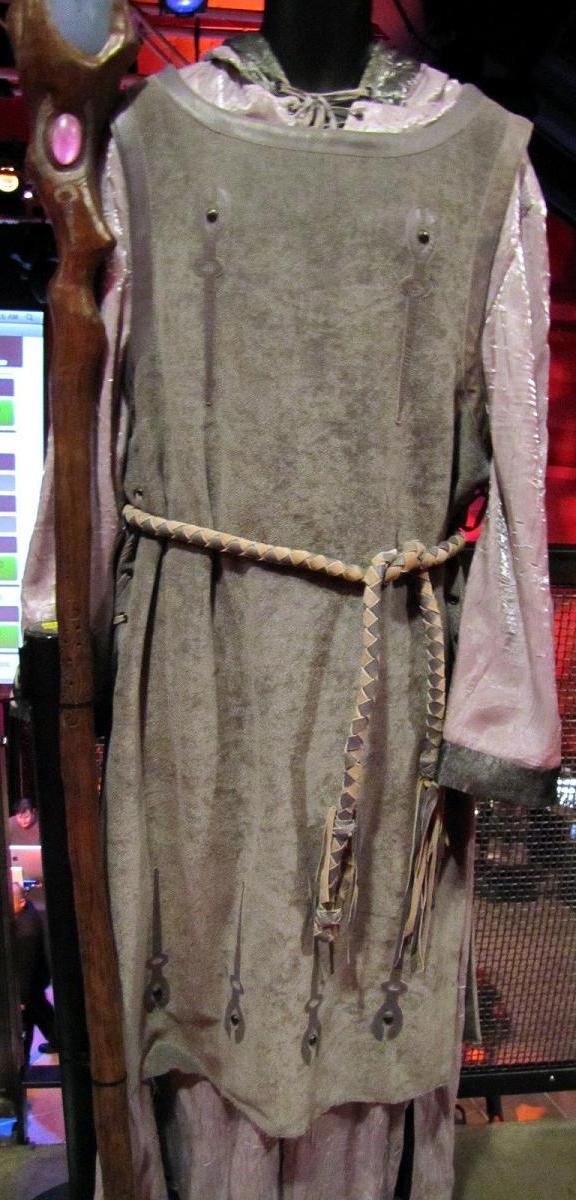 Down in the main auditorium the auctioneers were more than willing to joke, chat and generally have fun interacting with the crowd. I had never attended this kind of auction before and the auctioneers made it a blast. The auctioneers were Mike Grigg, Jeff Stokes, Paul Britton and Brian Goodwater.
At one point on Saturday Jeff even broke out into song ("Return to Pooh Corner" by Kenny Loggins) during a technical difficulties break. Whenever items would draw reactions from the crowd they would tease us about it. Usually we were aww'ing over some particular favorite character (Carson Beckett of Stargate Atlantis was a big draw for aww's) and they'd usually joke that somebody must have tossed pictures of puppies up on to the screen.
On Saturday there were several big ticket items that were sold, though the biggest was the Traveling Gate from SG-1 also used in Stargate Universe. This item drew a lot of chatter as it was sold completely intact and included two stands on which you could mount it and sold for $70,000. Other notable items from Saturday included three sections from the Atlantis Gate, a Super Solider costume and Daniel's journal. Saturday I bid on several items though I only ended up acquiring one of them.
At the end of the day on Saturday my auction buddies and I headed home for an early evening of watching what else? Stargate!
Sunday
Sunday morning we got up early and grabbed a quick bite to eat before heading back into the auction. I arrived early so that I could get some close ups of various items including the ZPM.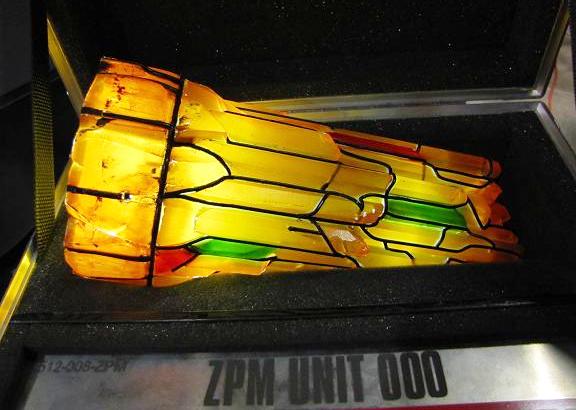 On Sunday there were a few big ticket items including the Ark of Truth, a Horus Guard helmet with glowing eyes, the ZedPM and a special last minute addition – an all expense paid trip for two to the set of Stargate Universe. It was added to Lot 585 which was a Starship Pin from the episode "200". This was to benefit BC Children's hospital and was sold for $8,000 to David N.
Also sold on Sunday was the Ancient Communication Terminal.
Another popular item on Sunday was the Thor puppet which sold for $15,000 and his chair that sold for $800.

Sunday the crowd seemed to be a bit more subdued than on Saturday. I had a chance to chat with many fans from around the US and Canada including Michigan, New York and California to name a few. Throughout the auction many of the Propworx staff and volunteers could be seen in costume wandering around.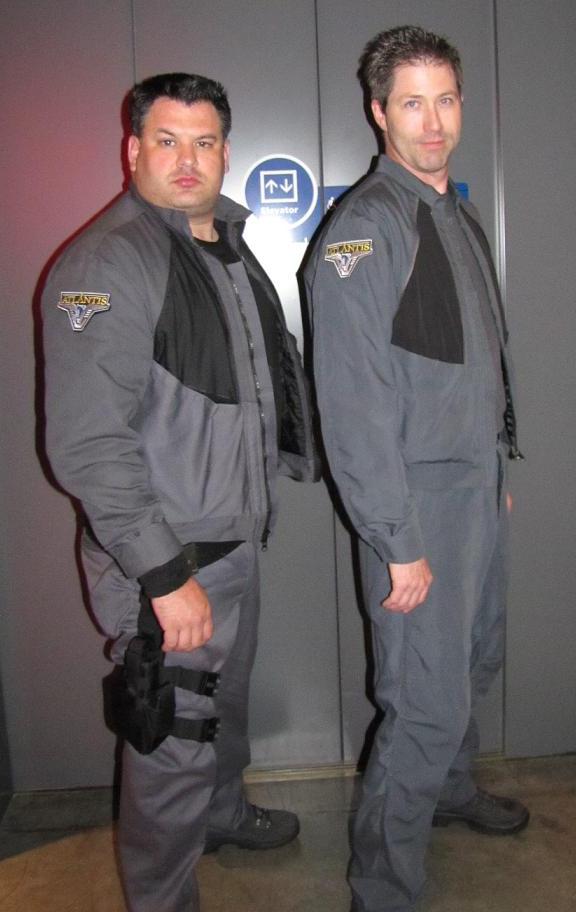 When the auction ended on Sunday it truly felt like we'd barely begun and I was quite sad to see it end. However Propworx will be doing another live auction sometime in 2011 and their online eBay auctions return October 10th. I know I will be keeping an eye out to see if I can snag a few more items.
Thank you for reading and visiting WormholeRiders News Agency. I hope you have enjoyed the MGM Stargate Propworx Auction report as much as I did attending and bringing this experience to you!
MackeziesMomma