I know I mentioned it before, but I have to mention it again. The Sanctuary Experience raised over $90K CAD for Sanctuary for Kids.

That being said, I can now delve deeper into Day 2 of The Sanctuary Experience.
---

As we filed somewhat sleepily into the main hall, we were greeted by the smiling lovely face of Becky, one of the G4 from Gabit Events, who played a video for us to get us revved up and ready for some Sanctuary action! As the cast and producers came onto the stage, we all clapped, and I know my heart started to pound in excitement about the fact that The Sanctuary Experience had officially begun. As Robin Dunne, Ryan Robbins and Christopher Heyerdahl exited the stage, we were left with the three producers, Amanda Tapping, Martin Wood, and Damian Kindler. They thanked us for joining them at The Sanctuary Experience, and then immediately fell into stride talking about the one thing that we all had in common, Sanctuary.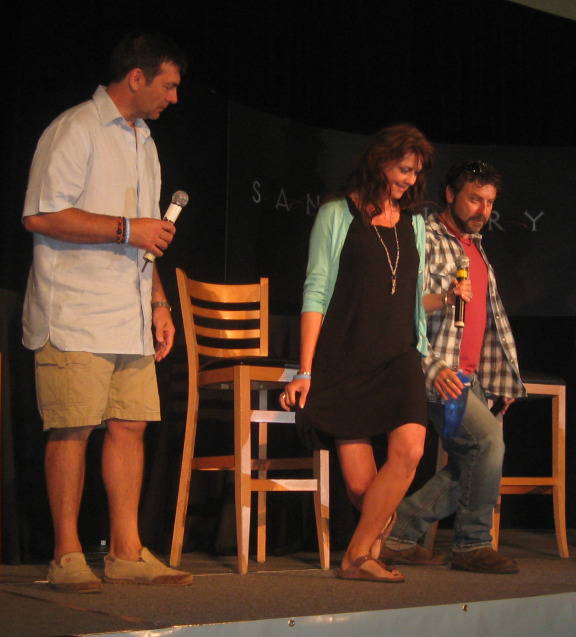 They were as passionate as their show as they had been the night before, and immediately we found out that they had hoped to do a 3D episode. It didn't sound like they had yet, but that they were hoping to. In fact, there is someone working with them who had worked on Avatar. Can you imagine? A 3D Sanctuary episode? I can just imagine the wickedly amazing abnormals just leaping off the screen, and the enigmatic smile of Helen Magnus seeming to be even more mysterious as we're dragged both giggling and gasping into the bowels of the Sanctuary network, and then left hanging from the turrets. But enough about the 3D aspect, let's just all cross our fingers that it happens!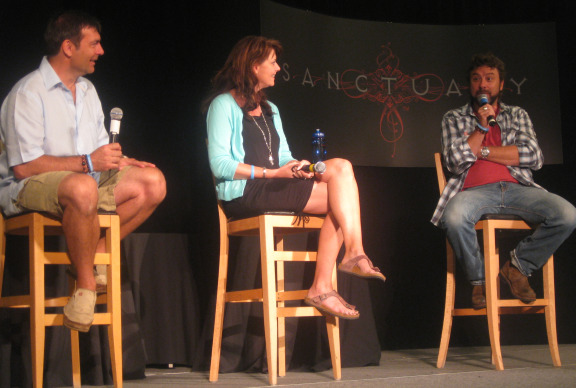 Onto more pressing matters, like their favorite episode thus far. No real shocker here, but everyone seems to be quite excited about the episode Breach. As I had spoken about in the Meet and Greet report, it had been originally conceived before Sanctuary even hit the screen, but back then, when Damian and Martin were driving up to Whistler and talking about different shows, they had called it "Mother of the year". Which makes one wonder if it's going to be about a motherly aspect, how can that happen without a daughter? (Please note, as you'll find out in my last report, Ashley is more than likely not coming back this season, and Amanda gave a phenomenal reason why, but that's for my last post, so you'll have to check back soon). They didn't tell us too much about Breach, but I did find out some juicy tidbits in an interview with Damian and Martin that will also be coming out soon. Let's just say that for once, Breach will give the audience a bit of a leg-up over the rest of the Sanctuary network, and we'll know things that only Helen Magnus knows.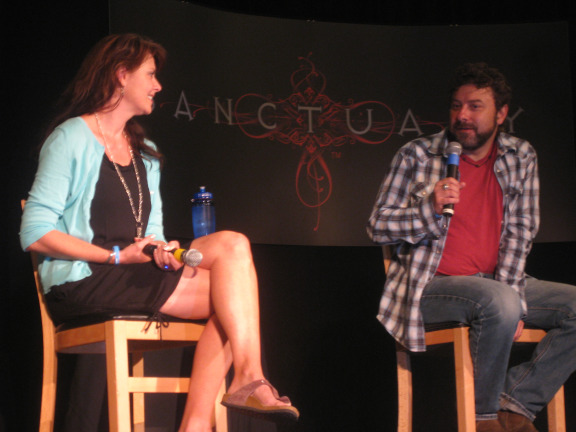 One fan asked about the "Will Vision" and whether or not that makes Will a bit of an abnormal, and would there be more of it this season. Both Damian and Martin said that they had decided to pull-back a bit on the Will vision because while everyone else in the Sanctuary seems to have some kind of abnormality, they really wanted to focus on a "common guy" and let Will take that role on. However, they did say that as a forensic psych, Will sees things that a lot of people just overlook, and it's not abnormal, but it makes him a bit more special than the average person. Hence why Magnus chose him.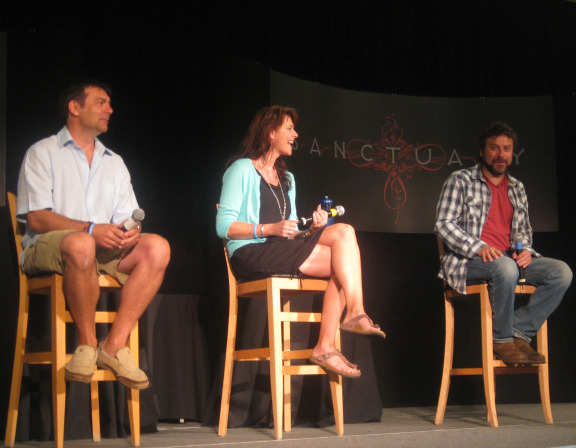 Another fan asked a really silly question about what would be the answering service at the Sanctuary. At this point, Martin jumped up and ran down to where Christopher Heyerdahl was sitting, and handed him the mike. Within seconds we heard in true Biggie voice…

"City Morgue… Parts Division," which got us all giggling. However, the best part was when he continued. "City Morgue… Parts Division… wait for it… Parts Speaking."

That had the entire room roaring with laughter, not to mention the snorting and chortling taking place.
Though, we had another heavy dose of laughter when for some odd reason, Damian started speaking in, what he called his "C-3PO voice". It was quite amusing to hear him speaking about rather serious topics in a voice that sounded like he had just inhaled a whole balloon.

On top of all this, we learned an interesting tidbit about Amanda's different facial expressions. Apparently she has so many different looks, that they've started writing them on the scripts. "Deathglare #5" kept coming up quite a few times. Though, I can't imagine Amanda with any kind of death glare. While I don't believe in the stares, I can believe that this lady can do her own stunts, and we were proven right on this accord as Amanda herself answered a question about stunts, and stated that she does nearly all of her own stunts.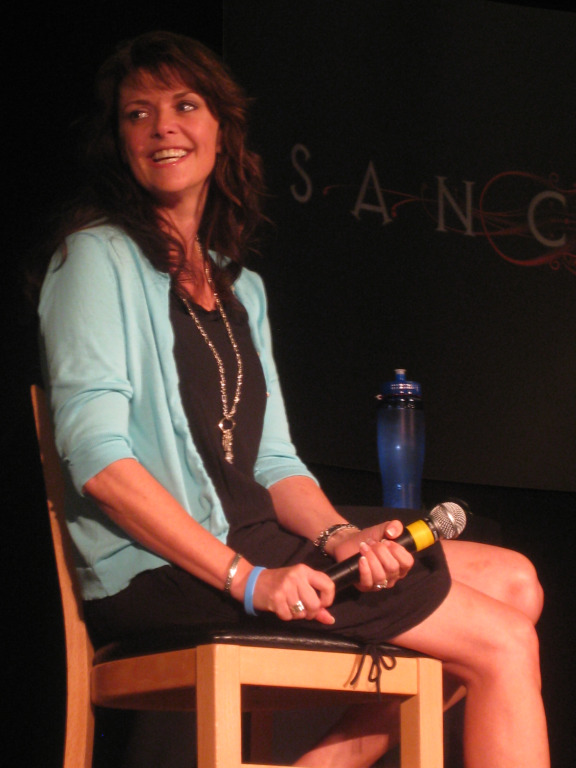 One of the last questions of the panel was one that was quite deep and near to my heart. It was around the move between webisodes to television and how that has changed the overall feel of Sanctuary. Damian gave a lot of great tips to remain positive regardless of what "Hollywood" is telling you, and Martin acknowledged that the tv series did get a bit diluted in ways they didn't want to, but that's just the nature of the game. While, they all acknowledged that there was a definite give and take between what the networks want, and what they want to show, Damian summed up the whole idea with a great statement.

"Don't sum up your passions by other people's reactions." In other words, if you want to do something, do it, don't let what other people think or say stop you from persuing your dreams.

When the hour was up, it was sad to wave goodbye to the three of them, but they left us with such excitement for the 3rd season of Sanctuary. Also, I'd like to thank Gabit for having the three of them up first, because it really set up the whole Sanctuary Experience.

During the photograph and autograph sessions (all proceeds of which went to Sanctuary for Kids), we were privy to an amazing 2-man acoustic show with Damian and Ryan Robbins. I'll tell you one thing, Ryan has an absolutely amazing and heartfelt voice. You not only could hear the songs, but you could feel them. It takes a true artist to be able to pour emotions into lyrics, and he definitely did that. Of course, it's not truly a Damian/Ryan show without a few giggles, and there were enough to keep us smilling. If you ever get a chance to hear that duet, I highly recommend it.


As we filed back into the panel room, we got to see an awesome video, prepared by the Gabit folks that seemed to rev us up and get us über excited for Agam Darshi and Ryan Robbins who portray Kate Freelander and Henry Foss respectively. As we've learned from Twitter, RyRo seems to have a knack for nicknames, and lovingly called Agam, "Darsh Vader". That little bit of humor threw us into the talk with the two actors. It's amazing how a little bit of insider knowledge can make everyone feel like we're just sitting around with old friends, shooting the breeze.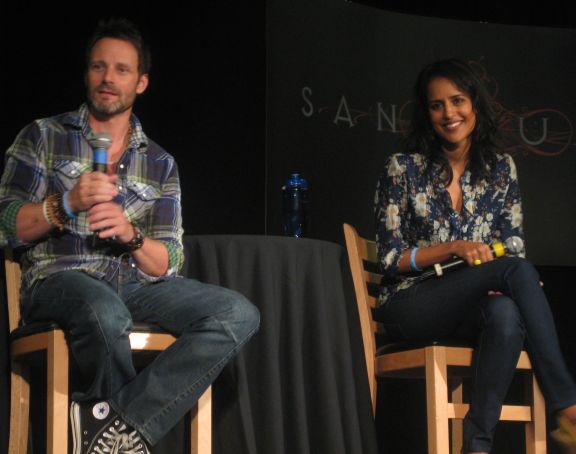 Did anyone know that Agam tried to kill Ryan with an icepick? I sure didn't. Ok, so she didn't try, and it was completely by accident, but Ryan told us all about a wonderful story about how somehow an ice pick ended up in his sternum. Mind you, I think one of the funnier parts of the story was that when Agam went to tweet about it, she had to go back and check to make sure that she had in fact written "sternum" and not "scrotum".

When we jumped into fan questions, one fan asked about Agam's preference for hot chocolate or wine. The giggles from the fans and sly look from Agam told most of us fans who weren't in the know that it probably had to do with something other than drinks. The answer was quite intriguing.

"Henry is like hot chocolate…" Agam said. "And Will is like…" "Drunk?" Ryan interjected. "Wine," Agam continued. That strange little quip from Ryan had everyone cracking up in the audience.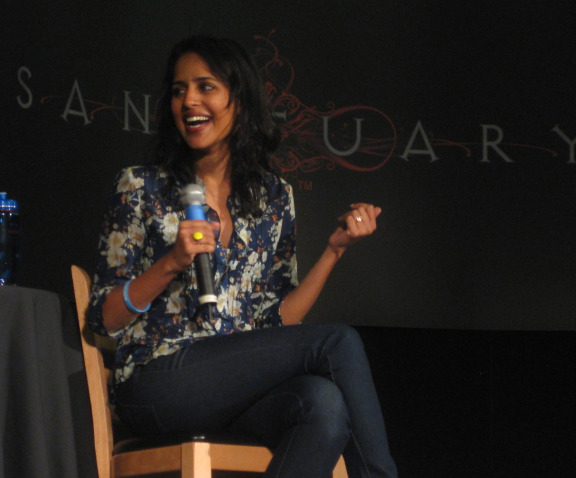 Another fan asked about doing their own stunts. Agam said that it was challenging at first, but now she loves it, and Ryan loves doing his own stunts… especially when he had to land on top of Agam. He then showed this by holding up his hand as if he were reading from a script and said "And Henry lands on top of Kate," Ryan said. "Look, Damian said it." The interaction was adorable as Agam rolled her eyes and all of us chuckled along.

As the Q&A continued we learned about the audition process for Agam (3 auditions). We also learned that "Sanctuary is the best job I've ever had," from Ryan who has popped up in quite a few different scifi shows on tv. And we also learned that Agam said it was a breath of fresh air that she wasn't asked to play the stereotypical role, just because she's an ethnic actress. To wrap it all up, when asked what they would be at a Sanctuary Halloween party, Ryan said that Henry would probably be Kermit the Frog. That one little tidbit again left the audience roaring with laughter. And finally, for all you Henry/Kate shippers out there, Agam said that she really thinks that Kate would rather go for an abnormal guy (or girl!).


Again, it was tough to say goodbye to Agam and Ryan at the end of their talk, but we had to in order to get ready for the auction. Oh, and just because, you need to know, this is what Ryan looks like with cleavage apparently.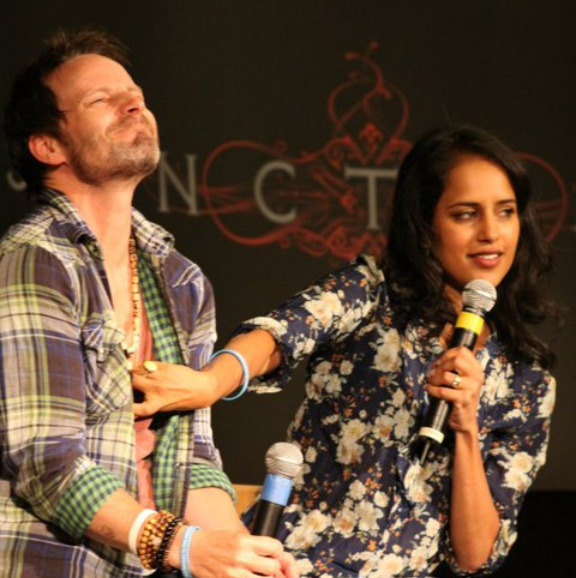 Before the auction, the Gabit folks had created two videos about the different charities that Sanctuary for Kids has helped in the past, and hopes to continue to help with the money raised at the event. After the videos were over, Amanda came onto the stage with tears in her eyes, and thanked us ahead of time for whatever we could contribute during the auction. After she spoke, the rest of the gang filtered onto the stage and reiterated the same idea. All of our favorite friends were there, Amanda Tapping, Martin Wood, Damian Kindler, Ryan Robbins,  Christopher Heyerdahl, and Robert Lawrenson. They had quite a few awesome things up for auction such as the nubbins that traveled the world with the fans, an actual green screen nubbin, a Sanctuary script with Martin's director notes written in it, Chris' jacket from Twilight, a 15 minute phone discussion with Richard Dean Anderson, Sam Carter's white lab jacket, and so many other awesome things.


Things went fast, and high. I don't think hardly anything auctioned off for less than $500, and quite a few things over $1000 (including both of the nubbins that traveled the world), and a couple at $2000 CAD! During the auction, the Sanctuary gang ran around the room, joking around with fans who were bidding, and showing off all the wonderful objects, some of which got some extra loving from the cast members (Chris licked both a nubbin and a knife!) And in order to have some of the prices go up higher clothes came off! Ryan took his shirt off, Chris took off his shirt, and Martin dropped his drawers beneath a beautifully made blanket.


At the end of the auction we found out that we had raised over 30K in that night alone, to which Amanda very passionately freaked out about. We found out that she had hoped to maybe raise 25K for the entire weekend. In one night, in about 2 and half hours, we beat what she had hoped for.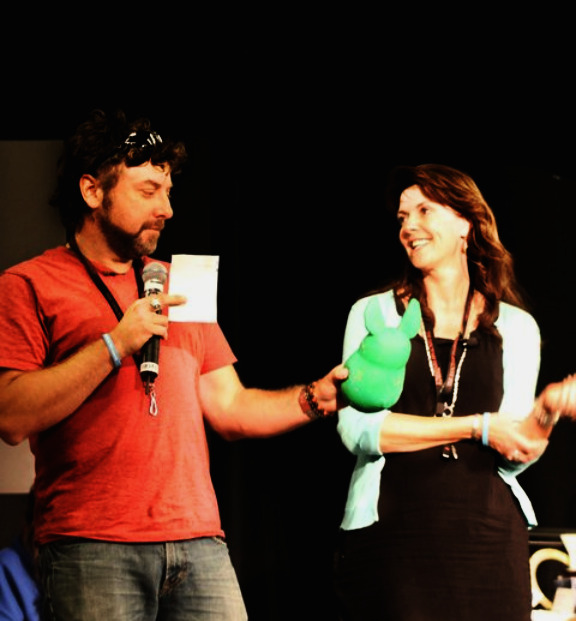 As if the day hadn't already been jam packed, after the auction, we went back to our perspective hotels, hostels, and motels and got ourselves all gussied up in some amazingly elaborate abnormal costumes. There was a leprechaun, a valkyrie, Kali, Einstein, Medusa, Rainbow makers, an angel, and so many other amazing costumes. Hey, there was even a Henry Foss and a Declan there! Or rather, there was a Ryan and a Robert. They came by for a bit at the beginning of the dance and chatted with people, and bopped a bit on the sidelines. All in all an amazing day, but one that left me entirely EXHAUSTED!

I'll leave you with this one last fun photo: Bobblehead Amanda.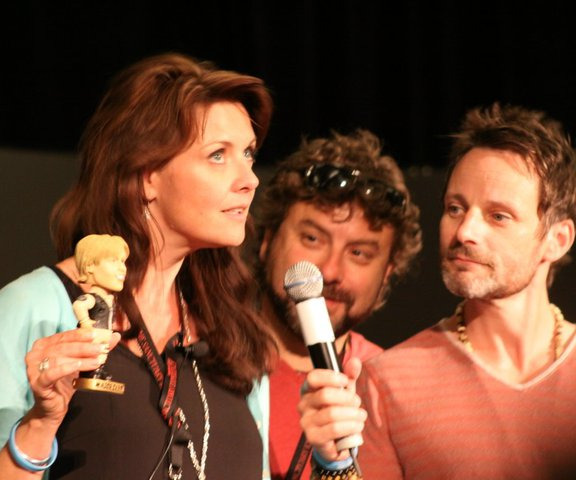 Thank you for reading. Come back soon for the final installment, the last day of the Sanctuary Experience. It has information from Lee Wilson and some amazing special effects shown (can't show you what we saw, but can tell you what we heard), Q&A's with Robin and Agam, and Amanda and Chris, and Chuck and Robert, and the final presentation of the check to Sanctuary 4 Kids.
Ash0283