Hi Stargate Fans,
We are pleased to announce the following from our contacts with MGM Studios Public Relations
QUOTE: "MGM'S "STARGATE UNIVERSE" RATINGS BLAST OFF!"
New Installment of Fan Franchise Favorite Scores Impressive Ratings in U.S., UK, Australia and Canada, While Attracting a Whole New Generation of Young Fans
Best Franchise Premiere Performance in Four Years – U.S.
Biggest "Stargate" Audience in Almost Five Years – UK
Highest Rated Single Episode Ever – Canada
One of the Highest Rated Shows for the Week on Pay Television – Australia
LOS ANGELES, CA October 12, 2009 – Edgier in tone and sporting a versatile and high profile cast, MGM's hour-long, sci-fi series Stargate Universe (SGU) is on the fast track to becoming the most successful installment in Stargate franchise history. Reporting impressive debuts in the U.S., the UK, Canada and Australia, SGU is attracting a large number of younger viewers and proving that a new generation of fans is embracing the next era of Stargate.
"With this success, SGU continues to be a very important franchise in the MGM family along with James Bond, Pink Panther, The Hobbit and Rocky," said Gary Marenzi, Co-President, MGM Worldwide Television. "We anticipate global success for the series as SGU continues its roll out around the world and we are thrilled that younger audiences worldwide are discovering and embracing our very addictive series."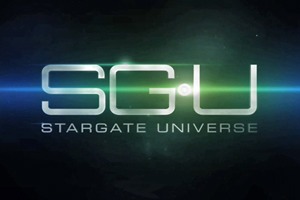 "Many of our characters are younger, inexperienced and should not be on this mission," added Brad Wright, co-creator of SGU. "This opens the door to relationships and storylines that younger audiences want to see."
SGU debuted in the U.S. on Syfy to the best franchise premiere performance in four years, drawing more than 2.3 million viewers. The series grabbed 2.35 million total viewers with 1.32 million Adults 25-54, and 1.12 million Adults 18-49 during its two-hour debut.
In Canada, SGU premiered on SPACE with a record breaking audience of 565,000 making it SPACE's highest rated single episode ever. SGU was the #1 non-sports specialty program of the day for Adults 25-54 and A18-49. SPACE is the Canadian English language cable television specialty channel owned and operated by CTVglobemedia.
Launching on Sky1 in the UK, SGU delivered 1,042,000 viewers for episode one and 961,000 for episode two, earning the series the biggest "Stargate" audience in almost five years.
In Australia, SGU was the best performing show on the Sci-Fi pay television platform, posting a 6.4% share. This performance represented an increase of 411% in the time slot (Fridays 8:30 to 10:30 p.m.) versus the previous programming of the last four weeks. SGU is well on its way of being one of the highest rated shows for the week on pay television in Australia.
SGU represents the next frontier for the legions of Stargate fans. The series is decidedly smarter, edgier and more youthful in tone and takes the franchise into a dynamic new direction. The dramatic series is fueled with complex plot twists, suspenseful cliffhangers and an all-star cast that includes Robert Carlyle (The Full Monty, Trainspotting, 28 Weeks Later), Lou Diamond Phillips (Che, La Bamba) and Ming-Na (ER, Vanished).
Based on the 1994 feature film "Stargate," MGM's sci-fi franchise was born in 1997 when "Stargate SG-1" (SG-1) made its television premiere on Showtime. After five seasons, the series moved to the Sci-Fi Channel where the award-winning drama ran until 2007. With 10 seasons and 214 episodes, SG-1 surpassed "The X-Files" in 2007 as the longest-running North American science fiction series on television. The next chapter in the Stargate franchise, "Stargate Atlantis," premiered on the Sci-Fi Channel and The Movie Network in 2004. With five seasons and 100 episodes under its belt; the series ended its successful run in January 2009.
About Metro-Goldwyn-Mayer Inc.
Metro-Goldwyn-Mayer Inc., through its operating subsidiaries, is actively engaged in the worldwide production and distribution of motion pictures, television programming, home video, interactive media, music and licensed merchandise. The company owns the world's largest library of modern films, comprising around 4,100 titles. Operating units include Metro-Goldwyn-Mayer Studios Inc., Metro-Goldwyn-Mayer Pictures Inc., United Artists Films Inc., MGM Television Entertainment Inc., MGM Networks Inc., MGM Domestic Networks LLC, MGM Distribution Co, MGM International Television Distribution Inc., Metro-Goldwyn-Mayer Home Entertainment LLC, MGM ON STAGE, MGM Music, MGM Worldwide Digital Media, MGM Consumer Products and MGM Interactive. In addition, MGM has ownership interests in international TV channels reaching nearly 120 countries. MGM ownership is as follows: Providence Equity Partners (29%), TPG (21%), Sony Corporation of America (20%), Comcast (20%), DLJ Merchant Banking Partners (7%) and Quadrangle Group (3%). For more information, visit http://www.mgm.com/ "