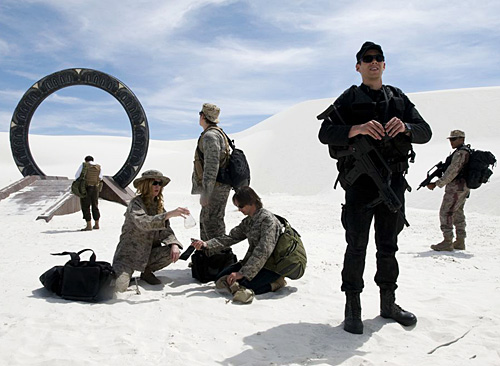 The ratings for Stargate Universe's 'Air Part 3' were releases today, and so far the verdict looks great!
Most TV shows see a drop in the ratings after a premiere due to viewers who are curious enough to watch the pilot and then come to believe the show is not what they were looking for. Stargate Universe has contradicted that trend, GROWING 22% among viewers ages 18-49 and 13% in the 25-54 age range. Total growth is 4%, just short of 2.5 million viewers across the US alone (SyFyWire). This earned SGU a 1.8 average household rating from Nielsen.
As with the pilot's rating of 1.7, this is not counting viewers who have recorded the episode to view it within 7 days, so these figures are due for an increase after a period of about 3 weeks.
Stargate Universe has now beaten Dollhouse in the ratings race for the second week running!
Craig Engler, the senior VP of Syfy Digital, had much to say on this topic on Twitter. "I can't emphasize enough how impressive it is for a show to grow from its premiere. That's pretty rare. Congrats Stargate Universe gang!"
Engler also reported that Sanctuary's Season 2 premiere episode was up 18% in adults 18 to 49 and 7% in adults 25 to 54 from its first season average. That's 1.85 million viewers that watched 'End of Nights, Part 1'! (Twitter)
Congratulations everyone!!!
Update 10/26/2009 thanks to tvbythenumber.com
The Live +7 days DVR veiwing data has arrived for 'Air Part 3' and it's HUGE!
The added date pushed the episodes rating up to 2.1! That's 2.99 million viewers, 1.7 million between the ages of 18-49, and 1.85 million between 25-54! This is a new record for the Stargate franchise, making it the most watched episode since March of 2005!
In the 25-54 age range, this is the best performance of Stargate since July of 2004, and the best for adults between 18-49 since July of 2004.
It looks like the franchise is reaching it's goals! It is pulling in a younger demographic necessary to the survival of the franchise without alienating many of it's "older" supporters!
Please feel free to share this article with your friends, co-workers and or family and leave your comments! We look forward to you visiting our dedicated review and analysis web site here in the future! Or as many of our readers and visitors often do, visit WHR on Twitter, or visit me on Twitter by clicking the text links or images avatars in this news story. I and TeamWHR look forward to Seeing You on The Other Side!"
Thank you.
Best Regards,
Kenn of #TeamWHR