Hello, My Fellow Fans of The Mandalorian,
Even though superb season three has ended, there is still much to discuss as we wait in avid anticipation for season four.
I particularly enjoyed certain character arcs this season and how things have changed for the better for a few characters.
Therefore, I will not be recapping episode by episode but instead giving my thoughts about the overall impressions of the season. I know this season was not as action-packed and adventure driven as the previous seasons, and I am okay with that. Even though some episodes veered a bit off-subject, each episode would eventually make sense in the grand scheme as the creators lay a solid foundation for more episodic seasons in the future.
There will be spoilers in this post, so if you have not seen Season 3 yet, stop now. I loved seeing the relationships shift and change this season, especially between Bo-Katan (Katee Sackhoff) and Din Djarin (Pedro Pascal) that were established in the official trailer for season three.

When we first see Bo-Katan, she is sulking, bitter, disillusioned, and isolated in her castle, surrounded by only a few droids. Her world that she knew shattered, and her destiny changed when Mando won the Darksaber, not her (which Mando ultimately gave back to her during season three).
As much as Bo-Katan is against the cult-like ways of certain factions of Mandalorians, the one she fiercely adheres to is the folklore of the dark saber. Bo's journey changed significantly when she and Mando traveled back to Mandalore for him to redeem himself in the "living waters" of the planet. Upon entering the waters, Mando either fell off the edge or was sucked down by something. Bo quickly dove in and saved her friend.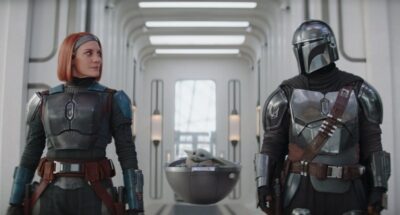 As she ascended back to the surface with an unconscious Mando, she caught a glimpse (we all did) of the Mythosaur. As fans, I can tell you that we all were wowed by seeing the mythical, legendary creature in live-action. It was just a glimpse, not a complete view, but it was enough to shake Bo to her core. She talked to Mando about growing up on Mandalore as part of the royal family and just read from the plaque about the Mythosaur.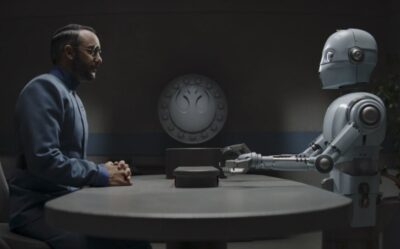 To my delight there were quite a few recurring characters that showed up again as part of the story, Dr. Pershing (Omid Abtahi), Elia Kane (Katy M. O'Brian), Greef Karga (Carl Weathers), and Carson Teva (Paul Sun-Hyung Lee all adding more substance to the tapestry of The Mandalorian.
Of course the villain we were all waiting to see return, Moff Gideon (Giancarlo Esposito) was the best of all since fans suspected he had not been sent to prison in previous episodes of the story.  Adding more plot points and texture to what we knew up until that point was enjoyable as Giancarlo discussed at the Star Wars Live celebration this year.
Guest stars have always been an excellent addition to the Mandalorian universe, and this season was no exception. We did get some that were a bit unexpected, for example, Jack Black, Lizzo, Christopher Lloyd, and Tim Meadows. While it is great to see them, it can also be a distraction as fans are either excited to see them in the series or scratching their heads as to why they are in this series and what they have to do with the plot. I trust that Dave Filoni and Jon Favreau know what they are doing regarding such characters.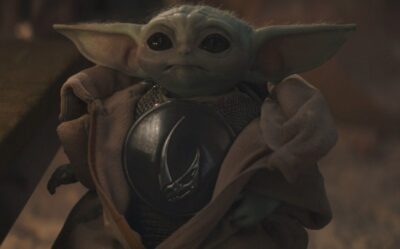 We briefly hinted at Order 66 and Grogu's rescue from that horrible but well done scene in season two. What we did not get in season two was who was the person that rescued Grogu. Many fan theories have been from Cal Kestis to other Jedi to Luke Skywalker (Mark Hamill). No one expected it to be Kelleran Beq (Ahmed Best); the last time most of us saw Ahmed Best was in Star Wars: Episode 1 -The Phantom Menace as Jar-Jar Binks, not a favorite character in the Star Wars universe. Seeing him again in live-action was beautiful as he has voiced many characters for video games and animated series. But we haven't seen him in a live-action Star Wars role since. Even though Grogu and Kelleran escape on a Naboo Royal Guard ship, that is all the flashbacks we see. Grogu's trauma is still with him and was triggered by the Armorer (Emily Swallow) forging a chest plate with the Mudhorn on it.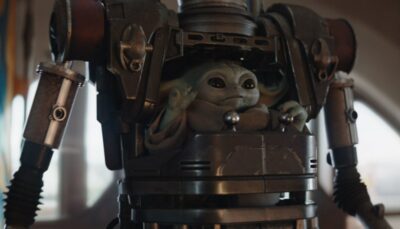 I loved seeing more of Grogu and his story as we did in the flashback to Order 66. I also loved seeing him use his skill in training to be a Mandalorian. He would be the second Mandalorian Jedi, the first being Tarre Vizsla. I want to see Grogu wield The Force like Yoda. We have only seen him use it to defend himself, Mando, or Bo-Katan. I also hope we hear him speak in the next or future seasons. We did get a taste of it when Grogu was in IG-12, which added a bit of comic relief to the episodes as the only two words that Grogu could "speak" were yes and no. He used NO more to his advantage than yes. It was a highlight for sure to see Grogu more animate than usual. What will happen to Grogu's trauma, and how will it be resolved?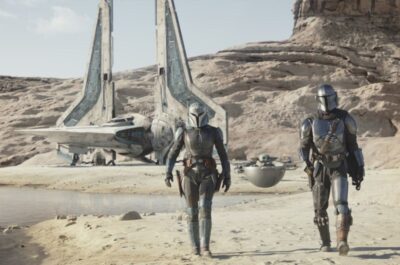 Different delightful journeys happened in Season 3. Mando, himself, goes through a transition while helping Bo-Katan and understanding more of her side of the creed and what Mandalore meant to her and the other factions. Because Mando was raised on Concordia as a foundling of the Children of the Watch, he was unfamiliar with Mandalore and its citizens. We saw him and Bo team up. He became her second in command and fought side by side; he pledged his loyalty to her, as she saved his life twice already. Seeing him relinquish some of his lone-wolf status and be a part of a team was excellent. It was also lovely to see him FINALLY (although we all knew he was already) step into that father figure role and adopt Grogu as his son. Will Mando and Bo-Katan become romantically involved? I hope not; it will cheapen the series and do a disservice.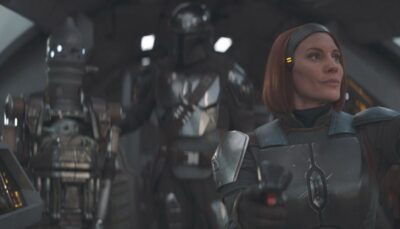 One character that had a change of heart was Paz Vizsla (Jon Favreau), especially toward Bo-Katan. Paz was initially skeptical and downright ornery toward Bo, but once she proved her worth to him and the others, his loyalty changed, and he became a Bo believer. Paz's unfortunate demise at the Praetorian Guards' hands was epic. He fought like a champ and died a hero. I always love the dark characters that Star Wars introduces, like the Praetorian Guard, modeled after real Roman bodyguards of the highest caliber assigned to protect the Emperor. Seeing him sacrifice himself for others was sad, but this is the way!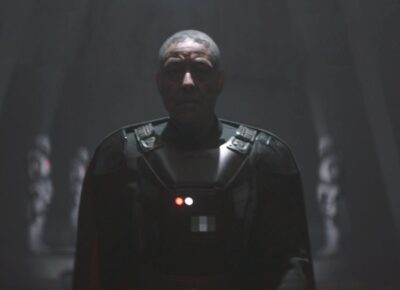 Seeing Moff Gideon (Giancarlo Esposito) again was incredible. Giancarlo plays villains like nobody else and has a knack for portraying them so well. He performs it with arrogance, narcissism, rage, anger, and pain. Certain actors can perfectly show evil or unsavory characters, and he is one of them. He is one of those actors you love to hate because he is skilled at being bad. Fans have speculated what may have happened to Moff at the end of the episode because as he was engulfed in flames, he was also wearing the fourth-generation beskar armor he found on Mandalore. Theories are that Moff is not dead and escaped just as the fire destroyed him. He was burned much like Anakin (Hayden Christensen) before he became Darth Vader. We will have to wait and see in the next season. We do find out what Gideon was using Grogu's blood for. He was building himself (at least trying to) force-sensitive Gideon clones. How scary is that thought?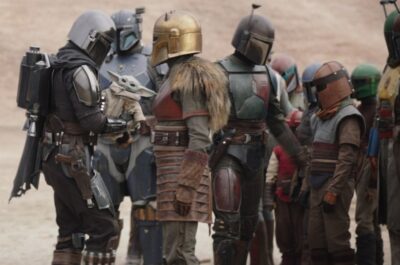 The episode ends with Din volunteering Grogu as his apprentice to take the creed and become a Mandalorian. This scene broke the internet, hearing Din Djarin say, "Then I will adopt him as my own," and the Armorer replying, "This is the way." I do not doubt that Mandalorian fans worldwide cheered loudly when he said those words.  "You are now Din Grogu, Mandalorian apprentice." That statement confused fans as we all thought Din was Mando's first name, but apparently, it was not. The final shot of the episode is of Mando and Grogu at their homestead, Mando relaxing on the porch, and Grogu using the force to levitate a frog.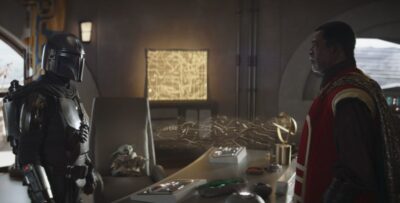 In conclusion, I loved this season. Yes, parts could have been more cohesive and straightforward, but overall I was happy to see what transpired and where the next season will take us. We should see Moff Gideon again and possibly Grand Admiral Thrawn. Mando's journey has not ended, as he mentioned. He will again be the muscle for hire, but only for specific jobs, as he is now officially a father with a nice home provided by Greef Karga.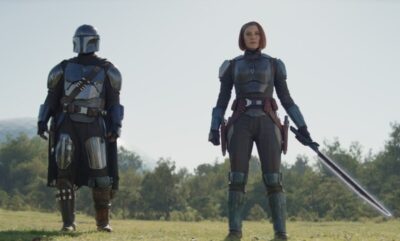 Here are my final thoughts regarding season three and some fans' disappointment.  Not every season will satisfy you, and it happens with every series. There will be seasons that are better than others, and fans will disagree on which season is better, and that's okay. The difference for me regarding The Mandalorian is that the showrunners, Dave Filoni and Jon Favreau, know the material better than anybody except George Lucas. They have consumed every aspect of Star Wars since the beginning and know the canon, folklore, mystique, and deep dives. I trust their vision and that they will get us where we need to go. Regardless of how they get us there, I will always be a fan of The Mandalorian and am looking forward to the next season and more to come. I have spoken and as everyone knows: This is the Way!
Thanks to Kenn for video and image embedding for my feature article and many thanks to you for visiting WormholeRiders News Agency. We will be back soon with more analysis about our favorite television series, movies and conventions in this year and beyond with our next images and reports coming LIVE from San Diego!

Please feel free to leave a comment here or If you prefer, you may also click the social media icons below to share this news article or as many of our readers and visitors often do, visit me on Twitter by clicking the links or images avatars in this news story.
See You on The Other Side!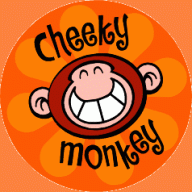 Until next time,
Regards,