Hello, my fellow Green Lantern fans!
I hope that you are as excited about this latest animated movie version of Green Lantern: Beware My Power as I am?
I had the pleasure of sitting down with a few of the voice actors and writers of the show at this year's San Diego Comic-Con on July 22, 2022 for Team WHR. With both DC and Marvel having a presence again at Comic-Con it was nice to get back to the comics part of the convention that resumed this year in person after a three year wait! For those that are not familiar with who or what Green Lantern is, let me give you a bit of background.
They fight evil with the aid of rings that grant them a variety of extraordinary powers, all of which come from imagination, fearlessness, and the electromagnetic spectrum of emotions. The characters are typically depicted as members of an elite corps of members known as Green Lantern Corps, an intergalactic law enforcement agency. There have been many incarnations of Green Lantern from Hal Jordan to the current one of John Stewart portrayed by Aldis Hodge.
Sitting down with the voice cast of Aldis Hodge, Jimmi Simpson (Green Arrow), Brian Bloom (Adam Strange), Jaime Gray Hyder (Hawkgirl), was a lot of fun and I was able to get some insight about what we can expect with these characters in this animated version. The panel (which sadly I missed) was the first time the cast was able to even meet each other. The downfall of voice acting sometimes is that actors are often alone in a booth while reciting lines, not interacting with other actors. It can be hard to measure how another actor would read their lines and therefore a bit hard to react to them without seeing or hearing them. Luckily all these actors have done voice work before, so they are no stranger to the process.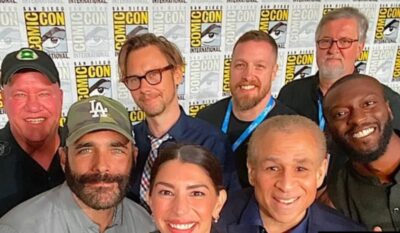 Aldis Hodge was filming One Night in Miami when he received the call from his agent that he was being looked at for the role of John Stewart. He was flattered and jumped at the chance to play another superhero (Aldis is also Hawkman in the new Black Adam movie coming soon). He said animation is a fun world to live in, but difficult to get into. Stepping into these shoes, Aldis wanted to make sure that his level of work met the ambitious standards that comes with being a voice actor in animation. You still must perform as an actor even though you are alone and do not have the other actor to work off. He had mentioned that he had to get creative when it came to his voice acting, not having another actor there to respond to was difficult. He had to imagine what the other actors would be like or how they would respond in the aftermath of a battle. Aldis mentioned that the director, Jeff Wamester, made the characters feels seamless like they were all in the same room together even though this is the first time they all met. I asked him how important it was to bring the characters PTSD to life on screen. He mentioned that both his parents are former Marines, he was born on a military base, he grew up surrounded by service men and women and grew up in a neighborhood with a man who suffered from PTSD. Jeff wanted to make sure that he treated the PTSD, with the attention it deserves. To address it in an animated series may help shed light on the suffering of the service men and women it effects, to create a safe space. Hopefully, the younger generation will see what PTSD is and try and research it more and try and understand what it is and why the character is suffering from it. He closed his part of the interview talking about representation in comics and in general. He said that people who have always had representation take that for granted because it has always been there. They do not understand the value of it, for those who have not had representation they are clamoring for it. When they do get it, it allows you to believe the potential in yourself, to say that I can be that someday, to be a part of it. "Artists must reflect the time that which we are in" is what he closed his part of the interview with.
Brian Bloom, who I have been a huge fan of and admittedly had a crush on during my teenage years, was next on the interview round table. The best part of this project was finally meeting his fellow cast members. That seems to be the theme going on in this animated series. Brian mentioned that he is lucky that he is getting to meet his fellow cast mates as that is not always, the case. He was happy to bring a new take to his character and to give us his take on the character of Adam Strange. He brought his bravado and knowledge to what he wanted to portray as Adam Strange, who is normally a villian, he wanted to question that status of Strange is what Brian said about the past incarnations of Strange. He wanted to add his stamp to the character and have it different than the others who have come before him. Brian is happy that he has found a whole new facet to his career as a voice actor. If you are good at it, you can be whoever you want in the voice over world. It has nothing to do with what you look like, or what the character is drawn like, you can be that character regardless of what the actor looks like "not all these characters have blue eyes" as Brian said. Brian said he grew up watching Super Friends and Justice League so to be a part if that universe is cool. The superhero he watched the The Incredible Hulk, the other show he watched was The Six Million Dollar Man. For me, being the same age as Brian, I was happy to hear him wax nostalgic about the same shows I grew up with as well.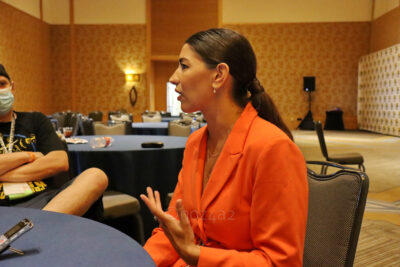 Next, we had Jamie Gray Hyder next on the list who portrays Hawkgirl. "Hawkgirl is a complete bad ass warrior" was how Jamie described her character. I liked that she had said that about her character. It can be hard as the only female in a whole garrison of male superheroes to hold her own, but she did a wonderful job. Jamie did some research about Hawkgirl and discovered that she was created in 1941, with discovering that as exciting as it was, it was also daunting to have to deal with an eighty-year history of this character that fans have had more life with than she had. She had said that she tried to take the previous iterations of the character, the history and find the common ground between them and keep that intact and then as an artist you want to bring your own unique twist to it. Bringing that character into 2022, making it relevant and keeping it fresh is a task that actors must contend with when dealing with comic book characters. As Jamie mentioned fans have had their life with Hawkgirl long before Jamie did, she wanted to make sure she brought that character to life the right way and give the character Jamie's twist and flavor to it. Jamie had said that Hawkgirl is a beautiful representation of the females in the armed forces and the heroes that are doing this, motivated by saving their home, their country. It is coming from love; you see her layers and not just one note. You see her interact with people she would normally never associate with, but within that you get to see a bit more of who she is. She is forced to work with her enemy, forced to reconcile that they have common goals. I asked her the question of how important it is for women/girls to read comics and to have those type of female characters? Again, the subject of representation came up. Being that comic books are mostly male oriented, seeing strong female characters that are not just sidekicks or damsels in distress was a huge honor for Jamie. She said you want them to be seen, heard, and considered and you want to give them a chance to participate. Being the only female in the group, Jamie said when she finally got to meet the "boys" she had to be louder and first to be heard. Jamie was happy to be at Comic-Con, she loved the vibe and was happy to see all the like-minded people enjoying themselves, it "scratched that itch" for her as she put it. Animation has given way to being able to play these larger-than-life characters that you would not normally be able to play on screen. Hawkgirl is the mission driven one in the bunch, she is more action than words, she may not speak as much as others, but she does not have to speak much and as a woman of action it is not necessarily always needed. Actions speak louder as the saying goes, speak softly and carry a big stick.
Jimmi Simpson was next in the quartet of actors available to Team WHR. I have been a fan of his for a long time, too. He has always brought us some interesting characters from Gavin in House of Cards, William in Westworld and now Green Arrow/Oliver Queen in Green Lantern. He found Ollie so fascinating to play. As a voice actor, he equated it to being in a vacuum, you are completely relying on the director and the writers not his fellow actors who you would normally be in a scene with. As an actor in the booth by yourself you can create a situation, like the sound of the character lifting a heavy object, you get to have fun with that. Ollie is more of a human character; he made a choice to put it on all the line as a superhero. My question to him was what advice would you give to your character? He said to let the newcomers in a bit easier, with John Stewart's character showing up there was a major resistance since Ollie's friend was Hal Jordan as Green Lantern. But he also pointed out that with both Arrow and Lantern going through training and "shit" together they too formed a bond, like a buddy picture he said. Diffusing tension with a bit of comedy is what Jimmi brought of himself to the character.
The director Jeff Wamester, John Semper and Butch Lukic all reiterated what the actors themselves had been saying. Jeff wanted to bring more of John Stewart's story to life. His incarnation of Green Lantern has not been explored as thoroughly as the others have and he wanted to make sure that it was. The interview was cutting it razor sharp close to the panel, so as much as we wanted to spend a little more time with the director and writers of the movie, we were not able to do so, but include a ComicBook Dot Com interview with the stars below. Nevertheless,  even though we missed the panel, this was a fun and informative interview with the cast, I was happy to see them enjoying the fruits of their labor.
Green Lantern: Beware My Power is available now as a rental on stream Amazon Prime, or to purchase outright at Amazon.  If you are a fan of the Green Lantern and want to check out John's story for yourself, treat yourself and see what a great movie these folks have made! Thank you to Gary Miereanu for giving Team WHR this terrific opportunity to interview this great cast and creators of the movie. I am also thankful that Comic-Con 2022 was back after a three year hiatus! See you next year in San Diego!
Thanks to Kenn for video and image embedding for my feature article and many thanks to you for visiting WormholeRiders News Agency. We will be back soon with more analysis about our favorite television series, movies and conventions in this year and beyond!

Please feel free to leave a comment here or If you prefer, you may also click the social media icons below to share this news article or as many of our readers and visitors often do, visit me on Twitter by clicking the links or images avatars in this news story.
See You on The Other Side!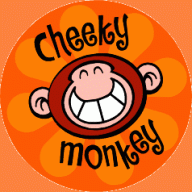 Until next time,
Regards,