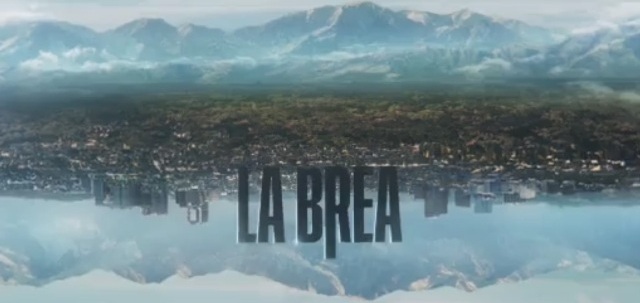 Welcome Back La Brea and Wormhole Time Travel Science Fiction Drama Lovers,
The Team WHR grade for La Brea is now an "A+" and we are ecstatic that La Brea has been renewed for a second season! Congratulations to everyone involved with the production of this superb science fiction drama series!
"Origins" appearance of the Doctor Rebecca Aldridge (Ming-Zhu Hii) character in a chat with Eve (Natalie Zea) after a fight with Silas (Mark Lee) over young Isiah (Diesel La Torraca) in the eighth episode is nice icing the cake for this series. La Brea has become similar to "Fringe", a favorite science fiction time travel series of ours, when the importance of the young Isiah and the Gavin (Eoin Macken) characters are brought to the forefront of the story arc.
In "Origins", the secret date of November 16, 1988 mentioned in previous episodes is revealed. The reason for the wormhole time portals is now completely clear. As we suspected, Rebecca had jumped into the prehistoric past previously, proving that she has been experimenting with time travel longer than anyone ever knew.
On ratings, "The Storm" episode rebounded to 4.696 million live views and a .58 share after an expected dip due to the MLB World Series to 4.03 million viewers with a 0.43 share. In contrast, the fifth episode of La Brea captured 5.1 million with a 0.6 ratings share. Beginning with 6.2 million viewers for the Pilot episode, 4.9 million viewers for the second episode, 4.98 million for the third episode, and 5.0 million for the fourth episode, the strong ratings ensured the renewal for a second season as we had projected.
Congrats to all at #LaBrea for a 2nd season🥳
The answers we have all been waiting for are coming #TeamWHR, so do NOT miss exciting episode 8 "Origins" TONIGHT🥳
Tweet along with your friends and watch LIVE @NBC in the 🇺🇸 & @CTV in 🇨🇦
Best Regards
Kennpic.twitter.com/M6XMA0YM2T

— WormholeRiders (@WormholeRiders) November 16, 2021
Origins: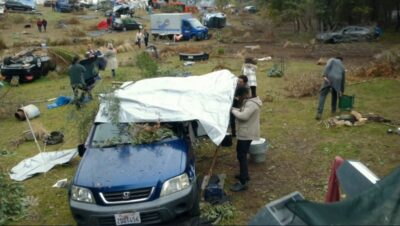 The episode opens at the survivors camp with everyone including Eve, Levi (Nicholas Gonzalez), Marybeth (Karina Logue), Josh (Jack Martin), Lucas (Josh McKenzie), Riley (Veronica St. Claire), Scott (Rohan Mirchandaney), Ty (Chiké Okonkwo), Sam (John Seda), Lily (Chloe De Los Santos), and even the whining crybaby Billy (Stephen  Lopez) trying to salvage whatever they can after "The Storm" which laid waste to their new survivor's camp home in prehistoric La Brea.
At this point viewers still do not know what has happened to Veronica (Lily Santiago) who ruthlessly attacked Ty when he was only trying to help the malcontent young lady in the episode before last.
Viewers know that Veronica's behavior is a result of her being a victim of child abuse, and suffers from emotional issues. More on Veronica later.
The scene switches as we visit with Eve and Levi who are having a chat about Levi standing up for Eve.
In "The Storm",  the survivors, including Josh and Lucas had planned on banishing Eve and Marybeth to the wilderness for stopping the incident that would have killed everyone aboard according to information from the future obtained from Gavin, from ever taking off.
Eve and Levi share a few tender moments together with Eve asking Levi to move in with her family at the large bus. Levi politely declines, no doubt because Josh, who just forgave his Mom during "The Storm", might not understand the two are lovers in prehistoric La Brea.
They briefly hold hands and part each other's company. Viewers will recall, after the survivors ultimately banded together to save Marybeth and Lucas, they decided unanimously to not banish Eve and Marybeth.
In the meantime, Scott, Josh and Riley are building a greenhouse constructed out of windshields to protect their food supply so they do not have to go into the dangerous forest as often.
After "The Storm", a somewhat less obstreperous Lucas comes along to encourage them.
Suddenly the "A Frame" tent pole type structure collapses.
"We're so screwed" says the ever pragmatic Riley who will turn out to be correct in more ways than one as "Origins" continues with many surprises just up ahead.
Next we are with logical Sam the doctor in the large bus that he and Riley share with Eve and Josh. We learn that Sam has an anxiety disorder known as PTSD from his time in Afghanistan. Sam's condition requires that he take daily medicine to alleviate the symptoms.
When Sam opens his prescription bottle to take the last pill, the pill slips between Sam's fingers and into a crack in the floor of the bus. The PTSD factor will become more critical for Sam as the La Brea saga continues because he starts displaying anxiety about how Riley and Josh obviously feel for each other, as well as what we do not know yet, a display of aggression against Veronica who turns up later in the episode.
What we do know is that Paara (Tonantzin Carmelo), leader of The Fort people, who saved Ty after the attack by Veronica, agreed to show Ty the way back to the survivor's camp. On a side note, maybe Paara can help Sam in the future since we have learned previously that she understands herbal medicine? We shall see.
Outside we hear Lily screaming for who she thinks is Ty nearby in the forest. Everyone fans out to determine if it is an injured Ty trying to get back to the survivors camp.
Instead we meet young Isiah who we had previously met during "The Fort" episode.
Viewers will recall Isiah had helped save the survivor's group that went to "The Fort" a few episodes back from Silas the Pelt Man who had planned to capture them for his own dubious purposes.
During "The Fort" we learned that young Isiah did not like Silas for some reason. And why not? Silas always looks just plain mean and nasty! We will learn much more about what motivates Silas later in "Origins".
After the young man recognizes Eve subsequent to falling and scraping his hand, Isiah is taken to the survivor's camp for questioning and medical attention.
Sam treats Isiah's wound at the makeshift infirmary in the bus. Lily says "It's nice to meet you" to Isiah as they head outside. Inside the bus Ty has returned to the survivors camp.
He, Eve, Levi, Sam, Lucas, Scott and Marybeth try to figure out why Isiah came all the way to the survivors camp other than to spy on them.
Ty reveals that Paara told him that Silas is harmless. This will prove to not be the case. Ty explains he does not believe that Isiah was sent to gather intelligence on the survivors. Ty further explains that The Fort people are more scared of the survivors than they are of The Fort people and that Silas had nothing to do with the two electrocuted bodies the survivors discovered.
Our theory is that Isiah simply followed Paara out of curiosity to find a way to get away from mean old Silas and his mysterious demeanor. Perhaps Isiah just wants to live among nicer people? Or is there more to it?
A bit later in "Origins" we discover the why of these questions when the survivors send another expedition to The Fort on a diplomatic mission. Levi, Ty, and Eve use the Jeep and head out to The Fort to take Isiah home find some answers.
Isiah says of riding in a Jeep for the first time; "It's fun"!
Isiah reveals that he has been to the survivors camp, saw them come through the wormhole time portal, and visited "a bunch of times, I didn't mean to spy, I just wanted to make sure you weren't hurt".
Isiah also says Grandpa Silas believes "The Sky People are dangerous", that you "are our enemy", but that he (Isiah) doesn't believe that.
Suddenly, a large band of The Fort people with spears and other weapons block the dirt path they are driving on, capture all of them to take them to The Fort!
Silas, who doesn't trust "Sky People", wants to know why they came back to The Fort?
Eve explains they found Isiah injured, was only bringing him back home and that they need help to survive.
Silas scolds Isiah after he had told him to not go back to the survivors camp. However, Silas appears a bit more sympathetic.
Paara debates with Silas and makes a decision; "Maybe there is something we can do" (to help the survivors) by giving them supplies. 
Ty says "Thank you" as he and Paara smile at each other in a sign of their mutual affection that began during "The Storm".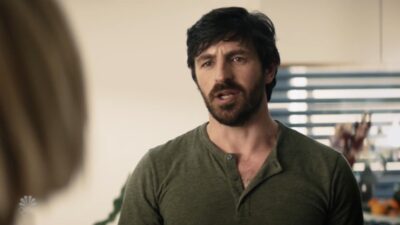 The action segues to Gavin in the present as he tries to contact Sophia  (Virginie Laverdure) without success. Speaking of anxiety, this is what is the cause that often triggers Gavin's visions. He sees the scene where Levi and Eve held hands. The vision ends when Izzy (Zyra Gorecki), who has been frantic over the loss of Eve and Josh, comes into their kitchen on her way to school.
A call comes in from Sophia who had made contact with the assistant of the woman named Ella Jones (Michelle Vergara Moore) who made the sculpture of the hand Gavin exactly as he has seen in his visions. Ella, who may be Gavin's sister whom he was separated from when she was 12 years old, is obviously having visions too, otherwise how could Ella, only six days ago, have made the hand sculpture?
The assistant informs Gavin and Sophia that Ella has been keeping a low profile for some reason, but agrees to try, taking Sophia's business card.  While leaving the antique shop, Ella drives up, but leaves quickly when Gavin tries to approach her vehicle.
Back at The Fort, Paara agrees to help them grow a vegetable garden so they can survive and invites them to lunch where the food is plentiful.
Paara also explains that there are many other villages but that her people were not always peaceful due to interference from the "Sky People" when sixty years earlier a wormhole time portal opened in the ocean with some who had warlike intentions causing many decades of conflict.
Since that time, The Fort people, along with the allied villages have always been suspicious of the "Sky People" who caused generations of war until recently when Ty and Paara spent quality time together in a cave during "The Storm". Isiah asks Paara if Eve, Ty, and Levi can "stay for lunch". Paara agrees with Eve saying "We'd love to".
We move a scene with Izzy at her school.  We meet Andrew (Ethan Ritchie), son of Sam Velez and brother of Riley.
Izzy and Andrew share memories of their lost family members who have disappeared in the wormhole time portal.
Andrew informs Izzy that a group of those who lost family are conducting vigils to deal with their stress. Andrew hands Izzy a flyer poster about the event.
Izzy declines saying such "is not for me".
However, Izzy keeps the flyer and will change her mind later.
A potential romance for Izzy? Perhaps.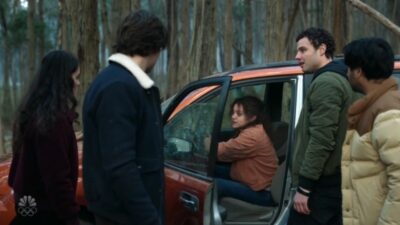 Speaking of romances, back in prehistoric La Brea, Josh and Riley are on patrol together when their relationship blossoms with a kiss. In another part of the forest, Veronica tracks down Lily who was delivering water to the patrol teams.
Veronica threatens Lily who is saved from being kidnapped again by Sam and Marybeth. Sam and Marybeth decide to use restraint on Veronica with Marybeths's handcuffs until they can consult with the rest of the survivors.
Veronica is handcuffed to the steering wheel of a car while Sam and Marybeth take a moment to chat. Veronica has a panic attack.  Hyperventilating, Veronica stops breathing. Sam rushes to help Veronica giving her CPR and is successful in resuscitating her. Veronica and Lily hug while Sam realizes his own anxiety attacks caused the situation. Later, Riley confronts her father and gets the truth out of Sam about his anxiety attacks caused by PTSD after he served in Afghanistan.
Back at The Fort, lunch is over. Isiah is told she has chores to do, instead Isiah asks Silas if she can show Eve the nearby lake. Paara says she and Ty will go along, to which Silas agrees. As Eve leaves for the lake, Levi states he still does not trust Silas and his warriors, indicating he is going to snoop around while they are gone. "Be careful" says Eve.
At the lake Eve learns from Isiah that his parents are dead, killed during the wars, but Grandpa Silas and he survived. Levi shows up with the wallet taken from Silas' possessions. The wallet is from one of the men he was supposed to rescue raising Levi's suspicions. They confront Silas who explains that he and Paara found another who had been electrocuted, and that all they were doing was ensuring the men had a proper burial. Paara confirms that there is another group of other people that are murdering innocent victims. Suddenly, The Fort alarm horn sounds. Isiah has been captured by someone. Is it the warlike individuals who are killing people? Eve, Ty and Levi volunteer to help find Isiah, Silas says no, but Paara agrees they need everyone's help, but what about Rebecca?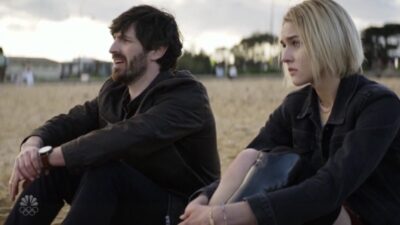 We are then in the present day at a beach after Izzy had cut school. Gavin knows that Izzy will be there since he and her Mom used to come to the beach all the time.
Izzy tells her Dad that she knows he is lying about his working with Sophia.
Gavin comes clean telling Izzy the truth and accompanies Izzy to the vigil for those lost in the wormhole time portal.
Here Izzy meets Andrew, his mother and many others who have lost loved ones but are losing hope.
Izzy tells them to not give up just as Sophia calls with the address of Ella who lives in Topanga Canyon. Gavin and Izzy head out to link up with Sophia.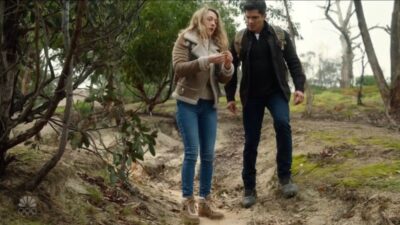 Back in prehistoric La Brea, the search for Isiah is underway. The crisis has brought everyone, including Silas and Levi together to find the missing Isiah.
We had already observed Isiah being dragged along by a woman. Eve and Levi find clues left by Isiah.
In a surprise scene, we learn that it is Rebecca who has taken Isiah, but for what purpose? Of course it was Rebecca, because she knows the secret about Isiah!
And guess what! Silas knows Rebecca on a first name basis!
Yikes! No wonder Silas doesn't like the "Sky People".
We can surmises that Rebecca has obviously been to prehistoric La Brea more than once in the past.
However, we still do not know precisely for what purpose of reason? This all becomes clear in the next revealing scenes!
Silas attacks Rebecca, stabbing her. Rebecca pleads with Silas that he doesn't know how important Isiah is, but Silas will not listen to Rebecca. Instead Silas tells Isiah that Rebecca is a liar as they head away from The Fort.
Paara, Ty, Eve and Levi arrive after Grandpa Silas has taken off with Isiah.
Levi somehow knows of Rebecca, and agrees to try and track down Silas and Isiah, promising to explain everything later while the others take Rebecca back to The Fort where they can hopefully stop her bleeding, and save her life.
Meanwhile, Gavin and Sophia hit pay dirt after giving Ella's license plate number to an ally at the Department of Homeland Security. Sophia tells Gavin she has obtained Ella's car registration address.
Gavin and Izzy meet with Sophia at Ella's address.
Gavin has another vision, this time seeing Eve and Levi having lunch at The Fort. Gavin also tells Sophia about the affair between Eve and Levi.
They arrive at Ella's home only to find what is left of a wormhole time portal in the back yard. Gavin has a vision while looking at a scar on his right hand, recalling that they are not visions, but memories of his. Izzy and Sophia in the future ask Gavin what he is talking about? We will discuss these concepts at the end of the episode.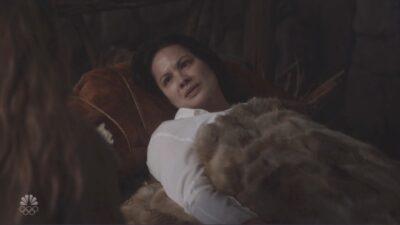 The episode winds down when Levi doesn't find Isiah but shows Eve the photograph of Rebecca with the Mojave Expedition that he came to rescue, so it's all connected. However, there is more, much more to this.
The final scenes are with Grandpa Silas who is with Isiah who says Rebecca told him his real name is Gavin! Rebecca confirms this when she informs Eve that Isiah is Gavin from his youthful days in prehistoric La Brea! The proof? The wound Isiah got earlier in the day on his right hand is exactly like the scar Gavin has on his right hand in the future.

What this all means is that when Gavin was found as a little boy in 1988, somehow he had been transported to the future from prehistoric La Brea and his visions are actually his own memories from his younger life there. Rebecca then tells Eve that "The boy is important" and that she needs Eve to help Isiah.
The time paradox may not come full circle because if Isiah does not return to the future then Gavin can never exist. This of course would result in completely messing up the space time continuum with ramifications including alternative realities that may have far worse consequences!
Questions To Contemplate:
Will Rebecca survive to help everyone, or did we witness her death bed confession?
What is Ella's role in all of this, and exactly who is she in relation to Gavin?
Will Isiah (Gavin) be able to make the journey to 1988?
What ultimately becomes of Gavin if Isiah doesn't?
Tune in next week for the ninth episode named "Father and Son" that sets up the season one finale to learn the answers to these questions!
We will be back in the near future with more of your favorite television series and movie analysis. In the meantime, please feel free to share this article with your friends, co-workers and or family and leave your comments! We look forward to you visiting our dedicated review and analysis web site here in the future! Or as many of our readers and visitors often do, visit WHR on Twitter, or visit me on Twitter by clicking the text links or images avatars in this news story. I and TeamWHR look forward to Seeing You on The Other Side!"
Thank you.
Best Regards,
Kenn of #TeamWHR