Hello, my fellow Day of the Dead viewers.
When I hear the phrase Day of the Dead my brain immediately goes to the Día de Los Muertos and the long tradition it has had in the world. So, imagine my surprise, when I saw that there is a new series on Syfy about the dead…well, zombies to be exact. This series prides itself on being an homage to George Romero's famous masterpiece Night of the Living Dead. Those are some big shoes to fill, and with the Day of the Dead only being two episodes in, we shall see how the rest of the show fares in comparison.
The cast is great and thankfully diverse. From TV veteran Mike Dopud (Stargate SG-1) and Miranada Frigon, to Keenan Tracey (Bates Motel), Dejan Loyola (Saving Hope) and Marci T. House (iZombie). It is refreshing to see a TV series that does embrace diversity it is such a crucial part of casting and such a crucial part of seeing representation on television and in film. The cast is rounded out by a plethora of television actors from all types of genres, like Daniel Doheny (Supernatural), Matty Finochio (The Order), Stefanie von Pfetten (The Man in the High Castle), Darryl Scheelar (Arrow).
The fact that this episode is tilted "Chum" does not go without notice. As we all know from the most famous shark movie of all time, Jaws, that to throw chum into the water will attract the predator within minutes.
The fact that chum consist of organs and eyeballs makes this episode a bit tongue in cheek considering what zombies like to feast on. The victims themselves are virtually walking chum buckets for the predatory zombies to dine on.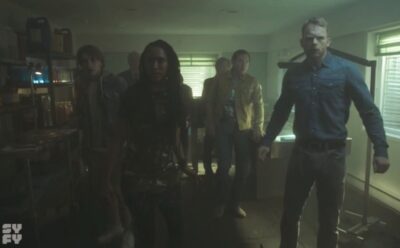 When we last see our gang they are trapped in the basement of the mortuary with rows of dead bodies in the drawers. Only to find out that they may not be the only ones down there. With cell service practically non existent, the gang tries to figure out what is the best solution or game plan to escape without having any of the drawers get opened as panic sets in.
With Lauren Howell (Natalie Malaika) having a bite mark on her arm, it is remarked, jokingly of course, by Cam McDermott (Keenan Tracey) that she will turn into a zombie but "that only happens in the movies." That may be the case but with all of the other folklore that we know about zombies she may not be far behind.
For your enjoyment, we include the full "The Thing In The Hole" episode below courtesy of SYFY that began the predicament in the fictional town of Mawinhaken, Pennsylvania.
Chum:
The "Chum" episode, written by Liz Hsiao Lan Alper and Maisie Culver, Directed by Steven Kostanski, finds McDermott (Mike Dopud), trapped in the drill hole. McDermott will likely have to fight off a zombie that is hidden in a drilling shaft, but is coming back to life, we know from "The Thing In The Hole", McDermott will become a zombie!
Sarah Blackwood (Morgan Holmstrom) races to try and find him before his fate turns deadly.
There is another under current in this series, the political race between Paula Bowman (Miranda Frigon) and Pops Parker (Jay Brazeau) it may be playing a part in what will tear the town apart.
With the issue of fracking as part of the show that definitely brings a different element to the arena. That issue may also contribute to the reason the zombies are wreaking havoc on the small town of Mawinhaken, Pennsylvania.
The controversy behind fracking is a delicate one. Yes, it brings jobs to a small town but at what cost? The cost of destroying the planet, destroying your town, and awakening more zombies?
When a protester confronts Paula, Trey (Christopher Russell) and Nicole (Caitlin Stryker) and says that she is evil and goes to pull out something from his jacket, Trey reacts by pulling out a gun and firing a warning shot. It is obvious that Trey is not very bright because the bullet ricochets off the ceiling hitting the protester and killing him. Not an effective way to keep your constituents happy.
It always fascinates me how it tends to be these small towns in rural America that always tend to have these zombie problems or vampire problems or werewolf problems. It is very rarely do we see a big city. That is very indicative of the country itself and how a lot of times the smaller cities are the ones that are ignored, the ones that have the most problems or the ones that need the help the most. Usually with zombies it is easy for them to take out a small town within a matter of days. And I have a feeling that that is going to be happening within the next several episodes that the town will be discovering its hidden secret.
With the group in the mortuary trying to fight off or keep the zombies at bay, it seems that tempers flare and names are called, and guns are fired, with all of that happening we do not know if the zombies will ever been defeated. There is a mental health condition called Cotard Delusion where the afflicted believe they are a zombie.  Although I doubt anything of that nature is happening here, just like all folklore or myths, this one has an actual medical diagnosis. It is interesting how a lot of the horror films that deal with zombies and vampires are rooted in scientific fact or mythical fact.
I found it remarkably interesting that they had showed pictures of the indigenous people that were inhabiting that area before the town settled. Which of course makes me think that with them drilling they may have disturbed some ancient burial ground. Remarkably similar to what happened in Stephen King's Pet Sematary.
You have to be incredibly careful with ancient burial grounds. It is very well known throughout history that if you disturb the dead, the dead will come back and either haunt you or indulge on your brains. Throughout history there have been many records of that as well as written and oral tradition throughout the ages.
I am sure that we will see more of the indigenous tribes mentioned in that part of the country. It would not even surprise me if there happened to be a character that came in to help the townsfolk figure out exactly what is going on. Maybe have a story or tale that will tell them what happened in that area or to try to help them fight off the zombies.
Things of course get a little bit wary when Sarah shows up at the drill site after Rhodes (Kevin O'Grady) punched her unconscious. Sarah is found duct taped to a chair at the drill site, worrying about McDermott.
For Rhodes of course time is money, drilling is money, so any time spent not drilling means no money for him or his workers. I am sure anytime Logan shows up in the series, it means that money is more important than the workers.
With the zombie in the drill shaft and the ones in the mortuary coming back to life, it is no doubt that things are about to get unsure. As Dale succumbs to two of the zombies the rest of the gang led by Lauren and Cam find themselves debating politics as the zombies are coming through a side entrance.
While Lauren makes the point that they should abandon the rest of the group because "who brings a gun to a funeral," Cam argues the point of telling her that "these are people victims of a political system, that preys on their prejudices" bringing up how corporations are the ones that cause them the pain.
It is very telling that a lot of these small towns seemed to come off as white trash. Instead of thinking that just because it is a small town does not mean that the citizens themselves are not educated. I have a feeling that the writers are definitely going to be infusing political issues into the show from a mayor that is pro-gun carry to big corporations inching out the little guy.
Zombies could also be a metaphor for what happens when corporations do take over.
When everyone becomes the same, or when we become sheep to a certain extent, that is all we want to do is consume, consume, consume.
This is exactly what the zombies, victims of the evil corporations do, consume.
If you think about it, they feed off of the fear, they feed off of the seven deadly sins.
It is interesting to see how the writers will maneuver through the seven deadly sins.
It will also be interesting as well as to how the creators, writers, and directors will portray the big corporation as the "Day of the Dead" series continues in season one.
With Amy (Kristy Dawn Dinsmore) and Jai's (Dejan Loyola) wedding on temporary hold, and with Garry Chalk as a guest star, things take an interesting turn.
Next Amy's father Herb (Garry Chalk), chats with Jai as they are playing golf, mere hours from the wedding.
Herb informs him that he may not retire like he thought he was going to do.
Instead, Herb hands Jai a prenuptial legal agreement!
Once again, the subject of money, status, and greed comes into play here.
Toward the end of the episode is where the real meat of the series comes into focus. Luke Bowman (Daniel Doheny) is telling his friend Trent (Trezzo Mahoro) about the legend surrounding the lake.
The mystery surrounding the lake and the Enfield family that refused to leave even when everything around them was changing, makes me think that again the folklore of small towns and the brutal history of how the majority of them came about will play into this series as well.
With the close of the episode leaving us with a quick glimpse of something in the lake and happenings at the senior facility, we are stunned to learn that Pop Parker is threatening to expose Mayor Bowman!
I have a feeling that things are about to get very zombie.
We include a sneak peek of episode three "The Grey Mile" below for your enjoyment.
Well, my friends, I hope you enjoyed this episode. Stay tuned to SYFY in the United States and CTV SciFi in Canada for more zombie fun!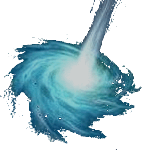 Thanks to Kenn for video and image embedding for my feature article and many thanks to you for visiting WormholeRiders News Agency. We  will be back soon with more analysis about new television series, movies and conventions on our screens this year and beyond!

Please feel free to leave a comment here or If you prefer, you may also click the social media icons below to share this news article or as many of our readers and visitors often do, visit me on Twitter by clicking the links or images avatars in this news story.
See You on The Other Side!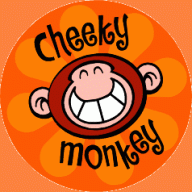 Until next time,
Regards,