Hi Stargate Universe Fans!
Stargate: Universe has been widely criticized among a few viewers for its slow pace and vast differences from the other shows (and movies) of the franchise. While I concede the series was off to a relatively slug
gish start, I am glad to say that trend definitely appears to be subsiding.
The plot is expanding beyond just survival of the crew and into 'real' action. The characters are being given new sides to them which I quite enjoy. If you didn't like the 1st few episodes of the series, I suggest you stay tuned and give it another try, because SGU is beginning to heat up in "Space".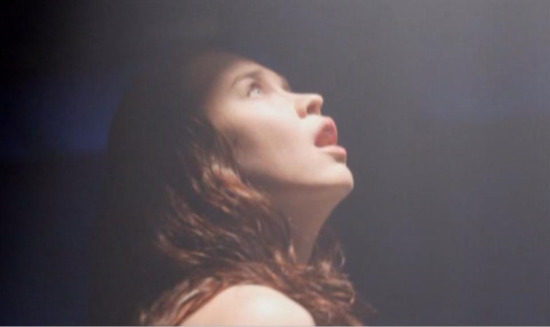 This episode brought an aspect to SGU which I had considered to be sorely lacking – that being the pleasant interactions between characters. By that, I mean the friendships and fun scenes, rather than just the tense relationships – the obvious example of which being that of Rush and Young – and occasional sarcastic remarks. I really appreciated seeing some friendships begin to form and finally being able to laugh (and see some of the characters laughing!). To me, that was always the most enjoyable part of watching the Stargate series. Although it is not a major part of the show yet – as, for example, the interactions between John and Rodney or Jack and Daniel – it seems to at least be becoming more prevalent, which I greatly appreciate.
It is at this point where I would like to clarify that the similarities (or differences) to the other members of the franchise are not what is important to me. Granted, I love Stargate SG-1 and Stargate: Atlantis, but the reasons I appreciate more character interaction go much further than that.
Firstly, I've found that this makes the characters become more human. Everyone seemed too serious for me; save perhaps for Eli, as he generally always maintained his sense of humor (even as a coping mechanism) and sarcasm. By adding in more laughter and 'happiness' (I'm hesitant to use this word, as it does not last long enough for me to really consider it actual happiness), the characters become more relational. I know they are in an incredibly stressful situation, but it seems to me that from my own experience, even in times of high stress, there are still occasional moments in which people are able to smile or laugh – no matter how superficial it may be. As well, it is often easier to connect with characters in moments of joy than despair – at least for people like me. I'm glad to finally be able to relate to more characters than just Eli.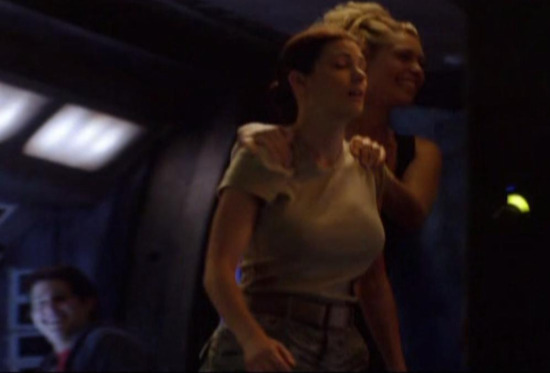 Secondly, having constant intensity and gloom in a show has never been something I've enjoyed. I just end up feeling exhausted afterward and slightly annoyed for having spent my time on it. I'm grateful for even just small moments of relief, which are now being incorporated. For me, it feels like I spend enough time being stressed throughout the day, so when I watch a show, I like to just be able to enjoy it. I love the actors and the storylines – for the most part – have been interesting, but to be quite honest, I doubt I would be able to continue to watch and enjoy the show without at least a bit of humor.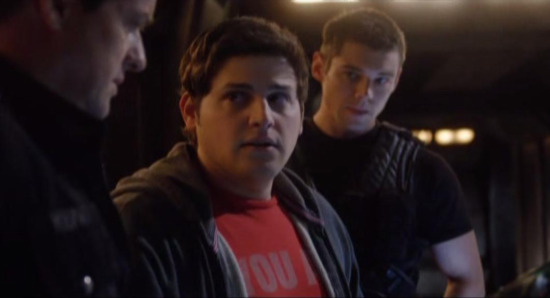 One other new element that enjoyed was the addition of new aliens. Since this is a minimal-spoiler review, I cannot describe them or how they are used in the plot. However, I can say that I do love their inclusion. This is because finally the plots seem to be moving away from the search to meet the basic needs of the crew and having the focus entirely on the internal issues of the characters. Obviously the latter is still a large part of the show (as it should be), but I like finally seeing some greater action with the aliens. I found things moved a lot more quickly. Granted, I see the importance of their searches for food and water, and it was good for a few episodes, but I'm excited to see them moving away from that and exploring new problems, outside of necessity.
Of course, not everything has changed. Obviously the crew still have issues to deal with – obviously Young has to deal with having left Rush on the planet to die and the consequences of those actions. I imagine power struggles will go on for quite awhile yet – which is fine, so long as they stay interesting. Plus, in such a small area, tensions are bound to build up and fights to erupt. I just hope that is not the only focus. I love it, but this is a sci-fi show, not a drama; hence my enjoyment of the new aliens. Still, I look forward to seeing how – if ever – the issues get resolved.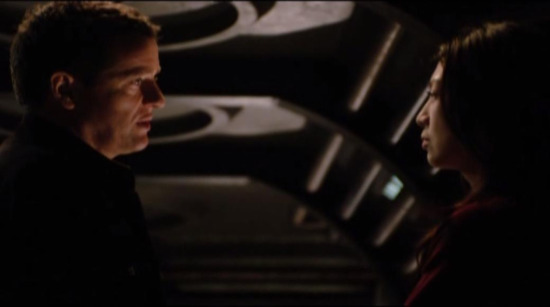 Another thing that has stayed the same is the visual aspect of the show. I didn't expect this to change much, though. To be honest, I hope at some point the lights get brighter. I realize it's supposed to be dark and the darkness does add to the intensity of the atmosphere, but it would be nice to properly see the cast. They're all pretty good-looking, so it's not as though they need to hide. This isn't a big issue for me, but it is a slight pet peeve sometimes when all I see are dark colors in a darkly-lit room.

I was hoping the brightness would increase once the power was refilled, but apparently that hope was in vain. It's like when my professors at university turn down the lights first thing in the morning and expect us not to fall asleep. Alright, perhaps that was a bit harsh. There is admittedly no universe in which SGU is anywhere near as boring as said classes. It does hold my interest and keep me awake. It's just a lot harder for me to pay attention to what is happening on the screen when it is dark like that. It also doesn't help much with character recognition, as sometimes I have difficulty recognizing some of the supporting cast.
I'm still not sure who some of them are – though I do concede some of that is due to my horrible facial recognition skills. Anyhow, the point of this little mini-rant was that I hope, at some point, the set might brighten up. Like I said, it's not a huge issue, but I, for one, would greatly appreciate it.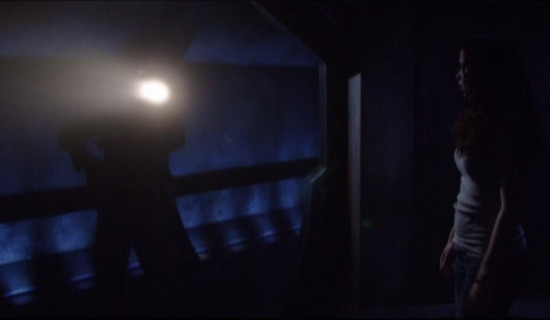 One final new addition which I quite like so far is the musical coda at the end of the episode. I've always been a fan of that kind of ending. It's a nice way to tie things up – with a song that fits the mood. I'm a huge music junkie, so that really appealed to me. I love the atmosphere which it creates while checking in on all the characters and their reactions to what has happened.
So while some things have changed, the overall show is still the same, meaning good. The tweaks are, for the most part, logical progression of the series as it begins to hit its stride.
Now that they've gotten past the initial character introductions and plot lines focusing on how they will be meeting their basic needs, I think the real story will start. I'm excited to see where it will go from here for the second half of the season and hopefully for many seasons to come.
Thank you for reading and visiting WormholeRiders News Agency.
ValaBlack