Hello Sanctuary fans from all over the globe.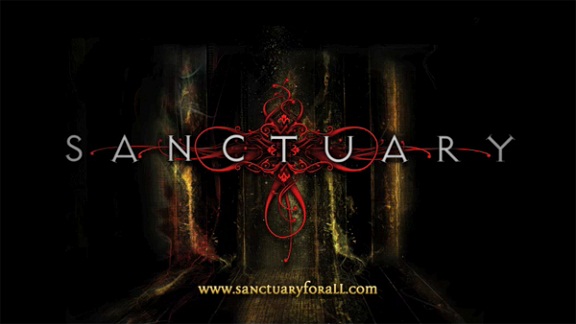 This is the episode that we have been long waiting for. And I know with some of my friends, more so my Sanctuary team members, have been sitting on the edges of their sofas, chairs, maybe even their beds, just waiting for this.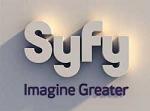 As this has been a while since I actually written a review of an episode from Sanctuary since Kali Pt. 1 from the end of season 2, (mainly because I was coordinating with my team on who will write what), I'm going to do this one a little differently. Usually I write a play-by-play, this time I shall give my thoughts on this episode.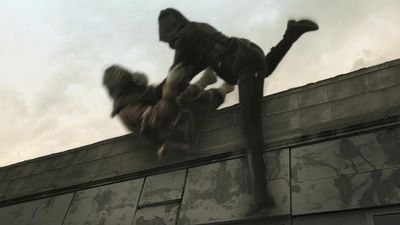 Well sitting and watching Breach, right off the bat it was full of mystery, suspense, a lot of holy crap, and did I mention mystery? Although it doesn't help matters with Helen (Amanda Tapping) getting her ass kicked by a masked psycho, who apparently knows her father, the hologram city and keystones. Of which Helen knows nothing of, for the moment.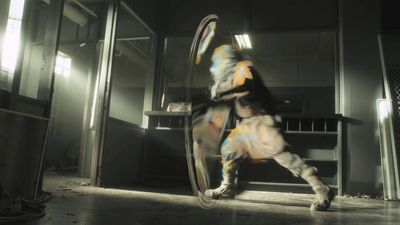 I tell ya, this little weasel is so sneaky with his personal teleportation device thingy. Yes, I may make up words in this one to help get my thoughts across. After much more fighting, Helen giving it right back, GO HELEN!! That's when Helen got the upper hand and managed to rip off the mask off her kidnapper. Adam (played by Ian Tracey). Or at least one of many living in the one person.
Trapped in the old abandoned building, still looking for a way out and trying to avoid the mad man, she figured out that water from the old pipes caused him not to see her when he's got his mask on his face. The reason for which will become apparent later.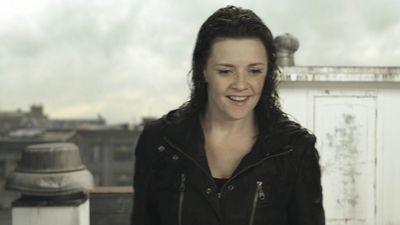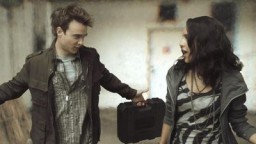 She managed to get up to the rooftop. Free at last, or is it? She looked about, all that was ringing was what sounded like church bells. Which added to the suspense of the moment. That's when she looked down and saw Will (Robin Dunne) and Kate (Agam Darshi), in the alleyway. Helen called out to them, but no response. That's when she realized that they appeared to be frozen in time.
Now there's a concept that is no stranger to us. We seen TV shows either touching on or based on either time dilation wormholes or static warp bubbles. This seemed to be a bubble that the time is moving at a regular rate inside the building, whereas everything else outside has stood still.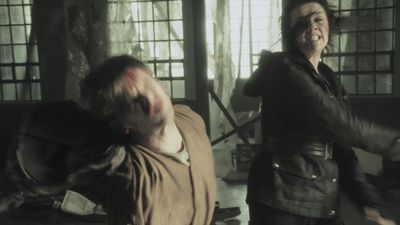 Though I have to say, the fighting scenes were amazing. The choreograph alone was awesome. My hats off to Amanda Tapping and Ian Tracey for giving us such sit on the edge of your seat excitement.
I believe this is the best episode to date. What makes it the best is that there's only two characters involved throughout, well mostly anyway. Will and Kate were there for roughly ten minutes, then it was focused on Helen and this masked mad man.
Having watching every episode from season 2 right up to this one, I can't tell you a favorite one. And I said season 2 because we didn't get season 1 when it first aired. I know, go figure, it was filmed here in Canada and we didn't get it.
Amanda Tapping done such a remarkable job on this episode. This one only shows just how talented she is and how she continues to amaze us with her performances each week.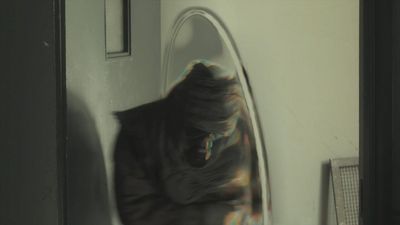 Another thing that made this particular episode is the way they touched on teleportation. Why did Adam have to stay totally covered? The answer to that was apparent when Helen was talking to Adam, trying to gain some trust so she can get closer to him. Then once he let his guard down, she grabbed his arm as with all the strength she had, ripped a portion of his sleeve.
This pissed him off and he summoned the "doorway" and walked through. However, upon exiting, he was badly injured. So hence the total body protection. Which gave Helen an idea.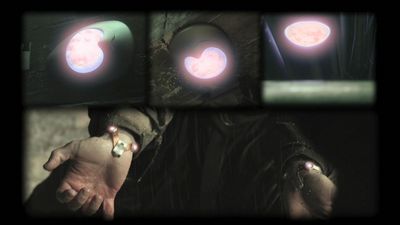 Then there was these light fixtures that at first I thought was apart of the old building, then it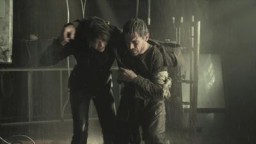 was realized that it was apart of the transportation device thingy that Adam was using. It seemed to only let him work it within the building. Still not sure how or why, I'm sure that you (the readers) have your own ideas on that one.
They appeared to have a time limit as well, because before we knew it they were flickering an d emitting some noise that something bad was going to happen.
Trying to convince Adam to come to the Sanctuary with her (she knew she needed his help with the old city), she finally got him up off the floor and get to the exit.
That's when the movement of time started to even itself out from inside the building to the outside.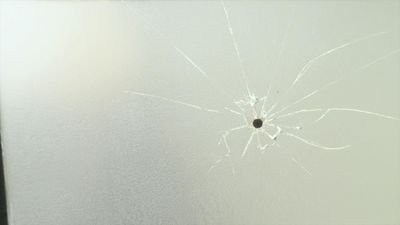 With a big BANG from the shot that was released from the glass in the door, poor Kate and Will didn't have a clue. With an explosion coming from the door that to them they just left from and seeing a beaten up Helen, they were more confused then anything else that had happened.
I'm sure that Helen will fill them in in the next episode (of which i can't wait to see the continuation).
That concludes my views and thoughts of this episode.
I hope you enjoyed the read and thank you for tuning into WormholeRiders News Agency for your daily tidbits of anything and everything.
You can also leave a message here, visit my Live Journal or send it over to me on twitter by clicking on my name
@karenford1. or my image to the right.

Thank you
KarenFord1